There's a difference between sneakerheads and someone who just appreciates wearing comfortable shoes. I fall into the latter category; so, no, I don't have the glossary that sneakerheads (or even regular runners) have when it comes to the different ranges that brands have or the technology they've introduced in their shoes. And then, Nike sent me two of their shoes to review. Two different Nike shoes, one similarity—the popular, crowd-pleasing React foam. If you've been considering purchasing a new pair of Nike shoes but couldn't decide which, I'd say start with either the Nike React Element 55 or the Nike Epic React Flyknit 2. What's the difference and why? Read on.
Nike React Element 55 — For everyday use, for travels, for walking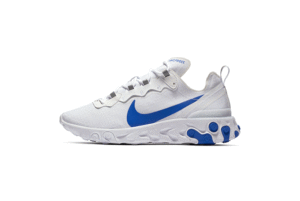 nike react element 55 review
Nike React Element 55 is a looker, that's for sure. Not only does Nike let you customise it through Nike By You, but the range already offers a stunning collection of vibrant colourways that all give a deconstructed vibe. And because its silhouette is sharper from Nike's running and training shoes—which tend to be slightly on the bulkier side in favour of performance—the Nike React Element 55 is great with most everyday looks.
But beyond those pops of colours is the Nike React technology underfoot. Walking in them is a joy—it's lightweight, comfortable and above all, cushiony. The React midsole is soft, evident from the minute I slipped into the pair of shoes, and it also doubles as a feature to wick moisture. And it is easy to slip in and out of them, by the way. The outsole, on the other hand, further strengthens the Nike React Element 55 as a pair of shoes made for "lifestyle" aka walking, being on your feet (almost) all-day long, and the like. Thanks to the springy rubber nodules that have been strategically placed at the front and heel of the outsole, it gives that foot-to-ground grip adequately.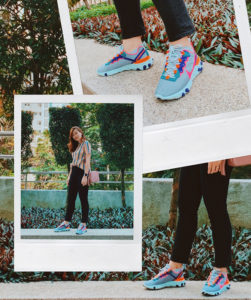 nike react element 55 review
If you're wondering if you can work out or run in the Nike React Element 55, the answer is yes and no. Technically, it shares the same React foam, which was first available in Nike's basketball shoes; and which is also used in the Nike Epic React Flyknit 2 but the pattern of the foam is different—it's looser. At the end of the day, these shoes are made for walking. But sporty. Yet stylish.
Nike Epic React Flyknit 2 — For running, for running, for running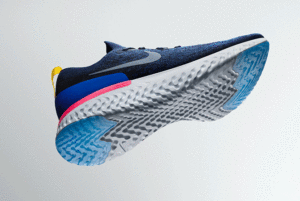 nike epic react flyknit 2 review
And hence, if you're truly looking to pick up running—or a pair of running shoes—the Nike Epic React Flyknit 2 does the trick. Looking at it from the perspective of the Nike React foam, it's soft (feels so good on the feet), springy (great response while delivering impact protection), and incredibly light. But the foam too is where the two Nike shoes on review here differ greatly. Unlike the Nike React Element 55, the foam's pattern is firmer to give that performance boost yet as a midsole, it's taller and wider to ensure that cushioning effect and stability for runners. Fun fact: The midsole is just a piece of Nike React foam—no carrier, cement or glue. According to Nike, by eliminating any unnecessary material, it helps to keep the shoes as light as possible.
Now, if you like the Nike Flyknit like I do, you'll admire the upper on the Nike Epic React Flyknit 2 (which comes sans tongue). The combination works greatly, allowing the shoes to hug the feet snugly for support and flexibility, as well as breathability. It fits like a sock! (So technically, you don't have to wear socks.)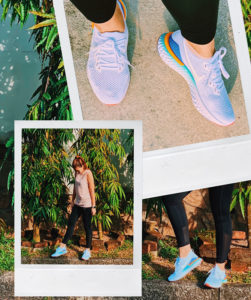 nike epic react flyknit 2 review
Because it's meant to be form fitting, it might be a tad too tight… at first. Otherwise, I definitely recommend getting a half size up than your usual, especially if you have wide feet like me (TMI?). All in all, the Nike Epic React Flyknit 2 is a great and comfortable pair of running shoes that can easily lock in even half a marathon in one go. It's that durable and it's that impressive in terms of performance.
Both Nike React Element 55 (RM535) and Nike Epic React Flyknit 2 (RM609) are available online and in stores.
| | |
| --- | --- |
| SHARE THE STORY | |
| Explore More | |