Lifestyle
There is a new statue in front of the famous 'Charging Bull' on Wall Street
And she's standing strong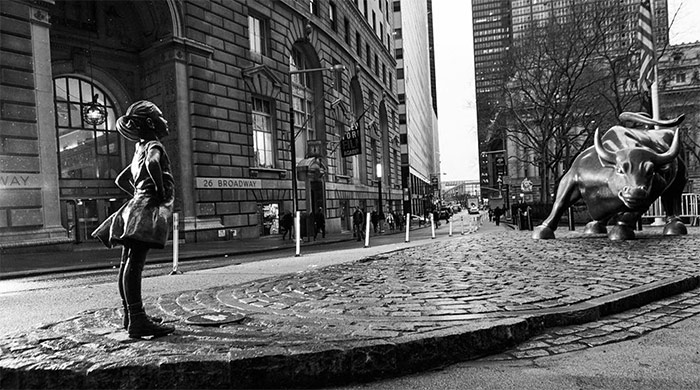 The Charging Bull is undoubtedly one of the most iconic sights in New York City, standing unchallenged in Bowling Green Park on Wall Street—but not anymore, at least for now. A bronze sculpture of a small girl in a defiant and unflinching pose now stands just a few feet away from the tip of the bull's horns, and she's there to make a statement. A joint effort between State Street Global Advisors ( a $2.5 trillion asset manager) and city officials, the artwork is part of a campaign to pressure companies to add more women to their boards.
"One of the most iconic images on Wall Street is the charging bull," Lori Heinel, the deputy global chief investment officer at State Street tells Business Insider. "So the idea of having a female sort of stand against the bull or stand up to the bull just struck us as a very clever but also creative and engaging way to make that statement. Even though it's a little girl, her stance is one of determination, forwardness, and being willing to challenge and take on the status quo."
The statue, titled The Fearless Girl, was created by Delaware-based bronze sculptor Kristen Visbal. It isn't clear how long it will remain on Wall Street, but it will be there for at least a month. Charging Bull was original an act of guerilla art by Arturo Di Modica, but it became permanent after its immense popularity. Perhaps, The Fearless Girl will follow the same path as well.
Related stories:
First look: You can now book astay at street artist Banksy's first ever hotel
| | |
| --- | --- |
| SHARE THE STORY | |
| Explore More | |