Google honours Sudirman's birthday with special Doodle
Friday (25 May) marked what would have been Malaysian legend Sudirman Arshad's 65th birthday. Born the youngest of seven children in 1954, the multi-talented singer, songwriter, author, visual artist and actor established himself as one of the most celebrated talents of our time before he passed away at the age of 37 in February 1992. 'Tanggal 31 Ogos', 'Balik Kampung' and 'Chow Kit Road' (a personal fave) are just a few quintessential hits from his vast repertoire that are still relevant till this day. Fun fact: he worked as an attorney before his career in show biz.
Google paid tribute to the late icon with a special doodle, while highlighting his outstanding achievements: "He is remembered for his piercing tenor voice and for staging one of the largest free concerts in Malaysian history. On April 15, 1986, he performed for a crowd of over 100,000 on Kuala Lumpur's Chow Kit Road. Lifted above the audience by a crane, Sudirman delivered a performance that delighted a crowd that included Malay, Chinese, and Indian fans".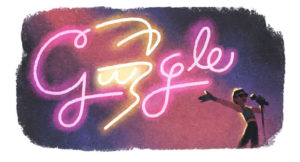 South Korean film Parasite takes home the Palme d'Or at Cannes
After 11 days of previews of new films and documentaries along with the accompanying red carpet fanfare, the 72nd edition of Cannes Film Festival came to a close yesterday. The Palme d'Or—the film festival's most prestigious award—went to Bong Joon-ho's Parasite, a dark comedy thriller that portrays the story of a lower-class family who try to improve their social situation by infiltrating a wealthy household.
Elsewhere, French-Senagalese director Mati Diop is awarded the Grand Prix for Atlantics, a drama about young migrants and sexual politics. Her notable win makes the first black female director to win an award in Cannes' 72-year history.
READ MORE: 5 Things to know about 'Shoplifters' (last year's Palme d'Or winner)
The Duchess of Cambridge and family spends a(nother) day out at the Chelsea Flower Show
Every year, the RHS Chelsea Flower Show attracted visitors from all over the world, and is notably attended by members of the royal family. In fact, one of the highlights this year is a garden designed by none other than Kate Middleton. Inspired by childhood memories and with families in mind, the 'Back to Nature' garden is dreamt up as a retreat from the bustling world outside, where visitors can learn, play and discover the wonders of nature. While the royal family (including the Queen and Duke of Cambridge) made a high-profile official visit to the garden last Sunday, her Royal Highness reportedly brought the kids back for a low-key visit on Thursday because George really, really wanted to go back (aww).
ICYMI, Aladdin is now in cinemas!
One might lament the lack of fresh and original stories in cinemas, what with the wave of reboots and remakes hitting the big screen, but given the appeal of nostalgia, can you really blame filmmakers for making the most of it? The latest remake to hit cinemas is Disney's live-action Aladdin. Despite initial doubts, the early reactions to the film have been surprisingly positive. Read our lifestyle editor Rachel's takeaway from it here, and scroll down for more first thoughts on the movie.
We just saw Disney's Live action #Aladdin! It's the most fun you will have at the movies this year. A must see. The music blew us away. Well done #Disney. pic.twitter.com/G4WIw1v1Wv

— Inside the Magic (@InsideTheMagic) May 19, 2019
Not going to lie, was pretty enchanted by @Disney's #Aladdin. Not a lot else to say besides how delightful I found the whole thing (@ILMVFX knocked it out of the park) and how everyone doubting Will Smith will be eating their words by the end of next week. pic.twitter.com/y0XMNwKbC5

— Drew Taylor (@DrewTailored) May 19, 2019
#Aladdin is better than expected. Not the complete disaster critics were expecting, but also not a home run. It's surprisingly fun. Naomi Scott's a great Jasmine, but Didn't love the actor playing Aladdin. The music is better the less it tries to evolve the songs we know.

— Peter Sciretta (@slashfilm) May 19, 2019
The second #Aladdin started, I began to get choked up. The original is an all-time fave & the remake plays to that nostalgia beautifully. It improves on the original in some ways & is inferior in others but as a long time fan, I truly enjoyed it. It made me feel like a kid again. pic.twitter.com/6VOFGsS001

— Germain Lussier (@GermainLussier) May 19, 2019
Okay, so, I saw ALADDIN. Let me preface this by saying I love Guy Ritchie movies. But my expectations were still kinda low … and I thought it was for the most part pretty good! Especially the first two acts where it's a Guy Ritchie movie. Third act he seemed reined in.

— Mike Ryan (@mikeryan) May 18, 2019
| | |
| --- | --- |
| SHARE THE STORY | |
| Explore More | |