Back in May, Dwayne "The Rock" Johnson ignited talk about him running for president when he revealed in an interview with GQ that "it's a real possibility" for him to give up life as the highest-paid movie star on earth for the White House. In the same month, he told America "I'm in" during the season finale of Saturday Night Live. Also in May, Johnson told Jimmy Fallon on his show that he believes he could be the related President the United States needs, but "three and a half years is a long ways away". So, was it all real talk?
Whether or not Johnson was serious about running for President, someone named Kenton Tilford has actually filed the 'Run the Rock 2020' campaign on his behalf with the Federal Election Commission, making him eligible for the 2020 election. No public comment has been made on why Tilford—who has no connections to Johnson—has filed the draft.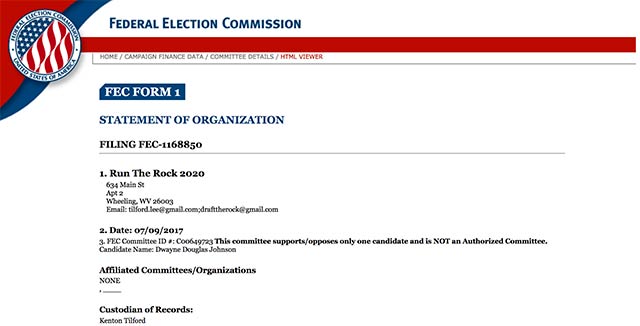 Is this official draft one step forward for Johnson's presidential bid for 2020? The Rock hasn't addressed the matter since the campaign was filed. We guess only time will tell.
Related stories:
What Trump promised to do on his first day at the White House
Watch: Obama's farewell address
| | |
| --- | --- |
| SHARE THE STORY | |
| Explore More | |