Despite their knack for bad dad jokes, our fathers have probably given us an equal amount of advice. Study hard. Don't drive above the speed limit. Remember to save money for a rainy day.
While we may not always pay attention to or take heed of their words of wisdom—especially in our young, naive and rebellious days—many of us have our dads to thank for helping us make better decisions…eventually. Whether it's for our career, finances, relationships, or just life in general, we've likely received our fair share of pep talks or lectures from dad to keep us from making the same mistakes he has seen or made.
With Father's Day around the corner, Team BURO looks back on the best advice and life lessons we've picked up from our dads that have shaped who we are today.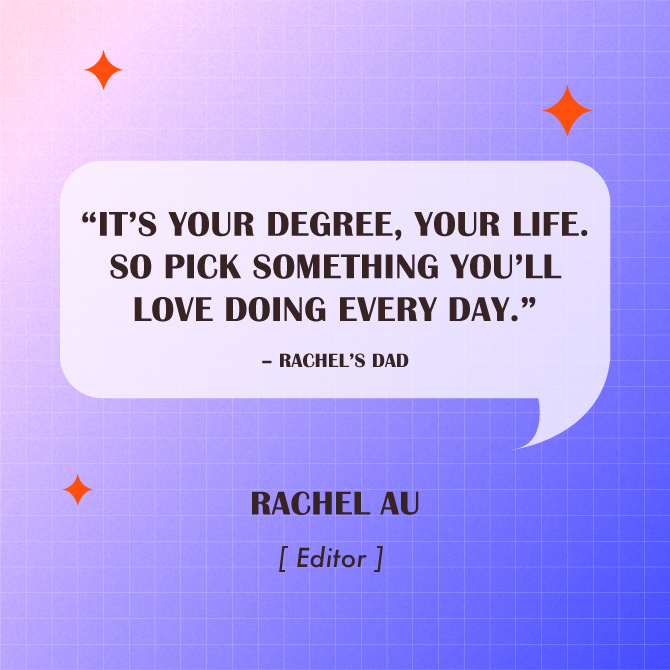 "Despite growing up with divorced parents for as long as I can remember, I'm glad that my dad and I have an interesting relationship. I remember weekends at his place where he'd let me drink soft drinks (what asthmatic cough?), eat all the ice cream, and watch sci-fi and fantasy TV shows (what homework?). To which, I'd return to my angry mother, having to deal with a sick child, and my dad would just chuckle in amusement. So, for the most part, he 'supported' me with my whims and interests.
"Like most Asian parents, he toyed with the idea of me becoming a doctor or getting a business degree but when the time came to really decide on a course, he was agreeable to whatever I wanted. 'It's your degree, your life. So pick something you'll love doing every day.' It's something I'm grateful for every day and something I'd tell my children eventually, because really, we're the ones living our lives. Make it count."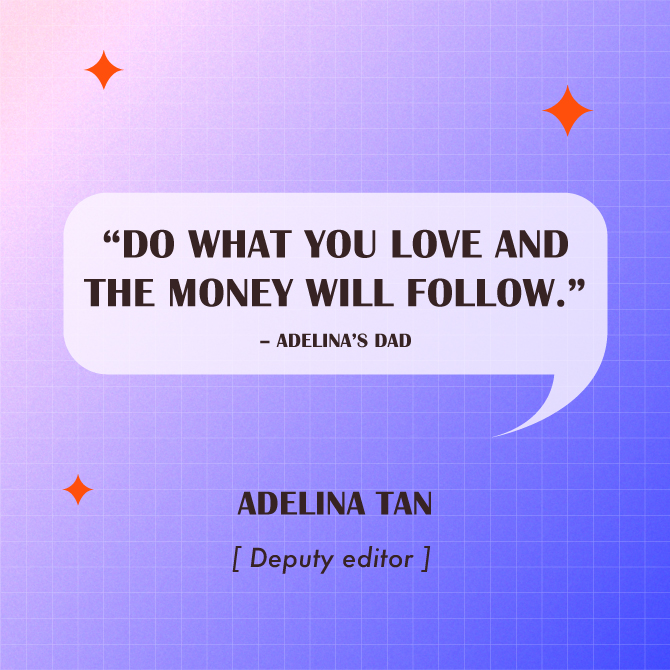 "Do you notice how much time and energy you pour into the things you enjoy doing? This more or less sums up the philosophy behind my dad's advice. When you're passionate about something, working on it doesn't feel like a chore. In turn, you'll keep getting better at it and eventually succeed. It may not make you a millionaire, but if you're really good at what you do, you'll find a way to earn a living out of it and be happy. Case in point: TikTok stars who find their niche by being authentic.
"My dad's support has given me the courage and resilience to pursue a less conventional career path. I'm also very grateful that alongside his reminders to put in the work to see results, he encourages me to look after my mental and emotional well-being. There's no success—or no meaning to it—if you spend the workweek looking forward to the weekend and dread the start of Monday."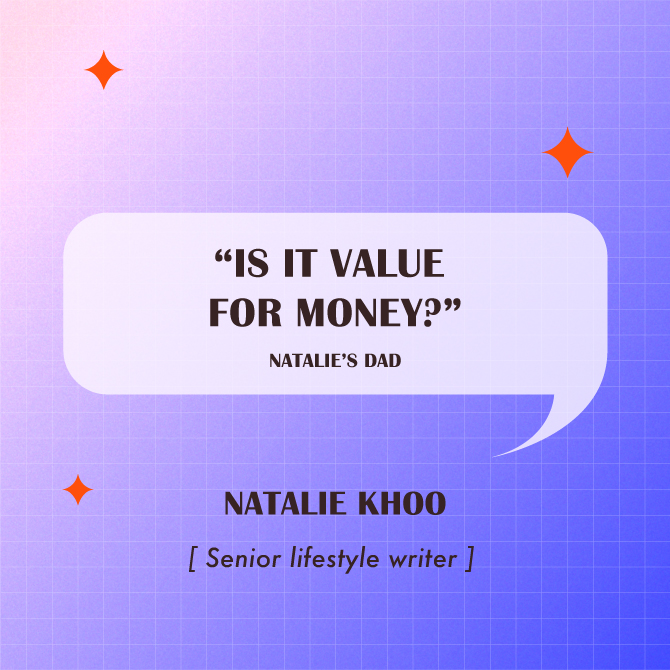 "My dad is always full of nuggets of wisdom to share with anyone who asks (or even if you didn't ask for it), so it's hard to pick just one. But of all the fatherly advice he's passed on over the years, I'd say the one that sticks with me comes in the form of a question that he'd always ask when we discuss dining promotions, vacation destinations, and anything that involves spending: 'Is it value for money?'
"Since my dad came from a low-income background, he is a very frugal person. He hardly ever buys anything more than the necessary unless he believes it will offer the best bang for his buck. I recognise that I'm privileged enough to afford the occasional splurge, but I can definitely say that my thrifty side and money-saving habits come from him. For that, my bank account and I are thankful."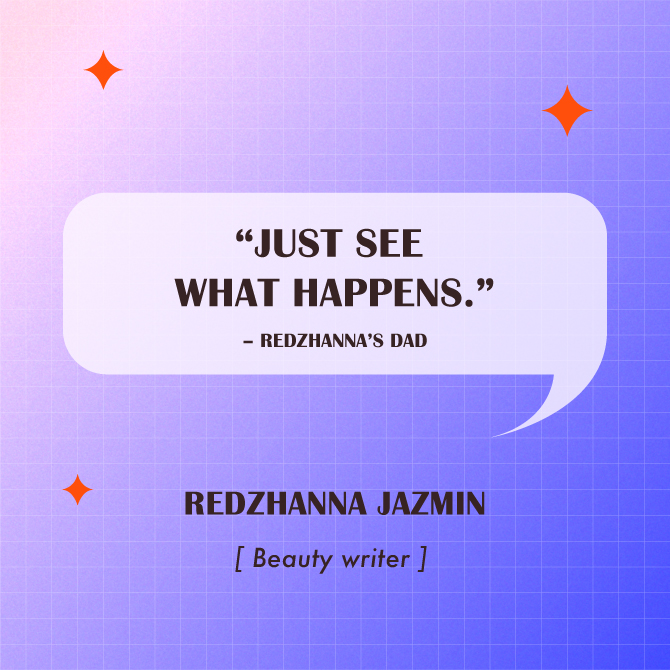 "Is it a threat? Is it a reassurance? It depends! Dad and I are really close, but he has never been one for traditional or even constructive pep talks—our rapport is mostly him roasting my existence (in a loving way…ish). That said, he has tapped into 'dad mode' a few times.
"This phrase has popped up regularly over the course of my life. Sometimes it was meant in a 'You want to do something stupid? See where it gets you' way (he was right, like, 84 per cent of the time, to be fair). Other times, it was meant in a reassuring, 'nothing you can do about it, just do your best and move on' way. I may take after mum as a worrier, but dad taught me that some things are just out of my control and that sometimes I've just got to see where life takes me. That, and don't be a dumb*ss."
"The best life advice my dad has given me is probably to 'budget your spending'. This is probably a no-brainer for everyone, but as I grow older the value of money becomes more significant. I've personally never seen my dad spend an excessive amount on anything unless it's an investment. He's always been a very frugal person and sacrifices a lot for my family. Even though I enjoy the finer things in life, I make sure I set a budget for myself and leave a portion for my savings and investments."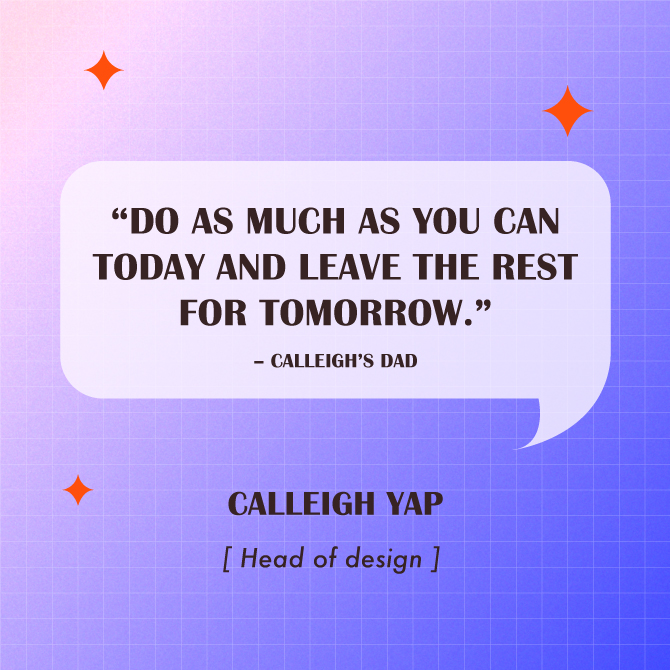 "My dad is a man of few words, but one piece of his advice has stuck with me until today: 'Do as much as you can today and leave the rest for tomorrow'. I remember a few years ago when I was nothing but a mess, my dad sat down with me and told me to let go of whatever that is holding me down today and worry about it later. In a way, it taught me to form the habit of enjoying the present moment instead of wasting my time stressing out about the unknown! I believe this has changed the way I handle my 'adulting struggles' and definitely helped to ease my anxieties. I'll be sure to pass on the same advice to people who need it. Thanks a lot, dad!"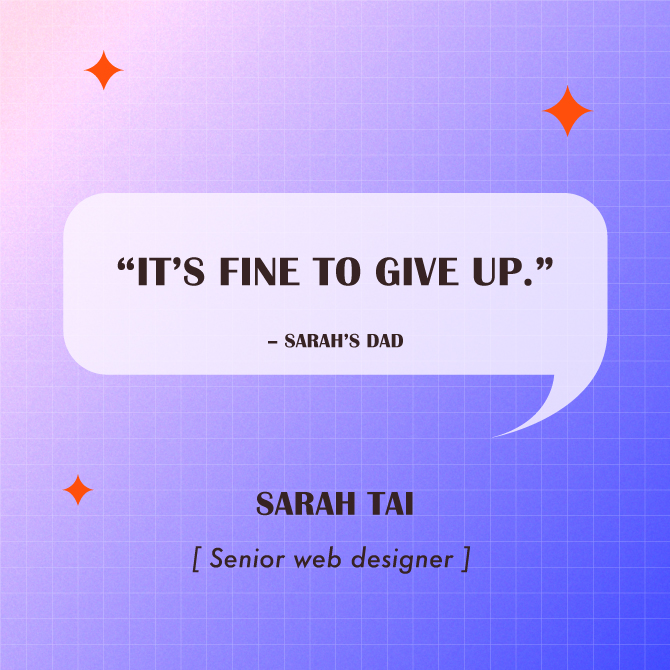 "'It's fine to give up' is a line my dad always tells me whenever my head is clouded with uncertainty and doubt. Frankly speaking, it isn't much of an advice because everyone has probably heard this from someone or from somewhere once in their life. But coming from my dad who knows how obstinate I can be, such a simple statement means a lot more.
"For me, it simply means that he will always understand the decisions I make for myself even if he disagrees, and that he will be there for me when it doesn't work out. He then backs this statement up with 'there will always be other choices', followed by several fruit emojis and that, alone, lifts all kinds of weights that have been on my shoulders."
Find more Team BURO Answers here.
| | |
| --- | --- |
| SHARE THE STORY | |
| Explore More | |