There are two kinds of people who karaoke: Those who love to karaoke, and those who succumb to peer pressure. While the ideal karaoke sesh looks like Zooey Deschanel's rendition of 'Sugar Town' in 500 Days of Summer, your average karaoke night is pretty much guaranteed to be messy. Specifically, it's this scene from Lovesick.
That is precisely the beauty of it. While novice karaoke-goers anxiously flip through songbooks, trying to find a tune that is equal parts achievable and exhilarating, seasoned performers know that the only way to karaoke is to release any inhibitions and embrace any voice cracks that may find you. That said, everyone has their favourites (and it never hurts to be prepared).
Whether you're a regular Mariah, or you're fully tone-deaf and just looking for a good time, having a go-to karaoke song is a must. Ahead, find some inspiration from Team BURO's personal song picks: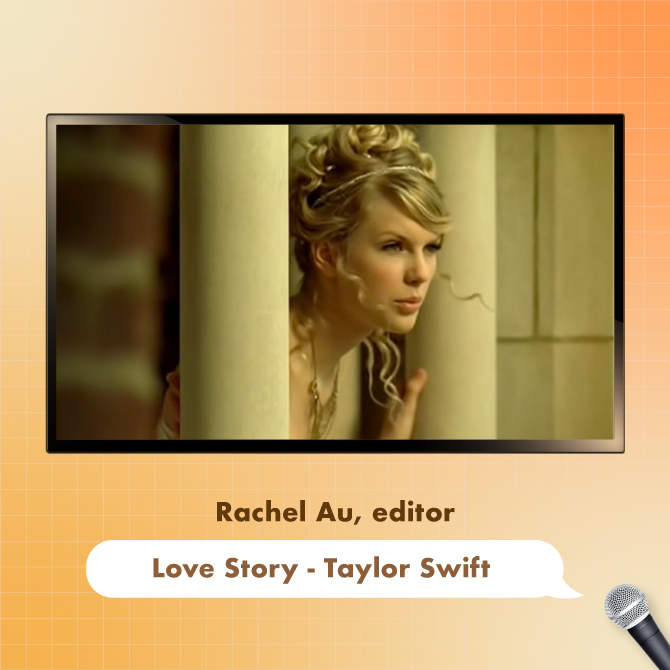 "Needless to say, 'Love Story' is a Taylor Swift classic. Not only do I know all the lyrics by heart (I confess to singing it on repeat in the car), but it does give me a sense of nostalgia—of a time when relationships and life seemed much simpler than today. Plus, it's a great song to just belt out at the top of your lungs without killing it (sorry, guys, I can't do a Whitney Houston)."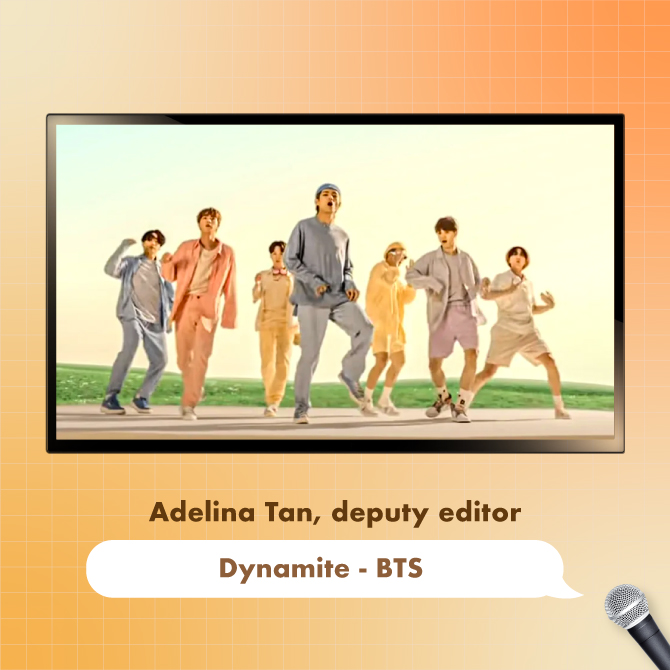 "As an International ARMY, this one's a no-brainer. 'Dynamite' has all-English lyrics, so it's the only one from BTS I can add to the queue and sing along to without butchering substituting all the Korean words (only about 95 to 99 per cent of a typical BTS song) with 'mmm-hmm-hmm-hmm'.
"They do have a new one in English, 'Butter', so ask me again next month and you may get a different answer. That said, 'Dynamite' is so upbeat and catchy that it's made for karaoke. You'll want to get up and dance (or tap your foot to the beat, if you're shy) even if you don't know the song."
"Spice Girls' 'Stop' will always be my go-to (can you call yourself a fan if you don't know every single move to the '90s hit?), but if there was a try-not-to-sing-along challenge, Blondie's 'One Way or Another' would be the track that I would lose to. Fun fact: It was my ringtone throughout high school (and no, I'm not sick of it yet)!
"While the story behind the song may be a little sinister (it's based on lead singer Debbie Harry's real-life stalker), at the end of the day, it's a fun and catchy song to sing along to, and that's the key to a great karaoke sesh. Damn, when will we karaoke again?"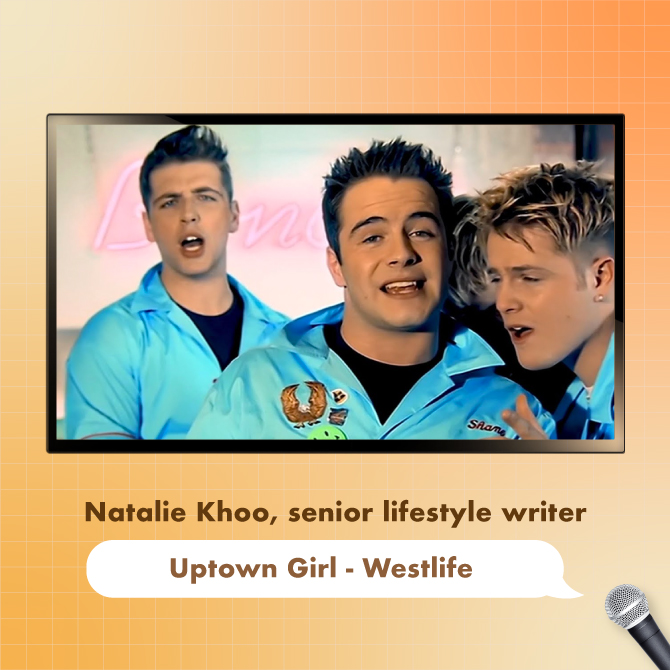 "Honestly, my go-to karaoke song really depends on who I'm with—it ranges from alternative rock to belt out my inner teenage angst to emo Mandopop with my Chinese-speaking friends—but I went with Uptown Girl since it's arguably the most universal. I also chose the Westlife version specifically because that's the one I grew up with, not Billy Joel's original.
"It really instils nostalgia for me, having been a Westlife fan in my primary school years and growing up singing the song with my family and cousins at karaoke joints. Plus, the music video never fails to entertain, even if it can be seen as corny or stereotypical in today's context—perhaps even more so because of it. Also, the parts where Brian McFadden goes 'mi-i-ind' and 'ti-i-me' always brings about infectious laughter. It's just one of those oldie but goodie songs."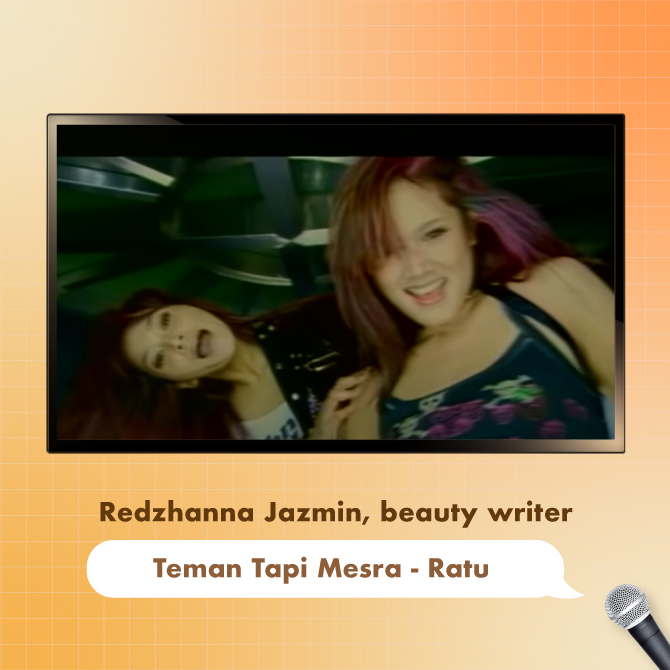 "If my shower-time playlist is anything to go by, my karaoke repertoire is kind of a mixed bag. There is a range of tunes from a range of different genres, though if I'm honest, most of it is kind of a bummer (don't @ me, this pandemic has taken a toll on me). That being said, considering that I haven't actually been out to karaoke in KL for a while—at least, not since my 11th birthday—when I do, I'm going back to my roots and I'm bringing euphoric nostalgia with me. That's why my pick is Ratu's 'Teman Tapi Mesra'.
"This song slapped in 2005, and it slaps even harder in 2021. 'Teman Tapi Mesra' was an actual cultural reset. Now, if you know me personally, this may seem like an odd choice on my part, because you're probably aware that my command of the Malay language is… poor. That said, what little Malay I do know, I learned from this song. And yeah—it did get rerecorded in English by the Swiss band Ladylike, but that version sucks, so I'll stick with this."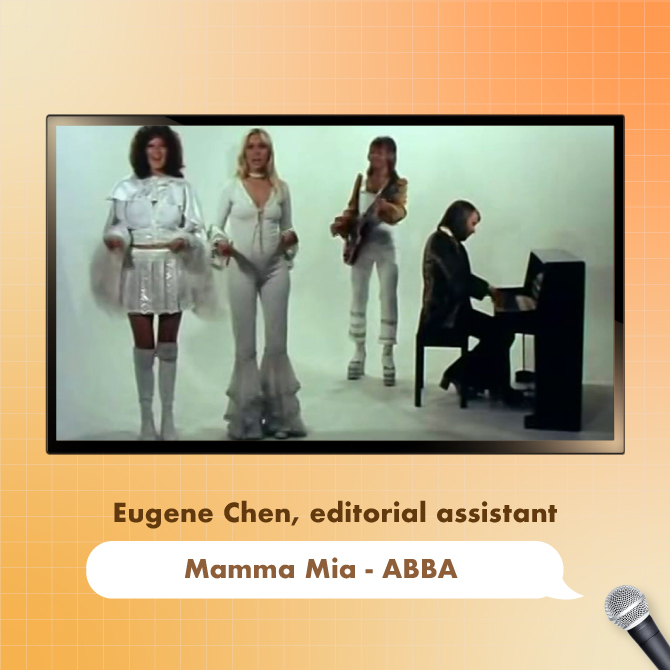 "My go-to karaoke song is 'Mamma Mia' by ABBA—an absolute banger. The Swedish group has plenty of hits, but nothing even comes close to 'Mamma Mia' and 'Dancing Queen'. Even though the lyrics of the song are somewhat depressing, the incredibly infectious melody forces everyone to get pumped up, which brings me to my next point. In my opinion, a great karaoke song is one that gets people to sing along. Given that everyone knows the lyrics to 'Mamma Mia', it's the epitome of a great karaoke song.
"Alternatively, I would also settle for 'Your Man' by Josh Turner. Karaoke is all about having fun and forcing your friends to listen watching your friends endure your off-pitch singing, and this song does exactly that for me. If any of my friends did enjoy country music before listening to my cover, I can confirm that they don't now. Also, it's just such an unorthodox selection coming from a Chinaman—no one would expect such graceful use of a southern twang to come from me."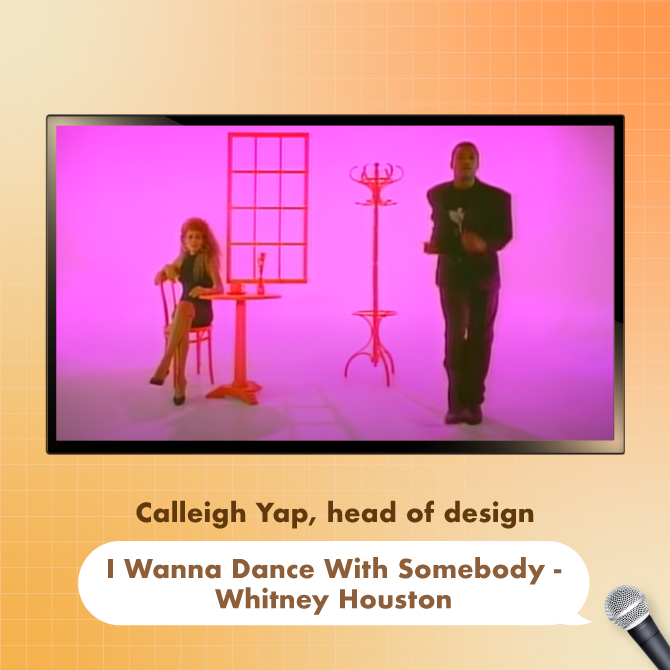 "Whenever I go out to karaoke with my girls, it is a must to add 'I Wanna Dance With Somebody' by Whitney Houston to the playlist! It's just a super fun song to sing along and groove to. This is an oldie for sure, but it's also just a good song to hype up the vibe. You can pretty much guarantee that everyone will definitely know the lyrics. Even the shyest of friends will have no choice but to dance along to this song!
"I miss going to karaoke with my friends—hopefully, we can do that together safely again one day! In the meantime, I'll be doing my own solo karaoke sessions while working from home."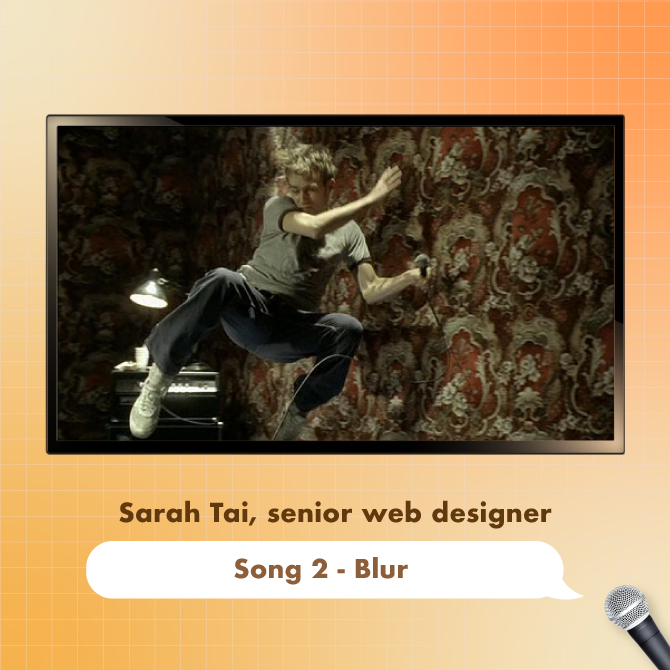 "Everyone has that one friend who attends the karaoke gathering but never really joins in on any of the singing. As everyone takes their turn to let out their inner Beyoncé, said friend just chooses to sit in the dark corner of the room in utter silence. That friend is me. I cannot, for the life of me, bring myself to sing in front of others, although I can make an exception in the form of providing backing vocals for any parts that require non-lexical vocables (that would be the 'la la la' or 'na na na' parts in any song).
"But, if I really had to pick one, it has to be Blur's 'Song 2′ (my runner-ups were Radiohead's 'Creep' and Green Day's 'Basket Case'). As for why? Well, aside from the heavy guitar sounds that subconsciously make my head nod and the cryptic lyrics that I can recite by heart, I just want everyone in the same room to sing the 'Woo-Hoo' part with me."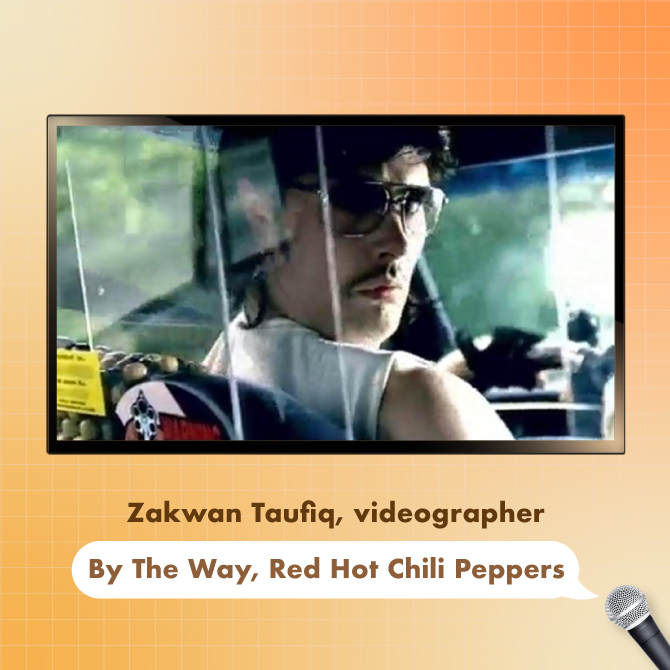 "This is definitely my go-to karaoke song! I love how the song transitions from a slow to a fast pace, and I also love the band! The first chorus starts at a slow pace ("Standing in line/To see the show tonight") so that you can just chill out and enjoy the experience while you sing it, and then you hit the verse ("Skin that flick/She's such a little DJ"), at which point you start to feel like you're a rapper. I can confirm that you will headbang while you sing it!
"Then comes the best part, which is the bridge ("Ooh, ah, guess you never meant it/Ooh, ah, guess you never meant it"! It's the part you'll be singing and jumping along to at the same time. It's actually more of a cardio workout than it is a karaoke; I'm always sweating when I sing this song!
"P/S: If my karaoke session is happening in the car, I will just headbang instead of jump."
Find more Team BURO Answers here.
| | |
| --- | --- |
| SHARE THE STORY | |
| Explore More | |