Lifestyle
Stormi Webster's over-the-top birthday party, JLo and Shakira performs at the Super Bowl Halftime Show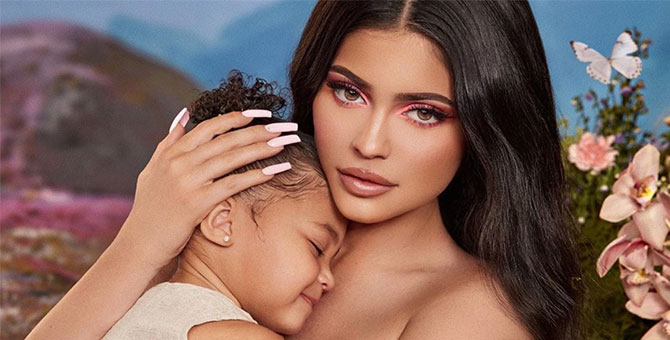 Hello, pop culture junkies! Welcome back to Pop-Culture Catch Up where we keep you updated on the biggest entertainment news that happened over the week. This week's headlines include JLo and Shakira's spectacular Super Bowl Halftime Show performance and #JusticeForJohnnyDepp trends after Amber Heard confesses to hitting Johnny Depp in leaked audio recordings.
Jennifer Lopez and Shakira gave us a performance of the decade at the Super Bowl Halftime Show
Jennifer Lopez and Shakira made Super Bowl history last week as the first Latina(s) to perform at the Halftime Show. In the 15-minute segment, JLo showed off her pole dancing prowess (flexing her newfound skills from Hustlers) while Shakira reminded everyone that her hips still doesn't lie—both proving to the world that age is really just a number. The former turned 50 recently, and the latter celebrated her 43th birthday on the same day of the performance, yet these iconic pop stars can still bring the house down.
It was undeniably one of the best Super Bowl performances of all time, but amidst all the glitz and glamour, they also made some subtle (and not so subtle) statements during their big show—the most obvious one being the medley of Born in the USA and Let's Get Loud performed by Lopez and her daughter Emme Maribel Muñiz.
The performance featured illuminated cage-like structures with a child sitting in each of them, a clear reference to the inhumane treatment of children at the US-Mexico border. Lopez was also seen sporting a feathered cape with the American flag on the exterior and the Puerto Rican flag on the interior as she joined her daughter on-stage.
More global representations came from Shakira, who featured Arabian instruments mijwiz and doumbek in her performance alongside two Colombian dance styles i.e. champeta and mapalé. Her now-trending "tongue thing" is actually called zaghrouta—a joyful expression in Arabic culture.
Amber Heard admits to abusing ex-husband Johnny Depp in leaked audio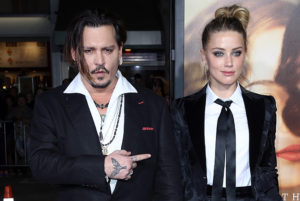 Amber Heard is in hot water after audio recordings of her admitting to hitting ex-husband Johnny Depp were exposed by The Daily Mail. "I don't know what the motion of my actual hand was, but you're fine, I did not hurt you, I did not punch you, I was hitting you," said Heard in one of the audio clips. The taped conversations date back to 2015 and were reportedly recorded on Heard's phone with her consent during an informal two-hour couple therapy session.
Worth mentioning is that the full audio recording has been edited down to two- and three- minute clips, hence a wider context of the recording is necessary to prove anyone's innocence. More here for an in-depth report on this news.
Kylie Jenner throws an over-the-top birthday party for daughter, Stormi Webster
The Kardashians/Jenners are known to throw lavish parties, so it was no surprise when the (only) billionaire sister of the family, Kylie Jenner celebrated her daughter's second birthday with yet another Stormi World-themed birthday party that's even bigger than her first. Just for context—the party was so big that it actually needed a map!
The custom-made theme park consisted of Trolls and Frozen-themed rooms, her very own merch store and a huge inflatable of Stormi's head as the entrance. There were also plenty of activities to entertain the guests including a claw machine game, photo booth and a tie-dye station. A-listers on the RSVP list include Hailey Bieber, Chrissy Teigen, John Legend and Rosalía.
Lady Gaga and her new boyfriend, Michael Polansky are now Instagram-official
Lady Gaga recently posted a photo on her Instagram with her new boyfriend, Michael Polansky. If you aren't familiar with the name, it's because her new beau doesn't sing, dance or act for a living—Polansky hails from the tech world and is backed with a pretty impresssive resume.
Reports says that he is a Harvard graduate who now works for former Facebook President Sean Parker as the CEO of San-Francisco-based Parker Group, an organisation for charitable and business initiatives. The pair reportedly met through events hosted by Parker and were first spotted together on New Year's Eve in Las Vegas.
Jameela Jamil comes out as queer after facing backlash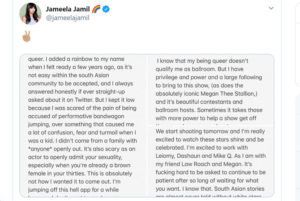 HBO Max recently announced Jameela Jamil as one of the judges for their upcoming ballroom voguing series, Legendary (after mistakenly announcing her as the emcee). However, many people criticised the decision to hire someone who was not part of the culture. Not long after, she defended herself and came out on Twitter as queer.
In the tweet, she admits that it isn't easy to openly address one's sexual orientation, especially as a brown female in her thirties. "I know that my being queer doesn't qualify me as ballroom," The Good Place star went on to say. "But I have privilege and power and a large following to bring to this show, (as does the absolutely iconic Megan Thee Stallion,) and it's beautiful contestants and ballroom hosts."
She will be on the panel of judges for Legendary alongside Megan Thee Stallion, Leiomy Maldonado, Law Roach and a weekly guest judge.
Maggy Wang and Vanessa Tevi debuts new female-centric podcast, Head Over Heels
Former FLY FM radio presenter Maggy Wang will be making her first broadcasting comeback as the co-host of a new female-centric podcast called Head Over Heels alongside Miss Universe Malaysia 2015, Vanessa Tevi. Their conversations will revolve around issues faced by women (and men), while also sharing their own personal experiences, insightful advice and more.
For their first episode which dropped last Thursday, they talked about why they decided to start their own podcast and their journey to discovering what self love meant to them. Tune in to their podcast every Thursday at 5pm on Spotify, Apple Podcast and Google Podcast. If you prefer to watch the show, head over to The Takeaway Table's YouTube channel.
| | |
| --- | --- |
| SHARE THE STORY | |
| Explore More | |