Annie Clark is a true badass. Not only did she kick start her career in music by playing and recording 13 different instruments on her 2007 debut album Marry Me; she has steadily risen up the pop culture ranks over the past few years, where today she hangs out with the likes of supermodel Cara Delevingne, and performs onstage with a slew of powerhouses in music, including Taylor Swift, if not on her own.
That's St. Vincent for you, a moniker that Clark is now fondly known as.
Now, Clarke has designed a guitar – from scratch, we might add – to accommodate the female form. As she often appears on stage wielding guitars while singing, Clark has teamed up with Ernie Ball Music Man to create her very own signature guitar that not only accommodates a woman's breasts, but also apparently shows off the waist.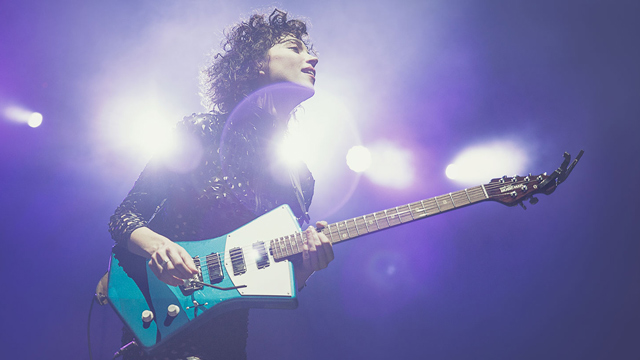 The singer tells Guitar World that she had often struggled with more classic guitar designs due to its weight that conflicted with her small frame. "They're prohibitive, so this is a very light guitar and the weight is redistributed so that it has a thin waist. I was always finding when I was playing onstage and wearing various stage outfits, the guitar would cut across one of the best features of the female body, which is your waist," she said.
The guitar's stylish, retro design was largely inspired by Clark's love for vintage guitar designs. As she had free reign over her signature guitar's design, she chose to create the guitar from scratch, rather than improvise on existing Ernie Ball guitar models. Clark paid extra attention to make a guitar that was lightweight – weighing just seven pounds – by giving it a slim and tapered waist.

Clark has thus become one of the first women to design her very own guitar from scratch. "Well I'm certainly glad to be a beacon for women and for anybody who likes music and my music," Clark says. "I'm glad that another guitar exists that is sympathetic to the female form. I'm glad that exists and I hope that people will enjoy… that men and women will enjoy the ergonomics. But smaller people and women, especially.
For more about the Ernie Ball Music Man St. Vincent model, visit music-man.com
Related stories:
Buro 24/7 Malaysia Playlist #30 : Heartbreak Holdup
Buro 24/7 Malaysia talks reggae with Joss Stone