Should you watch Crazy Rich Asians? Well, the first verdicts are already out and they're saying a crazy lot. Story aside, the existence of this movie represents more than a good rom-com flick — it's the first major Hollywood movie with an all-Asian cast since the The Joy Luck Club in1993. And for the Asians on this side of the world, it also delivers a sliver of hope for those with a Hollywood dream.
As the book's main premise is in Singapore, our neighbours are understandably thrilled but that doesn't mean we can't have a piece of that not-so-humble pie. There are Malaysians are in it – Henry Golding (he counts), Tan Sri Michelle Yeoh, Ronny Chieng, Carmen Soo and even our #BuroBossGirl Dian Lee, her sisters and Elizabeth Lee scored a cameo in it. One of the two screenwriters is Malaysian — Adele Lee who has previously worked on TV shows such as One Tree Hill, Xena Warrior Princess and Las Vegas. And the movie was also shot in Malaysia. We dug out four particular spots that made it into the movie.
Langkawi
One of the many islands we're proud of, Langkawi "acted" as Rawa Island where Colin and Nick escaped to in the movie. We hear the shipping container that appears in the bachelor party scene was built in a Malaysian parking lot. We're still researching as to where this parking lot is. 
Four Seasons Resort Langkawi
Amarinta's bachelorette party was actually held at the Four Seasons Resort Langkawi while the rest of the "bloody" scenes had the cast (and crew) trekking all over the island.
Cheong Fatt Tze Mansion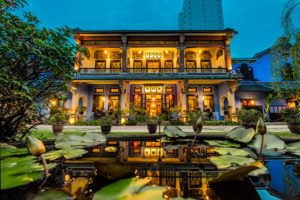 You might have spotted that familiar blue in the trailer and your hunch was right: It is the iconic Cheong Fatt Tze Mansion, also known as The Blue Mansion. We hear its interior acts as the setting for the thrilling mahjong scene between Rachel and Eleanor.
Carcosa Seri Negara
You won't find the colonial-like Tyersall Park mansion anywhere in Singapore. Instead, the crew found a certain likeness to the fictional home in Malaysia's Carcosa Seri Negara. "When you read the book you wonder, 'where are they going to find a house like Eleanor's in the story?' But they found one, with Carcosa Seri Negara, in Kuala Lumpur. Everything is lush in this film," said Michelle Yeoh in an interview with The National.
Be-landa House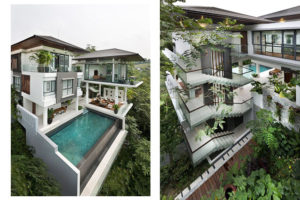 There are times when reality is truer than fiction. Nestled on a hillside slope in Kuala Lumpur is a  $2-million resort-style property with three pavilions, a glass-walled bridge, seven staircases and six bedrooms. They call it Be-landa House and the family of five who stays there had to allow "100 cast and crew members, 26 trucks of equipment, and Chinese antiques and art, 13 hours of filming and five days of setting up and dismantling" for the movie, according to The Star.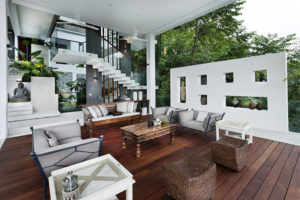 You'll be able to spot its poolside living area in the scene where Nick's mother reads passages from the Bible while her guests gossip over tea. Oh, and apparently, there's a drone shot too.
6. Astor Bar, The St. Regis Kuala Lumpur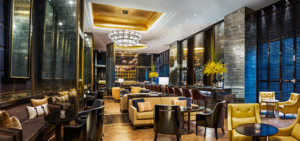 On most days, Astor Bar at The St. Regis KL is where people go to unwind, to connect, to have a drink or two. On one particular night, it played the role as one of the world's most exclusive jewellery store where the character of Astrid Teo is introduced in the Crazy Rich Asians movie. To celebrate, Astor Bar has made a limited edition cocktail simply called The Astrid.
'Crazy Rich Asians' premieres in local cinemas on 22 August 2018.
| | |
| --- | --- |
| SHARE THE STORY | |
| Explore More | |