1. According to science, one of Harry Potter's greatest magic is reducing prejudice
A study published in the Journal of Applied Social Psychology has found that people who have read the Harry Potter books are less likely to be prejudiced against minority groups.
"Harry Potter empathises with characters from stigmatised categories, tries understand their sufferings and to act towards social equality," lead author Dr. Loris Vezzali tells Business Insider. "So, I and my colleagues think that empathetic feelings are the key factor driving prejudice reduction. The world of Harry Potter is characterised by strict social hierarchies and resulting prejudices, with obvious parallels with our society."
2. A first edition of Harry Potter and the Philosopher's Stone sold for £106,250
Auctioneers had expected the book to fetch £30,000, but the signed first edition novel by J.K. Rowling smashed the estimates and sold for a world record £106,250. If you happen to own first editions of any of the Harry Potter books, just know that they are very, very valuable.
3. The first image and title for the Fantastic Beasts sequel are revealed
We saved the best for last. Yesterday marked one year until the next Fantastic Beasts film is released in cinemas, and Warner Bros. has announced its title – Fantastic Beasts: The Crimes of Grindelwald. The title reveal was accompanied by a photo of the cast in character: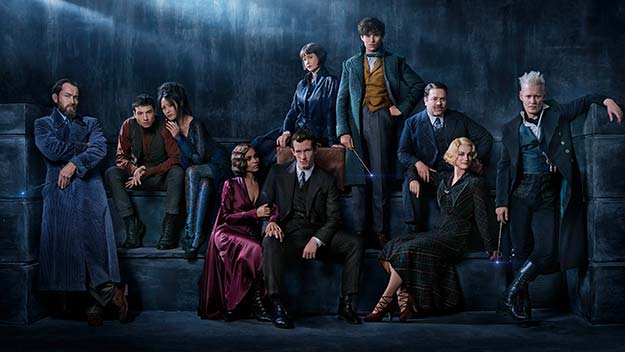 Notable new additions include Jude Law as Dumbledore, Callum Turner as Theseus Scamander, Newt's older brother, and Zoë Kravitz as Leta Lestrange (she was seen in a photo in the first film).
Fantastic Beasts: The Crimes of Grindelwald will be out in cinemas on 16 November 2018.
| | |
| --- | --- |
| SHARE THE STORY | |
| Explore More | |