The Tokyo 2020 Paralympics has finally concluded, with Malaysia achieving our medal target of three goals to claim our best medal tally yet. Thanks to the hard work of our inspiring para-athletes, Malaysia has clinched three golds and two silvers—an improvement from the three golds and a bronze medal at the Rio 2016 Games.
Let's not forget that these athletes had gone through the same challenges as our Olympic athletes in terms of training amidst a pandemic, on top of overcoming their existing impairments. To celebrate their achievements, get to know our Paralympic medalists and all their firsts for Malaysia at the Tokyo 2020 Paralympics.
The first Paralympic gold in para-powerlifting
Sarawakian powerlifter Bonnie Bunyau Gustin achieved many laudable feats during his Paralympic debut. Born with congenital short stature (aka "dwarfism"), the 22-year-old is Malaysia's youngest Tokyo Paralympic medallist who delivered the first gold medal in para-powerlifting and the first medal overall for the nation.
Gustin consistently led the charts in the Men's under 72kg para-powerlifting event with his first and second successful attempts of 217kg and 225kg, en route to setting a new Paralympic Record (PR) of 228kg. This new record amounts to more than three times his bodyweight of 69.45kg. It also gave him a comfortable lead over Egypt's Mahmoud Attia's best attempt of 191kg.
Although he did not manage to break his own World Record (WR) of 230kg at the 2021 World Para Powerlifting World Cup in Dubai, his gold medal win has more than served his nation and family proud. Both his father Gustin Jenang and his older brother Bryan Junancey Gustin have also participated international para-powerlifting events, and this historical achievement has kept the senior's dreams alive.
---
"It was [my father's] dream that I would become a Paralympic and world champion. I made a promise to make his dream come true. I'm very happy that I am able to live his dream." – Bonnie Bunyau Gustin
---
The first Paralympic silver in para-powerlifting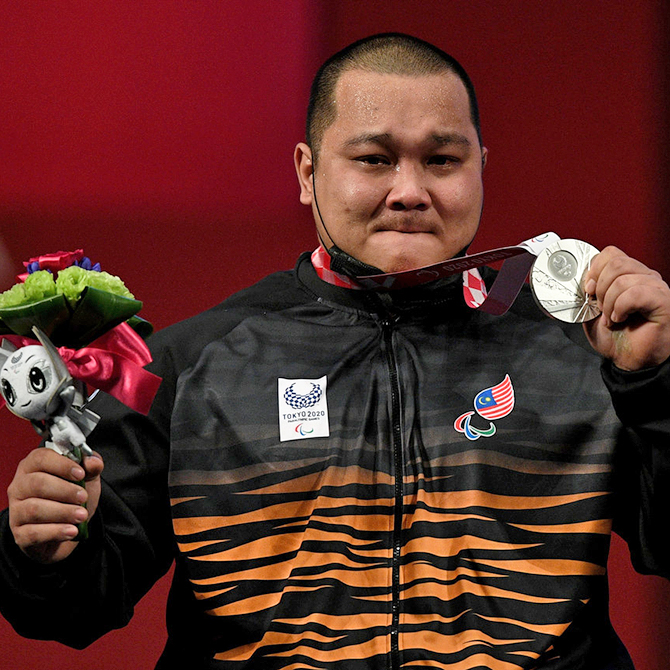 Fellow Sarawakian Jong Yee Khie's silver medal is no less worthy of praise. After all, it's Malaysia's first silver in para-powerlifting, one podium step above Chan Siow Lee's historical bronze medal in the women's 56kg category at the 2008 Beijing Paralympics.
Jong had his right leg amputated above the knee after being involved in a motorcycle accident in 2005. He was encouraged by his family to take up the sport during his recovery in 2008, powering his way through various international events to reach the Paralympics stage. His successful second attempt at 237kg to bag the silver in Tokyo shows significant improvement from the 2016 Rio Games, where he finished in 7th place with a best attempt of 202kg.
It was also an emotional win for Jong, who lost his mother to a heart attack last October. He told Bernama: "If the Paralympic Games were not cancelled because of Covid-19 last year, my mother would have seen my success, but what to do, she had to go first."
---
"While on the podium, my little heart told my mother that I had won the silver medal, I hope she heard it and is proud of me from up there." – Jong Yee Khie
---
The first ever boccia medal in Paralympics for Malaysia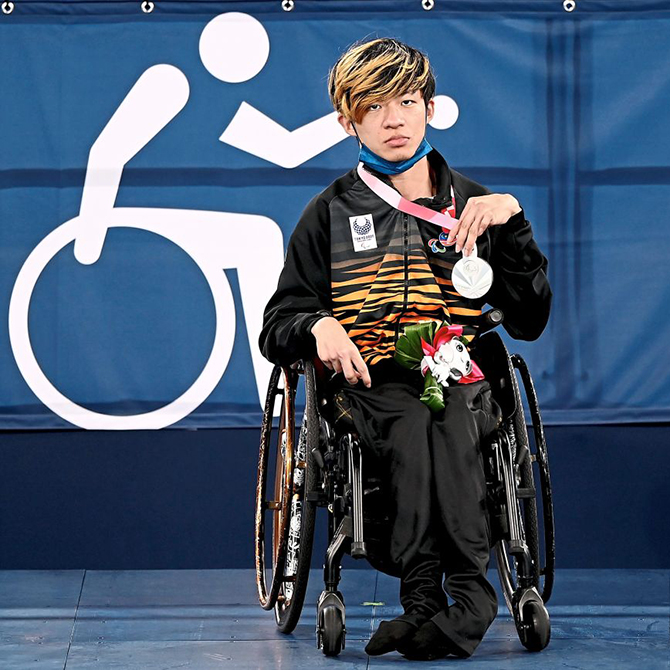 Chew Wei Lun's silver medal was a pleasant surprise for the nation, as boccia wasn't one of our medal prospects. The world no. 11 remained undefeated in all his matches up until the final, where he met his match in world No.1 David Smith of Britain. Nevertheless, he went down fighting 4-2 to bag Malaysia's first ever boccia medal.
For the unacquainted, boccia is a precision ball sport that is exclusively contested by athletes with severe physical disabilities. Chew's win places boccia as only the fifth sport after weightlifting, athletics, powerlifting, and archery to contribute a Paralympic medal for Malaysia. The Johor-born 26-year-old has not only helped to promote the sport for Malaysians, but he's also defied all odds to secure silver despite experiencing a difficult childhood—and at his first Paralympics, too.
"Ever since I can remember I had to be independent. My mother left when I was a four-year-old so my grandfather took care of me. At the age of nine, I was sent to a home for people with impairments," Chew said in a Facebook post in 2017.
---
"Growing up in this tough environment where I had to rely on myself wasn't easy. It has taught me many things but today, I can take care of myself. But throughout everything, I've always loved playing boccia." – Chew Wei Lun
---
The first ever Paralympic gold in badminton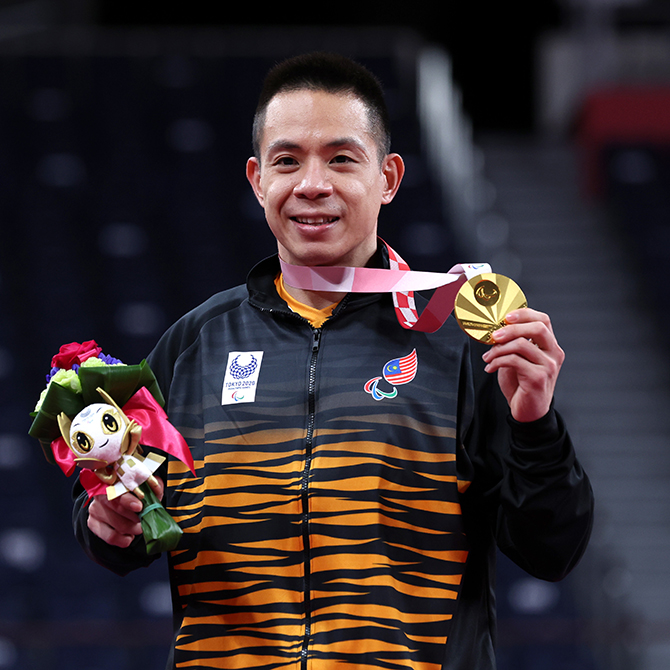 Cheah Liek Hou has waited years for the day he can prove his mettle on the Paralympics stage, after leading a decorated badminton career with 11 world championship titles in both SU5 singles and doubles events. When his opportunity finally came at the Tokyo 2020 Games, Cheah certainly delivered—winning Malaysia's first gold in para-badminton. He's also the first ever Paralympic champion in para-badminton.
He won most of his matches in straight sets, including the final against Indonesian favourite Dheva Arismuthi (21-17, 21-15). The only time he was forced to make a comeback in a rubber set match was during the semi-finals against Taipei's Fang Jen-yu (15-21, 21-10, 21-16). His momentous win is a testament to his determination and perseverance to overcome that taunts he received for his physical impairment when he was younger.
The 33-year-old was born with Erb's palsy, a condition which causes his right hand to have less strength and stability. He took up badminton at the age of nine and has competed against able-bodied and para-badminton players alike since he was 12, before focusing on the latter upon obtaining his degree.
---
"This is the first time badminton is in a Paralympic Games so, of course this is more meaningful than the World Championships. This gold is for all Malaysian badminton lovers." – Cheah Liek Hou
---
The first Malaysian athlete to retain a Paralympics gold medal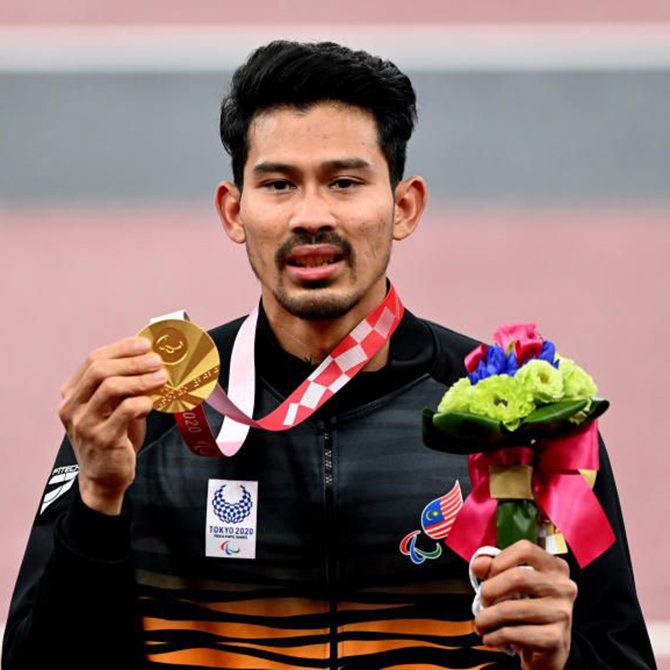 Abdul Latif Romly already made waves in Malaysia five years ago when he broke the world record in the men's T20 (intellectual disabilities) long jump event three times on the same day to bring home a gold medal from the 2016 Rio Paralympics. Now he's defended his gold with his season best jump of 7.45 metres, becoming the first Malaysian para-athlete to retain a Paralympics gold medal.
The honour would have gone to shot putter Ziyad Zolkefli if he wasn't disqualified over a late show-up to the call room, but it is officially Abdul Latif who has kept the gold in Malaysia's favour in his event. His first jump alone (7.26m) was enough to clinch the prize, but he extended his lead further with a second jump of 7.45m.
On another note, it was also the first time he was unable to finish all six attempts, after being sidelined with an injury in his fifth jump. Although he did not achieve his personal goal of breaking his own Paralympic record of 7.60m in Rio, the 24-year-old athlete will have another chance to do so at the Paris 2024 Games.
---
"This medal also proves that my success in Rio in 2016 was not pure luck. I won again here. I want to try and reach the peak of my career in the Paris Paralympics in 2024 and leap 8m." – Abdul Latif Romly
---
Congratulations once again to all our Tokyo 2020 Paralympics medalists and well done to the Malaysian contingent!
#DemiMalaysia
For more stories on our Malaysian athletes, head over here.
| | |
| --- | --- |
| SHARE THE STORY | |
| Explore More | |