* This article was updated on 26 November with detailed SOPs
* Updated on 22 December 2021: Malaysia and Singapore temporarily suspend sales of bus and flight tickets for VTL from 23 December until 20 January 2022 due to the emergence of a local Covid-19 cluster including three positive cases, two of which are possible Omicron variant cases. Ticket sales will reopen on 21 January 2022, and ticket quotas will be reduced.
After weeks (if not months) of discussions, Malaysia and Singapore are finally able to enjoy quarantine-free travel via an air vaccinated travel lane (VTL) between Changi Airport and Kuala Lumpur International Airport, as well as a land VTL across the Causeway, from November 29.
"Singapore and Malaysia have made good progress vaccinating our populations and managing the pandemic. So we agreed that it is timely to progressively resume cross-border travel between both countries. This will help revive our economies, restore people-to-people ties, and strengthen our bilateral partnership," Lee said on his Facebook post.
Under the VTL, fully vaccinated travellers are only required to take Covid-19 tests in lieu of serving quarantine or stay-home notice, which was previously mandatory. This is Malaysia's first VTL.
Here are the SOPs for those interested to travel between Malaysia and Singapore under the VTL scheme:
Only fully vaccinated individuals who have completed the full WHO-EUL vaccine regimen at least 2 weeks before entering Singapore are allowed to travel between the countries
Recovered Covid-19 patients may be considered to be fully vaccinated if they have received 1 dose of a WHO-EUL vaccine a minimum of 28 days after recovery/discharge
Mix and match of any WHO-EUL vaccines is accepted
Travellers are required to take two polymerase chain reaction (PCR) tests before departure and on arrival at Changi Airport, and must only enter Singapore via designated VTL flights
Unvaccinated children aged 12 and below are allowed to travel under the VTL scheme as long as they are accompanied by a traveller who meets the requirements
Travellers must remain in a VTL country for at least the last 14 days before departure
Travellers must apply for a Vaccinated Travel Pass 7-60 days before the planned arrival date, and are required to purchase Covid-19 Travel insurance with a minimum coverage of S$30,000 for COVID-19-related medical treatment and hospitalisation costs
All travellers 7-years-old and above who are able to use a mobile device download the TraceTogether app and register their mobile number and profile for contact-tracing purposes
Children between ages 7 and 12 unable to use mobile devices due to disability/special needs may be issues physical TraceTogether tokens (for more information visit https://bit.ly/3Ehw61O)
Steps for entering Singapore under VTL as a short-term visitor:
1) Application:
Travellers must have proof of full vaccination, and have remained in a VTL nation and/or Singapore for the last 14 consecutive days before departure
All travellers must apply for a Vaccinated Travel Pass
Applications can be made online at https://edm.brandthink.my/t/r-l-triiotd-bgoaltd-r/
2) Pre-departure:
Book a designated VTL flight, which are provided only by specific airways (click here for details).
Book and confirm your accommodation. A list of hotels that will be accepting VTL guests can be found here.
Take a Covid-19 ART (professionally-administered) or PCR test within 2 days of departure at an international accredited or recognised lab/clinic/medical facility (refer to this list of accepted facilities).
Obtain the test results and use it as proof when needed. The test must be in English (or accompanied by an English translation), containing the traveller's name, date of birth and passport number, and reflect the date and result of the PCR test.
Register and pre-pay for the On-arrival Covid-19 test at Changi Airport (travellers are encouraged to do so here to speed up the process).
Submit SG Arrival Card with electronic health declaration online within three days prior to arriving in Singapore (find more information on this website)
3) Checking-in:
Prepare the following documents beforehand and present them at check-in:                                                      — Passport- Vaccinated Travel Pass- Digitally verifiable vaccination certificate- Negative PCR test report in English- Visa (if required)- Registered TraceTogether app holding screen
Take booked VTL flight to Singapore
4) Upon arrival
Present the above stated documents at arrival check-in point
Activate the TraceTogether app once immigration has been cleared
Take the on-arrival Covid-19 test, administered at the airport
Once the test is completed, proceed immediately to accommodation for self-isolation
5) Staying in Singapore
Remain in self-isolation until negative PCR test results are obtained
As a measure against the Omicron variant, travellers entering Singapore must take antigen rapid tests (ARTs) for seven days after arriving in the country. Tests on days three and seven will be supervised and administered at a Combined Test Centre or Quick Test Centre, while days 2, 4, 5, and 6 will be self-administered and unsupervised
Results of the ARTs administered on days 2, 4, 5, and 6 post-arrival in Singapore must be submitted online via a link that will be sent to them through their declared contact details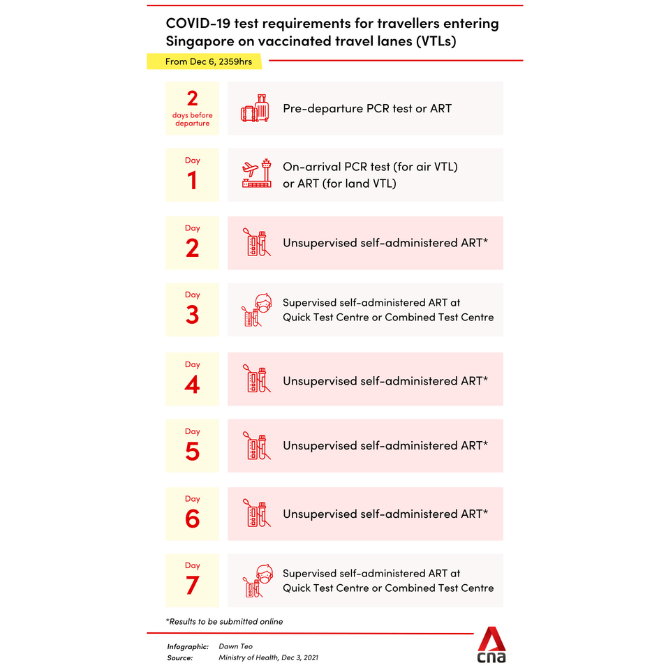 Comply with the set Safe Management Measures throughout your stay
Use the TraceTogether app to check-in at locations and show vaccination status upon request
Steps for returning to Malaysia from Singapore:
1) Pre-departure:
A negative PCR test result must be presented and the test must have been taken within 2 days prior to departure from Singapore
Register and make payment for their on-arrival COVID-19 RT-PCR Test at the BP Clinical Lab Health Screening Centre at Kuala Lumpur International Airport
2) Checking-in:
Present the following documents at check-in:- Passport or Electronic Visit Pass (e-Pass) which proving that the travellers have remained in Singapore and/or Malaysia in the last 14 consecutive days- Digitally verifiable vaccination certificate- Negative PCR test report in English- The MySejahtera app must be downloaded on a mobile device with profiles registered on the app
Travellers may only take a designated VTL flight into Malaysia
3) Upon arrival:
Complete the on-arrival PCR test at BP Clinical Health Lab KLIA and await the results in a designated waiting area
Travellers may only clear immigration when a negative result is obtained (1-3 hours after the test is taken)
Travellers will be required to perform a Covid-19 self-test on the third and seventh day after their arrival
"I look forward to effective implementation of this travel scheme, adding to those we already have developed previously to facilitate movements of people and goods between Malaysia and Singapore," Prime Minister Ismail Sabri said.
READ: 6 Things you must know about the Omicron variant in Malaysia
| | |
| --- | --- |
| SHARE THE STORY | |
| Explore More | |