There is something inspiring – empowering even – about standing in a pair of cool kicks designed by women, for women, that makes me stand up a little straighter and walk a little taller.
The powerful backstory behind Nike Air Max Dia isn't just one about how an engineer, a designer, a product manager and a developer came together to design the most expressive, functional and sophisticated pair of Dia yet, but also one that champions some of the most important conversations today surrounding women empowerment, inclusion and diversity at the table – above all, a story that deserves to be told and celebrated.
Personally, the storytelling is down to a tee, but did the rest of the new Dia features check out? Here are my key takeaways after (literally) living in them for the past week:
Comfort and craft
These points scored high on my list – the Dia is super light despite its bulkier appearance and is expertly designed with a feminine silhouette and a tapered toe-box (read: none of that Bigfoot vibes) to balance out the other cool aspects screaming for attention – in a positive way. Striking a good balance between colour, features and volume was key throughout the design process of this shoe, and I think this was quite cleverly achieved both technically and visually.
The longest I've worn my pair of Dia came close to 15 hours – it was a super long day of running around and being on my feet, clocking in at close to 20,000 steps. So, when it comes to long-wear comfort, I am walking proof that it's a day-to-night or desk-to-drinks go-to. Bonus: no chafing or blisters from my first wear, which I sometimes get with new sneaks – you can definitely do more with them, but these shoes are made for walking.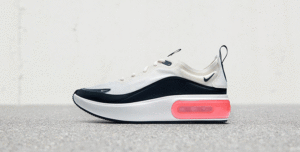 Height over heels
My style aesthetic leans on the edgier side, so I'm usually swapping between loafers, boots and heels depending on how I feel. And while I'm still working my way to sassy Jonathan Van Ness' level of heel confidence, I would not be the first to turn down a little extra height in my shoes.
My collection of sneaks is usually reserved for more casual, off-duty occasions but what I do like about the Dia – besides its strong lifestyle appeal – is the exaggerated stack height in the Air unit for that extra boost, without the visual bulk or need for band aids to keep blisters at bay.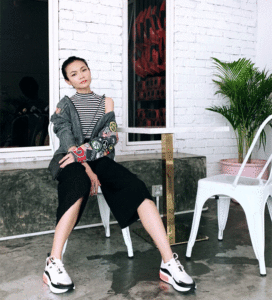 The Dia also comes with maximum foam and cushion padding at the base, so all-day comfort is a given, and I immediately felt dressier than usual despite what I'm wearing. And trust me – I've tried pairing it with many different outfits just to make sure I can safely say, it'll go with most things in your wardrobe too.
Did I imagine I would be wearing sneakers all day, every day – by choice? No. Do I (magically) feel a little more confident with the stack height? Yes. Would I wear this every day and bid goodbye to my heels forever? Since the Dia – debatable.
Easter eggs alert
The other thing I love as much as a good story, is the Easter eggs that come with it.
The deconstructed translucent Nexkin upper, a similar Zoom Fly trait, is a fun and winning feature for me. This part of the see-through vessel 'reveals' the colour (or print) of your sock, which completely reinvents the colourway and your look, allowing you to switch things up instantly. Something to note though, this only works for certain colourways – I have the pale ivory-black version, which sadly, does not support this 'peekaboo' effect but still a feature I can really appreciate.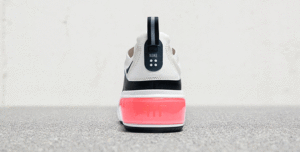 Lastly, the four dots you see on the heel of the shoe is a subtle finishing touch – a nod to the powerful collaborative effort of the four pillars (and women) behind this creation. Not only did they come from diverse professional backgrounds with varying strengths but complemented each other beautifully to achieve the perfect balance in a shoe designed for women, by women. So, you see, it's true what they say – real Queens do fix each other's crowns.
The Nike Air Max Dia is now available in Nike stores globally. 
| | |
| --- | --- |
| SHARE THE STORY | |
| Explore More | |