It feels like Deepavali was just yesterday (not to mention Halloween), and now here we are welcoming Christmas decorations all around town. Cue Mariah Carey's All I Want For Christmas…
With the year-end festivities ahead of us to round off 2021 on a brighter note, it's time to get started on gift shopping for your loved ones. If you haven't found something from our top picks of holiday beauty collections and advent calendars, this food and drinks gift guide will surely sort you out.
From coffee and tea specialties to curated wines, whiskies, and chocolates, foodies will thank you for being their Santa this year. Merry gift shopping!
Nespresso's Forest Creations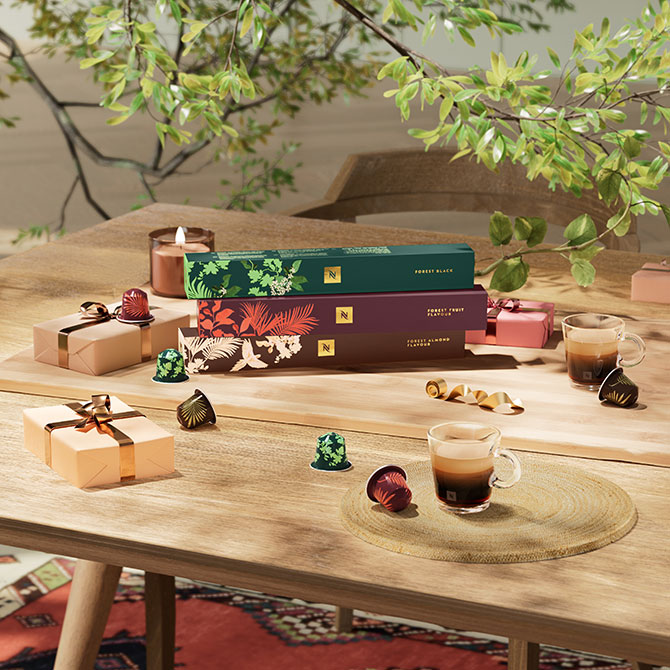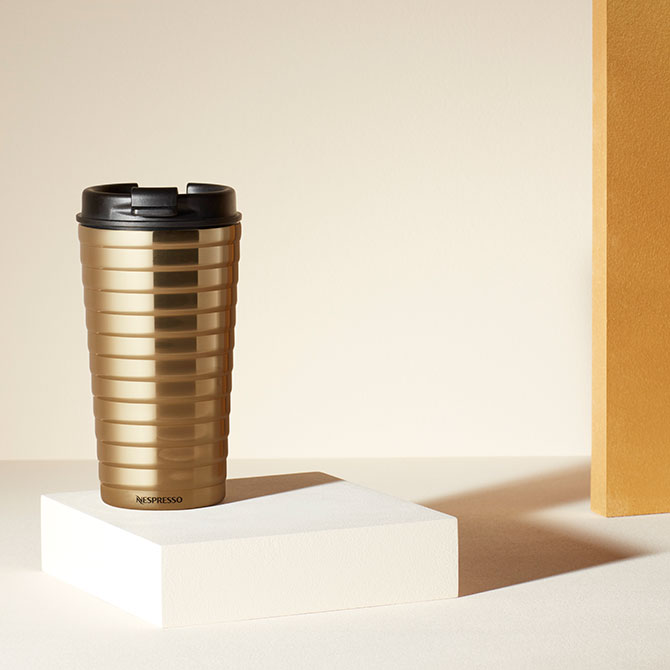 This year, Nespresso has teamed up with world-renowned Colombian fashion designer Johanna Ortiz to design its annual festive collection. Inspired by the beauty and depth of nature's forests, the Nespresso's Forest Creations collection features a range of limited-edition coffees and festive accessories to bless your coffee-loving friends and family. The limited-edition Forest Creations range includes two flavoured coffees and one black coffee: Forest Black, Forest Fruit, and Forest Almond. Accompanying the coffee range is the Nespresso x Johanna Ortiz Nomad travel mug in a deep berry shade, as well as the Touch Travel mug in festive gold. Customers can also purchase the Nespresso x Johanna Ortiz organic cotton tote bag as an add-on with any purchase from the collection.
​​Johnnie Walker 'To The One Who…' Collection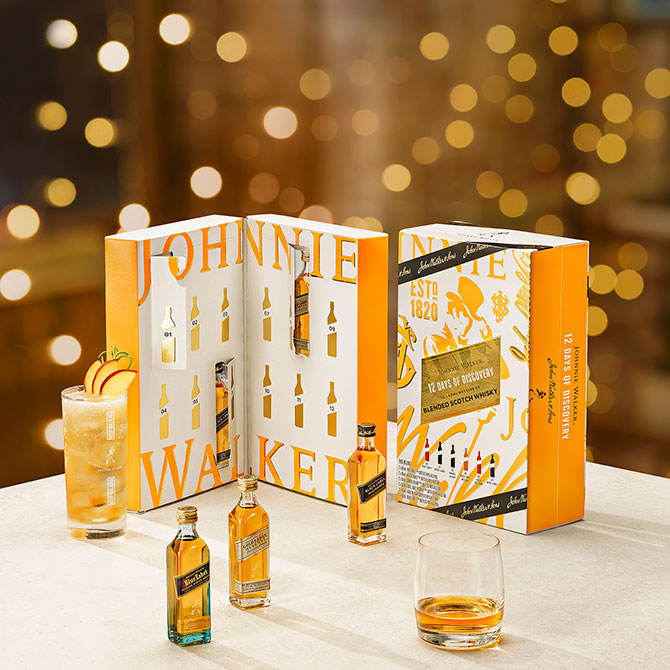 Johnnie Walker invites fans and customers to celebrate "the ones who Keep Walking" this festive season with limited-edition bottle designs of its iconic Scotch whiskies. Take your pick from the Johnnie Walker Black Label, Johnnie Walker Aged 15 Years Sherry Finish, Johnnie Walker Gold Label Reserve, and Johnnie Walker Blue Label, each arriving in Icon or Tin packs that are specially packaged for gifting. Alternatively, there's a limited edition 12 Days of Discovery Advent Calendar (RM399) featuring 12 5cl recyclable bottles of well-loved Johnnie Walker variants, including the Black, Red, Gold, and Blue Labels, and more.
Oh Cha Matcha 2021 Christmas range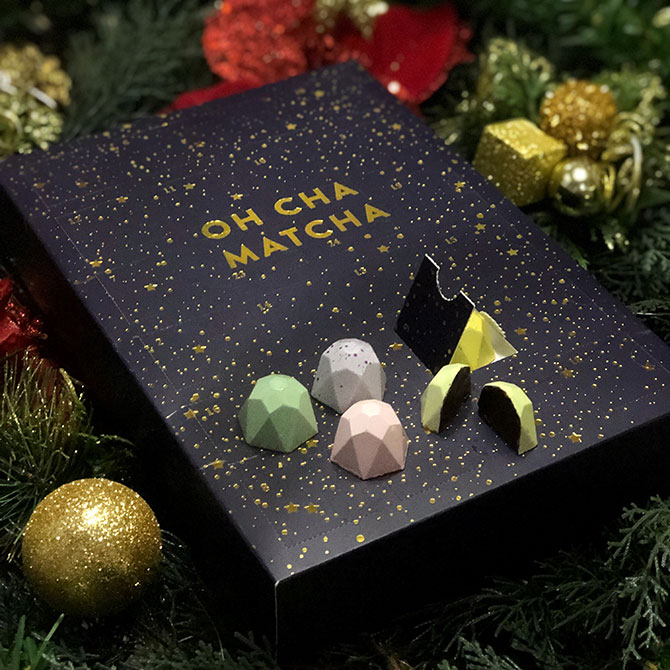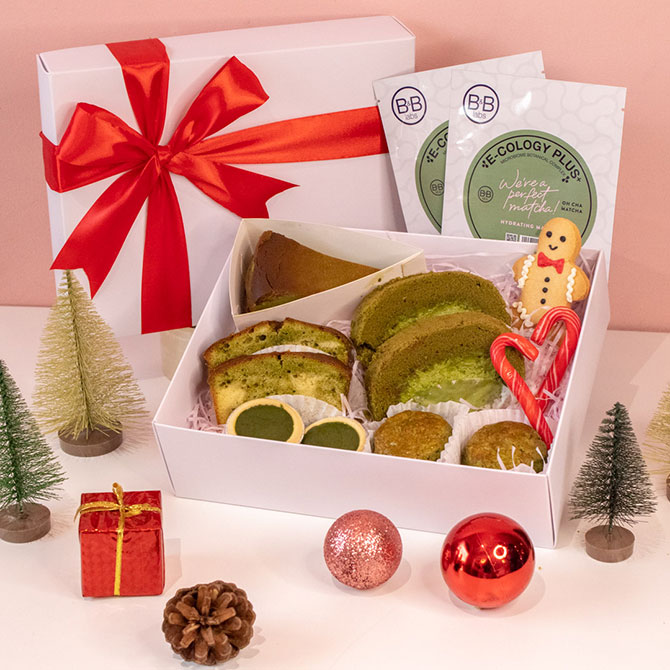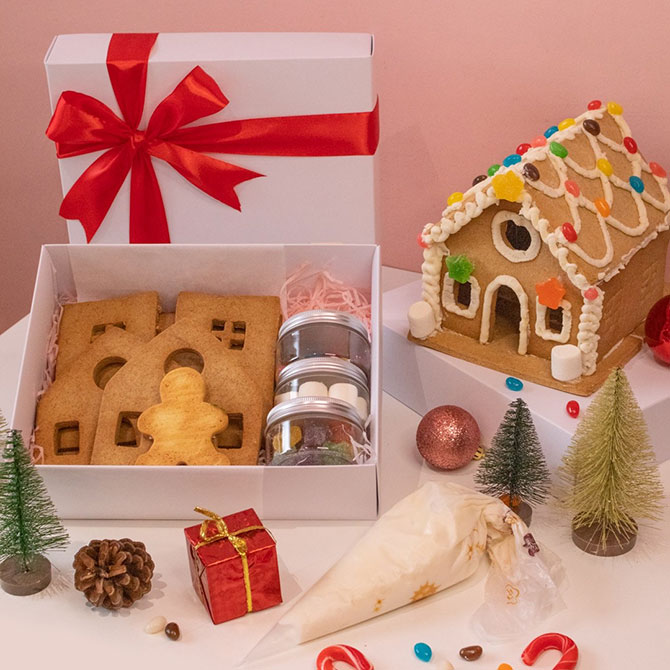 Matcha fans will love Oh Cha Matcha's 2021 Christmas range, featuring a Limited Edition Chocolate Christmas Advent Calendar (RM129), a Gingerbread House DIY Kit (RM119) and three handcrafted sets of Christmas Gift Boxes (from RM149). Only one thousand boxes of the specially crafted advent calendar will be available, housing 24 handmade chocolates in the brand's best-selling flavours such as matcha, hojicha, genmaicha, lavender, rose and mint. On the other hand, each of the three Christmas Gift Boxes will come with an exclusive Matcha Microbiome Nourishing Customask created in collaboration with homegrown cosmeceutical company, B&B Lab.
Inside Scoop Holiday Collection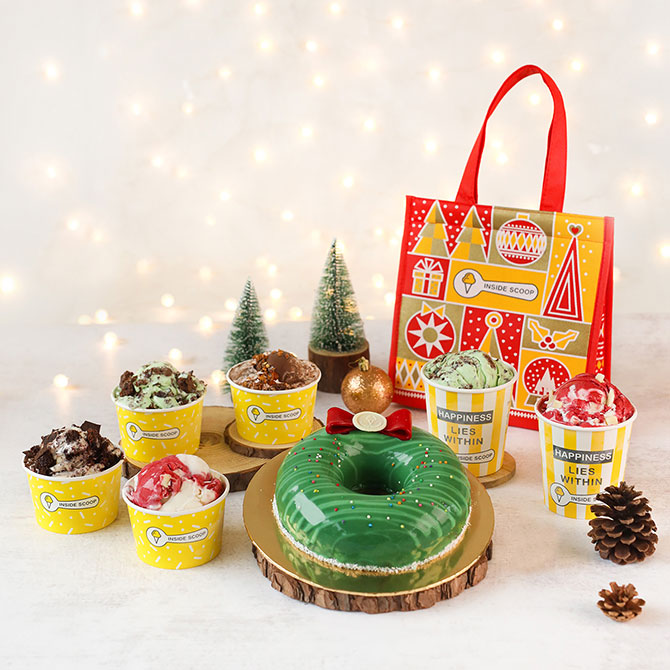 Inside Scoop has introduced four festive-inspired ice cream flavours this season, including Rocky Road, Black Forest, Popping Raspberry Ripple, and Mint Brownies. These flavours are available for sale individually, in twin packs, and in the Merry Pack (RM85) that comes with all four flavours in a limited edition Holiday cooler bag. If you're looking for a dinner party gift, there's the Wreath Ice Cream Cake (RM149), made from Belgian dark chocolate ice cream coated with Raspberry Valrhona Jivara mousse that sits on raspberry jam, flourless chocolate cake, and almond praline feuilletine base. Besides that, you can also create your own flavours in-stores (RM32.50 per pint) by choosing your preferred base, sauces, and toppings!
The Inside Scoop Holiday collection is available throughout the month of December at all Inside Scoop outlets and via GrabFood delivery. 
Wynnsday 2021 Collection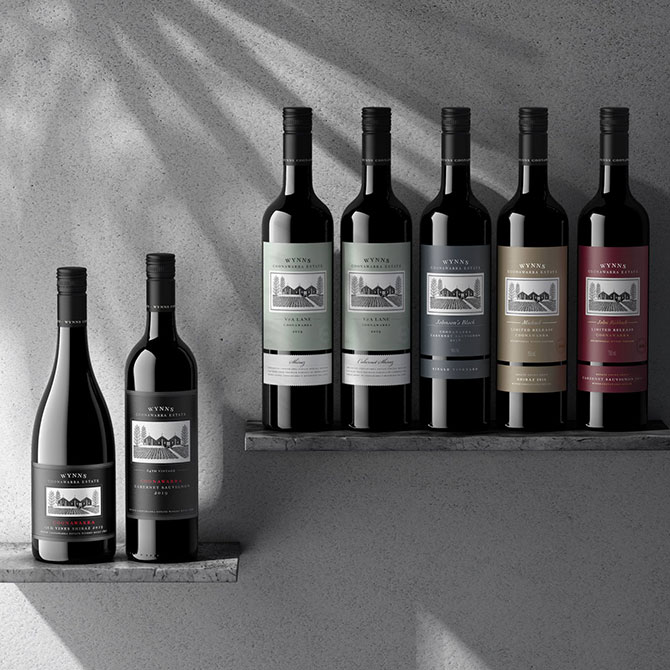 If you're looking for a gift for an oenophile, check out the recently launched 2021 Wynnsday Collection—the annual premium release from Australia's Wynns Coonawarra Estate. This year's collection is said to mark "a golden era at the estate", underscored by the return of Wynn's flagship John Riddoch Cabernet Sauvignon and Michael Shiraz from the acclaimed 2018 vintage. Other highlights include the Black Label Old Vine Shiraz and the Black Label Cabernet Sauvignon.
The Michael Shiraz and John Riddoch bottles are available at Maxvalue, Atlas Gourmet KL, Village Grocer Tropicana Gardens, and Leisure Grocer, whilst the Black Labels are available at Jaya Grocer (Hank's).
Ao Yun Vintage 2017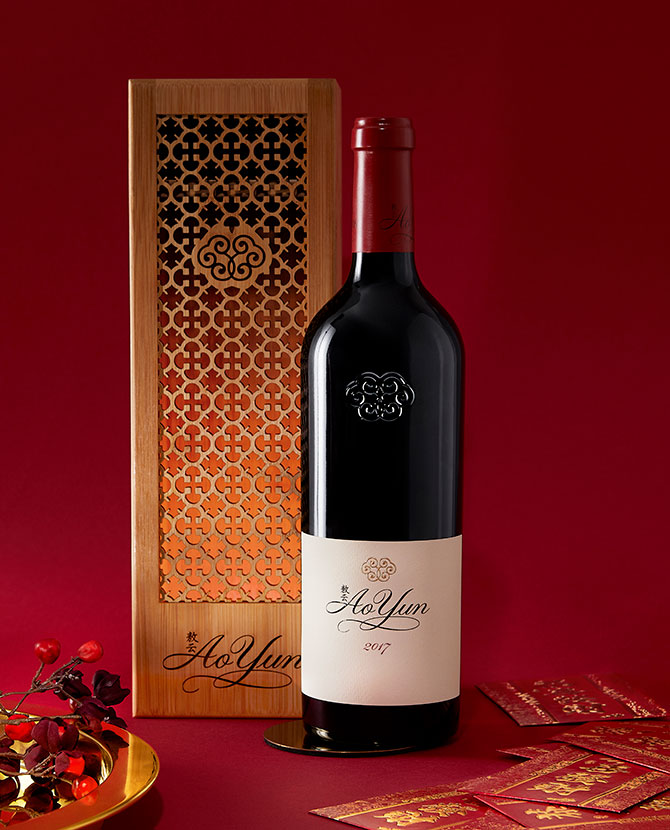 The recently released Ao Yun Vintage 2017 is another perfect gift for the wine aficionado. Despite the harsh climate conditions that year, Ao Yun Estate Director and Winemaker Maxence Dulou and his team adapted the winemaking process to the unique terroir and weather, resulting in a world-class Chinese wine. Crafted from Chinese Cabernet with a hint of Merlot in the blend, the red presents rounder and more concentrated flavours that are fresh and velvety on the palate.
For orders and enquiries, contact [email protected].
The Singleton Sustainable Festive Pack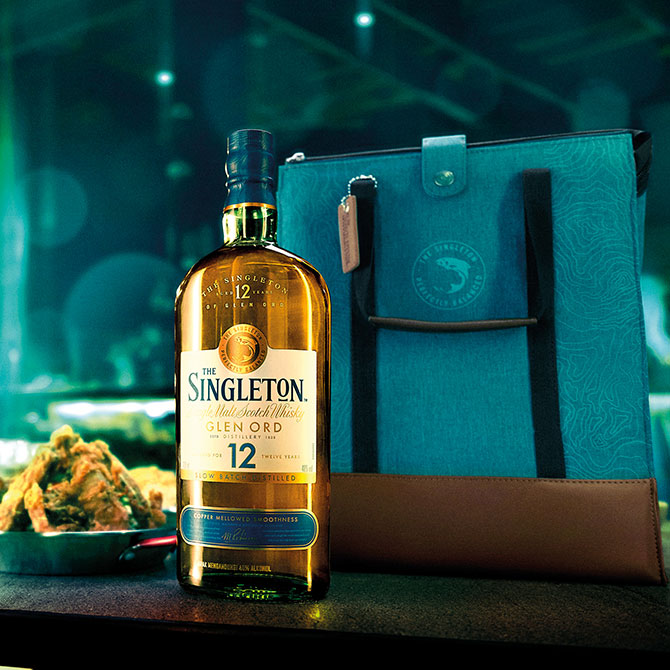 In line with its commitment to sustainability, The Singleton is proud to unveil its festive packs for the gifting season. The brand has substituted the standard Artbox packaging for its whisky bottles with reusable, functional bags that are great for daily use.This initiative has helped the brand save up to approximately 9.848 tonnes of paper. To shop eco-consciously for single malt enthusiasts, take your pick from the The Singleton of Glen Ord 12 Year Old, which comes with a teal-hued Executive Bag, or The Singleton of Glen Ord 18 Year Old, which also comes with a teal bag, in addition to two Singleton Tulip Glasses.
Amazin' Graze Ultimate Christmas Collection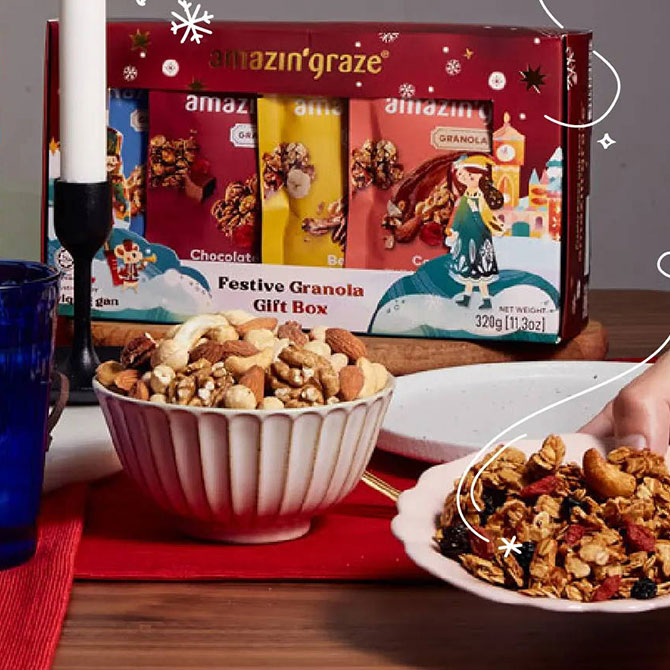 Amazin' Graze is back with another Christmas collection featuring its well-loved range of granolas, nut butters, and snacks. There's the Festive Granola Variety Box (RM39.90), consisting of four crowd-favourite granola flavours for snacking this season. Meanwhile, the Festive Nut Butter Box (RM48.80) comprises eight luscious Nut Butter spreads in mini jars—so good you'll want to finish them in one sitting! Then there's the Festive Snack Gift Box, housing mini Granola Bites, Nut Mix and Brownie Chips, and a festive Tea Towel.
Martell Limited Editions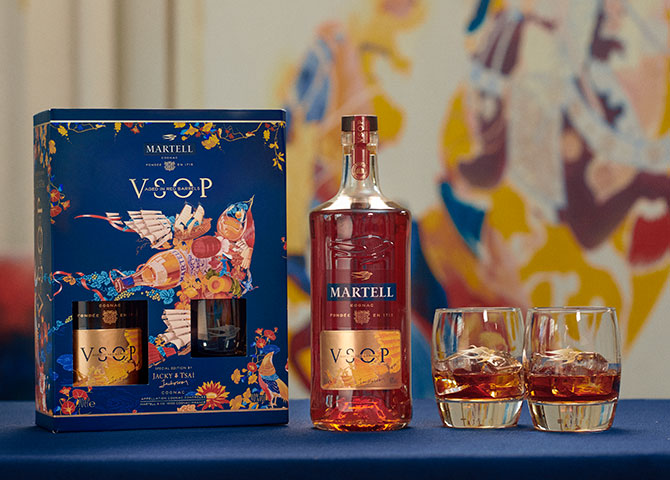 To complete your holiday reunions, Martell has unveiled exclusive Limited Edition bottles that honour its heritage and history. Bringing its expressions "From Cognac to the World", the collection includes Martell Cordon Bleu Limited Edition bottle and giftset, which comes with an exquisite snifter glass, as well as a minimalist, gold-hued ice bowl paired with a matching ice tong. The House has also collaborated with renowned Chinese artist, Jacky Tsai, to adorn the Martell Noblige Limited Edition and Martell VSOP Limited Edition giftsets with traditional Eastern artistic imagery and Western pop art collages.
The Limited Edition collection is available at all major retailer outlets nationwide.
Happy Bunch Christmas Collection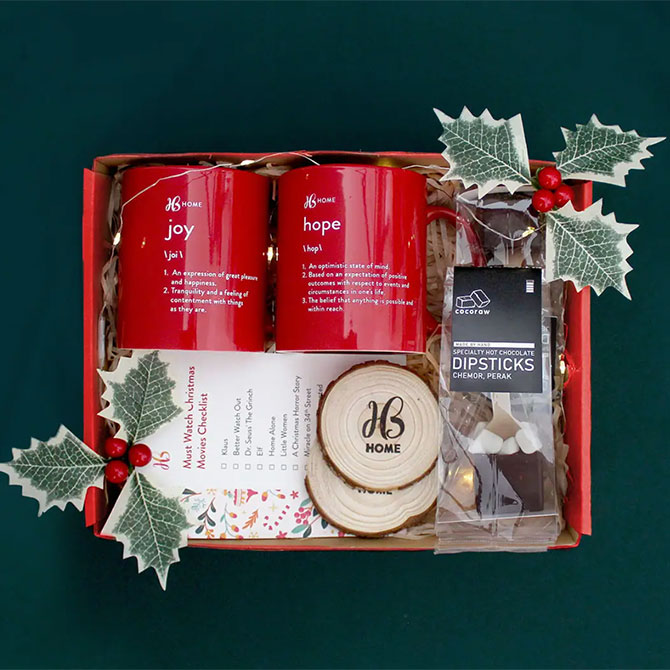 Online florist Happy Bunch has teamed up with local brands such as Buih, Asli Co.,Tapping Tapir, Seniman, Jugelik, Fallen Leaves, and more to thoughtful gift boxes filled with locally made treats! There's the Joy Box featuring CocoRaw Artisan Hot Chocolate Dip Sticks, HB Home Rustic Wooden Coasters, a 'Hope' and 'Joy' Mug, as well as a curated Christmas Movie Checklist. Meanwhile, the Wonder Box contains Christmas Edition Chocolate Dome by Jugelik, a Butter Loaf, Gingerbread Man Cookies, and a Christmas Stove Potpourri which makes a fitting gift for any party host. On top of that, there's also a Gingerbread House, Christmas Gingerbread Cake, and Christmas Log Ice Cream Cake available for pre-orders.
Perrier-Jouët Ecobox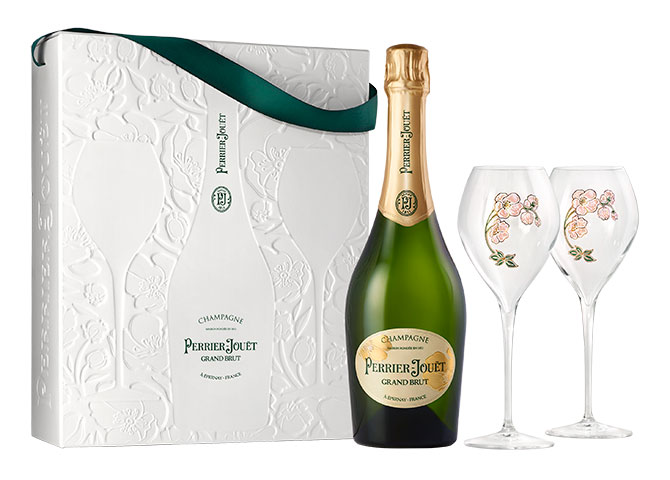 Celebrating the beauty of botany and the arts while supporting mindfulness and sustainability, the Perrier-Jouët Ecobox collection presents the Art of Mindful Gifting, featuring the Blason Grand Brut pack with two Jamesse flutes, as well as individual bottles of the Blason Grand Brut and Blason Rosé. The exclusive collection is fully-recyclable, made of natural materials, and has a low carbon footprint for your eco-conscious gifting pleasure!
The collection is available at all major retailer outlets nationwide.
Godiva Holiday Collection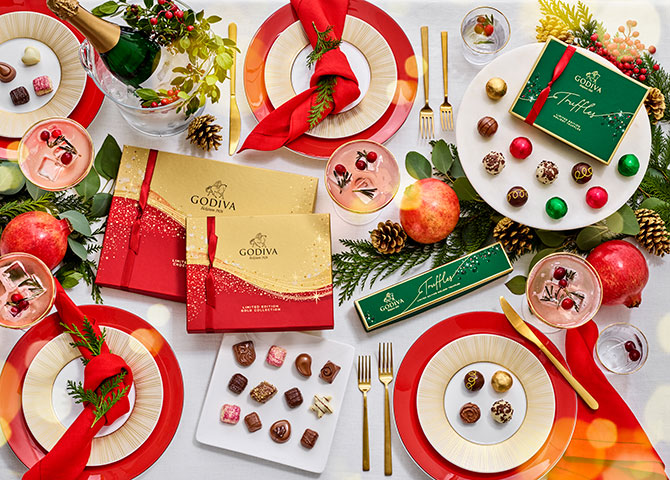 Godiva's Holiday Collection will have chocolate lovers smacking their lips with delight over the gift sets and hampers curated for gifting. There's an extensive catalogue of gifts to choose from, including stocking stuffers, customisable chocolate gift boxes, and hampers for every recipient. Some gifts that caught our eye include the Holiday Chocolate Truffle Gift Box which features limited-edition truffle chocolates with decadent fillings housed in unique, colourful shells; the Holiday Tree Box with Chocolate that comes with 10 individually wrapped chocolates in a Christmas-tree shaped tin; as well as the Chocolate Wonderland Hamper, which comprises an assortment of the brand's best-selling products—perfect for gifting families or larger groups.
For orders and enquiries, contact +6018 254 0847 (Klang Valley) or +6018 327 6357, email [email protected] or visit your nearest Godiva outlet. 
Chivas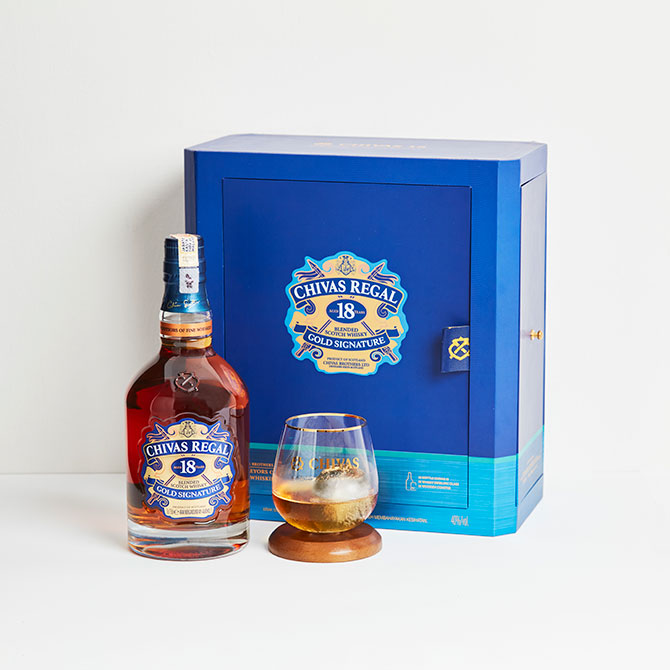 For those who appreciate rich, indulgent aromas of dried fruits, buttery toffee, and dark chocolate in a whisky, look no further for a gift than the Chivas Regal 18. The flagship whisky is offered in a giftset with a swirling glass and wooden coaster for the festive season, as well as in a miniature twin pack alongside the Chivas Regal XV and a full-sized Chivas Regal 12.
The Chivas festive gifts are available at all major retailer outlets nationwide.
TWG Tea Holiday Collection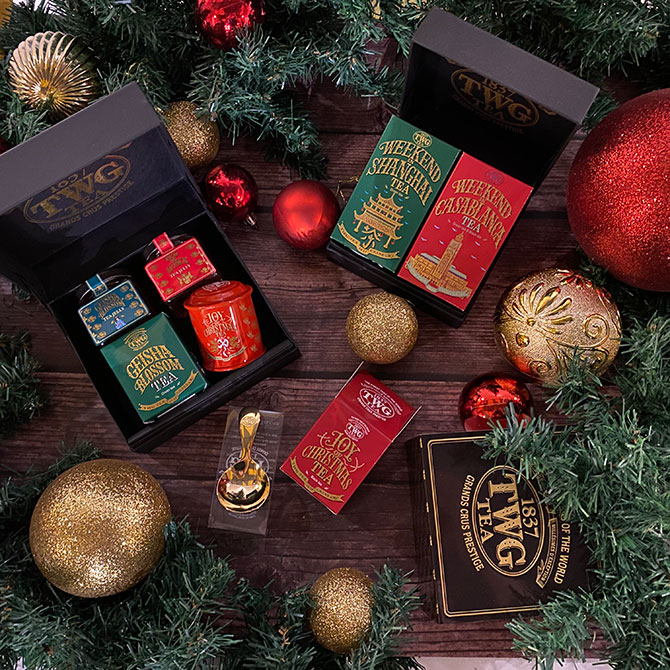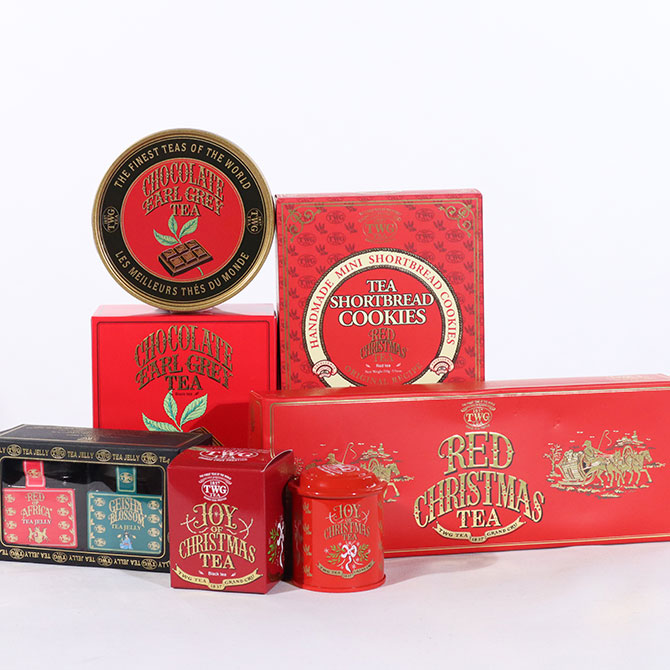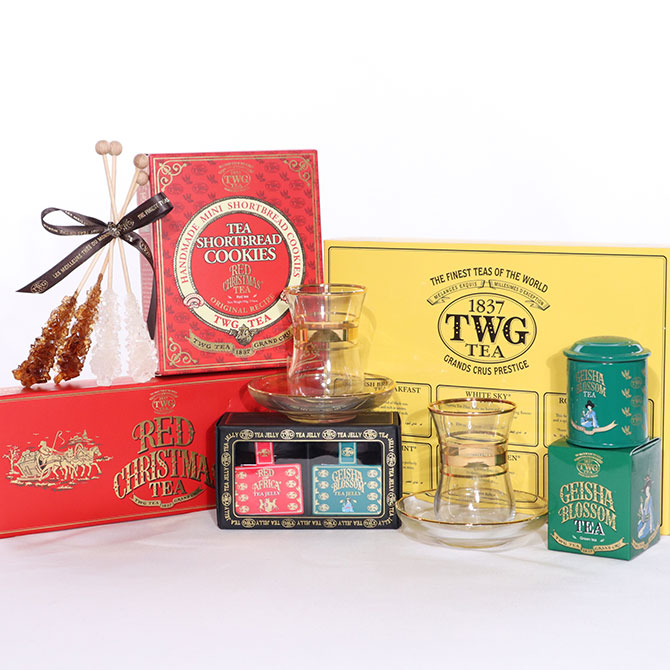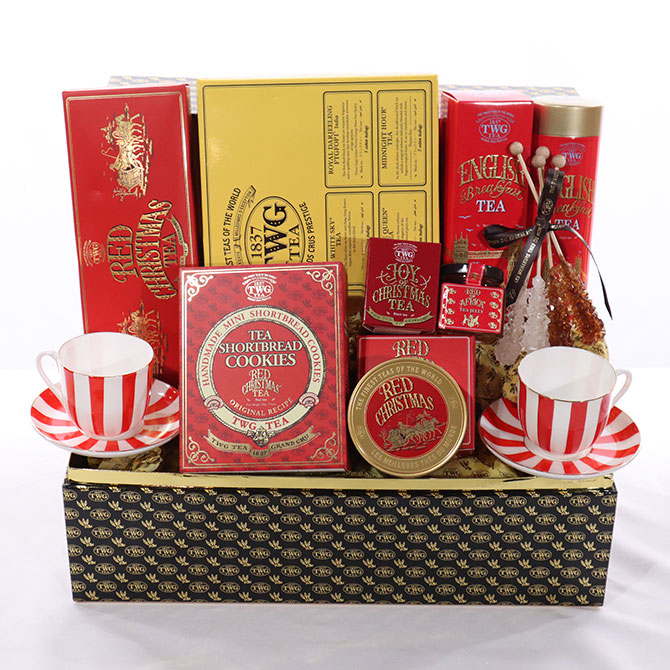 Know someone who's always sipping on tea? You'll find the perfect gift in the TWG Tea Holiday collection, featuring stocking stuffers and curated hampers for individuals and groups alike. There are tea bags and tins, cookies, glassses and saucers, and other tea-infused sweets and savouries to handpick the ideal gift for those among your friends and family who are tea connoisseurs. For the ultimate splurge, check out The Yuletide Hamper (RM888) that includes the TWG Tea Taster Selection of packaged teas, TWG's exclusive sugar sticks, and TWG Morning Teacups and saucers.
For orders and enquiries, contact [email protected].
Dignity's Box of Joy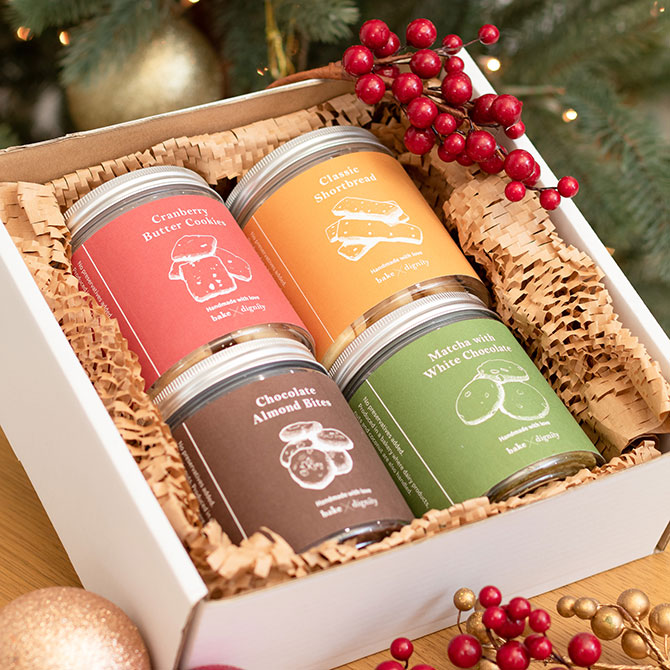 In the true spirit of Christmas, why not purchase a gift that also gives back to the less fortunate? Dignity's Box of Joy offers two options: a two-cookie jar box (RM70) or four-cookie jar box (RM145), with flavours including Classic Shortbread, Chocolate Almond Bites, Matcha with White Chocolate, and Cranberry Butter Cookies. For every jar of cookie purchased, RM5 will be channeled towards Dignity's Education Fund to empower a child in need. Aside from the cookies, there are other gift sets available, such as in-house batik cushion covers, dining sets, drawstring pouches, fabric mask keepers, teak phone holders, and kids' drawing notebooks—where sales and proceeds will go towards giving more children the opportunity to receive better quality education.
Custom or bulk orders of cookies can also be made by contacting +6010 321 4049 (WhatsApp).
The Glenlivet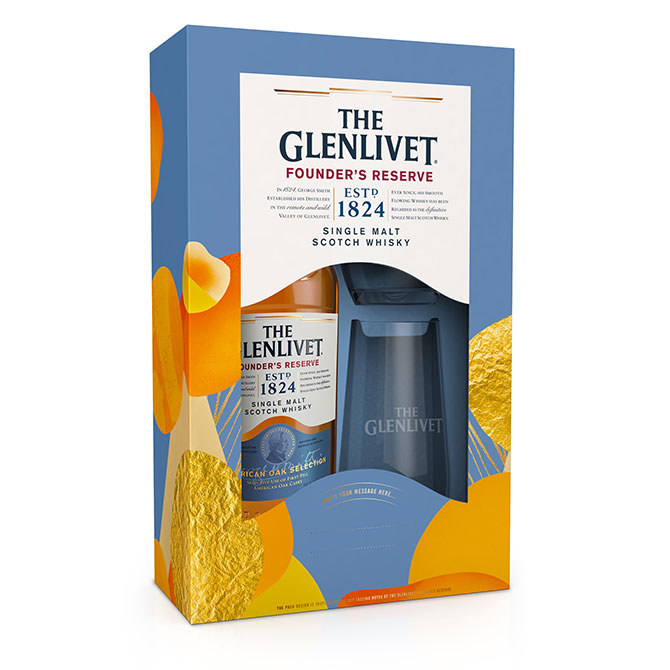 Fans of single malt whisky will find their fancy in The Glenlivet's festive collection, which will arrive plastic-free and in bright designs as part of the brand's commitment to sustainability. The Glenlivet Founder's Reserve pack will come with a pair of highball glasses, while The Glenlivet 12 Years Old pack will come complete with two tumblers.
GH Mumm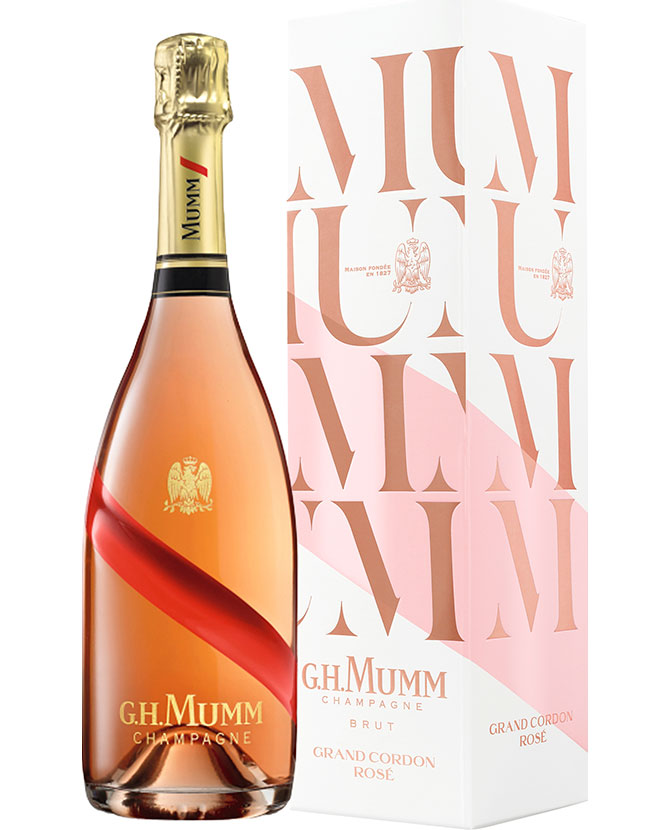 Welcome the new year with a special edition gift box of the G.H. Mumm Grand Cordon and Grand Cordon Rosé, or gift a loved one with the Grand Cordon giftset that arrives with two elegant flutes for a toast to remember.
The collection is available at all major retailer outlets nationwide.
Soul Good's The Magical Box</s
| | |
| --- | --- |
| SHARE THE STORY | |
| Explore More | |