News
#HappyHeadlines: Plans for police reform, BTS stans raise $1.1 million in a day for BLM, and more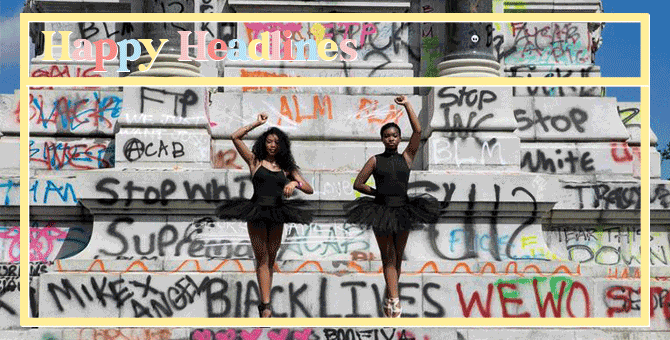 Despite the ongoing pandemic, the world is focused on reopening after months-long lockdowns to revive a declining economy.
As George Floyd is laid to rest in his hometown of Houston on Tuesday, his legacy continues to resonate across the globe, sparking debate and reflections from East to West on the problem of racial inequality. Anti-racism protests enter their third week in the U.S. and continue to spread around the world as tens of thousands join the Black Lives Matter movement both online and off to fight for the lives and futures of the African American community. Their rage is no doubt justified, but their joy is just as important.
Across industries, leaders, brands and businesses are being held accountable, with people going online to call out performative posts, tell their stories and expose the environments that have repressed people of colour, signalling that no matter who you are, racism of any kind will no longer be tolerated.
As we enter the new normal with ideas of change in mind, here's a rundown of what went right this week to keep you optimistic towards the future:
States propose plans for police reform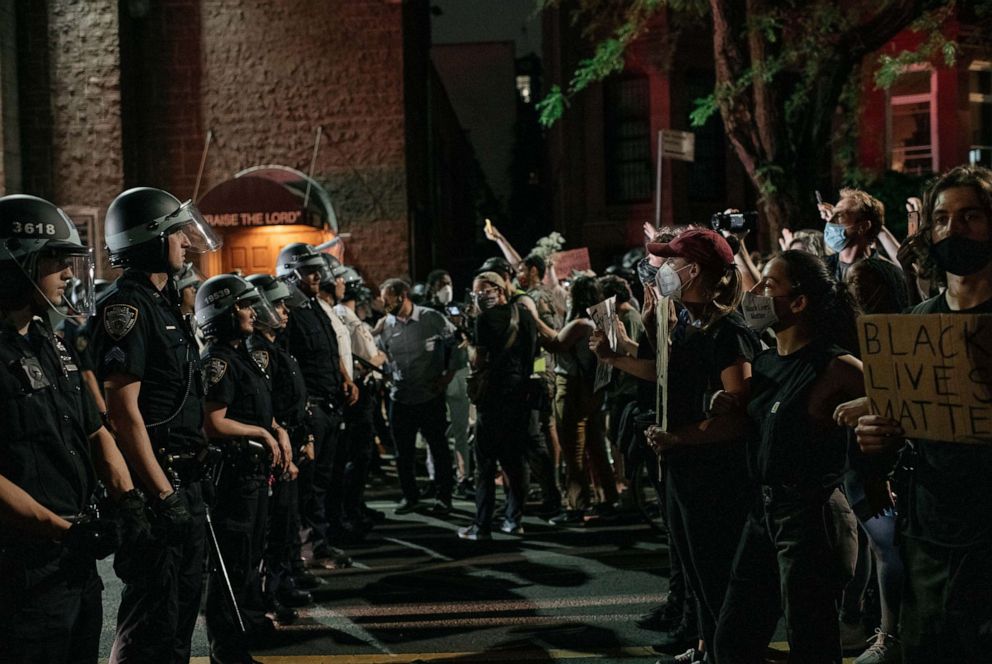 Lawmakers across the States have begun to propose major police reform measures to reduce police violence and make officers more accountable for their actions. The U.S. House Democrats unveiled a reform bill on Monday to tackle the excessive use of force and racial discrimination as well as remove barriers in the prosecution of police misconduct. Congress is also slated to introduce reforms that will limit qualified immunity for officers and restrict military weapons.
Over in Minneapolis, where Floyd was killed, plans vetoed by City Council members proposed the dismantling of the city's police department to replace it with community-based public safety programs instead. Police departments in both NYC and LA have received cuts in funding, while laws on chokeholds bans and the prohibition of racial profiling were passed in the New York State and Colorado. Louisville's city council passed Breonna's Law—named after Breonna Taylor, an unarmed Black woman tragically shot eight times in her home by police back in March—to place more stringency on warrant applications and restrict the issuance of "no-knock" warrants, a factor that played a major role in her death. Elsewhere…
The end of false idols
In the wake of the global protest movement, troublesome, urban monuments reinforcing racism are being torched, occupied and removed. From America to Europe, many of the now-toppled statues have stood for years as overt reminders of heritage and history of black slavery, racial apartheid and the wars that fought to uphold it. Confederate statues across multiple states are being officially removed by city leaders, who are also reconsidering the names of schools and streets that honour Confederate soldiers and other known racists.
In Britain, demands also grow for statues honouring the authors of colonialism to be torn down. The Stop Trump Coalition—a group established to protest the US president's visit to the UK in 2017—launched a new website called Topple the Racists to show protestors which colonist monuments need destroying near them. This move was inspired by a moment in Bristol when protestors took matters into their own hands by removing one on their own over the weekend. Similarly, the mayor of Tower Hamlets announced the removal of a statue of an 18th-century slave trader outside the Museum of London Dockland near Canary Wharf, telling Reuters at the scene that he strongly felt it was no longer appropriate to leave the statue in place.
Harper's Bazaar appoints its first ever black editor-in-chief
Samira Nasr, previously executive fashion director at Vanity Fair, will head the US edition of Harper's Bazaar from next month, publisher Hearst announced Tuesday. This is the first time in the magazine's 153-year-history that a black editor-in-chief will run the US title, a move that comes less than a week after the publisher announced a fundraising effort for organisations fighting racial injustice, aiming to match and double contributions up to 500,000. In a video posted on social media, Nasr said: "As the proud daughter of a Lebanese father and Trinidadian mother, my worldview is expansive and is anchored in the belief that representation matters. My lens by nature is colourful, and so it is important to me to begin a new chapter in Bazaar's history by shining a light on all individuals who I believe are the inspiring voices of our time."
BTS fandom matches the band's $1M donation to BLM in a day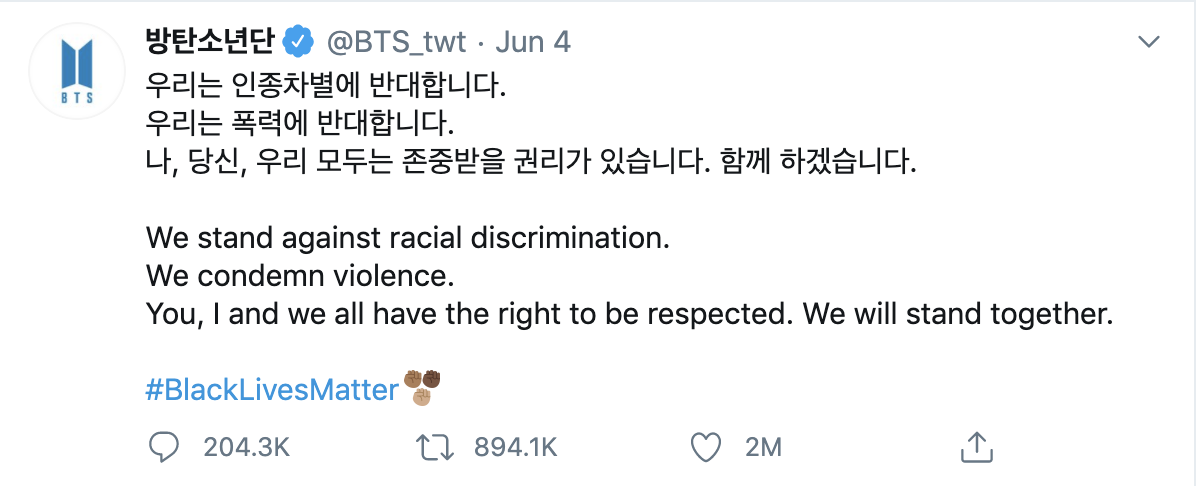 Never underestimate the power of Stan Twitter, particularly in the realm of K-pop. Fandoms have been harnessing their power for good in recent weeks, joining thousands around the world to fight against systemic racism and police brutality. Using their immense platforms and influence, they've buried online white supremacist movements, stopped police snitches and even influenced their idols, who are usually mum on social issues, to speak out against racism.
Following BTS's announcement of a $1 million donation to the Black Lives Matter movement, the group's fandom ARMY quickly flooded Twitter with #MatchAMillion campaign to organise a donation pool amongst themselves to raise the same amount for the cause. After 25 hours, the community raised an incredible $1.1 million with the support of BTS's 'One In An ARMY' fanbase charity organisation and allies around the world. The charity went on to announce that the current movement "isn't something that has a time limit, it's a belief that everyone needs to carry in their everyday lives."
Malaysian organisations join forces to support local restaurants and communities in need
Malaysian creative collective That One Thing has collaborated with 15 eateries in Klang Valley and Penang to launch "Food for Thought", a t-shirt campaign to support communities hit hardest by the COVID crisis. The project aims to encourage support towards local F&B businesses and help them get back on their feet. In addition, it hopes to raise awareness on food waste and food poverty as 100 per cent of profits from t-shirt sales will go towards The Lost Food Project (TLFP), the non-profit pioneer of sustainable food banking in Malaysia. Since the beginning of MCO, the TLFP has provided over 180,000 meals for the less fortunate by rescuing nutritious, surplus food that usually ends up in a landfill and distributing it to communities living in food poverty. Find out more on the project and t-shirt pre-orders here.
Ghanaians invent solar-powered basin to encourage hand-washing habits
View this post on Instagram
During the lockdown in Ghana, Richard Kwarteng and Jude Osei transformed an old-recycled metal barrel into a solar-powered hand-washing basin to encourage sanitation habits among the neighbourhood. Finished in just five days, the invention works like any other normal hands-free sink and runs on a 25-second timer, in correspondence with CDC's guidelines for handwashing duration. Osei's video of Kwarteng demonstrating their invention went viral on social media and caught the attention of the Ghanaian government. The pair are now working to construct more machines for placement around cities throughout the country.
HK photographer wins SWPA first place for thought-provoking photos of protest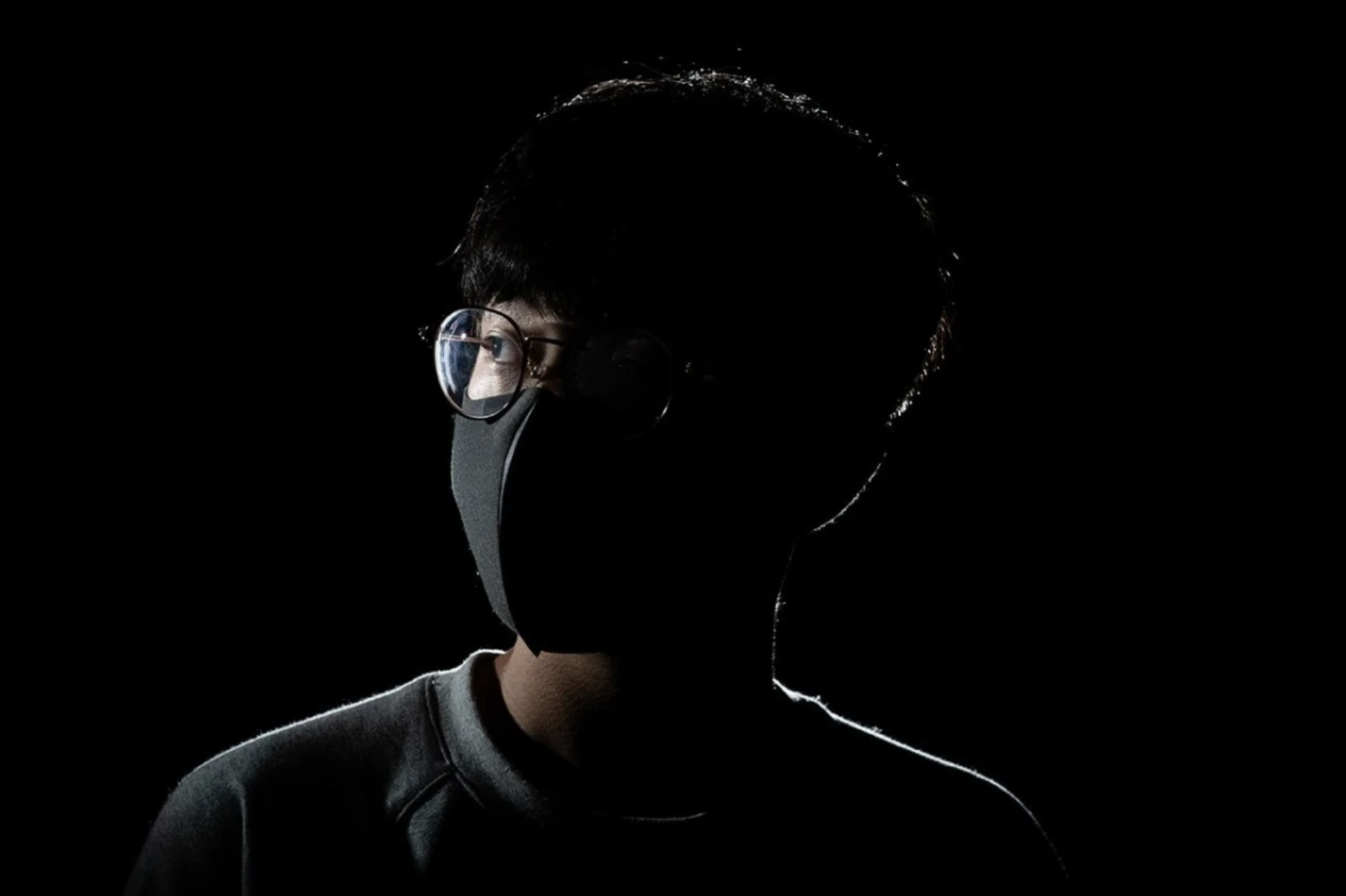 Highlighting the issue of police brutality, Chung Ming-ko's photograph, titled "Wounds of HK" was announced the first place winner of the documentary section in the Sony World Photography Awards (SWPA). The series depicts 24 men and women—some with scars and bandages sustained from the city's ongoing pro-democracy demonstrations—photographed against a black background. Chung told SCMP, "While the scars and bruises may fade, we must remember what caused them. The struggle of man against power is the struggle of memory against forgetting."
The Hong Kong photographer's work aims to draw attention to the rise of cases in depression and PTSD in the city as a result of the protests and police violence, which was first triggered by the introduction of an extradition bill by the Hong Kong government last summer. This follows the temporary removal of Chung's photos from SWPA's website in February due to its "sensitive nature", raising online concerns over possible censorship.
Indonesia's startups come together to produce local coronavirus test kits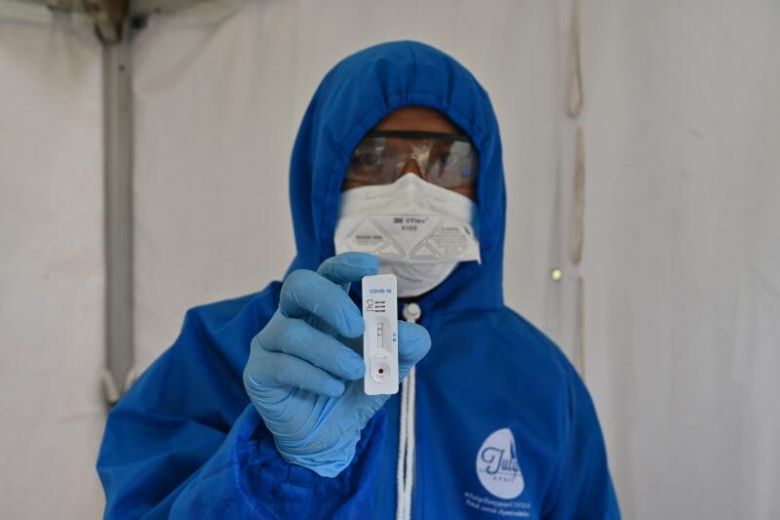 Tech startups and unicorns in Indonesia have joined forces to produce test kits locally, the Straits Times reported today, as cities moved to ease restrictive measures across the country with places of worship and workplaces reopening this week in the capital of Jakarta, Indonesia's epicentre of infections. From e-commerce platforms to genomic technology organisations, companies are pooling efforts and funds to raise testing capacity to help the world's fourth most populous country keep the spread of infections down. According to Worldometer, Indonesia had one of the lowest testing rates among countries with populations of relative size before June, but it's since increased to a rate of 1,570 for every 1 million population.
The Criterion Collection is streaming films by Black filmmakers for free
In support of the BLM movement, the Criterion Collection has lifted its paywall on all its titles from Black filmmakers and documentaries about the Black experiences to amplify black voices and spotlight their stories. Films by pioneers of African American cinema, such as Maya Angelou, Julie Dash, Cheryl Dunye, and more are part of the selection of documentaries, film shorts and contemporary works that are now available online for free, even if you aren't a subscriber of the video distribution platform. Additionally, the company have pledged to contribute an initial donation of $25,000 to organisations fighting racism in America.
Watch the films here.
| | |
| --- | --- |
| SHARE THE STORY | |
| Explore More | |