Spend your free time having fun! From visiting KL's exciting new mall to one-of-a-kind art exhibitions, the BURO Weekend Guide is packed with fresh and exciting activities
1) Visit the newly opened Lalaport BBCC mall
There are many reasons why you should take a day to visit The Mitsui Shopping Park Lalaport Bukit Bintang City Centre aka Lalaport BBCC, the first being that it's Mitsui Fudosan's very first mall in Southeast Asia—and the second Lalaport mall outside of Japan after the one in Shanghai.
This lifestyle-focused shopping mall also houses multiple well-known Japanese brands that are new to Malaysia. Among the names you may be excited to see are Nitori, Nojima, Shin'Labo, Matcha Eight, and Donq just to name a few. The mall spans across a spacious 133,000 square metres and features a modern, Japanese-inspired design, so you can surely spend a full day roaming through this new jewel in the city.
2) Go on a Cosmic Voyage by Glenfiddich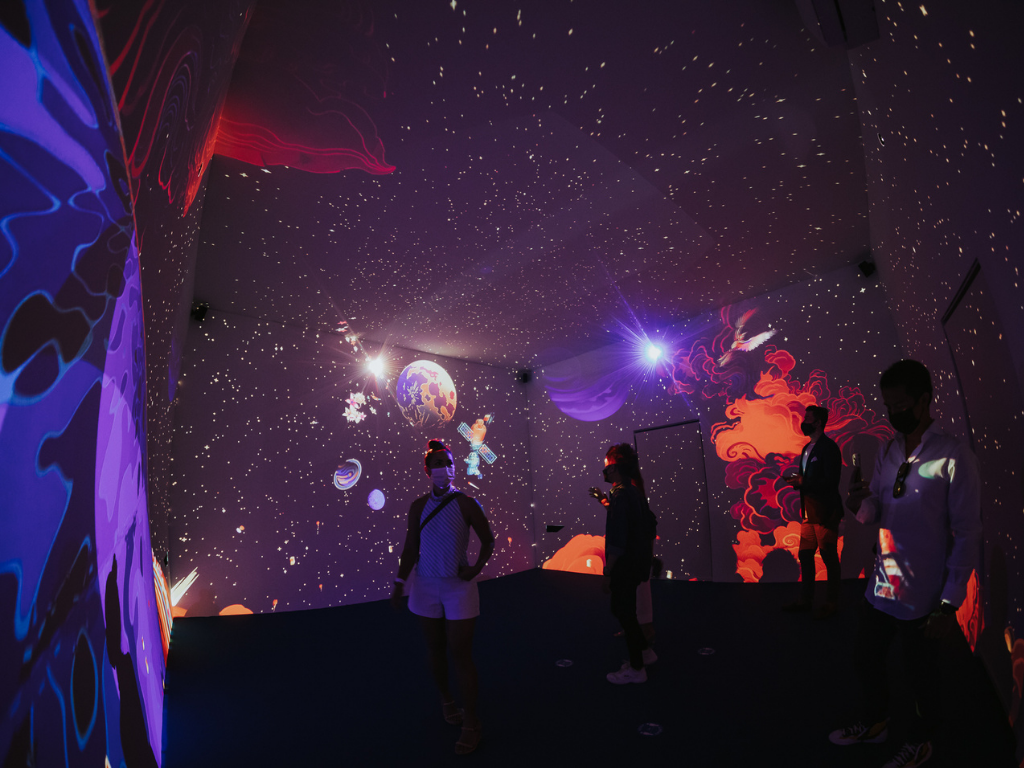 When: 18 to 30 January 2022 |1pm-9pm on weekdays, 12pm-9pm on weekends
Where: White Box at Publika
Head down to White Box at Publika this weekend to experience a celestial immersive journey unlike any other: 'The Cosmic Voyage' by renowned single malt Scotch whiskey label, Glenfiddich. The campaign celebrates the work of distinguished artist Rlon Wang, and rings in the Lunar New Year in heavenly style. Visitors will have the chance to browse through the full range of limited-edition Glenfiddich Chinese New Year gift packs. The bottles are the final instalment in a trilogy of inspiring stories told through the design of the limited-edition gift packs and are available with the Glenfiddich Reserva Rum Cask 21 Year Old and the 12, 15 and 18 Year Old Malt Whisky.
3) Get in the CNY mood at REXKL x Carlsberg Art Festival
When: 22 to 23 January 2022
Where: REXKL, KL city centre
In partnership with Carlsberg Malaysia, REXKL is embracing the Lunar New Year season with four weekends of art festivals leading up to CNY on 1 February, with countless fun activities and experiences for you to fill up your free time. This weekend, get ready to browse through their 'Flower Market' Bazaar, learn new crafts and skills through the various workshops the 'House of Tiles' workshop series, and enjoy great music at the artists' sessions and performances.
4) Get lost in reflection at Kongsi KL's 'Bilik Sejahtera' art installation
When: 21 to 23 January | 2pm-10pm
Where: Kongsi KL, Taman Goodwood
Previous art exhibitions at Kongsi Kilang Lama have been nothing short of unforgettable and truly unique, and the most recent 'Bilik Sejahtera' installation by Seni Tiga Unit A will definitely step up to the plate. The installation aims to encourage visitors to reflect on feelings of unpredictability and captivity. Admission to the exhibition is free; visitors are welcome to walk into the venue and browse through the space and the installation as they contemplate.
5) Get some self-care in at Tiffin Wellness Weekend
When: 22 to 23 January 2022 | 7.30 am till late
Where: Warehouse 3 at Sentul Depot, Sentul West
If you've been to the first Tiffin Wellness Weekend some weeks ago, you'll know what to expect from the packed two-day schedule featuring fitness classes and lots of good F&B options. Head down to Sentul Depot this weekend for the second round and take part in one or two of the 20 fitness classes that will have you breaking a sweat (the good kind, of course). From boxing to yoga and dance to cycling, pick and choose from the list of classes conducted by some of the best names in the local fitness industry.
Looking for a pre- or post-workout munch? Fret not, for the food vendors at Tiffin will have you covered with a special selection of satisfying and delicious bites only for this weekend. Familiar brands such as The Bao Guys, Hijau, and Kopenhagen Coffee ensure you'll start and end your workouts on a high note.
6) Head to Kedai KL's 'Roaring CNY Bazaar' for CNY goodies
When: 21 to 23 January 2022 | 11am-6pm
Where: Kedai KL, MAHSA Avenue, Jalan Universiti
Chinese New Year is almost upon us and you know what that means—bazaars galore, including one that you can't miss out on at Kedai KL this weekend. The 'Roaring CNY Bazaar' features some of your favourite local small businesses, so expect to find a mix of exciting things to buy. From food to vintage and preloved clothing to beauty and self-care products, there's a little something for everyone and anyone at this bazaar.
7) Admire young artistic talent at GMBB's 'Bakat Muda Sezaman' art exhibition 
When: Until 31 March 2022
Where: GMBB, Bukit Bintang
If you're an art exhibition enthusiast, you'll be no stranger to GMBB. What you have to see, however, is their ongoing 'Bakat Muda Sezaman' exhibition which features the artwork of four local artists under 35 years old, who are the finalists from the National Art Gallery's Bakat Muda Sezaman 2021 (Young Contemporaries 2021) art competition. Their masterpieces will be on display through GMBB's multiple levels, so keep in mind that there will be some roaming to do if you intend to pay a visit. That said getting to experience the craftsmanship and contribution of these young creatives, to the local cultural art scene, will make the walking worthwhile.
Find more things to do in our previous BURO Weekend Guides here.