Lifestyle
Dwayne 'The Rock' Johnson opens up about his father's sudden death, Halsey releases new album, 'Manic'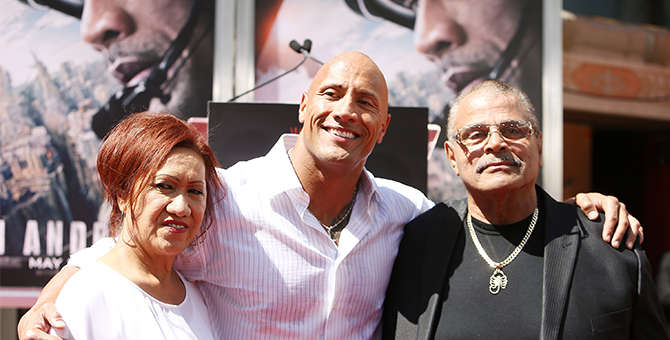 Hello, pop culture junkies! Welcome back to another episode of Pop Culture Catch-Up podcast as we discuss the biggest news of the week in the entertainment circle. This week's headlines include: Dwayne 'The Rock' Johnson opens up about his father's sudden death, Halsey releases a new album, and the controversy regarding this year's Oscars. Now on to the top trending news:
Dwayne 'The Rock' Johnson opens up about his father's sudden death
Dwayne Johnson's father, Rocky Johnson, passed away at the age of 75 last week. In a heartfelt Instagram video, the star shared the cause of his father's death with curious fans, revealing that the WWE pioneer had been battling health problems.
"A lot of you wanted to know what happened to my dad. He had not been feeling well and had been battling a cold and infection. And on Tuesday he had a deep vein thrombosis which is essentially a blood clot in his leg," Johnson explained. Unexpectedly, the blood clot got caught in his father's lung, which then caused a severe heart attack.
Furthermore, Johnson reflected how soon and unannounced his father passed, wishing he had the chance to express his love and gratitude. The actor also thanked supporters for their messages, further adding in his post, "Go hug your loved ones hard, while you still can." Later in another Instagram post, he shared that he will be writing an eulogy for the funeral.
---
Halsey's latest album release, Manic, gets real and emotional
The American singer-songwriter unveiled her third studio album, Manic, and fans are already loving it. She got candid and personal with the lyrics for each song, showing the world a raw side to her most authentic self.
On the album-making process, the singer shared that: "I sat down to make a list of things I didn't like about myself because I thought it would help me make an angry album, and I wrote it and I cried. I read it and let some of my friends read it, and after writing it, I couldn't find any anger at myself, I just found forgiveness. I looked at the list and said, some of these things are true, some are not. You may feel that way about yourself, but it's okay, you're going to be okay."
Manic allows listeners to relate with Halsey's experiences with acceptance of one's own feelings along with dealing with self-destructive behaviours, low self-esteem, and self-forgiveness. The album has a total of 15 tracks, namely Ashley, clementine, Graveyard, You should be sad, Without Me, Still Learning, 929, and many more.
---
Oscar nominations 2020: "Too white" and "men-dominated"
Despite our hopes for a progressive Hollywood in 2020, the Academy Award seems to be nowhere near there, and is in hot water, again. The honorary organisation received backlash for its lack of diversity when the Oscar nominations were released, including subtle shade by actress Issa Rae on the all-male nominees for the directing category.
Many chimed in, stating that well-deserved nominated directors could have been Lulu Wang, who directed The Farewell (the same film Awkwafina won the Golden Globe award for best actress), Little Women by Greta Gerwig, and Harriet by Kassi Lemons. On the current all-male nominations list include Bong Joon-ho for Parasite (we're not complaining, though), Martin Scorsese for The Irishman, Todd Phillips for Joker, Sam Mendes for 1917, and Quentin Tarantino for Once Upon A Time … In Hollywood. The lack of diversity was also noted—only one person of colour is nominated in the category for best actress i.e. Cynthia Erivo for her role in Harriet.
Horror maestro Stephen King also weighed in on this with a series of contradicting tweets on Twitter. "I would never consider diversity in matters of art," he said. Later, he posted another tweet stating that, "The most important thing we can do … is make sure everyone has the same fair shot, regardless of sex, color, or orientation. Right now such people are badly under-represented, and not only in the arts."
---
Eminem releases surprise Alfred Hitchcock-inspired album
Eminem seems to have a recurring style of dropping albums at the most random of times. Known for rather controversial lyrics and song themes, his new latest song, Unaccommodating, references the Manchester Arena bombing, a tragedy which took place during Ariana Grande's concert. Another song, Darkness, had lyrics alluding to the 2017 Las Vegas shooting, with a fatality count of 59 and more than 800 injured. There already is an ongoing debate on the rapper's choice of referencing tragic events as means of making a profit.
The rapper's eleventh album comprises a total of 20 original tracks such as Premonition, Godzilla, Farewell, Leaving Heaven, Marsh, Never Love Again, No Regrets, I Will, and more.
---
Apple TV Plus lands Beastie Boys Story documentary by Spike Jonze
Academy Award-winning director Spike Jonze is taking on a project with Apple TV Plus. Apple recently acquired a non-fiction film, Beastie Boys Story — a live documentary that follows the story and friendship of the Grammy Award-winning band, Beastie Boy. Joining the project are Beastie Boys members themselves, Mike Diamond and Adam Horovitz, who will be writing for the film.
The documentary is set to premiere globally on Apple TV Plus on April 24.
| | |
| --- | --- |
| SHARE THE STORY | |
| Explore More | |