With earlier celeb attempts to fight COVID-19 coming off a little, well, painfully tone-deaf  (just, ugh–let's not talk about it), here are 13 celebs who are actually making a difference to the lives of the vulnerable during these trying times.
If you'd like to help out your local communities, see our article here (scroll past the memes).
Rihanna
Turns out Badgalriri isn't so bad after all. Her charity, the Clara Lionel Foundation (CLF) has donated US$5 million towards organisations in the US and around the world. This includes American food banks for at-risk communities, research to develop a vaccine, protective equipment for frontline healthcare workers, and work to accelerate testing and care in countries such as Haiti and Malawi in an effort to fight against COVID-19.
Ryan Reynolds and Blake Lively
Everyone's favourite power-couple has donated US$1 million to non-profit hunger relief organisations Feeding America and Food Banks Canada. Plus, 30% of the proceeds from Reynolds' Aviation Gin brand will be used to support those out of work and donated as tips to bar staff until May 1. Guess that's one excuse to drink up, huh?
Vanessa Hudgens
The High School Musical and Spring Breakers star had a bit of a blunder during her Instagram Live stories two weeks ago where she made a few insensitive comments regarding the pandemic, however she has since educated herself (yes, girl!) and rectified her views. In one of her latest posts, Hudgens has joined forces with the likes of Ellen Degeneres and Bethenny Frankel to supply hospitals with essential supplies. In addition to that, she posted a screenshot of her donation receipt to Feeding America.
Taylor Swift
The singer has been performing random acts of kindness by sending money to those with money-troubles in the quarantine. One Swiftie in particular, Holly Turner, is especially grateful; the music photographer detailed her financial struggles in a Tumblr post amidst the economic slowdown surrounding the pandemic and, upon finding the post, T-Swizzle herself made a generous donation of $3,000 to contribute towards her rent.
Ariana Grande
Like Taylor Swift, Ari has become the queen of Venmo (a digital wallet app), sending amounts of either US$500 and US$1,000 to fans to help them cover their salary for the month amidst the economic slowdown (and keeping everyone on top of rent!).
Ciara and Russell Wilson
The singer and American football star have donated US$1 million to Food Lifeline, an organisation that distributes food to more than 300 food banks, shelters and meal programs throughout Western Washington. Apart from being generous, they're also super cute—love!
Angelina Jolie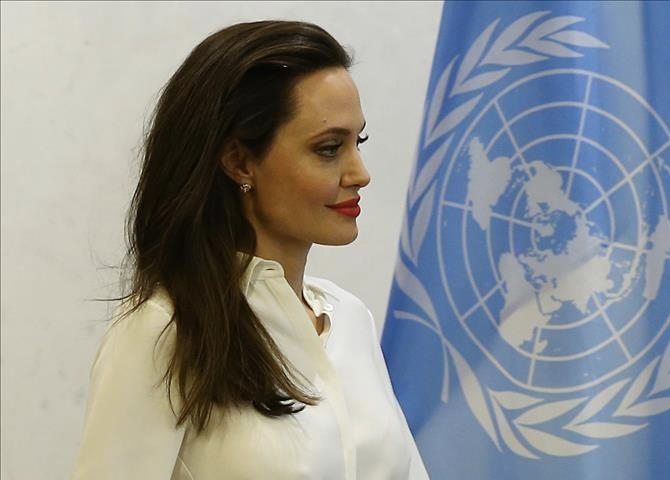 The humanitarian and actress has made a donation of US$1 million to No Kid Hungry in the name of fighting child hunger across America. The organisation will provide meals for children from low-income families across the US while schools are closed. In a statement, she said, "As of this week, over a billion children are out of school worldwide because of closures linked to coronavirus. Many children depend on the care and nutrition they receive during school hours, including nearly 22 million children in America who rely on food support. No Kid Hungry is making resolute efforts to reach as many of those children as possible."
Roger and Mirka Federer
In an effort to support the most vulnerable families in Switzerland (the nation has more than 14,000 cases and 300 deaths), the tennis power couple has donated one million Swiss Francs and urged others to follow suit. "Our contribution is just a start," Federer said in a Tweet. "We hope that others might join in supporting more families in need. Together we can overcome this crisis." We stan!
Shawn Mendes
The singer and his foundation have donated $175,000 to The Hospital for Sick Children (SickKids). His funding will go towards providing the facility with emergency resources and improve the efficiency of care to its community.
Lady Gaga
The iconic singer and actress' makeup brand, Haus Laboratories, has made a donation to two organisations: L.A. Regional Food Bank and Food Bank for New York City. More relevant than ever amidst panic buying shortages, the brand stated, "We believe this is a time to choose compassion over fear" on Twitter.
Lil Nas X
The meme king and Old Town Road rapper has used his platform for good, offering to help out fans with their bills while they are out of work. In his ever on-brand tweet, he pledges his support and urges his fans to stay inside. Truly the King we need.
Justin Bieber
Mr and Mrs Bieber were ahead of the times, making donations to the cause as early as February. In an Instagram post, he wrote, "Watching the news I couldn't imagine how scary it would be if a new disease was effecting my wife and my family and friends. China we stand with you as a collective humanity and have made a donation to support."
Arnold Schwarzenegger
The former Governor of California, actor and businessman has repurposed his foundation, After-School All-Stars. While it usually raises money for after-school programs for kids, now that kids are at home, the foundation will be providing food for their families instead. In his Instagram video, he thanked TikTok for their generous donation of US$3 million to help the most vulnerable families affected by the pandemic.
| | |
| --- | --- |
| SHARE THE STORY | |
| Explore More | |