We've done a party, a school and this year, a mansion housed at JW Marriott Kuala Lumpur's newly-revamped Mayang Sari Grand Ballroom. Before we think about what's next, take a walk down memory lane with us to exactly a week ago by watching the highlights video of the #BuroTurnsThree party below; and read on for a quick recap of what happened at the one-and-only Buro Mansion.
Head over here for the longer version where you might even be able to spot yourselves in the photos too.
Like every mansion, guests first arrive at the gates to register but unlike flashing a fancy invitation card, they could only enter with a unique QR code. Once they've passed the gates, a gorgeous garden-inspired photowall awaits, complete with a white bench and a rose-decked hoop, inspired by the floral notes of the Miss Dior fragrance.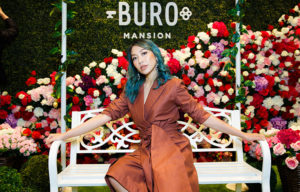 To give guests a teaser of what's to come, a lone magician roamed the foyer amidst the crowds, surprising (or rather, shocking) them with various tricks up his sleeves. For those feeling peckish, French canapés by Ladurée were passed around as well as various flavoured milkshakes, Heineken beer and the Buro-inspired mocktail. After plenty of chitter chatter and even more photos were taken, our host for the night, Hunny Madu welcomed everyone to direct their attention to the mansion doors.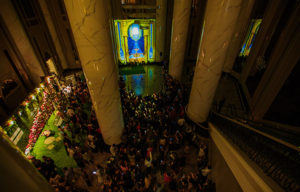 Lights dimmed as a set of floor-to-ceiling doors were digitally projected onto the real thing accompanied by a cool countdown animation. Cheers roared through the foyer at Whimsy's masterpiece and before they knew it, the doors opened, a Christina Aguilera song began, and the MAD Dance Crew dished their best moves while ushering everyone into the ballroom — or should we say The Buro Mansion.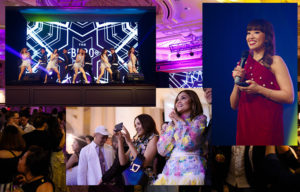 Once the dance number was over, it was time for Editor-in-chief Cai Mei Khoo to get the party started and take the stage for a short, but sweet, welcome note. The "rooms" were officially opened. From classic Moet & Chandon champagnes to the specially concocted Buro cocktail by Hennessy VSOP to (more) Heineken beer to the sweeter Strongbow cider, guests were spoilt for choice at 'The Bar'.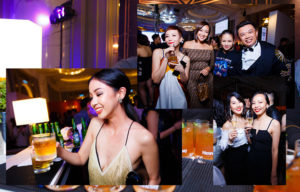 For those looking for a touch up — or a whole new do — guests could either head to 'The Powder Room' where the Laura Mercier team was ready with their makeup products; or the 'Salon' where L'Oréal Professionnel's hairstylists from Hairkunst, Shawn Cutler and A-Saloon were equipped with all the tools (and skilled hands). Both of these rooms ended up becoming pretty popular photo spots for the night.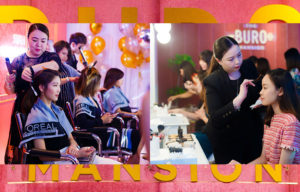 Then again, so was 'The Garage' as a sleek Mercedes-Benz C43 and a C250 Coupe AMG were parked there. The cars weren't the only eye candy there either as two 'mechanics' were on standby next to them. Speaking of candy, there was something even sweeter next door: The 'Dessert Bar' by Ladurée, featuring an assortment of macarons and our personal favourite, the Instagram-worthy La Fraise, a strawberry crème mousseline with a hint of coconut.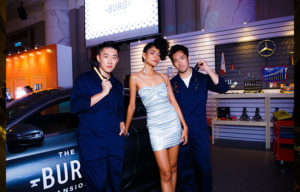 But not everyone would start with desserts like us. For the real party food, JW Marriott Kuala Lumpur got it covered over at the 'Dining Room' with delicious options such as Lobster Mac & Cheese, chilli hot dogs, truffle fries, and even ais kacang. Oh, and popcorn.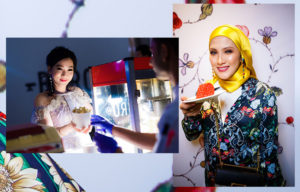 At the centre of all these rooms at The Buro Mansion was a fountain. It wasn't an average one either. Built by Rent A Pot, a dash of magic (holographic mapping) was added to it by Whimsy and anyone who waved their hand over it would hear various musical notes of nature.
Well, we just revealed the secret to that magic but we definitely don't have a clue as to how The MADgicians did theirs on stage — doves appeared from a piece of black cloth, a ball of fire levitated between a man's hands, a girl trapped in a box only to appear at the other side of the ballroom, you get the idea.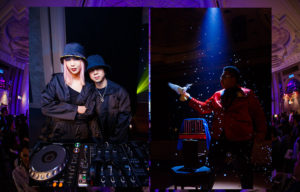 Since every party needs awesome music, we had local band Fazz rock the stage with several all-time favourite hits. Turning up the heat later that night was DJ Blink and Ashley to open up the dance floor. And just like that, the night was (sadly) over. At least, we'll have the memories.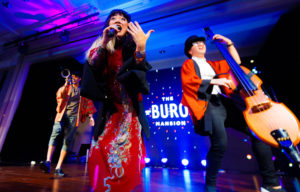 Special thanks go to Bravo Eventz for helping us put together The Buro Mansion but an even bigger thank you to everyone who came and made #BuroTurnsThree the party that it was.
| | |
| --- | --- |
| SHARE THE STORY | |
| Explore More | |