The last time we learnt how to make a handy pouch was with Biji-biji Initiative using upcycyled materials. It was easy since we used hot glue to stick everything together and there was no challenge for our artistic skills (or lack thereof). This time, we tried out FabSpace KL's 'Patch Your Clutch' workshop which is the complete opposite of those. With digital elements incorporated into the session, one would be able to make a faux leather clutch from scratch—from the design of the embroidered patch to handstitching the pieces of fabric and lining to make the clutch. But it's not as daunting as it sounds. Read on for our experience and watch this new episode of Buro Tries further below.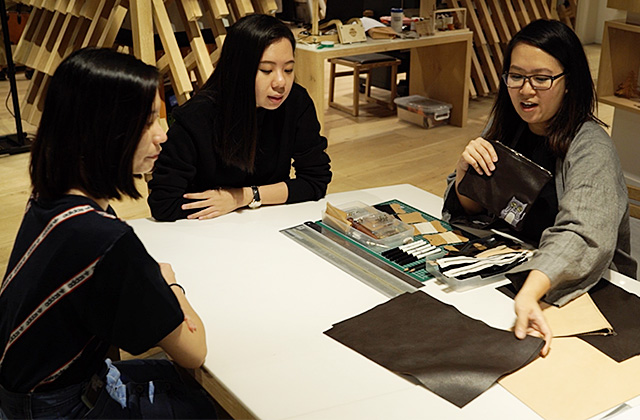 First, we drew our design (could even just be simple geometric shapes or words) on a piece of paper. Once we were satisfied, the wonderful team at FabSpace KL scaned it to the computer and using a program, digitally cleaned up the design (you can make it bigger, smaller, straighter, etc) then added colour to it. On the other side of the space, they used a machine to laser cut all the holes in the faux leather fabric for sewing later before putting it in the embroidery machine where it embroidered each of our designs. That would particularly take a long time if one, you have an intricate design; two, you chose a lot of colours; or three, both. For us, it took an average of forty five minutes to an hour for one person's design.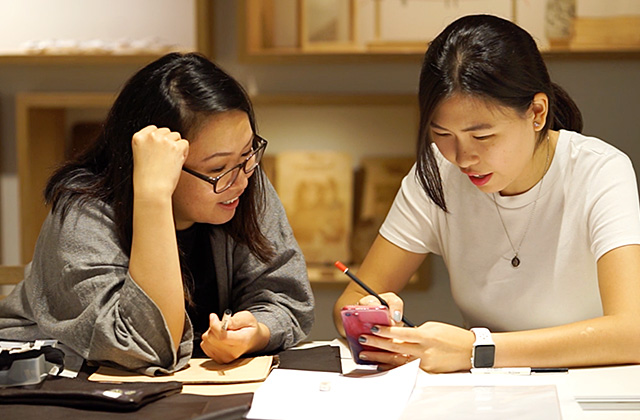 Psst… FabSpace KL does offer embroidery services (RM0.01 per stitch count) if you have designs you would like to customise. Bring them the materials (bag, T-shirt, etc.) you'd like to have it on, a paper with your design and give them a few hours to get it done. Alternatively, they also have a gallery of designs for you to choose from.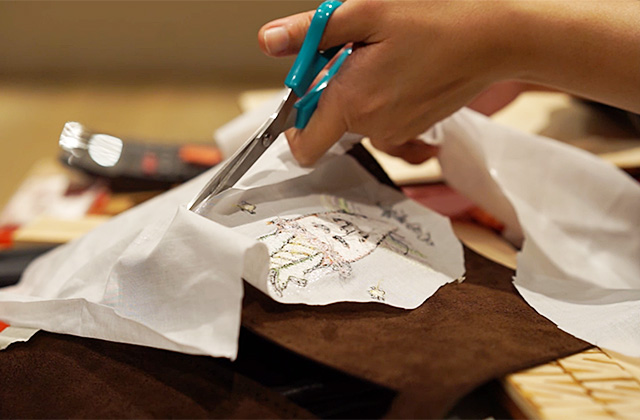 Next, with our patch design on the front side of one fabric, it was time for the hardest part: stitching the clutch by hand with a thick kind of thread. The zipper, lining, everything. But don't worry, the friendly team at FabSpace KL will be ready to assist if you experience any difficulty. The most satisfying feeling came when it was all done and knowing we have our own one-of-a-kind clutch to tote around.
Watch the video below to see the gist of the workshop:
FabSpace KL is located at Cube 3 inside Isetan the Japan Store. For more info about this or their other workshops, visit their website, Facebook and Instagram.
Related stories:
Buro Tries: Silkscreen painting with TH.inc
Buro Tries: Pyrography Art (Wood Burning) with Black Milk Project
Buro Tries: Making an upcycled pouch with Biji-biji Initiative
| | |
| --- | --- |
| SHARE THE STORY | |
| Explore More | |