There's plenty to marvel at when you set foot in the newly opened St. Regis Kuala Lumpur: its elegant old-world interiors with generous touches of modern-day glamour, the hotel's signature butler service, and a spectacular wine cellar with an awe-inspiring gold-tiled domed ceiling. Of course, it's equally impossible not to notice their magnificent private art collection, specially curated and commissioned by Carmen Chua, the Chief Executive Officer of ONE IFC Sdn Bhd, the owner and developer behind the luxury hotel.
One such piece of artwork that's sure to catch everyone's eye is Birds and Butterflies—a three-dimensional installation by the Norwich-born artist Barnaby Hosking, whose minimalist style is both communicative and contemplative. It is an immense piece (Hosking's most labour-intensive yet), involving 200 birds and 100 butterflies crafted from brass and plated in gold and chrome to withstand Malaysia's humidity.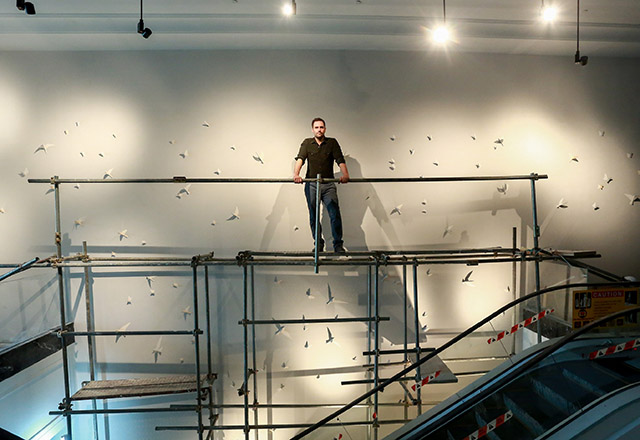 Over a period of four days in mid-March, Hosking and his team of professional art installers scaled multiple levels of scaffolding, arranging the metal wings all along the St. Regis Kuala Lumpur's 20-metre Banquet Escalator wall, which stretches from Levels 1 to 3 of the hotel. A series of specially positioned halogen spotlights completed the piece, which takes on an entirely new character with the addition of light: as the light hits each bird or butterfly wing, its reflection and shadow form a whole figure on the wall, effectively bringing the piece to life.
"One requirement was for the piece to incorporate the nearby Lake Gardens, and the Bird Park and Butterfly Park. As Malaysians, we all grew up with The Lake Gardens—it's the country's oldest and largest park, with so much history to it, so it made sense to incorporate it into our art," Chua explains. Such is Hosking's attention to detail that the bird wings have been modelled on those of the native red-bearded bee-eater, the many different shapes and sizes of the butterfly wings reflect the diverse species found at the Butterfly Park.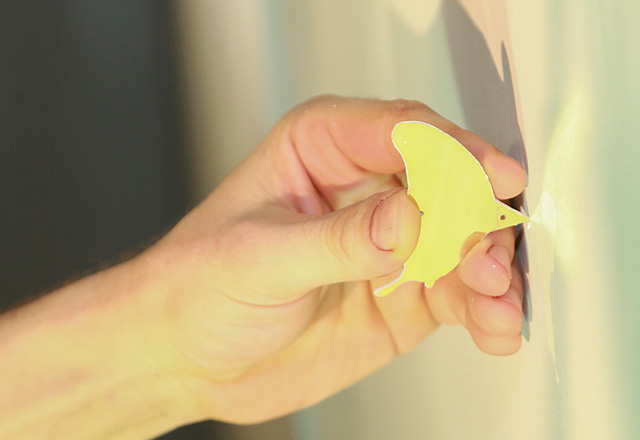 Perhaps what's most intriguing about Birds and Butterflies is its sense of freedom—not just in terms of its impact on the surrounding space, where it rises up, narrowing in the middle and forming into a crescendo at the highest floor, but also from Hosking's own artistic perspective. "A lot of my work is fairly dark and moody, and I find a sense of release in this work. I wanted it to feel light and airy—of course, it had obvious constraints because it had to work well with the interior design—but this really is an uplifting piece."
Related stories:
Art and cultural events happening around the globe in May
The St. Regis Langkawi is now open (and there is an opening offer)
| | |
| --- | --- |
| SHARE THE STORY | |
| Explore More | |