Airbnb first launched Experiences in 2016, where travellers get to have an authentic taste of the destination thanks to locals curating intimate workshops, guided tours to secret spots and sharing insider knowledge. Then came the COVID-19 crisis that has undeniably changed the course of the way of life as we knew it. Who knows when we'll be able to travel to any of our bucket list destinations? How will these hosts find a way to sustain what they have been doing for year(s) in the name of passion and income?
In light of the current situation, all is not lost. Social distancing is the new norm to which we have to adapt. For Airbnb and their hosts, they offer Airbnb Online Experiences. Social distancing should not stop you from learning a new hobby or seeing a different part of the world. Held over Zoom, this new offering unlocks more than 50 virtual Airbnb Experiences by inspiring hosts from over 30 different countries, including Olympic medalists Alistair Brownlee and Lauren Gibbs, as well as the dogs of Chernobyl!
Make new friends online or use it as an opportunity to spend time doing something different with loved ones, near or far. We tried out two of these Airbnb Online Experiences and here are our reviews.
Psst… Read on for a chance to win yourself an Airbnb Online Experience of your choice.
"Think Professor Trelawney and tea leaves, except it's actually Uluc Ulgen, coffee grounds and fortunes that only mention the good things." — Rachel Au, Editor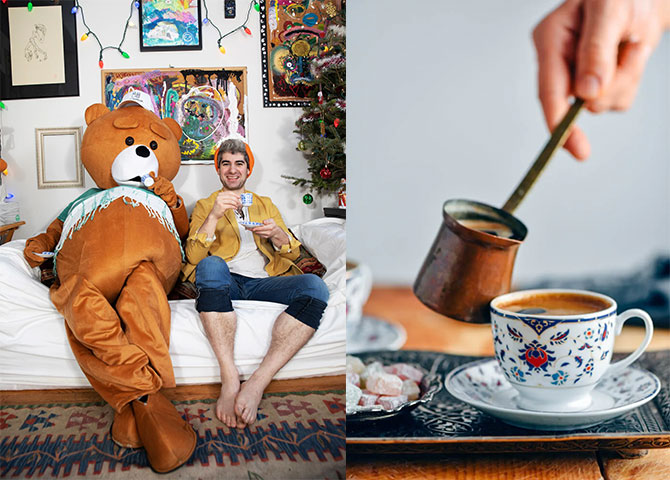 The host
Truth be told, it was pretty hard to pick an Airbnb Online Experience to review since they were all very interesting. And so, I picked based on interest instead of checking the time slots available. Uluc lives in New York, which meant I had to choose between his 1am or 5am session. As a constant early riser, 5am was the best choice; and while my eyes did struggle to open, Uluc's enthusiasm and charm as a host rubbed off on me immediately. It was an intimate session with only one other guest from Canada and yet it felt like three of us were long-lost friends catching up over coffee.
What's different
Prior to the pandemic, Uluc has been doing Turkish Fortune Coffee Reading for over four years and have had more than 2,000 guests visit his East Village apartment for a cup of authentic Turkish coffee, which is then followed by a personalised fortune read from the coffee grounds. Just like pre-pandemic, the readings are performed communally—this, he said, is a Turkish tradition. The difference with the Airbnb Online Experience, however, is that any coffee grounds will do and the session is held over Zoom. The good news is that you don't actually drink much of the coffee that's used for the fortune reading, so Turkish coffee or not, I wasn't missing that much. (Good thing I had a separate cup of coffee prior to the Zoom meet!)
The experience
It was incredibly fun! I'm usually curious about fortune readings in all forms but at the same time, I often keep an open mind about what the reading could be or end up being. At the beginning, Uluc teased me about the procedure (wait, do I spin the cup three times first or flip it first?). To be fair, it was 5.15am!
Once the coffee grounds were ready, I WhatsApp-ed him a photo of it which he then shared on his screen. Rather than it being a one-way thing, Uluc first asked me what I see. I'm not kidding when I say I told him I see a gravel path. Hilarious! Because then he proceeded to explain to me he sees a figure, presumably me, in a storm of cherry blossoms; a heart with an attached thumbs up (this meant that I have a strong heart); and a bird carrying mail. He does this by using a pen tool to draw the symbols and figures he sees, which is helpful. Unlike a previous Chinese fortune reading I've done with tea leaves at a CNY media event, this definitely involved more visual details. And three sides of the cup! You'll definitely be getting your money's worth.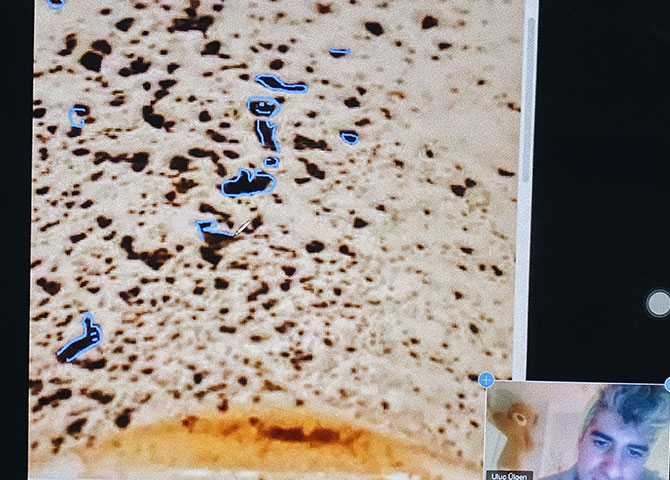 I won't go into detail what my fortune is based on his reading but let's just say they were all incredibly positive and ambitious. My Canadian co-guest too had nothing bad at all in the reading. This got me thinking—with so many upsetting and heartbreaking news we are exposed to every day, this was exactly what I needed. Maybe you, even. To have hope for brighter days. My Canadian co-guest is expecting to have a puppy or a baby soon, among other things. I'm supposed to live to over 100. Who knows? But it's always good to hear such positive things.
It was indeed insightful. Not just about Turkish coffee traditions or the fortune but because the three of us were also sharing our cultures and similarities throughout the one and a half hour, which is what these experiences are usually about. 10/10 would recommend.
"A beginner's crash course on how to build a skincare routine from scratch—with a natural twist." — Wei Yeen Loh, Deputy Editor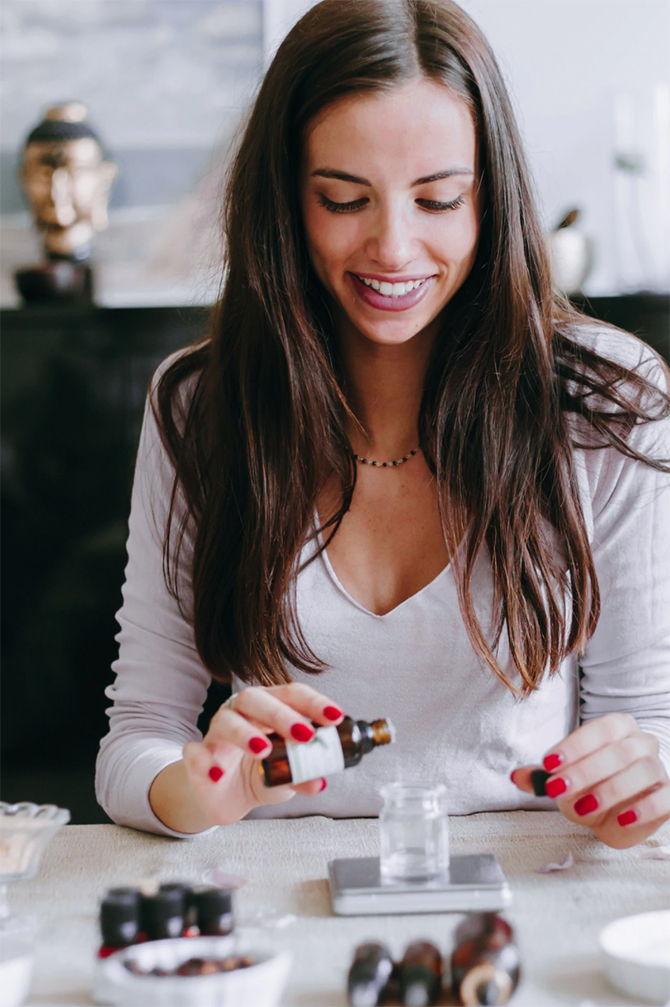 The host
My slot was at midnight (Malaysian time) as the host, Beatrice, was kickstarting the workshop in the morning, all the way from Milan. Our session only had two guests—myself and another guest from Brussels, and that made for a more personalised Q&A sesh which I appreciate. Beatrice is chirpy, speaks a mile a minute, and is an excellent host—from her in-depth answers (backed with her experience as a pharmacist) to skincare recommendations to suit our skin type and needs.
What's different
In case you're thinking, "Why do I need to be part of this online experience when I can look for DIY scrub recipes online?", just know that this natural skincare workshop is more than Beatrice instructing us on what to add to our scrub pots.
In fact, the scrub-making made up only 10% of the entire session; while the other 90% was Beatrice imparting a slew of skincare information that had us fervently jotting notes down. That said, it felt satisfying to create face and body scrubs from scratch, and knowing what goes inside before applying it.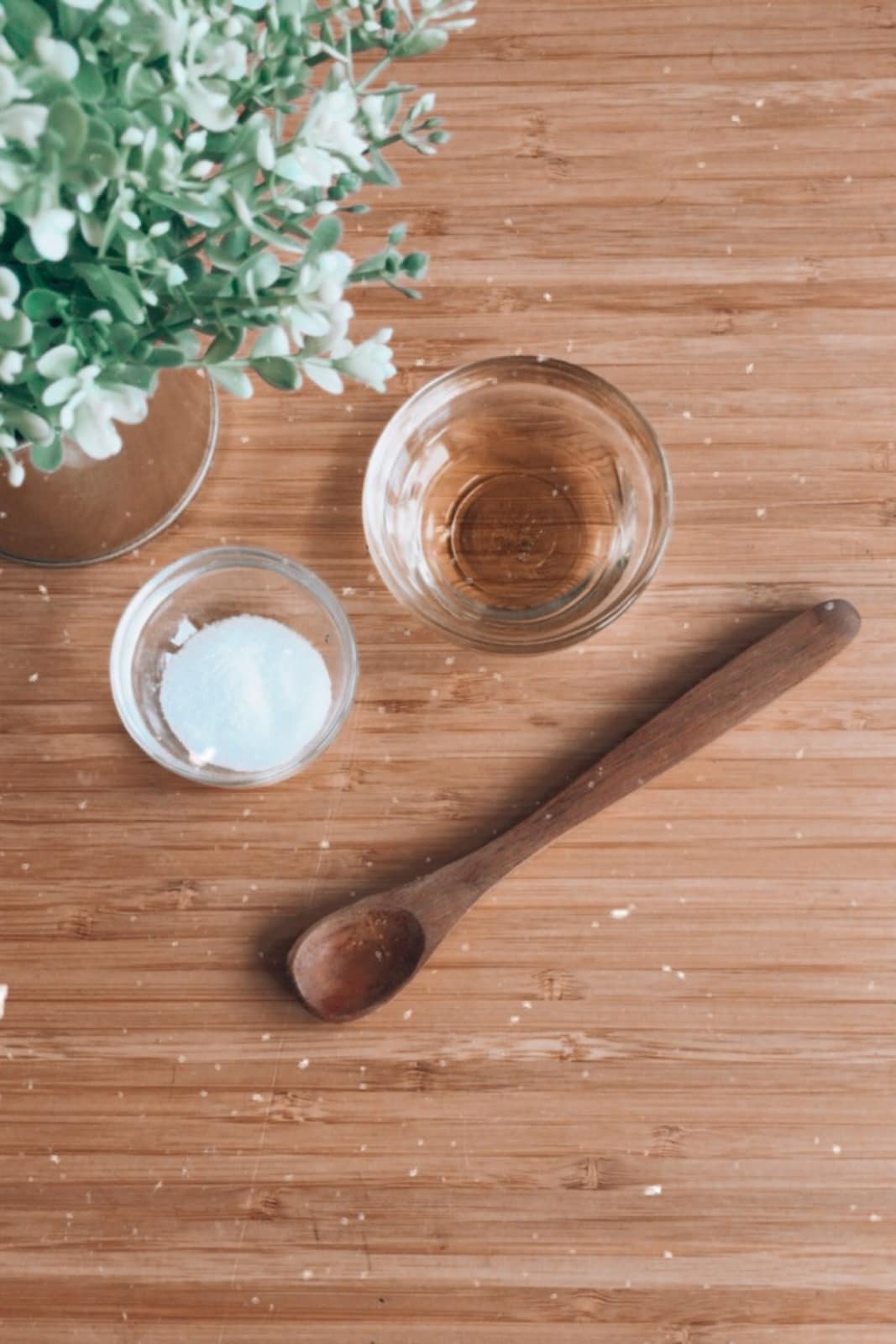 The experience
The thing with skincare is that it's imperative to learn about the basics before diving deep into the mechanics of it. As such, Beatrice's first question was: "What is your skin type?" It's incredibly important to know your skin condition, type and what it needs before building your routine accordingly.
I liked that she offered helpful advice and tips for every step of a skincare routine, from cleansing no-no's to the best sugar to use for physical exfoliators. She even gave us brand recommendations (mostly French brands and I'm actually very curious to try out her picks) and also what to look out for when we're buying specific skincare i.e. always check the label at the back of the bottle—the active ingredients should be the first or second in the list (to indicate the concentration levels) and not at the end of it.
Along the way, she kept us in check by asking if we have any questions before she continue with the session—all of which she addressed concisely. Surprisingly, she managed to condense everything we needed to know about 1) natural skincare ingredients, 2) what a complete skincare ritual should entail, and 3) homemade scrubs for the face and body in just one hour.
Needless to say, this session packed a punch. Whether you're a novice in beauty (you don't even use toners) or a skincare enthusiast who loves learning more about natural ingredients, this online experience will most definitely be up your alley.
For more info, visit airbnb.com/online-experiences.
#BUROGIVEAWAY
Why not try an Airbnb Online Experience out for yourself? We'll be giving FOUR (4) lucky winners a chance to experience this today and all you need to do is follow the steps below!
The giveaway is now closed. Congratulations to the following winner:
Lee Yan Yi
Chloe Pang
Alyshea Low
Jin Yeap
Terms and conditions:
1. This giveaway ends 11:59pm, GMT+8, 17 May 2020. The winner(s) will be announced on 20 May 2020.
2. Employees of Buro Malaysia and its related corporations ("Indochine Media Ventures") or Buro Malaysia partners and/or sponsors for the giveaway (if applicable), and their immediate family members (including spouses, children, parents, brothers and sisters) are not eligible to participate in the giveaway.
3. Winners of this giveaway are chosen at random.
4. This giveaway is organised by Buro Malaysia (hereinafter referred to as the 'Organiser').
5. The prizes for this giveaway are neither exchangeable for cash nor transferable.
6. All persons ('Participants') taking part in this giveaway agree that these rules shall be binding on them, and that the entries in this giveaway, including their name and likeness, may be used without restriction in any future publicity material by the Organiser.
7. The Organiser reserves the right to amend these rules or terminate the giveaway at any time at its sole and absolute discretion. All decisions made by the Organiser under these rules shall be final and no discussion or correspondence will be entertained. The Organiser may, but is not required to, justify any decisions relating to this giveaway.
8. The Participant acknowledges that the interest and good reputation of the Organiser are of paramount importance. The Organiser reserves the right to disqualify a Participant from the giveaway, or to withdraw the prize if it is believed the Participant is in breach of its obligations under the rules. The Participants shall not by act or omission, directly or indirectly bring the Organiser into disrepute.
9. All entries are sent at the risk of the Participants and in the event that there are technical difficulties experienced arising out of the internet or from any associated equipment or internet security is compromised, the Organiser may at its sole and absolute discretion disqualify the entire entry and shall not accept any liability for doing so.
10. Giveaway entries may only be submitted via the stated medium of communication.
11. This giveaway is open to anyone above 18 years old.
12. Each entry must be completed in full. The Organiser reserves the right to disqualify any incomplete entries in its sole and absolute discretion.
13. Incomplete entries will be deemed void.
14. Winners will be notified by email.
15. Uses of 'aliases' shall be considered a form of deception and are prohibited.
16. The winner must produce their original IC / passport with legible IC / passport number in order to claim the prize. The winner may also be required to produce additional original proof of identity at the discretion of the Organiser.
17. All Prizes are accepted entirely at the risk of the winner, and the Organiser excludes all warranties in connection with the prize to the extent permitted by law.
18. All Participants release from, and indemnify the Organiser, its agencies, sponsors and representatives against all liability, cost, loss or expense arising out of acceptance of any prize or participation in the giveaway including (but not limited to) personal injury and damage to property and whether direct or consequential, foreseeable, due to some negligent act or omission or otherwise.
19. All personal particulars furnished are meant for identification purposes and will not be sold or given to any third parties. In the case of giveaways, our partners may wish to offer you services which require your personal particulars. These specific requests will be expressly stated within relevant giveaways, with a choice to opt out.
20. Inability to contact the winner by 22 May 2020 will result in disqualification and selection of an alternate winner.
21. Winners must collect their gifts from our office in Mont Kiara within 1 month of notification.
22. Prizes are final; no cash equivalent or alternative prize will be given. Prizes are non-transferable, non-exchangeable and strictly not for resale. If the winner is found to be selling the prize(s), the Organiser reserves the right to demand the return of the prize.
| | |
| --- | --- |
| SHARE THE STORY | |
| Explore More | |