Another week, another salad recipe from one of the popular healthy cafes in town. You can check out the previous video here. This time, Levy Lo, founder of The Good Co. shows us how to recreate their Healthy Organic Nasi Lemak Salad that's easy to make and great for people who are on-the-go. 
Watch the video below on how to make it and scroll on for the full recipe.
Healthy Organic Nasi Lemak Salad by The Good Co.
Layer 1 Fragrant coconut millet (recipe below)
Layer 2 Cherry tomatoes (whole)
Layer 3 Toasted peanuts
Layer 4 BBQ tempeh (recipe below)
Layer 5  Cucumber (1/2cm slices)
Layer 6 Hardboiled eggs (cut into quarters)
Layer 7 Mixed salad leaves
Layer 8 Sambal satay sauce (recipe below)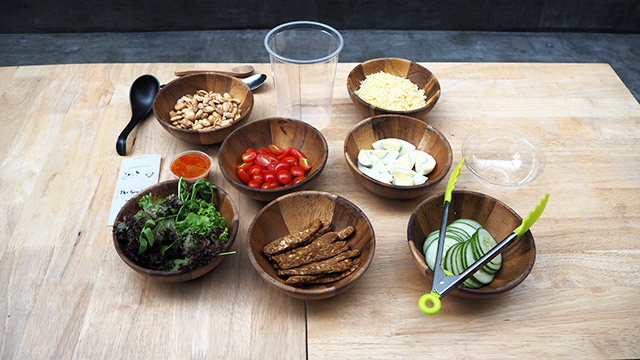 FRAGRANT COCONUT MILLET
Ingredient A
300g millet (rinsed)
1000ml water
2 tsp salt
Ingredient B
1 tbsp virgin coconut oil
1/2 tsp salt
Method
1. Add the water and salt into a saucepan then set on high heat to boil
2. Once the water is boiling, reduce to medium heat and add in the rinsed millet. Leave to boil for 5 minutes
Tip: Using a fork, scoop a few grains to try and see if it's fully cooked
3. Remove from pan and pour the millet into a strainer. Then, transfer it back into the pot while it's hot
4. Add in Ingredient B and mix it. Set aside to cool.
BBQ TEMPEH
Ingredients
2 pcs tempeh (sliced)
BBQ sauce
Method
1. Coat each sliced tempeh with BBQ sauce and marinate overnight
2. Arrange the tempeh slices in the airfryer's basket and bake at 170 C for 5 minutes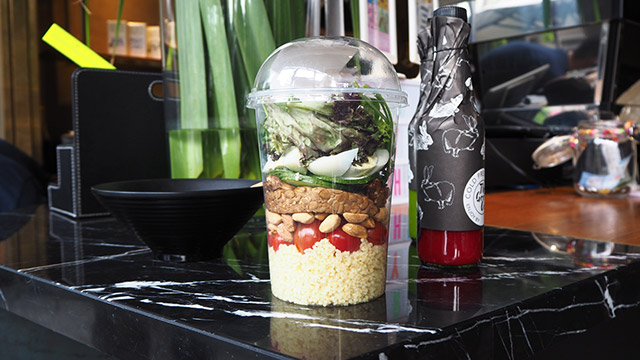 SAMBAL SATAY SAUCE — 8 servings
Ingredients (blend the following into a paste)
40g chilli powder
2 tsp turmeric powder
3 stalks lemongrass
4 tsp extra virgin olive oil/grapeseed oil
50g gula melaka (chopped finely)
200g toasted peanuts (chopped)
800ml water
1 tsp Himalayan salt
2 tbsp organic soy sauce
For more info on The Good Co., head over to their website or Facebook.
Related stories:
#BuroDiningGuide: 7 Cafés to try for some guilt-free indulgence
Make a healthy Yee Sang Salad with this recipe by Chai Bar
How to make a Big Belly Salad with this recipe by Nara Kitchen & Co.
| | |
| --- | --- |
| SHARE THE STORY | |
| Explore More | |