Carless for a few weeks, I took the Mercedes-Benz C 200 AMG for a spin
Backstory: I got into my first ever car accident (yes, over ten years of having a perfect driving record, now tarnished) recently while on the way to the gym. It really is like what they say—it does happen in a blink of an eye. One moment I was checking for oncoming traffic at a T-junction, next thing I knew, I was punched in the chest by my airbag. The car I hit was an older model of the Mercedes-Benz C 200, so perhaps it was kismet that a couple of weeks later, when my car was still at the workshop and I had become one of those I-gave-up-my-car-for-Grab/Uber people, Mercedes-Benz rang to ask if I'd like to review the C 200 AMG.
While it's nice being driven around and not having to deal with traffic or the lack of parking, it was even nicer to slide into the C 200 AMG—my car had seats upholstered in deliciously red leather, which made for a stunning contrast against the open-pore black ash wood finish. The silver aluminium trim on the dashboard and doors help to highlight the sleek curves of the interior. The C-Class might be Mercedes-Benz's entry-level luxury saloon, but the AMG kit certainly elevates its look to sports luxe—think Céline broad-shouldered trouser suit worn with designer sneakers of choice.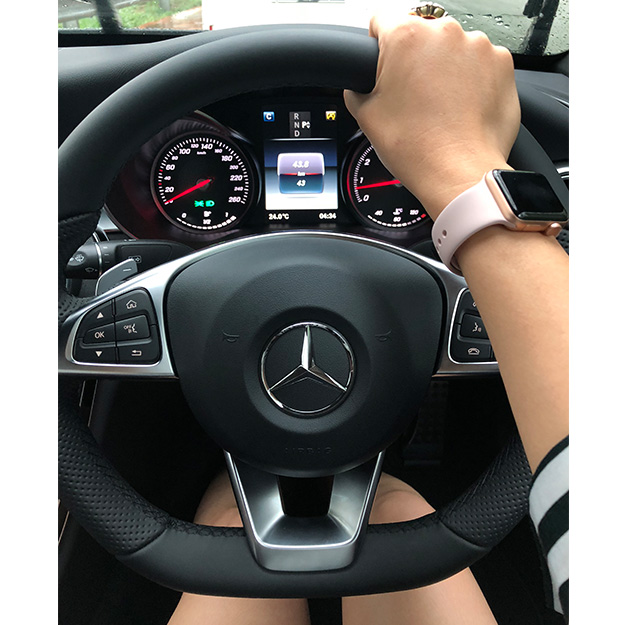 The C 200 AMG is equipped with the Audio 20 CD multimedia system with touchpad and controller, located in the central control unit, which allows for ease of control, whether you want to connect to your phone via Bluetooth to access your playlists on Apple Music, switch between radio stations or take a call. I'll be honest, though, the touchpad takes a bit of getting used to—it's not quite as simple as using a wireless mouse, but nothing a YouTube video can't teach you.
A few swipes on the touchpad, and turns on the controller had me at ambient lighting, and this was pretty fun. Essentially, this function allows you to select interior lighting; am I feeling warm orange, cool blue or playful purple? It's probably a good thing that colour choices are limited or I'd end up spending a lot more time in the car, possibly in that parking spot you've been waiting for for the past 10 minutes. Speaking of time, what I found a touch quaint was the analogue clock on the dashboard, being so used to looking at a digital watch face.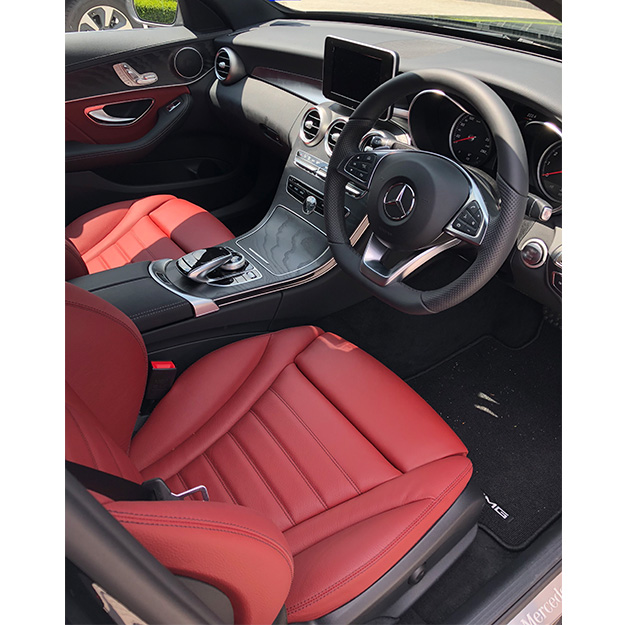 The exterior of the car garnered quite a few double takes. Personally, I liked the little extras the AMG kit offered, like the chrome trim around the front of the car, diamond-grille mesh, polished aluminium side panels and window trim. The 18-inch 5-spoke AMG alloy wheels and twin pipe exhaust complete the sporty styling of the C 200 AMG.
Performance-wise, the 2.0 litre turbocharged four-cylinder engine produces a maximum of 184hp at 5,500rpm, while the 9G-Tronic nine-speed automatic transmission gearbox (an evolution of the previous 7G-Tronic) allows for more dynamic performance, and better fuel efficiency. The C 200 AMG goes from 0-100km/h in 7.2 seconds, with fuel efficiency rated at 5.6 - 6.1 litres/100km—pretty fast, furious, and easy on the petrol bills—what's not to love?
Additional features like the reverse camera, active parking assist with Parktronic, LED high performance headlamps (that adapt to light and driving conditions), and keyless go (no more fumbling in your handbag looking for your keys) make the C 200 AMG a dream, and a breeze to drive. With safety being a priority for Mercedes-Benz, the car also comes equipped with, amongst other safety measures, Active Brake Assist, an impressive system that makes use of radar and camera data to predict a collision, and in the event no braking is detected automatically applies emergency braking—an essential feature for those with still-perfect (and perhaps those with not-so-perfect) driving records.
The Mercedes-Benz C 200 AMG is priced at RM254,888 on the road, without insurance. For more information, please click here.