With Malaysia's goal of being a net zero greenhouse gas (GHG) emissions nation as early as 2050, it's no surprise that there's been a steady increase in electric vehicles (EV) arriving in the country. Tesla is a brand that often comes to mind when EVs are the topic of a conversation, and now the highly-anticipated EV has finally arrived in Kuala Lumpur!
On 20 July, Tesla announced that the all-new electric SUV, Model Y, is now available in Malaysia. All variants of Model Y—Model Y Rear-wheel drive, Long Range, and Performance—are on display at the Centre Court, Pavilion Kuala Lumpur. The public is free to view all the variants from now until 31st October and if any catches your eye, you can also order one there!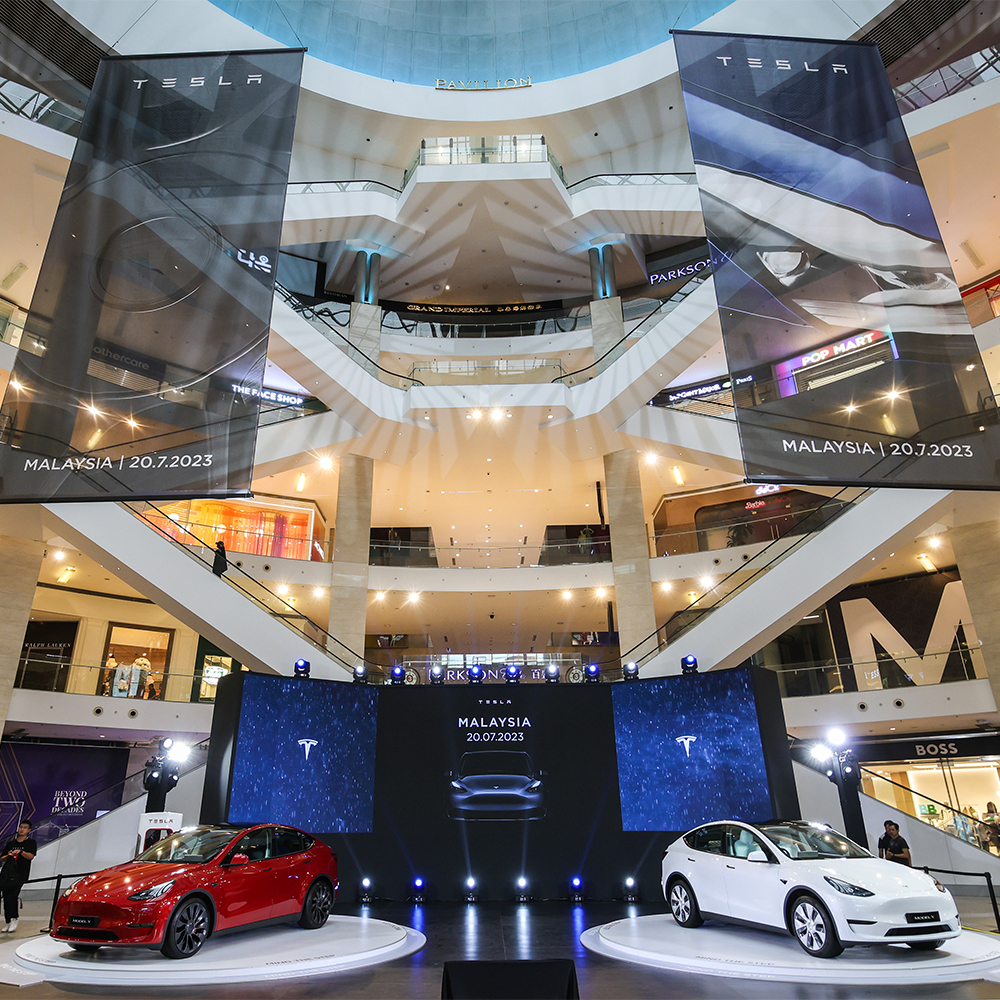 Model Y is the newest and most affordable electric SUV from the American automaker. It was designed to be Tesla's first mass-market sports utility electric vehicle, representing Tesla's mission to accelerate the world's transition to sustainable energy. 
The Model Y Standard Range RWD is powered by a single rear motor. It uses an LFP-type battery, offering the car a maximum range of 430 km. On the other hand, the Model Y Long Range AWD has two motors, one on each axle. It uses an NMC-type battery with up to 533 km of travel range. The highest variant, Model Y Performance AWD, also uses an NMC-type battery. It has a travel range of up to 514 km and hits 100 km/h from nought in just 3.7 seconds on to a top speed of 250 km/h.
Rumours of the EV coming to Malaysia first came about when the public noticed that Tesla was hiring in Malaysia, and earlier this month, it was confirmed that the renowned brand will be arriving at the end of month. 
In a joint statement with the Malaysian Investment Development Authority, the company said that the expansion into the country is a direct response to the Battery Electric Vehicle Global Leaders initiative that was introduced by the Investment, Trade and Industry Ministry.
View this post on Instagram
With its debut in Malaysia, Tesla will also be investing significantly in setting up a wide network of fast charging and regular charging stations that will cover strategic locations in Malaysia. 
In an article by The Malay Mail, Investment, Trade and Industry (MITI) Minister Tengku Datuk Seri Tengku Zafrul Abdul Aziz said that with how new the EV industry is to Malaysia, many local and foreign investors are still waiting for 'certainties' in the market before making an investment. He also added that he believes the opening of Tesla's charging station will help increase the confidence of those who may be keen on taking part in the entire supply chain. 
"We are, in a way, liberalising the industry, and we have to push. We want to make sure the regulations are clear," he told Bernama. "They also want to know how fast the cars are coming in. So, for the people investing in (the) charging (stations), they want to see us opening up also. Tesla is setting a good example by installing the charging stations first."
Booking and purchasing of the Model Y can be done on its website, with prices ranging from RM199,000 to RM288,000. Buyers can anticipate the delivery of the first Tesla unit to be around early 2024. 
For more information, visit the Tesla website here. 
Want the latest motoring news? Discover more here.
| | |
| --- | --- |
| SHARE THE STORY | |
| Explore More | |