With a record of 0-100 km/h in 3.6 seconds, the new Mercedes-AMG GT R is a street-legal race car that has overtaken the rest of the AMG GT family
Approximately 21 kilometres long. 985 feet of altitude change. 170 corners. These are the figures to describe the Green Hell that is the Nurburgring Nordschleife in Germany—one of the longest and scariest racetracks known. It is here where the new Mercedes-AMG GT R was raised and proved its worth with an exceptional lap time of 7:10.92. This beast recently made its way to Malaysian shores and adrenaline seekers might well garner an affection for it.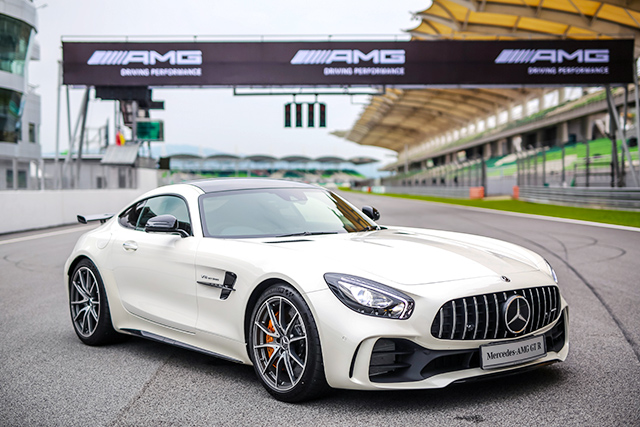 "The Mercedes-AMG GT R is a street-legal race car which spearheads the AMG GT family, featuring many desirable characteristics of the GT3. It has exceptional driving dynamics and boasts benchmark performance statistics including a 0-100km/h acceleration of 3.6 seconds and a top speed of 318km/h. This beast is without a doubt a true testimony to AMG's racing DNA, the driving performance brand of Mercedes-Benz," said Mark Raine, Vice President, Sales & Marketing Passenger Cars, Mercedes-Benz Malaysia.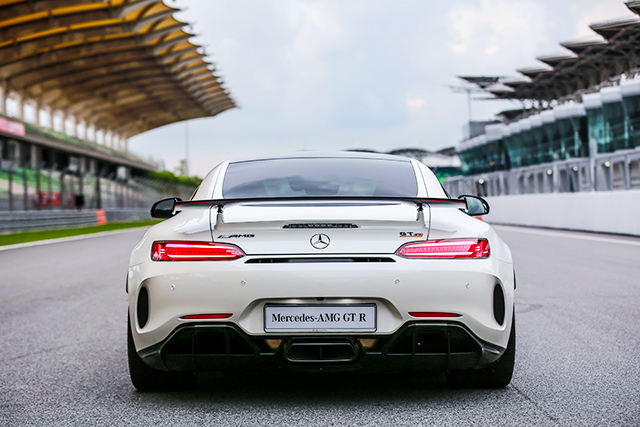 Here are just some of our favourite things about the car:
Design meets aerodynamics
Easter eggs are peppered around the entire vehicle and if you're a true Mercedes-Benz fan, you'll spot the 15 chrome-plated vertical fins, a look reminiscent of the new AMG GT3 racing car, while the new and eye-catching AMG Panamericana grille takes its basic form from the Mercedes-Benz 300 SL racing car. Yes, the same one that won the legendary Panamericana road race in Mexico in 1952. But it's all not just for show as form and function are codependent, with all elements carrying an inherent technical benefit to enhance the driving dynamics.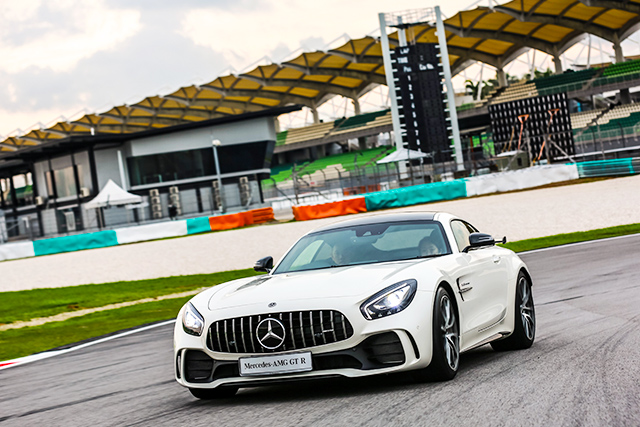 AMG coil-over suspension
Designed specifically for the AMG GT R and combined with the AMG Ride Control, the new AMG coil-over suspension is continuously, electronically and automatically controlled to adapt the damping on each wheel to the current handling situation, the speed and the road conditions. Alternatively, drivers can select a drive mode to adjust the damping characteristics accordingly. "Comfort" for public roads; "Sport" for racetracks (like the Green Hell); and "Sport Plus" for more flat, modern Grand Prix circuits such as Hockenheim to attain a high degree of structural rigidity.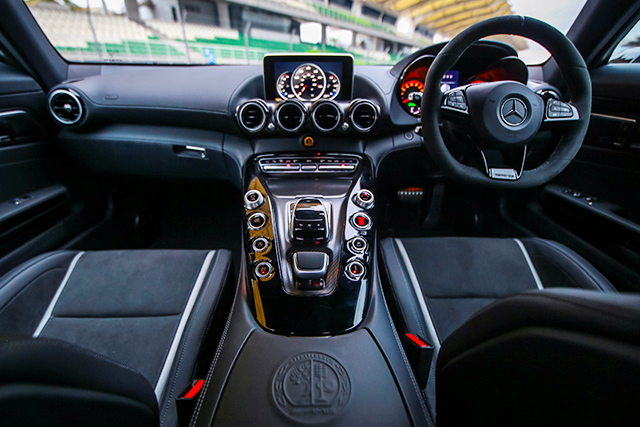 The active rear-wheel steering
This is especially noteworthy because it's the first time a Mercedes-AMG model is equipped with a standard-fit active rear wheel steering, enabling the new AMG GT R to be even more sensitive to steering inputs. Fun fact: Up to a speed of 100km/h, the rear wheels will be turned in the opposite direction to the front wheels. Because it's so much more agile, the AMG GT R promises more driving pleasure and less steering effort—especially on small and winding roads (read: narrow racetracks with multiple curves). For day-to-day use, expect this benefit to carry on to simple tasks such as making a turn or parking.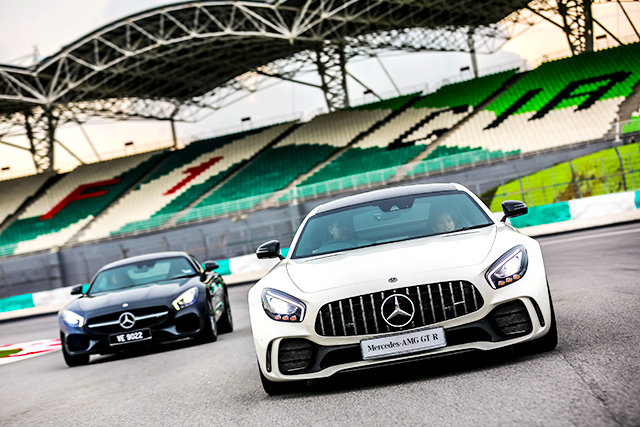 The engine
It's not known as the beast for nothing. At the heart of the AMG GT R is the AMG 4.0-litre twin-turbo engine with an output of 430 kW (585 hp) and a peak torque of 700 Nm (available between 1900 and 5500 rpm).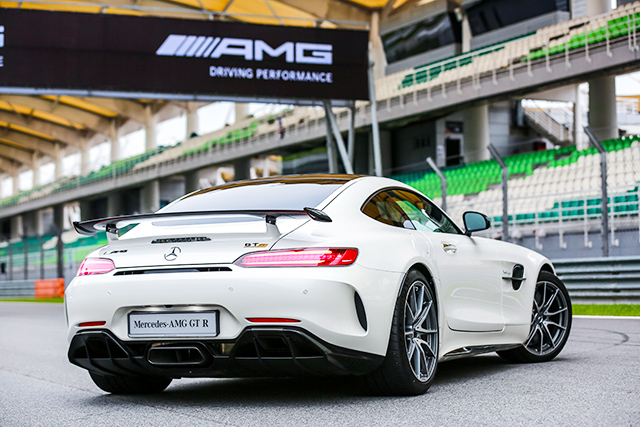 Everything else
Strengthening its position as a race car is its seven-speed dual-clutch transmission in a transaxle layout at the rear axle, extensively revised in terms of both the hardware and software. Drivers can easily tailor the AMG GT R to their personal preferences (AMG Dynamic Select controller) or have it in a manual mode (just press the separate "M" button in the centre console). The brake system too ensures excellent deceleration, high fade-resistance and longer service life, for the most part, thanks to the ceramic brake discs. And above all else, technicalities- and technology-wise, the heavily motorsport-inspired interior—extremely light, manually adjustable AMG sports bucket seats upholstered in Nappa leather and Dinamica microfiber—is absolutely the cherry on top for any budding race car driver.
The Mercedes-AMG GT R is priced at an estimate of RM1.7 million (OTR without insurance, inclusive of GST).