If you're looking for a new SUV, look no further than Mercedes-Benz Malaysia's latest additions to their SUV lineup
On the surface, it's easy to take your pick. For a smaller (but still stylish) SUV, there's the Mercedes-Benz GLC 300 Coupe AMG Line, which we feel is perfect for everyday drives around KL. Not to mention, it helps take away the dilemma of having to choose between an SUV and a coupe. 
For a bigger and more high tech SUV, the new Mercedes-Benz GLE 450 AMG Line is the obvious choice. 
Both are standouts on their own and looks are certainly not deceiving in this case. Here, we break it down to what we love so far by the sounds of it:
Mercedes-Benz GLC 300 Coupe AMG Line
Design and comfort: Aesthetically pleasing with an athletic touch, the GLC 300 Coupe AMG Line looks sporty on the outside and feels great on the inside—mostly thanks to the Artico leather seats. 
Being a coupe, both the driver and front passenger have ample space but it might be a tad snug for the passengers in the back. 
The AMG sports steering wheel with its flattened bottom section is another plus for easily offering a firm grip and better sporty handling.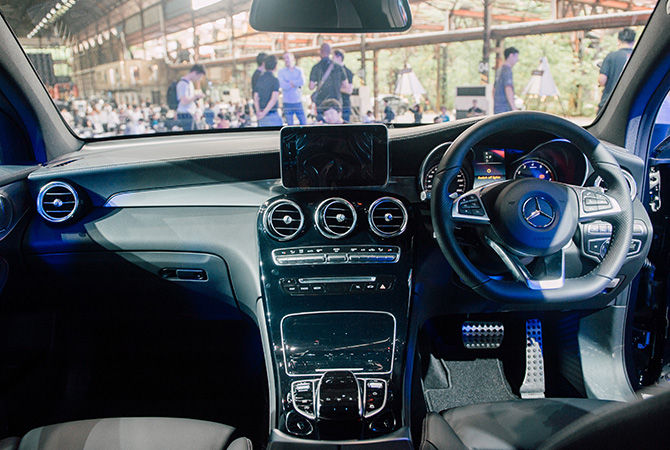 Speed and power: Locally-assembled, the GLC 300 Coupe AMG Line is one competitive vehicle. With a four-cylinder 2.0 engine, it can achieve a top speed of 236 km/h and a 0-100km/h acceleration in a mere 6.5 seconds. 
Features: An abundance of them but the latest being the new Hands-Free Access and Active Parking Assist with Parktronic.  
Price (OTR w/o insurance): RM399,888 (estimated)
Mercedes-Benz GLE 450 AMG Line
Design and comfort: A beast at first glance, the full-sized SUV remains true as an off-roader while maintaining its standard of luxury. Evident by the dynamic AMG body styling, panoramic sliding sunroof, that mesmerising diamond radiator grille with chrome pins and our favourite, the impressive wide-screen formed by two large 12.3-inch screens that extends all the way to the driver's side. 
Comfort isn't just about how nice it feels sitting in the seats of the GLE 450 AMG Line, but Mercedes-Benz took it a step further with sound control as well. The Acoustic Comfort Package reduces disruptive noise from within the vehicle, even when driving at high speeds. Example: The windscreen and side windows use laminated safety glass with noise-damping film.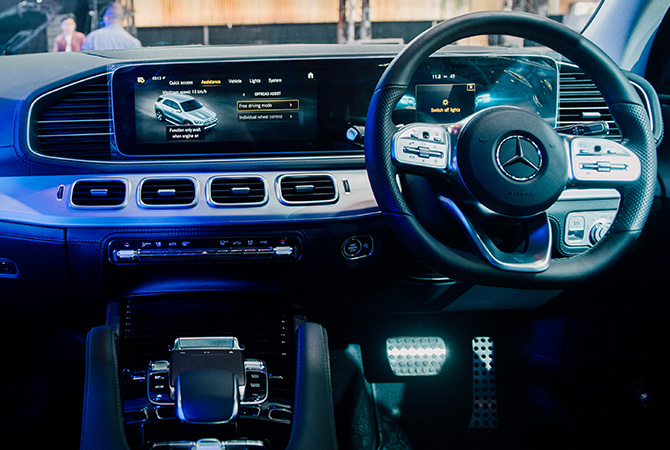 Speed and power: We didn't call it a beast for no reason. In comparison, the GLE 450 AMG Line boasts a turbocharged six-cylinder 3.0-litre engine as well as the world-first active suspension on a 48-volt basis combined with newly-developed air suspension. Numbers-wise, its top speed comes in at 250 km/h while it accelerates from 0-100km/h in 5.7 seconds. 
Features: The highlights include the said active suspension system (E-Active Body Control), the Active Stop-and-Go Assist driving assistance systems, and MBUX (Mercedes-Benz User Experience, which is essentially the multimedia system). MBUX in the GLE 450 AMG Line includes  Linguatronic. Consider it the "Hey Siri" of the Mercedes-Benz. It can recognise (and obey) almost every sentence relating to the infotainment functions and vehicle operations. 
Estimated price (OTR w/o insurance): RM633,888 for the 5-seater / RM638,888 for the 7-seater
For more info, visit Mercedes-Benz Malaysia's website or Facebook.