BMW Malaysia has collaborated with four local businesses and NGOs to uniquely design camouflaged BMW vehicles. They're not just pretty to look at, but tells a deeper story
If anything, Covid-19 made everyone realise the bigger causes to fight for, and to embrace unity in various forms. The economy is hard-hit but there are businesses that struggle more than others, some nearly on the brink of closure. And so, as anyone who is a part of this very country, supporting local has never been more crucial. And this fight to survive has never been more inspiring. BMW Malaysia sees it.
"Covid-19 challenges many of us to be out of our elements, but we at BMW also saw many individuals and businesses who have pivoted to thrive in such challenging times. We are inspired by them. Collaborating with emerging local businesses, we want to highlight their individual dynamic independent spirit, their sheer determination and resilience - all of which have allowed them to rise above the adversity and challenges ahead of us." — Sashi Ambi, Head of Corporate Communications of BMW Group Malaysia
The result: A unique collaboration with four local businesses, volunteer groups and NGOs. The chosen ones: Komuniti Tukang Jahit, Changgih Designs, Inkaa and Kanoe. All four individually designed artwork that's representative of Malaysia and their brand, to be wrapped on all-new BMW vehicles. We had a chat with them on how the collaboration came about, the challenge with designing for a car, and their advice on how to stay afloat during a pandemic.
ABOUT
---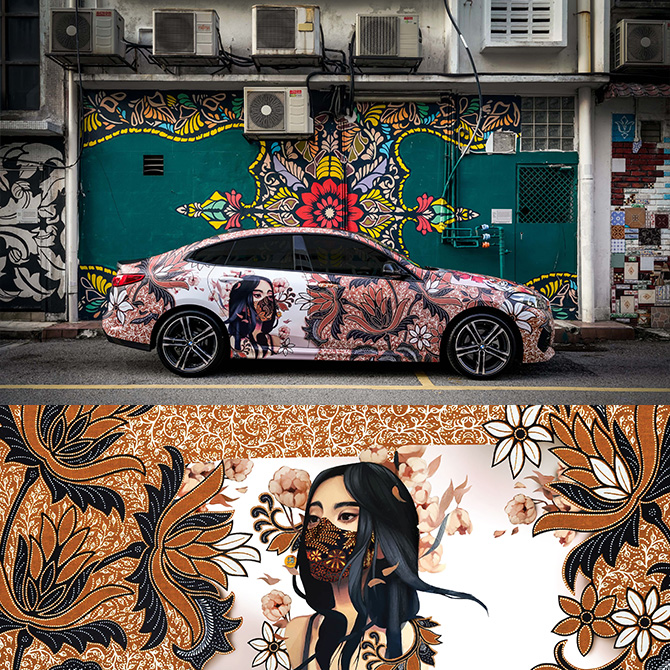 "We are an accredited social enterprise that empowers the B40 Women Community, consisting of single women, single mothers, stay-at-home mothers and underprivileged women through upskill training and sewing job opportunities."
---
Founded by two mothers from Sabah, what started as a passion project of craft-making for their children turned into a social enterprise with a goal to help mothers from villages with vocational training and job opportunities. As such, they've created collections of hand-stitched handbags, scarves and more by artisans in villages across Sabah, describing it simply as, "Ethically made, ethnically inspired".
---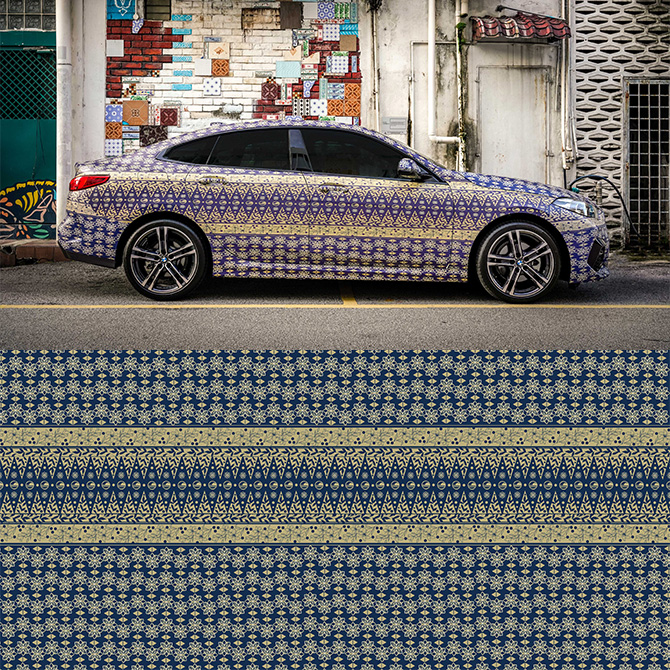 "Empowering people and honouring heritage," says the people behind Inkaa when asked about the best way to describe the brand. True enough, traditional and handmade 'batik cop' textiles are sourced from artisans in Terengganu, and income opportunities are given to the Mang Tha community whereby the income generated has helped 35 to 40 women and their families.
---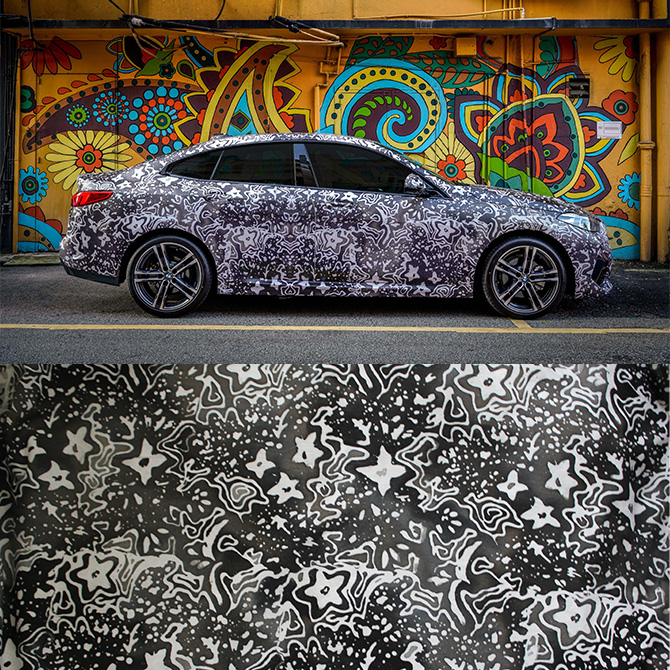 A homegrown brand that calls itself a "child of the tropics", Kanoe strongly advocates zero waste ethical wear, from the start to the end process of their designs. Natural fibre is used, designs are done in-house, fair wages are given and communities in need are offered work.
HOW DID THIS COLLAB COME ABOUT?
Komuniti Tukang Jahit: "BMW decided to work with four local establishments to create a design to camouflage a vehicle to influence and most of all, to be expressive. The moment we were approached, we immediately said yes. However, we didn't just want to be part of a collaboration, we wanted to be included in the design-thinking process and we really wanted the vehicle to stand out! With that, we designed the camouflage with a story, and with elements all representing the brand."
Changgih Designs: "We definitely weren't expecting it, and it came at such a perfect time as we had just finished up and were ready to release our new textile motifs. It was definitely a phone call that we'll never forget!"
WHAT DO YOU HOPE TO ACHIEVE THROUGH THIS?
Komuniti Tukang Jahit: "A home-based brand who's also a social enterprise may actually seem rather "sub-standard". It may be the impression many people would have towards a social-business as most items sold are homemade. However, KTJ is all about quality and creating premium products, even though they are being made in the homes of the B40 women community.
"We are here to break-away from the stereotype, and with the opportunity to work with BMW, a prestigious car brand—KTJ is given the chance to show that our community is built on the basis of premium quality, luxury designs and functional products. Hence why we said yes. We had a lot to offer, and we wanted to make sure our identity was seen through the design of the car decal."
Inkaa: "More visibility on what we do and highlight the work and faces of the amazing people who we work with. We thought that it is a great challenge and opportunity to gain more exposure on what we do."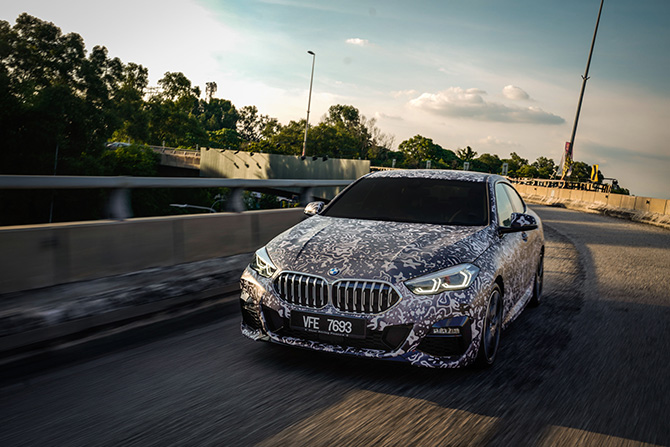 Kanoe: "We hope people would get to know Kanoe and enjoy our wearables. With our design for BMW, we also hope that people will be reminded to keep their eyes towards the light, and hope in their hearts."
THE MOST TOUCHING MOMENT IN YOUR JOURNEY
Komuniti Tukang Jahit: "That a mother of three, with a husband who has just lost his day-job due to the pandemic, is now able to fend for her family through such trying times. She is able to make RM200 to RM300 in two weeks; is able to purchase groceries and put food on her table. These orders are for fabric face masks and are coming from the public, and also from corporate businesses.
"Knowing that this ecosystem is able to sustain a family during such times gives us purpose and belief that what we are doing is truly impacting the community.  We are here to empower women: women who are able to work from home while taking care of their family's needs. Hence, awareness of social enterprises like ours is crucial, whether among the public or private sectors, for its longevity."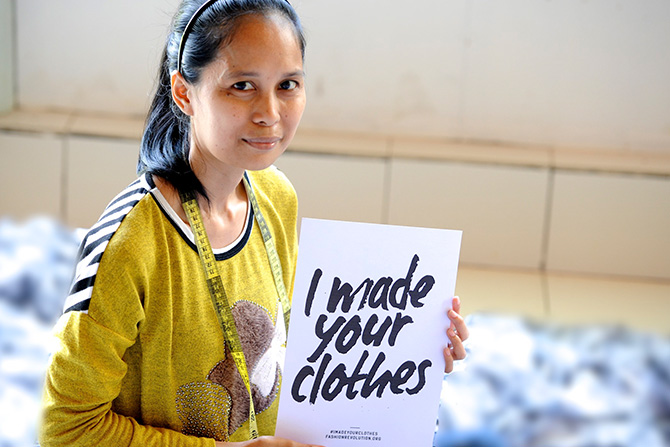 Changgih Designs: "Creating our own textiles was definitely our first big milestone. This was something we had dreamed about for several years prior. We really had no idea if our designs would translate from paper to computer, to fabric, and to products; so it was an intimidating dive to take. Our first sample products produced from this process were handbags. The artisan who was helping with the sampling process walked in the door with that first bag behind her back. When she showed it to me, I almost passed out. She told me she felt the same way when it was fully constructed.
"The best part of that story is that the fabric is called the sirung, which was designed after a traditional hat that just happened to be from this seamstress' hometown. She watched her uncle make these sirung hats then, and she was able to help us construct our first bag from that very fabric. At that point, I knew that textile design was 100 per cent the direction we wanted."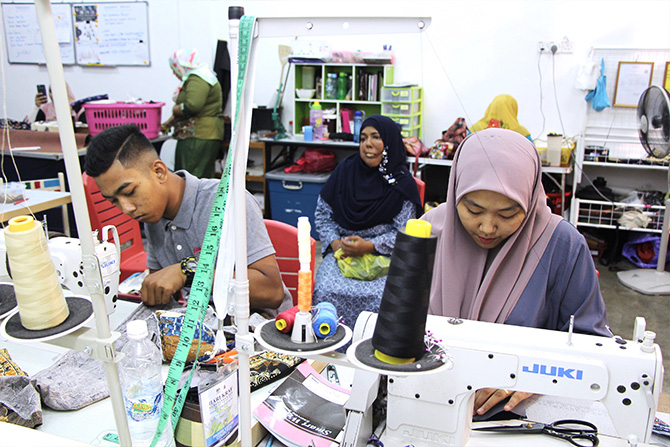 Inkaa: "Throughout our journey so far, there have been plenty of such moments or memories. One of the most recent ones was that sense of relief and excitement that we shared with the artisans who we work closely with, right after MCO. For some of them—particularly the refugee and differently-abled communities—it has been a tough period to endure, what with mobility and income sources being halted. So, the opportunity to be working on product orders again was really welcomed and have managed to contribute towards their livelihoods. This proves that these artisans have talent, and the capacity and willingness to work. Our goal is not just to see them survive, but thrive as well."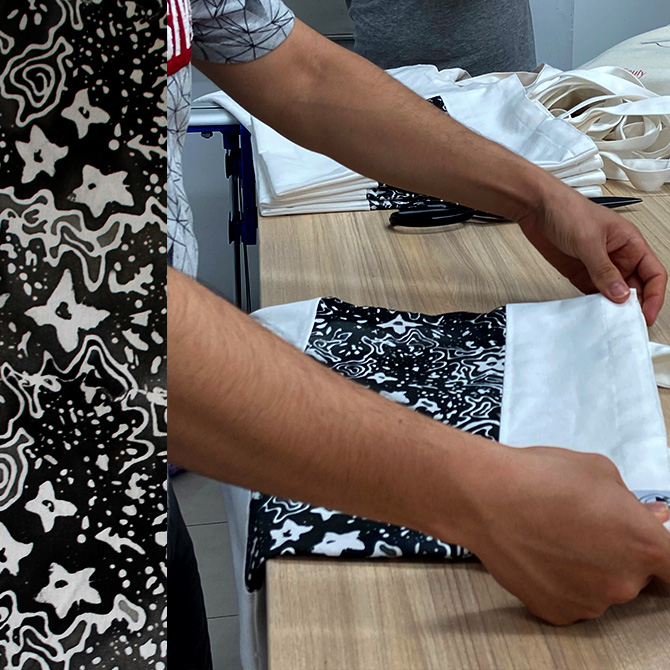 Kanoe: "One of my favourites was when one of our earliest Burmese tailor (he had spent three years with us by then) received his US Green Card. Four days before his departure, he told us the good news and we were so happy for him! Our hope is for all the refugees we work with to one day receive that kind of freedom in a country where they can call it 'home'. 
"While they're in Malaysia, we'll do our best to support them to hone their talents and skills to make a good living. After a few months, we received a message from that very Burmese tailor—who's now in Texas—telling us that he's working at a sewing centre and that his story appeared in a local Kansas newspaper."
THE BIGGEST CHALLENGE BEHIND DESIGNING FOR A CAR
Changgih Designs: "Honestly, when we were asked, we immediately knew which design we would pick out of our textile collection. After a quick Google search of car designs, we quickly narrowed down what we wanted to achieve. After getting that first idea digitised, we tried several different layouts just to ensure we were really in love with the way we laid it out. Every time, we kept going back to the original layout! We've learned through the design process to go with your gut.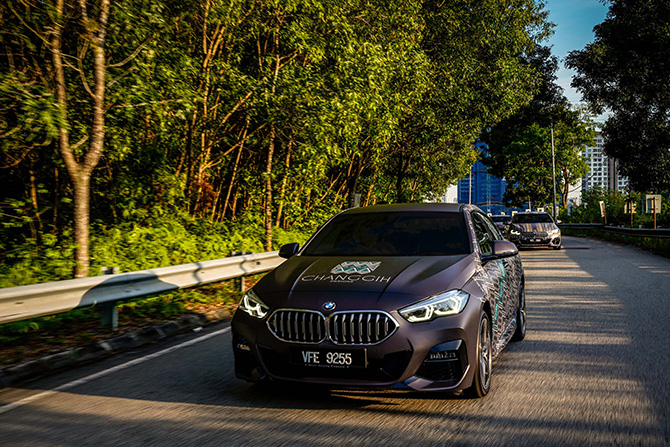 "This design is full of spunk and, to us, speaks of BMW. The main difficulty was trying to choose a colour. Our minds were racing about gold, matte finish and all kinds of extra add-ons that you can do on cars—which usually isn't an option with hand-dyed fabrics. Trying to narrow things down and select the colour and finish we wanted was the hardest part."
Inkaa: "We kind of knew from the start that the design would be batik-based. The challenge was mainly in trying to incorporate the design in a form of car camouflage as we have to imagine and properly plan the placements of each component on the car parts. In the end, we managed to keep the integrity and incorporate batik sarong components like the kepala (head) that goes right in the middle, from the front to the back of the car."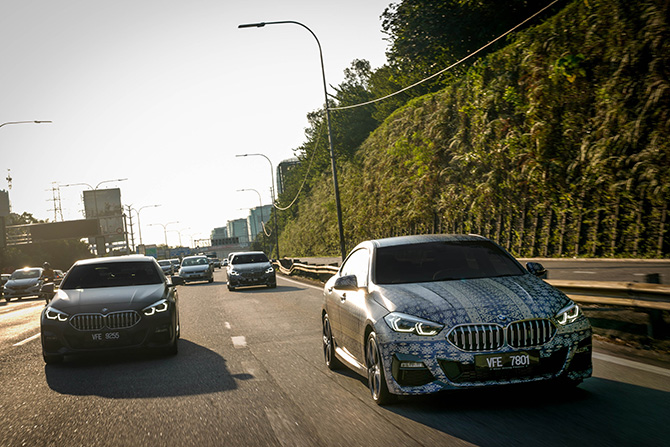 Kanoe: "We decided to have it simple yet a timely message for the season. This design is a hand stamped batik made by local Malaysian Batik Artisans; we decided to keep it very local and put their work on display with the 'starry starry night' print design representing hope in darkness. A timely message in this current time to look at the starts and keep hope in the heart no matter the darkness around."
The COVID-19 pandemic has affected many—people and businesses alike. How has your brand managed to stay afloat and what advice would you give to other homegrown brands in a similar predicament?
Komuniti Tukang Jahit: "Although the MCO was the biggest challenge KTJ has ever faced, it was also the biggest growth. We were forced out of our comfort zone and pushed to the edge—it was a do-or-die situation. Our training normally takes place on-site and it was a challenge not being able to meet face-to-face for quality-checks and corrections. Nevertheless, we took our training online and digitised our processes and as it turned out, it worked! 
"During the MCO, we also faced challenges with finding materials because our suppliers were closed; but since the show had to go on, we found various means to purchase them online or send a Grab for pick-up. Hence, this experience has made us stronger and adaptable to change. Till today, KTJ is producing fabric face masks for the current demand and sales have continued to be promising. However, we always need these orders as we are continuously supporting a community of women who relies on us for sustainable income.
"Our advice is to pivot and adapt. Change is always happening. We never know what's going to happen so the best way to survive is to be ready to adapt."
Changgih Designs: "Thankfully, we have very skilled artisans and a flexible team that was willing to try their hand at making face masks.  We were able to pivot and focus on masks for the last few months. This has also allowed us to push traffic to our website, which has now become a very important source of sales for us.
"We'd say: Don't hold onto any plans too tightly. Be flexible and willing to adjust. Be humble and willing to learn."
Inkaa: "We spent a lot of time during the MCO for product development. Fortunately, we managed to buy a small sewing machine right before the MCO and we have all the batik-making supplies at home. For example, the reusable batik face masks we're selling now actually went through multiple versions before it was launched. Once the MCO ended, we quickly focused on training the communities to make reusable face masks and that helped the business to get going again. 
"It sounds cheesy but change is really the only constant. It is important to be aware of our surroundings, listen, and not be afraid to try something new. Oftentimes, if you believe in what you do and the people around you, the rest will eventually fall into place."
For more information, visit BMW Malaysia's website, Facebook or Instagram.