For a glimpse inside the Malaysian NFT world, here are five local NFT artists and their most impressive digital artworks to know about
Non-fungible tokens (NFTs) have been gaining traction in the Malaysian art scene of late, with several local artists making international headlines for their artworks. To get the unacquainted up to speed, an NFT is a digital certificate that represents an asset, such as art, music, videos, in-game items, and so on (you can read our 101 here).
In the past few months, Malaysia has seen the launch of its first-ever Crypto Art Week (CAWA Malaysia), an NFT marketplace named Pentas, and millions of ringgit worth of NFT sales. The variety of NFTs we're seeing from local artists span from 3D animated worlds to internet memes to stunning illustrations of our culture and heritage.
For a glimpse inside the Malaysian NFT landscape, here are five Malaysian NFT artists and their most impressive digital artworks to know about.
Katun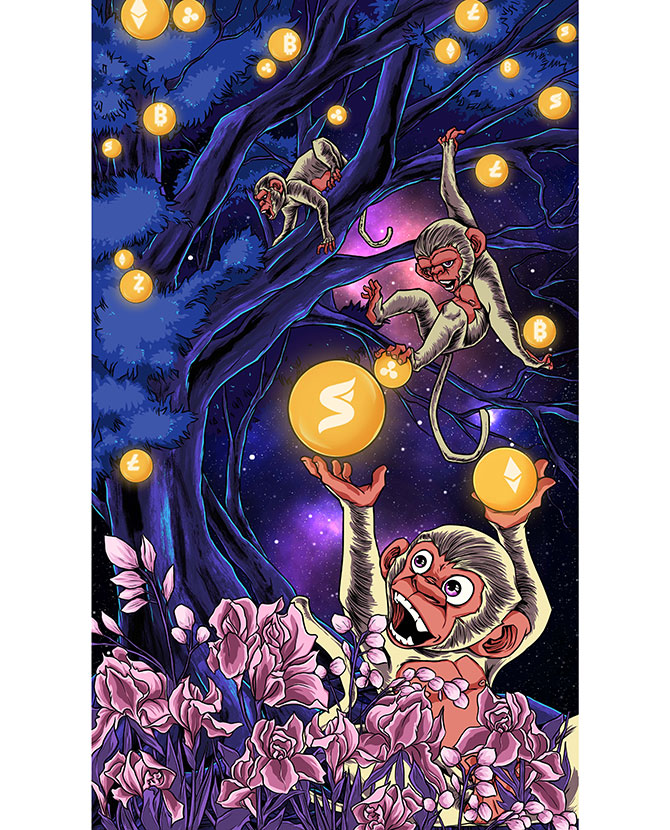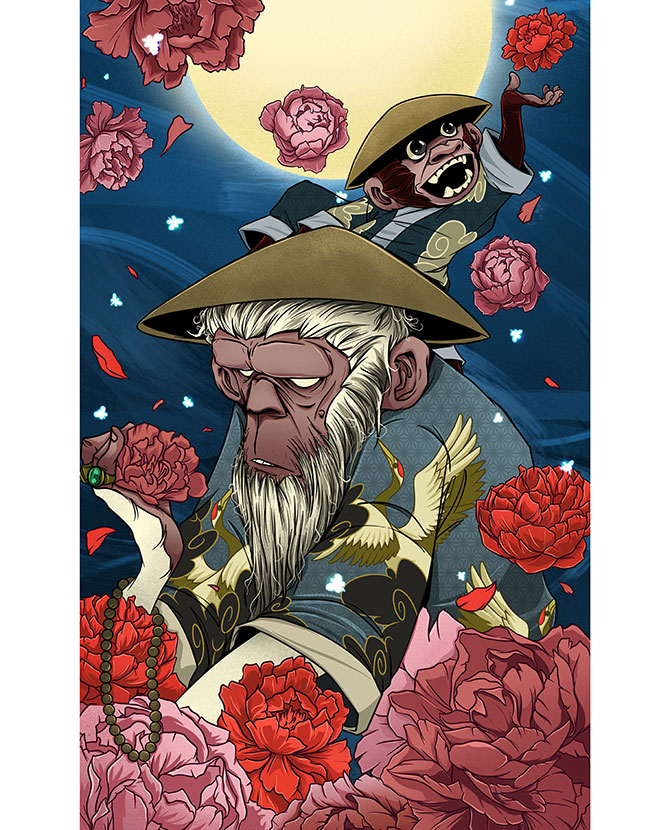 Earlier last week, Malaysian graffiti artist Katun (Abdul Hafiz Abdul Rahman) made waves in the local art scene when he sold two of his NFT collections for 127.6 ETH or approximately a whopping RM1.6 million in just 24 hours. He is also the first artist to launch an NFT on the cryptocurrency platform, Superfarm, which is co-founded by famous YouTuber elliotrades.
Katun's debut appearance in the NFT world included two releases, namely "Apes Stand Strong" and "Mystical Fruits". The former is a limited-edition of 50 mints, which sold out in record time of 30 minutes; whereas the latter is an open edition of 776 pieces, which sold out in 24 hours. The artist's total earnings from both collections makes it the most expensive batch of NFTs sold in one release by a Malaysian artist!
Check out Katun's artwork on SuperFarm or follow him on Instagram @katun_ for more updates.
Red Hong Yi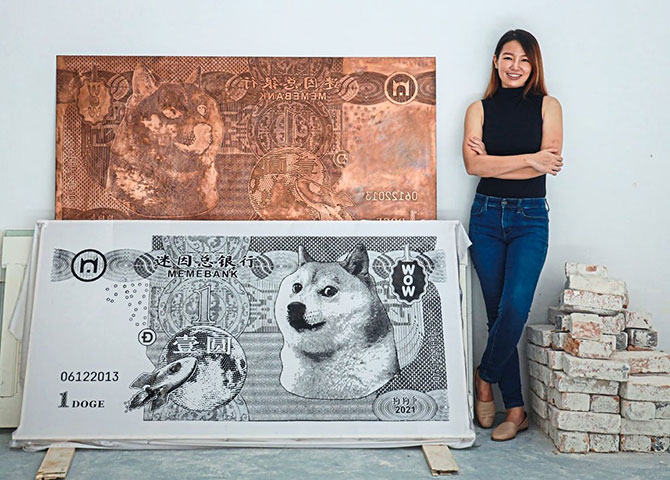 Red Hong Yi is no stranger to the world of contemporary art, known for using everyday objects and materials to create larger-than-life art installations. Calling herself "that artist who paints without a paintbrush", Red entered the NFT space in June with her take on one of the most iconic memes of this generation: Doge, the Shiba Inu. Titled Doge to the Moon, it was the first NFT from her Meme Banknotes Series, which comprises six spoofed banknotes from different countries.
Her inaugural NFT is based on the Chinese Yuan—a nod to China being the first in history to issue paper money during the Song Dynasty. It was minted and auctioned on the Binance NFT Marketplace for two weeks, with a top bid of 36.3 ETH, or roughly a little over RM320,000. The bidder "Anonymous_2la3" is now the proud owner of the NFT, as well as the physical copper plate and the printed banknote on silk.
Check out Red's artwork on Binance or follow her on Instagram @redhongyi for more updates.
Ronald Ong
Ronald Ong is a final-year medical student and one of Malaysia's top NFT traders at present. The 24-year-old Penangite has gained quite a following on social media for his unique brand of digital artwork that combines photography and Photoshop skills with equal amounts of creativity and wit.
He mints some of his artworks onto NFT platforms such as SuperRare and Foundation. Among his more popular minted NFTS include Zebreo, Shird, and Loafox—all of which are hybrid of animate and/or inanimate objects. If you didn't guess them by their names, Zebreo is a combination of a zebra and Oreo cookies; Shird features the head of a shark on the body of a bird; and Loafox reimagines a fox's body as a loaf of bread. These NFTs have sold for prices ranging from 3 ETH (approximately $6,484) to 10 ETH (approximately RM21,771) at time of sale.
Check out Ong's artwork on SuperRare or follow him on Instagram @ronnaldong for more updates.
Alvin Koay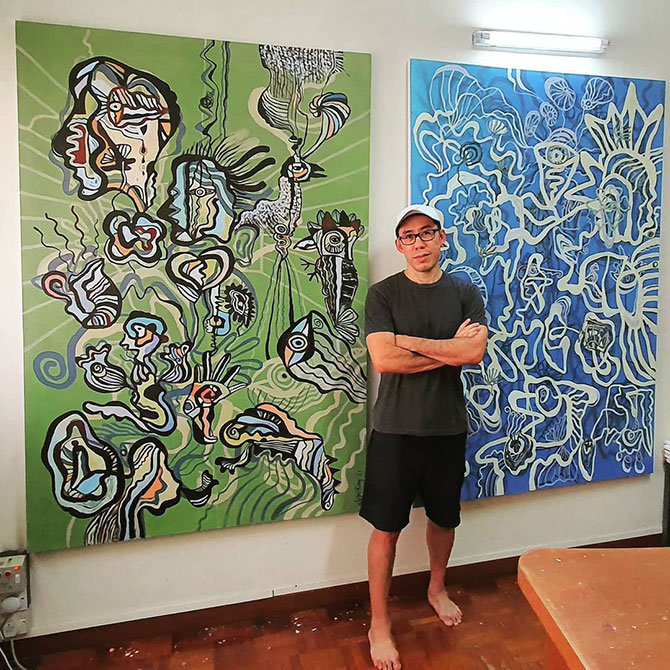 Before venturing into the NFT world in March this year, self-taught contemporary fine art artist and technology enthusiast Alvin Koay had primarily produced physical artworks. Upon learning of the potential to monetise his creations, he deep-dived into the scene by digitising his art and minting them on Opensea.
His first NFT was titled Celebration, portraying the emotions he felt when celebrating the new year at the beginning of 2021. More recently, he has released a new collectible series dubbed The Hypocrites—which draws inspiration from the abstract expressionism movement of post-World War II to reflect Malaysia's complex political landscape. Each character in the series is recreated from his original painted artwork and depicts a fantasy animal which represents a hypocritical politician.
Check out Koay's artwork on OpenSea or follow him on Instagram @alvinkoayart for more updates.
Lau Kia Hau
Better known as NeverAsleep, Lau Kia Hau is a Malaysian digital artist who combines a range of mediums including photography, visual effects, and 3D animation to create his artworks. His recent creations revolve around surrealism, as an escape from a pandemic-stricken world. He started creating NFTs back in February, just before the NFT boom in March.
As of the time of writing, Lau has a total of 17 NFTs available across the Showtime and Foundation marketplaces. The Little Bio-luminescent World Series is one of his most popular collections, featuring five "little worlds" where glowing fungi, dancing fireflies, glow-in-the-dark blooms, and bioluminescent plankton come to live. His artworks typically fetch between 0.5 to 1 ETH each.
Check out Lau's artwork on Foundation or follow him on Instagram @neverasleep for more updates.
For more NFT stories, head over here.