Food + Drink
Would you travel for good food and wine? The Western Australia Gourmet Escape is the festival for you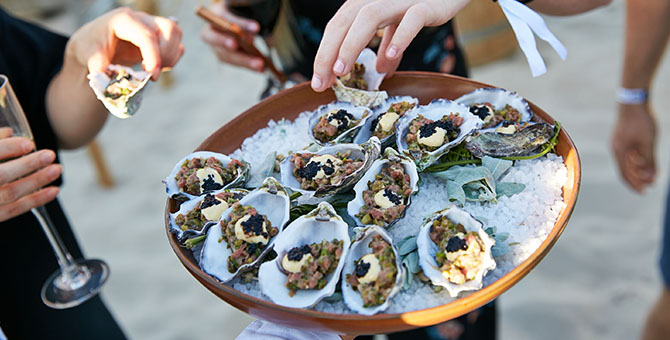 Some people pay thousands to travel to and attend music festivals such as Tomorrowland in Belgium and Coachella in California. Not me. I would for Taylor Swift though, but that aside, the only type of festival I'd be willing to fly out of the country for would be the ones that celebrate food. I'm Malaysian like that.
Everyone knows about Oktoberfest but you'll be surprised at how many more interesting food festivals there are out there. Bacon Festival in California? Dumpling Festival in Hong Kong? Sign me up! But what about something less "specialised" and more accessible? Easy: The Western Australia Gourmet Escape.
Only a mere 5.5-hour plane ride away, the festival is held annually in November (early summer for them) and features good food, fine wine and renowned chefs. The recent 2019 edition, which I had the pleasure of attending, was literally a full-on ten-day gourmet escape—60 extraordinary events hosted by 50 global culinary superstars. Among them: Marco Pierre White, Momofuku's David Chang, and Pierre Koffman. A frequent guest of the event, Marco Pierre White is one of the many celebrity chefs who found an affection for the destination. He even went as far as to calling the Western Australia Gourmet Escape the 'Greatest Show on Earth'. It's not hard to see why.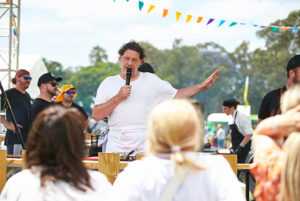 gourmet escape marco pierre white 2019
Marco Pierre White calls it the 'Greatest Show on Earth'
"My mind is blown. There is beauty literally everywhere you look in Western Australia. The produce, the people, the place—it's like nowhere else on earth," Pierre White said.
And when you're talking about the food in Australia, it's all about the produce. It's immensely fresh and for any chef, bringing out the flavours of the ingredients and combining said flavours into a beautiful and delicious dish—it's their version of rocket science. The kind that excites both the kitchen and out in the dining area. Add that with wine pairing? You're solid.
The Western Australia Gourmet Escape 2019 was extra special because the format expanded beyond Margaret River where the festival used to only take place. This year, visitors are invited to the three key culinary regions of Western Australia: Perth city itself, Swan Valley and the ol' Margaret River. Three different scenes, all with different events.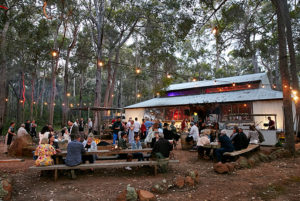 gourmet escape safari cookout 2019
Perth saw once-in-a-lifetime collaborations at some of its best restaurants. Swan Valley hosted the first-ever world Gourmet Symposium (an industry event with a stunning lineup of innovators and leaders in the food industry—consider it the Ted Talks for chefs and foodpreneurs). And Margaret River, home to some of the state's best wines, brought back its much-loved Gourmet Village at Leeuwin Estate and Westpac Beach BBQ at Castle Rock Beach.
Because the Western Australia Gourmet Escape 2019 was ten days long and varied widely, one can easily pick and choose according to one's fancy. My itinerary featured only some of the best and biggest as a taster of what the festival has to offer:
Gourmet Feast in the Valley
Held at Sandalford Estate on the banks of Swan River (a mere 25-minute drive from Perth city), Gourmet Feast in the Valley is a wholesome family affair, a fun day out in the sun, and a true gastronomical adventure. There are rows of stalls offering artisan food, Western Australian wines, live performances for both adults and lil ones, and informative workshops. If you love wine, though, upon entry, you'll be passed a glass which you can use for wine tasting at all the wine vendors (before you ultimately give in and buy a bottle or two of your faves).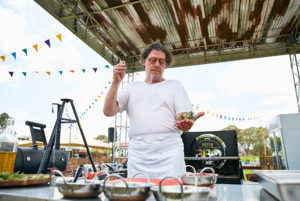 gourmet escape swan valley 2019 marco pierre white
This year's edition saw Marco Pierre White host an intimate sharing session by the BBQ pit as well as a meet-and-greet session for VIP pass holders. Me? I signed up for a gin-making workshop with local award-winning gin distillery, Old Young where I learnt a brief history of gin, tasted several different types of gin and concocted my own 250ml (I mostly added lemon and blood orange to it) bottle of gin to bring home.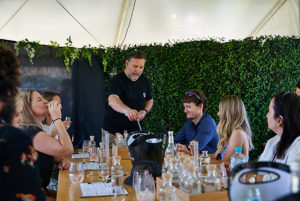 feast in the valley old young gin workshop 2019
It was a good day.
An Evening with Pierre Koffman & Guillaume Brahimi
Things took a slightly fancier turn for this event. Acclaimed French chef Guillaume Brahimi and his Bistro Guillaume situated within the compounds of Crown Perth were already renowned names on their own. Throw in an exclusive collaboration with the Pierre Koffman, one of United Kingdom's most famous chefs, and you get an evening that'd be the envy of many foodies, especially if you love French cuisine.
You might have heard of his La Tante Claire restaurant that set the standards for French cuisine in Britain and which held three Michelin stars for a whopping 15 years. Sadly, the restaurant closed in 2004 but not before quite a number of top chefs trained under Koffman—Tom Aikens, Gordon Ramsay, Marco Pierre White, Marcus Wareing, Jason Atherton, to name a few.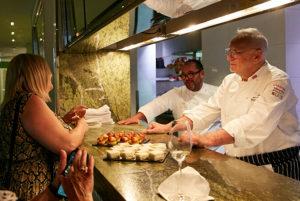 https://www.instagram.com/p/B56sEONJWo7/
Between Koffman and Brahimi, the evening saw an exquisite four-course dinner that pays homage to classic French cooking—complete with matching wines from Western Australia. Dinner took off with the simplest thing one could put on a plate: a lone tomato. With the plump reddish flesh glistening, its skin stripped, it might seem underwhelming but let your knife cut through it, and within it is a treasure chest of chopped cherry tomatoes and anchovies. It's one of the most beautiful dishes you could ever encounter. That's Pierre Koffman for you.
Brahimi took the reins back with the second course: West Australian marron with roasted pumpkin and garlic, ravioli, almost, sage and beaurre noisette. Marron is a type of crayfish found in Western Australia and it's juicy, plump and sweet to its core. Brahimi's choice of accompaniments with said marron was delicate and paired wonderfully, though many felt the ravioli was so good, it took over the spotlight.
Koffman jumped back in with a generous sizing of beef wellington, with pastry puff so crispy and beef so tender. To end: Brahimi's passionfruit souffle with passionfruit sorbet. In case you can't tell how passionate he is. Joking. Personally, French cooking was never in my top five favourite cuisines but that was certainly a night to remember.
Westpac Gourmet Beach BBQ
Aussies and their barbies. Not the doll, but the Australian slang for barbecue. Oh, they definitely love a good barbie and if it's hosted at the picturesque Castle Rock Beach in Margaret River, everyone would wanna turn up to get turnt up. Too much slang? Yes, I'm feeling it too.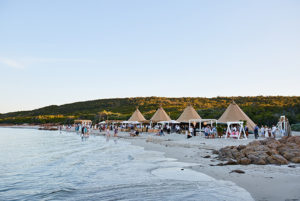 gourmet escape beach barbecue 2019
Except this isn't your ordinary chicken and slabs of meat type of barbecue. From meat skewers to fresh salads to roasted cauliflowers, eggplants and potatoes to fried chicken? Well, for 2019, and the day I attended, David Chang brought a taste of his legendary Momofuku restaurant empire to the beach. And that meant spiced up fried chicken and sambal-fied grilled prawns—THE BEST. Essentially, that was all I had the whole evening. Or perhaps I was just missing spicy food. Still, that's half a tick off my bucket list of restaurants around the world to try.
During a mini Q&A session, the host expressed her surprise at him bringing fried chicken to a barbecue event. His reply: "It's delicious and easy to serve. And everyone has a good time eating it. When I think about eating outdoors, I just think of fried chicken. I don't know if that's just me."
The host: Did everyone have a good time eating it?
Crowd: *cheers*
It was undoubtedly a unanimous vote.
Gourmet Village at Leeuwin Estate Winery
The Gourmet Village is yet another signature Gourmet Escape event. It's similar to Feast in the Valley, but bigger. Way bigger and held in Margaret River, specifically on the beautiful grounds of Leeuwin Estate Winery. The eighth instalment saw Pierre Koffman and other world-class chefs such as Colin Fassnidge, Danny Bowier and Amanda Cohen in attendance; as well as over 150 local producers and wineries.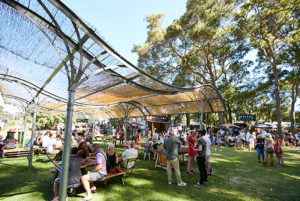 gourmet village 2019
With your wine-tasting glass, you can sample some of the finest wines in the regions. To tantalise those tastebuds, there were vendors selling popcorn chicken, baos with fillings that would make you salivate at its name, pork dumplings and more. For something more adventurous, there was a throng of alcoholic concoctions to try: float beer, cocktails that sizzle or refresh, hemp beer milkshake and more. Not to mention, the seemingly endless list of things that would be tempting you to make a purchase: The seductive scent of truffle oil and salt, fragrant candles in handmade pottery cups, cookies and cupcakes, nougat bars and jam.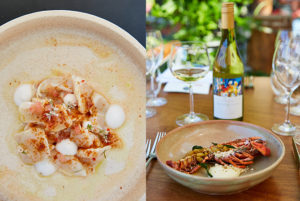 gourmet escape leeuwin estate menu
Opt for the Platinum Lounge ticket and you'll get to dine at the Leeuwin Estate Restaurant where a Dan Gedge and team will be giving you VIP treatment and a menu that highlights West Australian produce such as Pemberton marron, Albany asparagus and Broome pearl meat ceviche. The cherry on top is that each dish is paired with Leeuwin Estate Art Series wines. Bliss.
*
Conclusion: Food festivals are the kind of festivals I'd travel for and Australia is doing a pretty good job at coming up with those. Next up: Truffle Kerfuffle 2020. Also held in Western Australia, it's a unique winter festival in Manjimup, the heart of Australian truffle country and you can expect delicious food, campfire cooking, wine, truffles, and best of all, join a truffle hunt! Fun fact: The farms there trained dogs as truffle hunters versus pigs. Are you in with me?
Western Australia Gourmet Escape will return in November 2020.
Visit www.gourmetescape.com.au to sign up and be the first to find out the latest news and events.
| | |
| --- | --- |
| SHARE THE STORY | |
| Explore More | |