Summer has always been synonymous with fun, adventure, and positive vibes. To celebrate this, Nespresso wants you to embrace positivity and 'feel good' moments with its Barista Creations for Ice coffee range and carefully crafted coffee recipes as part of the brand's summer campaign.
Drawing inspiration from Brazil's positive vibes, the campaign encourages coffee lovers to hit the reset button and adopt new habits that will lead them toward their goals. To do this, Nespresso has curated a series of wellness practices dubbed the "Summer Rituals", aimed at providing positive inspiration and guidance. The four actionable practices are designed to promote better routines and lifestyles, namely:
Sip & Shine (setting ourselves up for the day)
Sip & Breathe (connecting with ourselves)
Sip & Escape (connecting with nature)
Sip & Bloom (connecting with others and friends)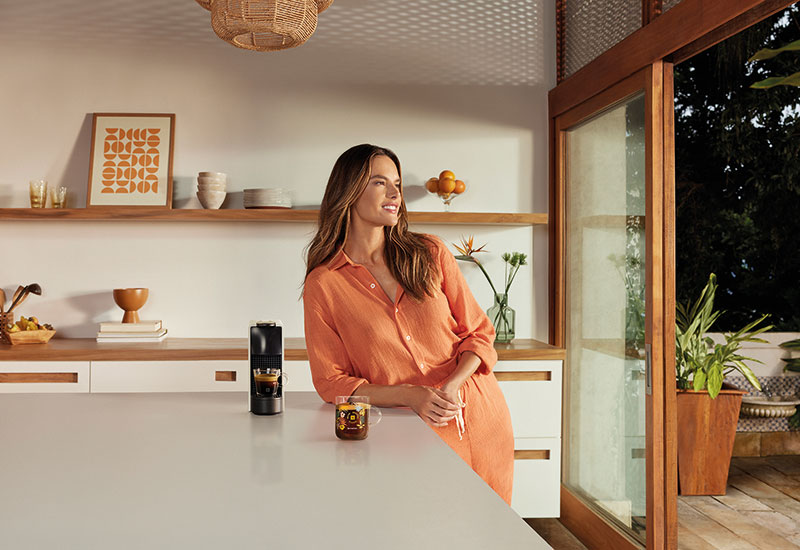 Whether it's a regular morning espresso to complement your yoga practice, or a refreshing iced coffee to sip on whilst you journal, coffee is the grounding element that helps to sustain these uplifting rituals. And to help you put these rituals into practice, here's a step-by-step guide to getting the perfect ice-cold sip (of positivity) to beat the heat.
Step 1: Prepare your Nespresso coffee machine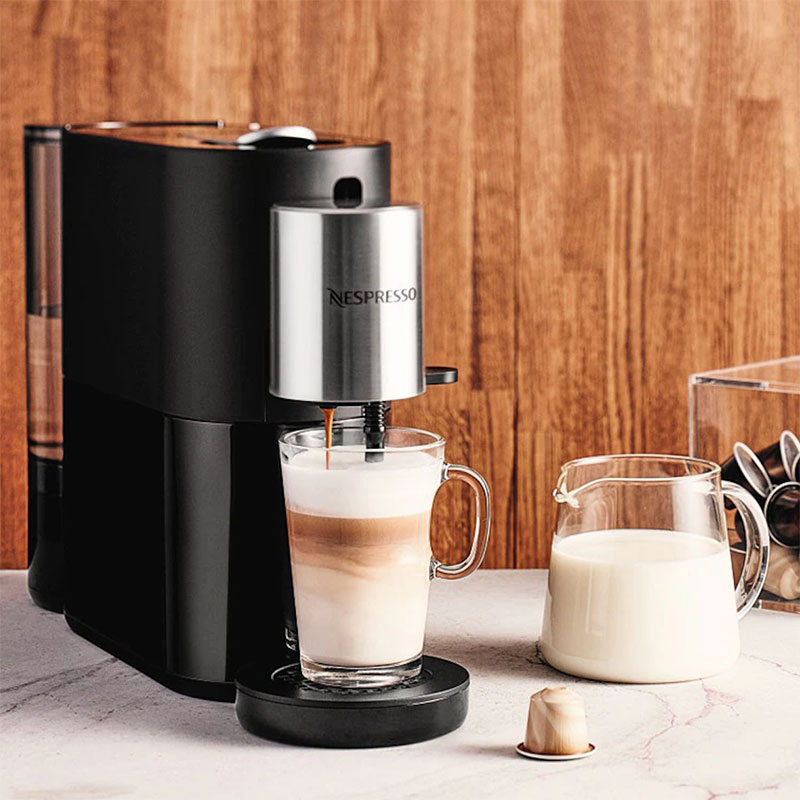 First things first, you'll need a trusty companion to enable you to craft your preferred cup of coffee. Nespresso has a variety of coffee machines to allow you to be your own barista at home and try different recipes at the press of a button. It only takes a short preparation time and is convenient to use, so you can craft your coffee moments with ease!
RELATED: Quiz: Which Nespresso coffee machine is right for you?
Step 2: Shop the Nespresso Barista Creations for Ice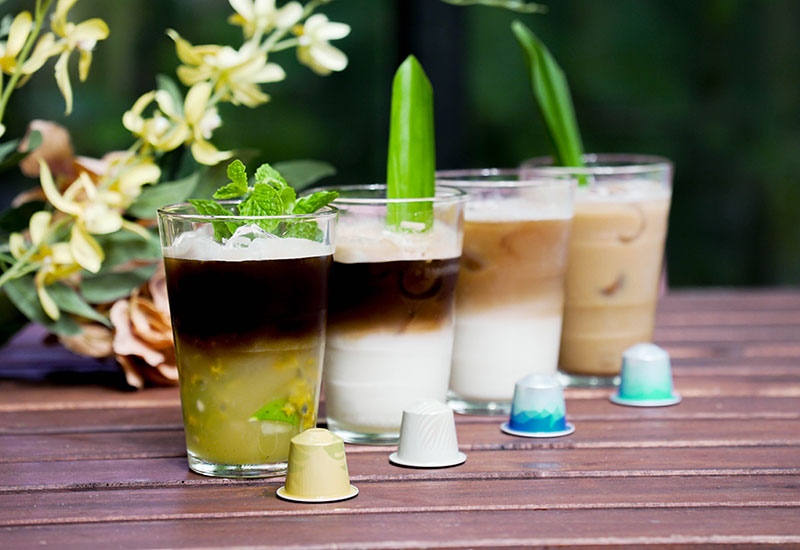 For the unacquainted, the Nespresso Barista Creations for Ice range offers coffees specially designed to enjoy over ice. The range uses high-quality blends that are expertly crafted with tailored roasting and grinding parameters to release crisp, refreshing notes over ice—perfect for a hot day or if you're in the mood for something different from your usual cuppa at home.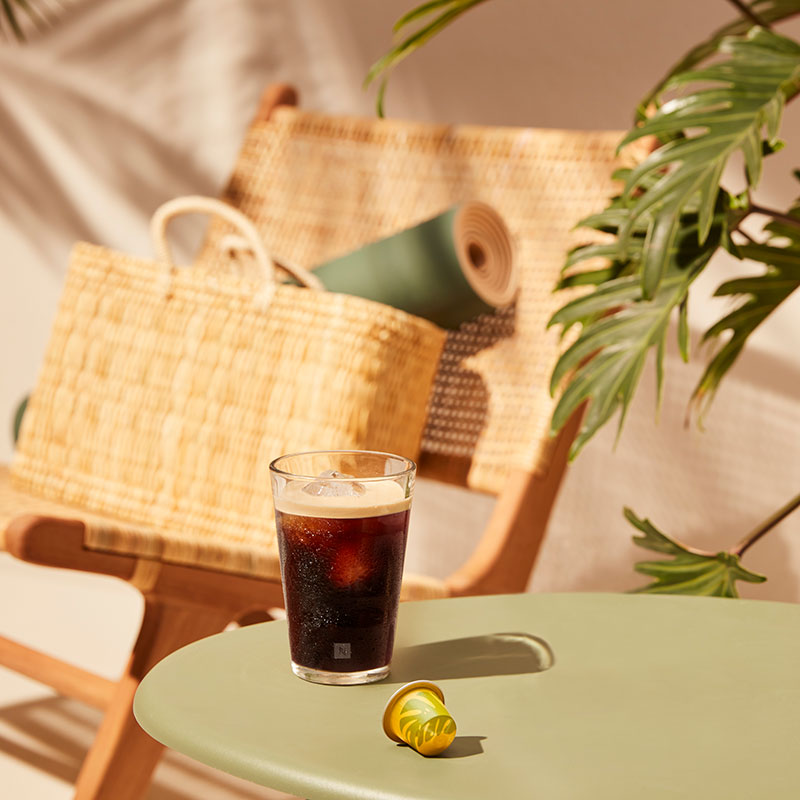 Paying homage to Brazil's national drink—the Caipirinha—lime and mint take centre stage in the new Barista Creations Liminha over Ice coffee, offering refreshing flavours of the tropics. The sleeve is adorned with a lemon yellow and tropical leaf print, mirroring Brazil's vibrant landscape and its good vibes.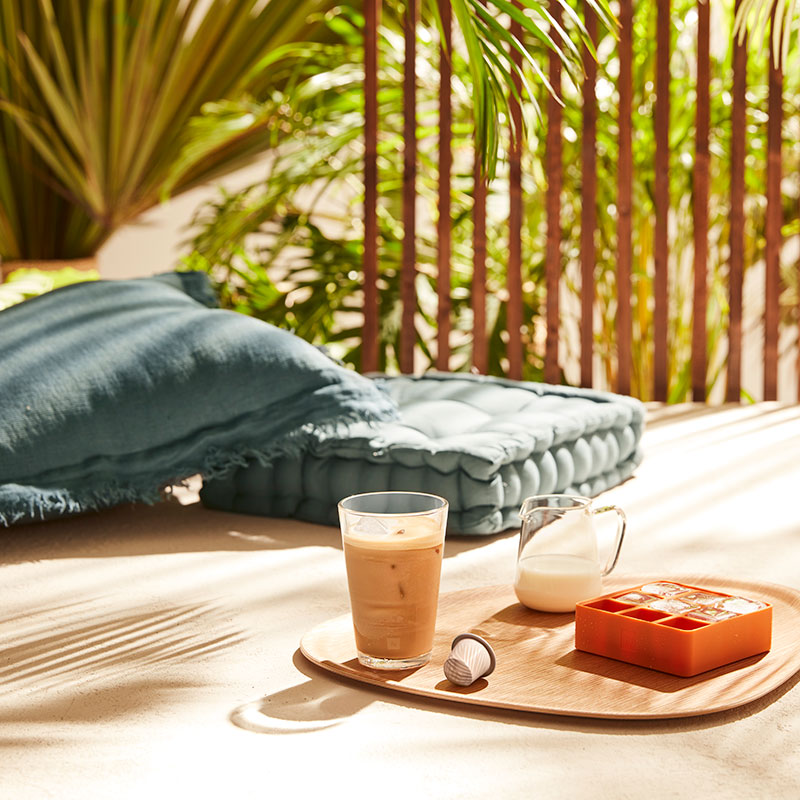 Besides that, the popular Barista Creations for Ice Coconut Flavour over Ice and seasonal Barista Creations for Ice black coffees—Freddo Intenso and Freddo Delicato—have also made a comeback specially for the season. They will be available for a limited time only, so don't miss the chance to try them while you can!
Step 3: Try Nespresso Barista Creations for Ice recipes
For the best experience, Nespresso has curated a set of recipes to enhance the extracted flavours of the Nespresso Barista creations for Ice range. Not sure which one will fit your personal taste preferences? Take this quiz and we'll suggest a recipe for you to try.
Step 4: Complete the experience with Nespresso accessories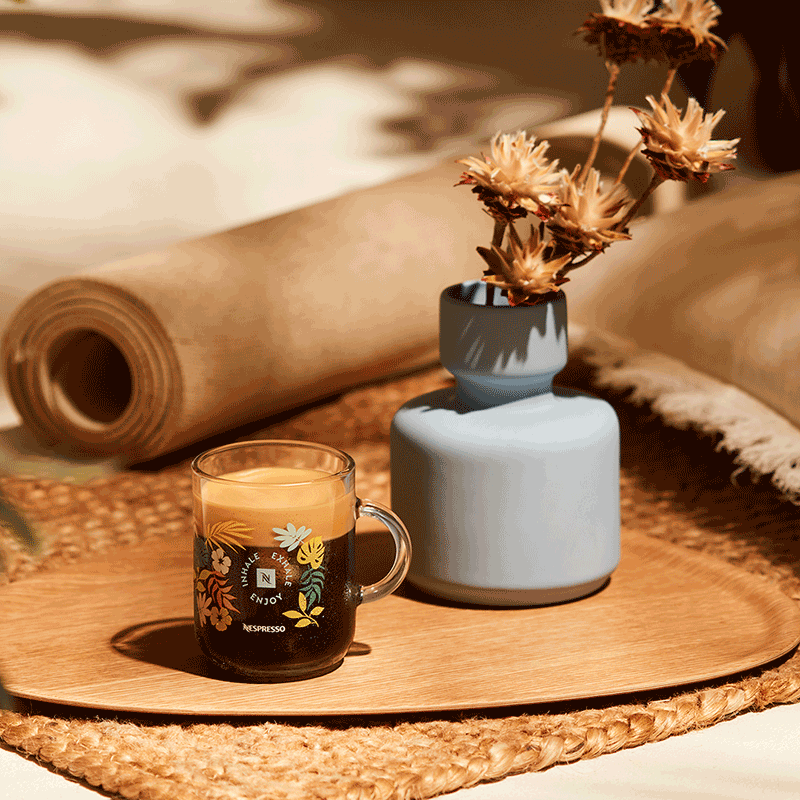 Accompanying the exotic new iced flavoured coffees, Nespresso's summer collection includes limited-edition accessories to complete its Summer Rituals. Among the accessories include two coffee mugs, each displaying one of Nespresso's positive mantras: "Brew, Breathe, Bloom" and "Inhale, Exhale, Enjoy". The coffee mugs are signed by Nespresso's ambassador—supermodel Alessandra Ambrosio—who personifies the brand's positive mantras and uplifting rituals.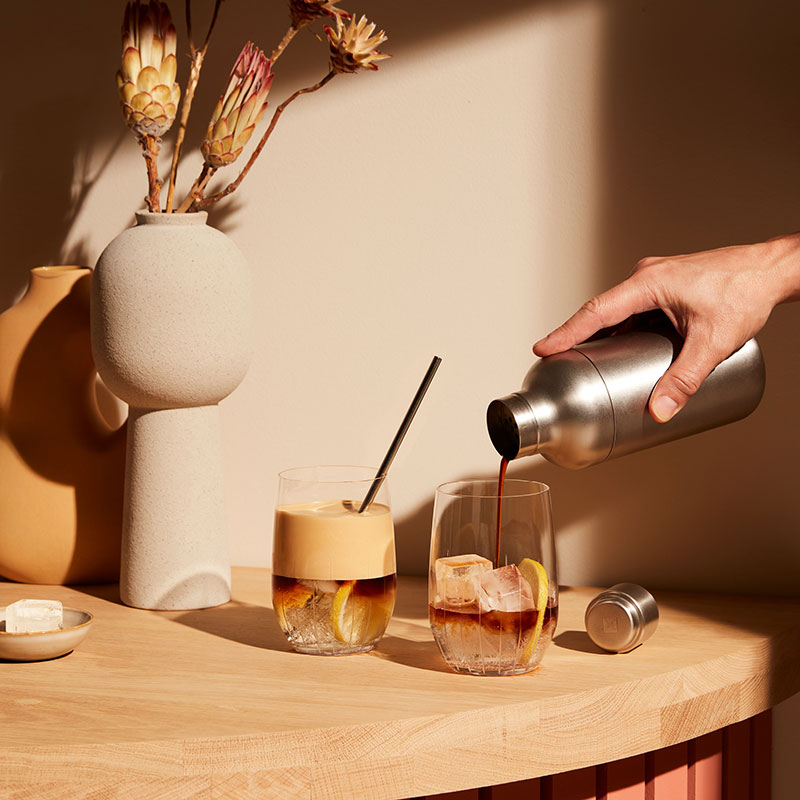 Alternatively, the Nespresso Barista Shaker is designed for home baristas to hone their skills at home. It features a built-in half fliter to keep your crema smooth with every pour, and can be tilted around to add more ingredients into your coffee creations. The straight lines and brushed finish gives it a contemporary look that's stylish yet practical, so you can craft beverages of up to 600ml just the way you like it.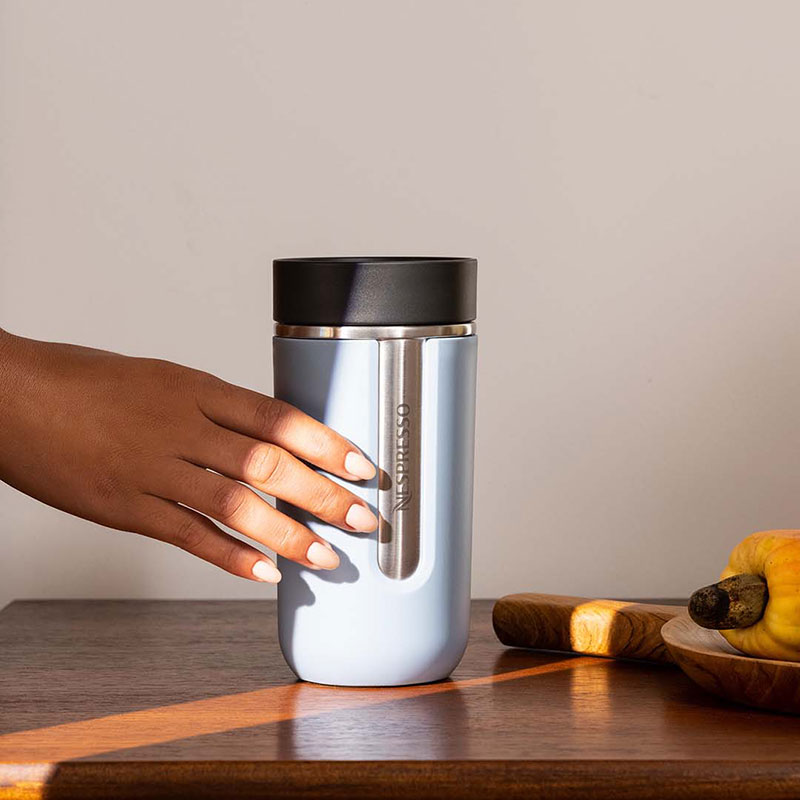 Lastly, the Nomad Travel Mug Ocean Blue is made to hold both hot or cold coffee recipes of up to 400ml. Simply press the push-to-open button to enjoy your favourite blend on the go!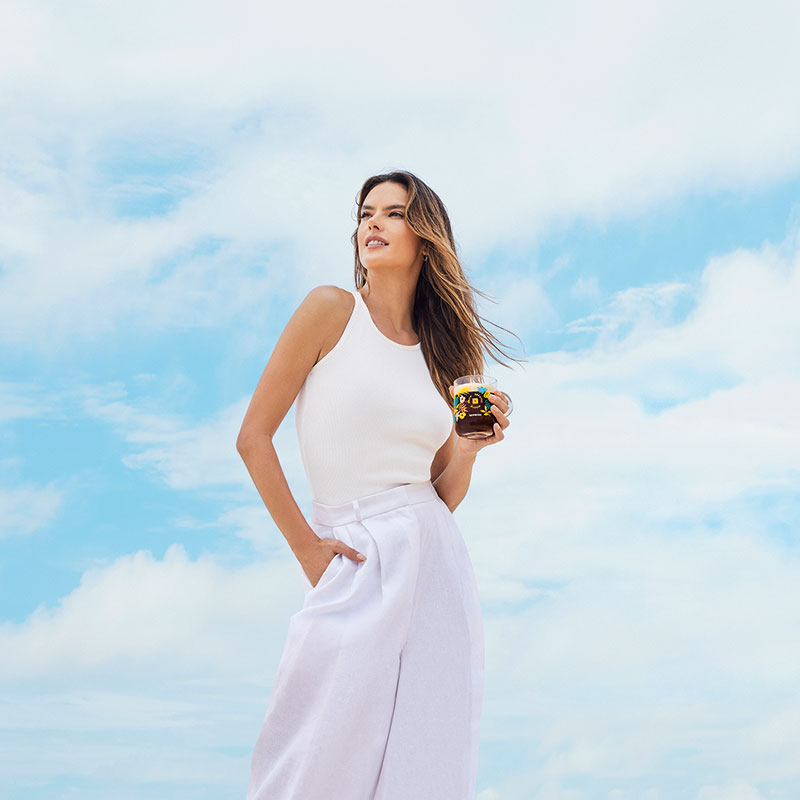 And there you have it—the perfect Nespresso ice coffee to fuel your best moments while keeping you cool as you strive toward a more positive lifestyle. Cheers!
For more information about Nespresso Summer 2022, visit this website. Find more Nespresso stories here.
| | |
| --- | --- |
| SHARE THE STORY | |
| Explore More | |