Food + Drink
7 Plant nursery cafes in the Klang Valley to sip on coffee and shop for plants
Coffee, tea or plants?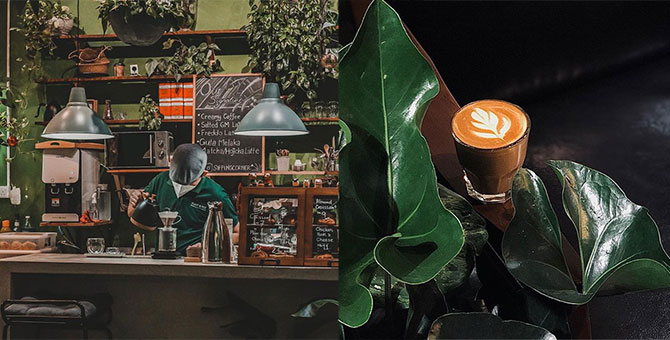 There are two things that have been scientifically proven to be beneficial for the mind: coffee and plants. The former helps fuel cognitive performance to keep us on top of busy schedules, while the latter helps us feel more calm and relaxed. Put the two together and one may feel ready to seize the day.
It's no wonder why plant-themed cafes have been consistently popular over the years. Beyond just the "Instagram-worthy" factor, these verdant places offer a haven for consumers to refuel and unwind at the same time. Now imagine bringing a slice of that haven back home…
Here are seven plant nurseries cum cafes in the Klang Valley that allow you to do just that—sip on coffee and shop for plants for your crib!
1. Planter Chin, Bangsar
Since opening in 2020, Planter Chin has attracted a steady stream of visitors who find comfort in enjoying a cuppa Joe amidst a sea of greenery. What started as a leap of faith between two friends—Jeremy Chin of pop-up coffee bar Outcast Coffee and Jan Zainal of bijou plant studio TamanHati—has blossomed into a full-blown cafe and plant studio complete with workshops, consultations, and gifting services. Most of the plants on display are for sale, from beginner-friendly (read: low-maintenance) Philodendron species to slow-growing and well-rooted Monstera Albo. Meanwhile, the humble menu consists of a breakfast set, pasta, and toast, as well as a selection of hot and cold beverages.
Address: 6a, Jalan Kemuja, Bangsar, 59000 Kuala Lumpur
Opening hours: 10am to 5pm daily
2. Sipping Corner by Plant & Pot Studio, Ampang & Puchong
Plant and Pot Studio established itself as a plant boutique and specialist back in 2016 before introducing a Sipping Corner (aptly named) a few years later. Its first brick and mortar plant concept store was opened in Bandar Puteri, Puchong to much fanfare, leading to the opening of its second branch in Ampang. Both outlets now double as a cafe serving artisanal coffee and matcha beverages, cakes, and pastries for visitors to grab a bite as they shop from the extensive selection of potted greens.
Address:
Ampang: 1-1, Jalan AWF 3a, Ampang Waterfront, 68000 Ampang, Selangor

SHARE THE STORY

Explore More