Food + Drink
#BUROSupportsLocal: IG-worthy Raya cookies to order from online bakers in the Klang Valley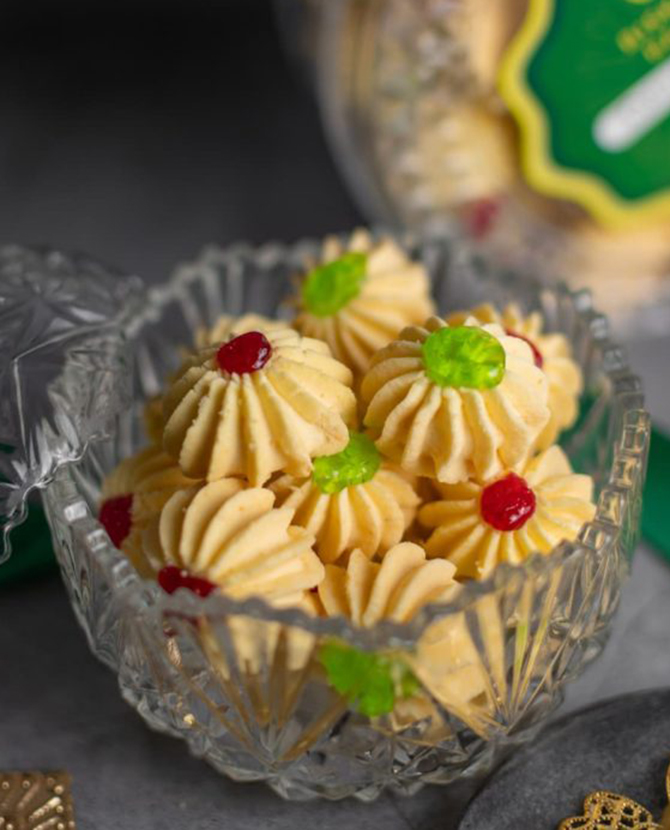 Here's where to order Raya cookies online this year and have them delivered to you or your lucky recipient—safe and easy
Cookies are to Raya what rendang is to ketupat. One would, quite simply, be incomplete without the other. In the weeks leading up to Raya, they're a favourite buka puasa treat, a snack to munch on while watching Netflix, and an easy (yet thoughtful) gift to just about anyone with a sweet tooth.
That said, with new Covid-19 cases (still) reported every day, you may not want to step out of home to stock up. Or you may not have the time to go off your usual route to try something new—especially with traffic now returning to normal. And if you're getting Raya cookies as gifts, having them delivered on your behalf is now the norm, rather than an exception.
With these in mind, we've rounded up a list of online bakers who will deliver Raya cookies that look as good as they taste, either to your doorstep or that of your lucky recipient.
Elevete Patisserie
View this post on Instagram
Known for modern-day desserts, Elevete blends old and new by bringing a contemporary touch to Hari Raya faves. Spark joy by sending (or receiving) the Mesra Delights (RM98): a wholesome box of Raya cookies galore with Pineapple Tarts, Ketupat Design Butter Cookies, Raspberry Chocolate Bonbons, and Nutella Pods.
 Another photogenic choice for your kuih Raya table is the Aneka Aidilfitri Platter (RM105). Great for sampling a variety of treats, it comes with Pandan Gula Melaka Cake Bites, Nutella Pods, The Batik Indulgence (kek batik with chocolate ganache), Ondeh Ondeh Roulade (pandan sponge with coconut buttercream, gula Melaka sugar crystals, Hawaiian coconut flakes and mini pandan leaves), as well as premium dates.
An assortment of beautiful cakes and cake bites can be ordered to go with the Raya Specials, available until 27 May. Elevete Patisserie is also available on Cakerush, Cake Together, Foodpanda, Beepit and Grab.
Website | Facebook | Instagram
Splatter
View this post on Instagram
Splatter is delivering Sekotak Riang Raya this festive season. In its Cookie Dream Box (RM120) is "a delectable set of the most addictive treats handmade with plenty of love in individual jars". In each box are Tahini Cookies, Triple Dark Chocolate Cookies, and the intriguing Onde-Onde Mini Macarons.
Fans of cookies and kuih will be delighted by the Raya Kuih Platter: Manis Memories (RM150). This traditional platter features "favourite kuih-muih in a kaleidoscope of colours, freshly-steamed by halal-certified kuih makers". There's Kuih Puteri Ayu, Kuih Ketayap, Kuih Onde-onde, Kuih Lapis Beras, Kuih Sago Rose, Biskut Semperit Dahlia, gourmet dark chocolate dates, and gourmet pistachio chocolate dates.
Preorders are open now for delivery between 30 April to 16 May.
Website | Facebook | Instagram
Baked KL
View this post on Instagram
Baked KL has two Raya gifts sets to choose from. The small box set (RM80) contains two medium-sized jars of cookies ranging in weight from 180g to 220g. If you're getting these as gifts for a larger group, the large box set (RM129) has two full-sized jars weighing from 320g to 480g.
The difference in heft comes down to which two cookie flavours you ultimately pick. There's Eggless Honey Tahini, Triple Choc Chocolate Chip, White Cranberry Choc Cornflakes, Vegan Choc Chip, Pineapple Bomb, and Vegan Pineapple Bomb.
Website | Facebook | Instagram
Ben & Chinta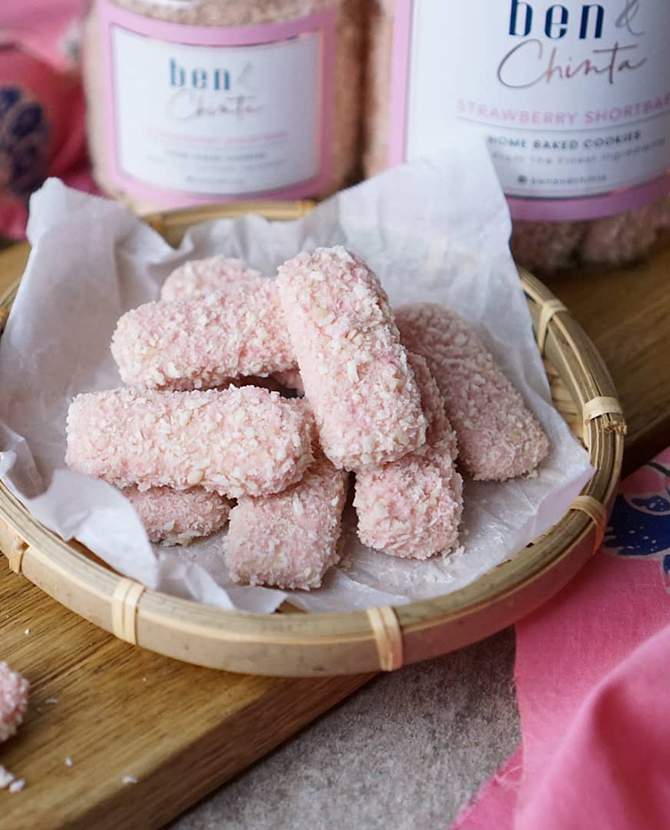 For the festive season, Ben & Chinta's signature cookies come in two sizes: Mini (RM20 for around 20 pieces) and Mega (RM40 for twice the amount of treats as the Mini). The signature flavours are Cookies Monster, Almond Button, Strawberry Shortbar, Butter Cookies, Cereal Treats, Cornflakes, Chocolate Pecan, and Milky Cashew.
Do also grab this chance to try the two limited-edition cookies, made especially for Raya: Batang Burok (available in Mini and Mega sizes) and Semperit Dahlia (Mega only). For gifting—or to gift yourself the joy of unboxing a beautiful package—you can get the Raya Gift Box containing your choice of six Mega-sized cookies (RM250) or six Mini ones (RM130).
If you or your loved ones are feeling health-conscious, good news: the Petite Raya Gift Box (RM70) comes with three Mini cookie jars. All gift boxes include Ben & Chinta custom-made 'duit Raya' packets and a Raya card.
K&S By Amni Rahman
The K&S in 'K&S by Amni Rahman' is short for 'knead and stuff'—a homage to their signature choux. These come in Milk Chocolate, Strawberry Cheesecake and Hazelnut Praline flavours.
To brighten the festive season, Amni has also rolled out four types of cookies that will look aesthetic in your #Raya2021 pictures. These are the Nestum Shortbread Cookies, Chocolate Button Cookies, Rainbow Eggless Cookies, and Caramel Cranberry Cornflakes. One bottle is priced at RM25, while a Raya gift bag of two bottles is RM55.
Website | Facebook | Instagram
The Skinny Bakers
View this post on Instagram
The Skinny Baker's Eid Bundle packs an unexpected twist. In the box are a jar of Pandan Gula Melaka Cookies, a jar of Sea Salt Double Choc Chip Cookies…and a jar of Crispy Prawn Rolls!
Alternatively, should your giftee have a seafood allergy or prawn aversion, opt for the Ramadhan Bundle. This contains a jar each of Oat Chocolate Chip Cookies and Safawi Dates. This duo is priced at RM40, while the Eid Bundle is RM70.
Website | Facebook | Instagram
Junandus
The Raya cookies are Junandus don't just come in a variety of flavours, but in various colours too. There's the green of the Pandan Delight and Makmur Pandan Cookies; pink strawberry tarts and raspberry tarts; jewel-toned Rainbow Lidah Kucing; Donut Coffee Cookies topped with rainbow sprinkles; and the two-toned Almond Chocolate Tart and Twin Chocolate London Almond Cookies. Over 15 types can be ordered and delivered on the same day
Website | Facebook | Instagram
Arifah Hot Oven
View this post on Instagram
Arifah Hot Oven's handcrafted Raya cookies will add pops of colour to coffee tables and social media feeds. Bright and cheery selections include Red Velvet Cloud (red velvet biscuit topped with marbled vanilla meringue), Tiramisu Cloud, pastel-hued Nestum Cloud (Nestum biscuit topped with strawberry-scented meringue), and Biscoff Burger whereby the creamy biscoff spread is sandwiched between two chocolate chip cookies. Each jar is priced at RM 35 for about 40 pieces of cookies.
For more #BUROSupportsLocal stories, click here.
| | |
| --- | --- |
| SHARE THE STORY | |
| Explore More | |