Mooncakes might be traditional but did you know that you can find contemporary versions in the Klang Valley? In a society that's constantly seeking anything picture-perfect, these modern concoctions stand out with their appealing visuals and unusual flavours. If you prefer the legendary fare the way they have always been, check out this round-up. Otherwise, we have compiled a list of the sweet delights unlike the usual grub.
1. Crème De La Crème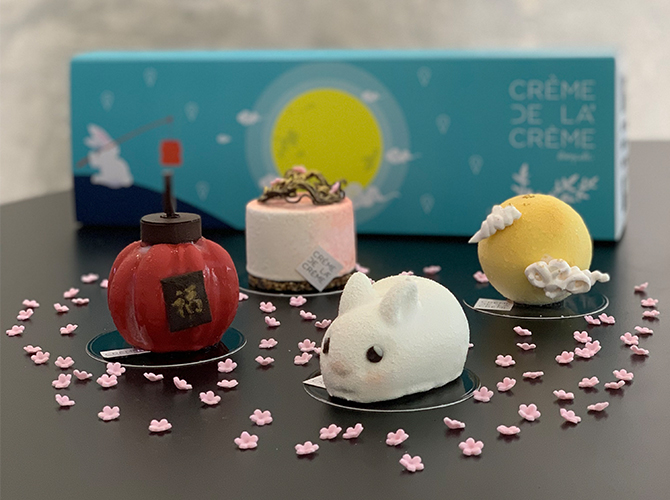 The popular dessert spot is taking the mooncake game to a whole new level with four new petits gâteaux in a limited gift set. The flavours include Chang E's Elixir (Kyoto Houjicha ice cream, sesame crunch, white chocolate dip, dark chocolate garnish, sakura ice cream, and lychee rosemany compote as yolk), Fly Me To The Moon (chocolate ice cream, hazelnut crunch, candied orange, meringue, gold flakes, mandarin sorbet, and orange ganache as yolk), Little White Rabbit (coconut ice cream, raspberry sorbet, mango compote, almond crumble, white chocolate dip, mango passion fruit sorbet as yolk) and Prosperity Lantern (Pistachio ice cream, crumble, lemon sponge, dark chocolate garnish, strawberry ice cream, homemade strawberry jam as yolk). These ice cream mooncakes are definitely perfect for Instagram.
Price: RM129 for a box set of four mooncakes
How to order: 03 7494 0735 or send a message on Instagram and Facebook
2. Valen's Patisserrie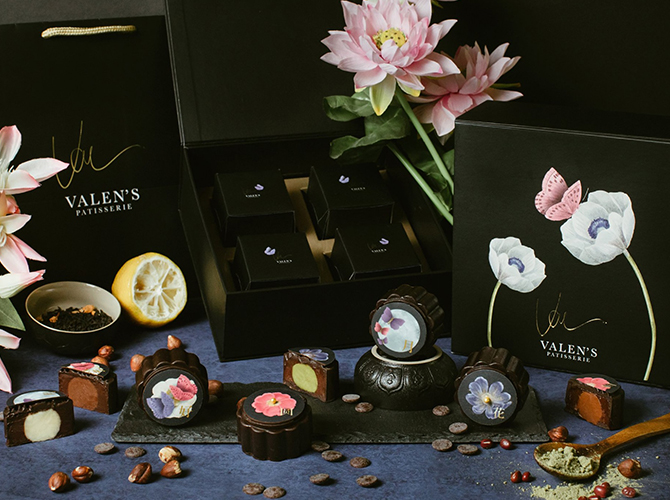 The mooncake series, 'Midnight Bloom', is inspired by a blooming garden—bridging traditional with modernity. Every pastry is hand-crafted with a layer of premium chocolate and filled with a ganache core. The flavours include Matcha Azuki (chocolate, green tea ganache, and azuki), Earl Grey (chocolate and earl grey ganache), Yuzu (chocolate and yuzu ganache), and Hazelnut Praline (chocolate and hazelnut praline ganache).
Price: RM98 for a box set of four mooncakes
How to order: Email [email protected] or send a message on Instagram and Facebook
3. Inside Scoop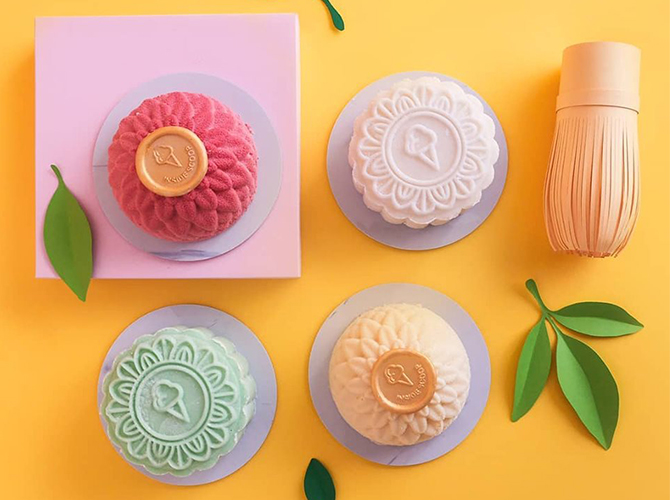 In classic snow skin, there are four exciting flavours to choose from including Durian with Chocolate Yolk, Matcha with Black Sesame Yolk, Rocher with Crunchy Base, and Unicorn with Raspberry Yolk. There is also the Supermoon—a 800-gram mooncake with snow skin, crunchy Rocher base, pistachio ice cream, and raspberry jelly.
Price: RM60 for a box of two and RM100 for a box of four, RM115 for Supermoon
How to order: Visit this website or send a message on Instagram and Facebook
4. Starbucks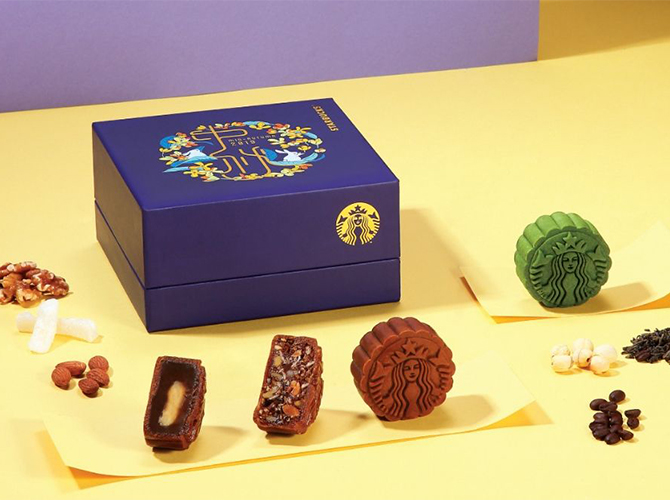 Meet mooncakes reimagined with Starbucks' signature espresso flavour. They include Tiramisu (coffee flavoured lotus paste and mung bean paste), Green Tea Key Lime (green tea with lotus, key lime, and matcha powder pastry), Coffee Mixed Nuts (espresso skin, mixed nuts, caramel lotus paste, and chestnut mung bean filling), and Espresso Chestnut (traditional Cantonese skin with espresso, chestnut mung bean, and coffee lotus paste).
Price: RM88 for a box of four mooncakes
How to order: You can get them in all Starbucks outlets across Malaysia
5. Forefront International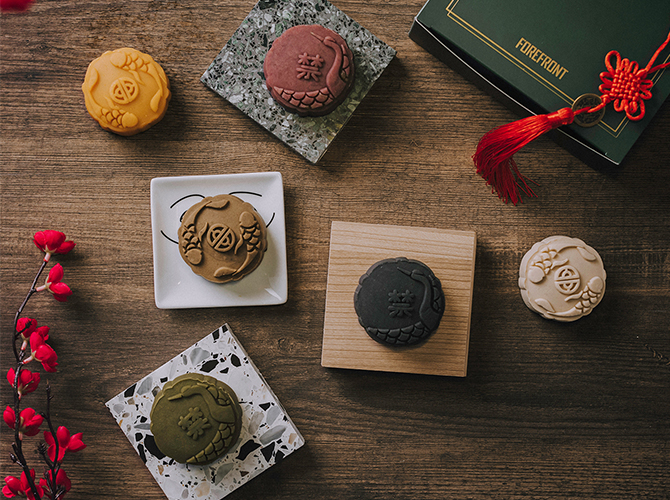 Forefront's Mid-Autumn Festival mooncake gift set (which you can also get from Foremula, Therefore, and Forebidden) comes with six halal flavours and a lantern kit, which you can turn into a lamp. Each flavour is specially chosen to pay homage to Asian cultures. On the packaging design, you will notice a koi and a crane and they are delicately carved onto the mooncakes. #HarmooniousTogether indeed.
Price: RM119 for a box of six mooncakes; RM149 after introductory period
How to order: Visit this website or head over to Therefore, Forebidden, and Foremula.
*Bonus*
6. Shaunteocreations Studio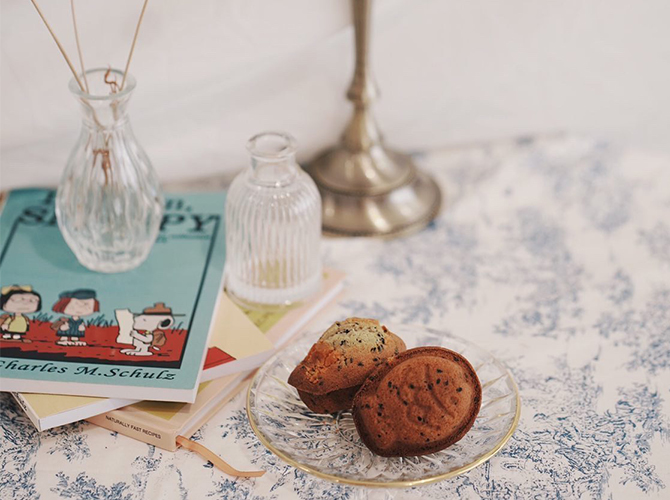 For something a little different from a traditional mooncake yet still familar, meet the Madeline from Shaunteocreations Studio that's made to resemble the well-loved Asian delicacy. What is it? Quite simply—salted egg and sesame. It's available for sale beginning 22 August 2019 at the price of RM7.90 per piece.
For more information, visit this website, Facebook, and Instagram.
| | |
| --- | --- |
| SHARE THE STORY | |
| Explore More | |