The Malaysian preoccupation with food is a well-documented fact, and it's quite possibly the thing for which we are best known, after badminton and consistently being in the world news for all the wrong reasons. And just to prove that our appetites are truly gargantuan, we don't stop eating at dinnertime. Oh no. For Malaysians, the late night supper is requisite towards maintaining a healthy sense of hyperphagic equilibrium, so it should come as no surprise that at an ungodly hour when only rats, hookers and cockroaches should be roaming the streets, there'll invariably be a cluster of hungry punters sitting in a fluorescent lit space, heads bent over a steaming bowl of food, intently wolfing down their meal of choice with blithe disregard for all the health warnings issued by pedantic but well-meaning nutritionists about the myriad perils of late night dining.
Call me weak, but I long ago gave up suppering, because my utter lack of self-control used to invariably result in a queasy post-prandial heartburn that would in turn lead to sleeplessness, and if there is one thing as beloved to me as food, it would be sleep. I am however the lonely exception to the rule, and my fellow Malaysians' penchant for late night suppers these days extends far beyond the realm of round-the-clock nasi kandar. Nowadays, there's a veritable plethora of 24-hour eateries to vie for one's gustatory attention, from Middle Eastern (Al Rawsha, 8 Jalan Kampung Pandan) and bah kut teh (Ban Lee, 222 Jalan Ipoh, Segambut) to Kelantanese (Hayaki, 13 Jalan SS21/37, Taman Tun Dr Ismail) and Teochew porridge (Peng Hwa, 19A Jalan Kelang Lama), so much so that I'm forced to review my supper embargo, if only to quell my growing sense of FOMO.
But it's the people who have taken late night dining to the next level—by making their own, for goodness sake!—that I'm forced to concede are a superior breed of creature. When there's a surfeit of eateries from which to select a supper venue, taking the quantum leap to cooking your own supper is an act of heroism, because, really, who has the energy and wherewithal to concoct something edible, let alone palatable, at that time of the night? Enter Daniel Loo, a self-confessed nocturnal friend whose 'rapid fire' late night cooking sessions happen because he finds cooking late at night "creatively stimulating".
"I get a rush of adrenalin from it that I just can't explain. It's not the same as cooking when I entertain when I have lots of time to prepare. When I do my past-midnight rapid fire sessions, I truly come alive. The spontaneity and challenge of whipping up a dish with whatever I can find in the kitchen (leftovers included) is exciting."
The products of his rapid fire sessions range from designer-meets-high-street-bread toasted with lashings of minced garlic and extra virgin olive oil, then sprinkled with sambal hebi, and topped with a poached egg and caviar-to downright exotic. One example springs readily to mind and I'm not ashamed to confess that my mouth is watering with Pavlovian desire even as I write this: leftover briyani rice fried with garlic and paprika, layered with fried basil, eggs, and chicken serunding, then topped with diced avocados, Greek yoghurt and marjoram.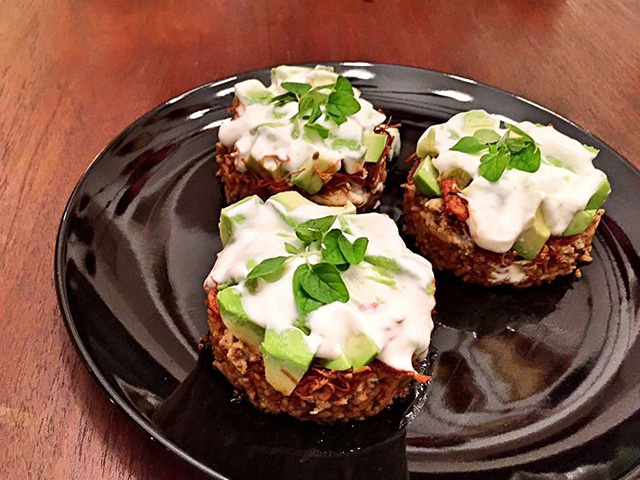 Loo says "going with the flow, improvising along the way, and with a rule of thumb that it should take no more than 20 minutes" are the only guidelines for his home-made suppers. Could this be the sign of things to come, when we voluntarily eschew sleep in favour of culinary inspiration in the wee small hours of the morning? I confess I may not be the first to the table on this one, but I certainly wouldn't mind a slumber party invitation to his house anytime he has the urge! Yes, Daniel, that's a hint, and a less than subtle one at that.
Follow Fay on Twitter and Instagram at @misskhoo.
Related stories:
The ultimate foodie playground
| | |
| --- | --- |
| SHARE THE STORY | |
| Explore More | |