Ah, for the love of chocolate. As one of the most popular flavours in the world, cocoa is consumed all year round—summer, spring, autumn, and winter. Or in Malaysia, rain, shine, and (unfortunately) haze. There is something so delicate yet intense when it comes to chocolate. Milk, white, or dark, it doesn't matter. Cravings for the delectable blessings (yes, they are) come with no judgement, especially when they bring happiness and joy to the world.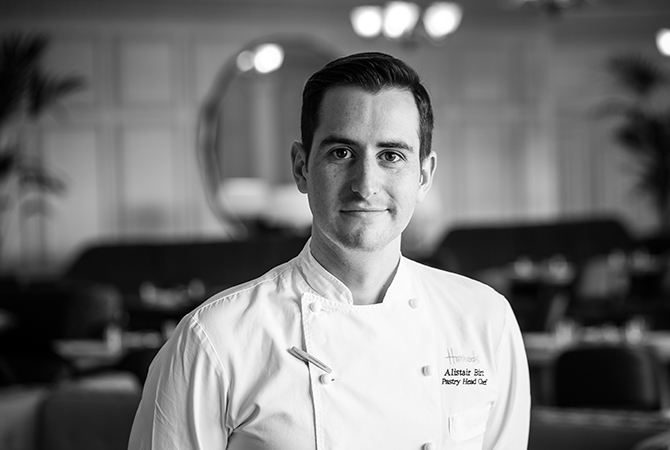 We spoke to Alistair Birt, Head Pastry Chef of Harrods London, to learn more about the edible paradise, his relationship with chocolate, as well as his objective for the four-day series of cocoa-related experiences to be held in Vakkaru Maldives.
1. Hi Chef. Tell us where did your passion for chocolate come from and where did you learn your skills?
My passion for chocolate began at university when I was training with Yolande Stanley MCA—one of only seven people in the UK to have achieved the prestigious Master of the Culinary Arts for Pastry—who really opened my eyes to the world of chocolate and pastry. I learnt my craft working for William Curley MCA (Britain's Best Chocolatier) for six years. It is a great medium to be creative with and you can really push your imagination.
2. What food trends are you spotting at the moment?
There's a new trend every day, it's hard to keep up. The foodie scene is constantly changing and with social media like Instagram "inspiring" everyone, trends come and go even faster and spreads wider. However, the general trend of using better ingredients, better techniques and looking back at the classic recipes that have stood the test of time is what I believe, is not going anywhere. Of course, the growing demand for vegan, gluten free, dairy free, and even sugar free also needs to be taken seriously.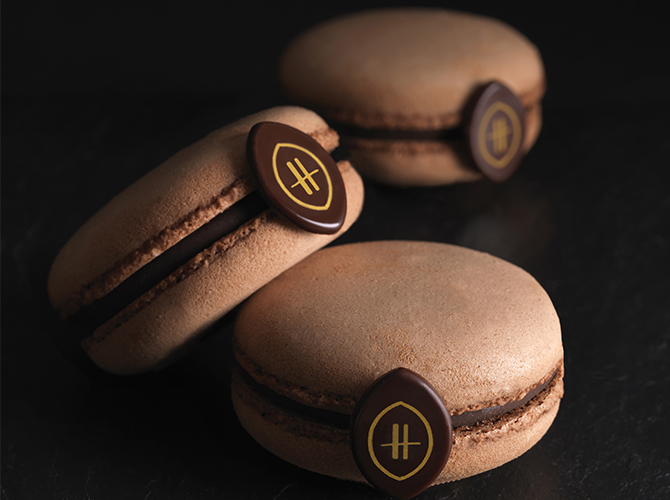 3. What are your thoughts on the future of chocolate, especially with a world that's more health-conscious?
Chocolate is in even greater demand than ever with growing popularity in China and India. To secure the future of supply, we must train and invest in the farmers that grow this magical crop and it's something Cacao Barry (read more about them here) are very much involved with. I believe that there will always be a place for chocolate in our diet, people always need a treat or to indulge ever so often. Dark chocolate also has many health benefits and is vegan too.
4. How long have you been with Harrods and what is your proudest moment so far?
I've been working for Harrods for nearly four years and there have been many great achievements, one of the most rewarding moments was reopening the roast and bake hall. This redevelopment of one of Harrods' historic halls involved developing over 200 hundred recipes and delivering all 200 items on the opening day. I am most proud of my team of talented pastry chefs who produce the recipes with the greatest care and professionalism every day—the hallmark and foundation of Harrods' long history with delivering only the highest quality products.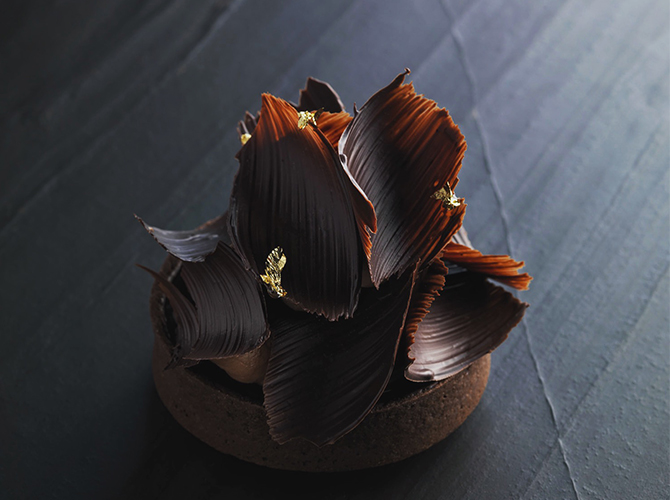 5. Which chocolate dessert from Harrods is your personal favourite?
My favourite chocolate patisserie is our chocolate, coffee, and star anise entremet. It has layers of hazelnut sponge, coffee ganache, French meringue, and star anise infused dark chocolate mousse. This was inspired by a dish I created when I competed in Worldskills back in 2009, one of my favourite flavour combinations!
6. How did your collaboration with Vakkaru Maldives happen?
Vakkaru Maldives kicked off its collection of curated, ultra-immersive and cherishable guest experiences this year in partnership with guest experiences specialist, The Magnolia Creative Collaborations. When Angeline Leo from The Magnolia contacted me about curating an experience, I did not hesitate! With her strong portfolio of immersive experiences, I knew I was in the right hands.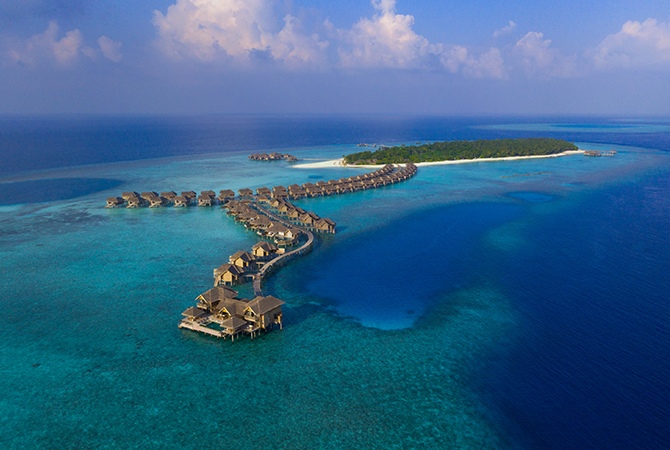 7. What can guests expect at the five-day chocolate experience at Vakkaru Maldives?
'Going Beyond Chocolate' at Vakkaru Maldives will be where I share my knowledge and passion for chocolate with guests through a series of bespoke experiences like my 'Bean To Bar Chocolate Masterclass', my very own concoctions of cacao cocktails served overlooking the Maldivian sunset, an immersive 'Chocolate Degustation Dinner' at the resort's wine cellar, Vakkaru Reserve, and an afternoon in the sun with a 'Chocolate Ice Cream Pop-up Parlour'. Most importantly, I plan to have fun with everyone.
8. Ok, is chocolate really a vegetable?
Chocolate is derived from the fruit of the cacao tree, so yes you can definitely count it as one of your five a day!
9. Where would you consider to be the best source of cacao beans in the world?
Chocolate is sourced 20 degrees north and south of the equator all around the world. Every territory creates its own special flavour much like wine and I'm looking forward to sharing that journey with guests at Vakkaru Maldives during my 'Bean To Bar Masterclass'. My personal favourite chocolate comes from South America.
10. Can you share a chocolate-related recipe that our readers can make easily at home?
Sure, here's a simple recipe for a chocolate ganache that anyone can make at home. It's a versatile recipe that could be used for a truffle, a filling for a cake or warmed as a sauce. If anyone tries it, post a picture and tag me @alistairbirt. It would be great to see everyone's take on this!
350g high quality dark chocolate
60g high quality milk chocolate
250g cream
75g butter (room temperature)
Method
Bring your cream up to the boil and allow to cool to 80ºC
Pour half the cream over the chocolate, allow to sit for 30 seconds and then begin to stir
Once all the chocolate is melted, slowly add the rest of the cream and stir in
Add the butter piece by piece until fully emulsified
For a sauce, use straight away or for truffles allow to set for 12 hours and scoop into balls
If you wish, you could infuse the cream with herbs, spices or teas—what guests will be doing at Vakkaru Maldives from the island's organic farm. You could also change out a third of the cream with an alcohol of your choice (mine would always be whisky) or change the cream all together with fruit puree, the possibilities to personalise are endless.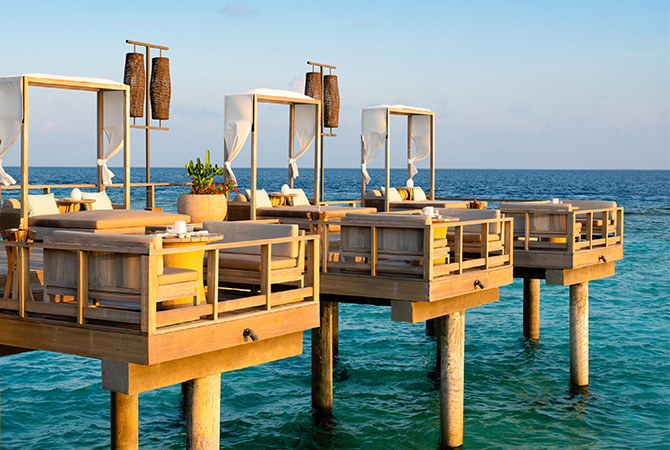 Now that you have a more thorough understanding of the ancient food of the gods, would you be trying out the recipe? Chocolate, especially if prepared with love and quality, is exquisite and divine. To experience 'Going Beyond Chocolate' at Vakkaru Maldives with Alistair Birt, you can book the Beach Villas starting from USD 533++ (approximately RM2,224++) or Over Water Villas starting from USD 612++ (approximately RM2,554++) per night including breakfast for two.
For reservations and general information, please visit vakkarumaldives.com or email [email protected].
| | |
| --- | --- |
| SHARE THE STORY | |
| Explore More | |