Can you guess which kuih raya has the most number of calories? Find out if it's your favourite one ahead
Festive seasons are almost always synonymous with feasting and Hari Raya is no different. Whether it's daging rendang, ketupat, or kuih raya, there's often more to bite than you can chew (literally).
While it's tempting to use the special occasion as an excuse to indulge, overeating can lead to excess body fat, disruption in hunger regulation, indigestion, and increased disease risk. Instead of feeling guilty for overindulging this season, however, what's more important is knowing how much you are consuming so you can eat in moderation, pace yourself or balance your calorie intake with exercise.
To help you practise moderation this Raya season, take note of the number of calories in your favourite kuih raya and snacks below. (Note: use this as a general guide but always refer to food labels, if they are available.)
Kuih Makmur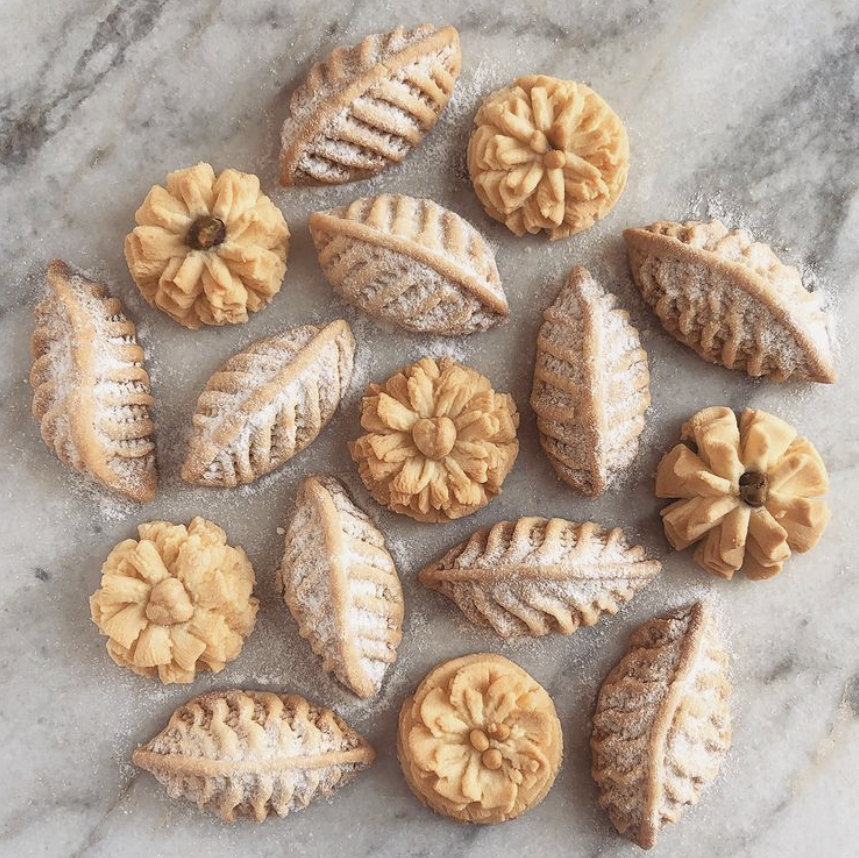 Kuih makmur is a traditional Malay kuih that is made from butter, ghee, and flour. It is white and round in shape, and may also be filled with a sweet peanut filling. Translated to mean "prosperous cake", this festive cookie is well-loved for its unique texture that melts in the mouth.
Calories: 50 kcal per piece
Kuih Bahulu
View this post on Instagram
A favourite during both Hari Raya and Chinese New Year, kuih bahulu is a sponge cake that may be likened to madeleines. It is made with eggs, flour, and sugar, which is traditionally baked using brass moulds and placed on hot sand. This gives it a unique crusty outer shell but soft fluffy middle.
Calories: 60 kcal per piece
Pineapple tarts (Tart nenas)
View this post on Instagram
This well-loved tart is not only popular during Hari Raya, but also other festive seasons such as Chinese New Year and Deepavali. Although it's hard to stop at just one piece after taking your first bite, take note that seven pieces of pineapple tarts have the same calories as a bowl of rice.
Calories: About 70-80 kcal per tart
London Almond Biscuits
View this post on Instagram
Popular among chocolate lovers and sweet tooths, these London Almond Biscuits are one of the more indulgent treats during Raya. Be careful not to get addicted, as the price of indulgence can be high on the calorie scale because of the combination of chocolate, almonds, butter, and sugar.
Calories: 110 kcal per piece
Dodol
View this post on Instagram
This traditional delicacy has a sweet toffee-like flavour and sticky texture that is especially popular during the festive season. It is made with glutinous rice flour, coconut milk, and palm sugar, making it a nice dessert to end a meal on a sweet note.
Calories: 70 kcal per piece
Ketupat
View this post on Instagram
Though not a kuih, you can't celebrate Hari Raya without ketupat right? The traditional rice cake is a festive staple that's wrapped in woven palm, coconut or pandan leaves into a diamond shape to impart fragrant aromas. It is commonly served with other dishes such as rendang, kuah kacang (nutty gravy), or satay (meat skewers).
Calories: 110 to 130 kcal per piece
| | |
| --- | --- |
| SHARE THE STORY | |
| Explore More | |