With the Movement Control Order in place until 12 May 2020 (for now, at least), Ramadan is bound to be a little different this year. The usual Ramadan buffets are replaced with Iftar set menu deliveries; and the typical bazaars are now completely online. All these measures are, of course, to keep us safe and healthy while we continue to self-isolate at home. The negative effects or consequences of the COVID-19 pandemic are massive (oh, Miss Corona)—but that does not mean we can't still enjoy the things we love.
The New Normal means adapting and finding ways to bring normalcy back into our lives without jeopardising the health of ours and others. The digitalisation of Ramadan bazaars is one brilliant example. According to SME Corporation Malaysia, "e-bazaars are online platforms for food entrepreneurs, traders, and hawkers to operate their businesses" from 24 April to 23 May 2020.
Foodpanda x Media Prima Television Networks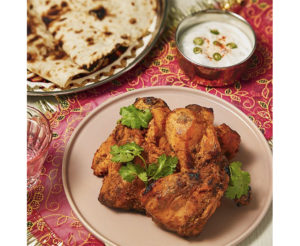 To ensure that Malaysians can feast on their favourite Ramadan delicacies while staying home and staying safe, Foodpanda has established E-ftar with Media Prima Television Networks (MPTN) and various local government councils. Only available during the month of Ramadan, delicacies include the likes of Roti John, Kuih, Murtabak, and ayam percik—with more than 200 different vendors. All you have to do is search on Foodpanda's dedicated swimlane, E-ftar, to find vendors available near you.
For more information, visit this website.
Touch 'n Go eWallet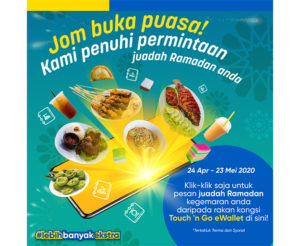 Named Ramadan 2.0.2.0 as a nod to the year 2020 and a symbol of social distancing, Touch 'n Go eWallet has teamed up with the likes of Beepit, DeliverEat, Go Eat, Hungry, and Wonderfly—to launch their own virtual version of the Ramadan bazaar. There will be over 1,000 stalls to choose from. For anything related to Ramadan, such as buka puasa and imsak times, donations, promotions, recipes, fitness, and tips, head over to Touch 'n Go eWallet's information hub for 24-hour access. You can search for the available e-bazaar partners here and on the app.
For more information, visit this website.
FashionValet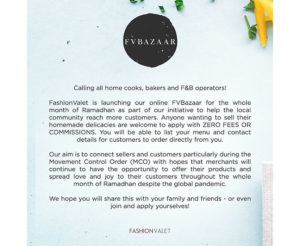 The FVBazaar comprises of bakers, home cooks, as well as Food and Beverage operators—helping small businesses garner income during the Movement Control Order. With the cancellation of the usual bazaars throughout the country, the e-commerce fashion site established the FVBazaar programme to act as a bridge between vendors and customers. There are a plethora of merchants to choose from; depending on the food or drink you desire.
For more information, visit this website.
Maybank2u
The Ramadan Bazaar on this platform aims to support local businesses that are struggling during the Movement Control Order. Depending on your location, there are a variety of different options to choose from. Information for all vendors are displayed on the site—from the name to the menu. If you're in or around Shah Alam, check out the Shah Alam Ramadan Bazaar.
For more information, visit this website.
Grab x Selangor state government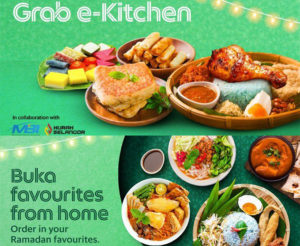 To ensure that Malaysians get to still indulge in their favourite Ramadan meals, Grab has formed the Grab e-kitchen programme—a collaboration with the Selangor state government. The e-kitchens that are chosen are safe and hygienic; operating from 2.30pm to 6.30pm throughout the Holy Month of Ramadan. Selected areas include Petaling Jaya, Damansara TTDI, Subang Jaya, Puchong, Semenyih, Seri Kembangan, Klang, Cyberjaya, Bangi, and Ampang.
According to Sean Goh (Country Head of Grab Malaysia), Grab aims to support micro-entrepreneurs and social sellers by helping them "go cashless and expand their reach to millions of Grab users" as well as utilise "services like GrabPay, GrabFood, and GrabExpress to help them continue to thrive and deliver their goods directly to Malaysian homes". Whether you're craving for Murtabak, Apam Balik, or Lemang, you will be able to get them on Grab's e-bazaar. Just head over to the app to order and check out the available vendors.
For more information, visit this website.
It's heartwarming to see so many entities doing their parts to help local businesses during difficult times like these. Even without the usual bazaars, the wonderful spirit of Ramadan lives on through these digital platforms—as we continue to stay at home and keep ourselves safe. It is exactly this sense of togetherness that will keep Malaysians going, regardless of the situation. Have a blessed Ramadan, everyone!
For more Iftar meal delivery options, click here.
| | |
| --- | --- |
| SHARE THE STORY | |
| Explore More | |