Food + Drink
Have you heard of a Culinary Anthropologist? Meet Brunch Bandits' founder
For the love of food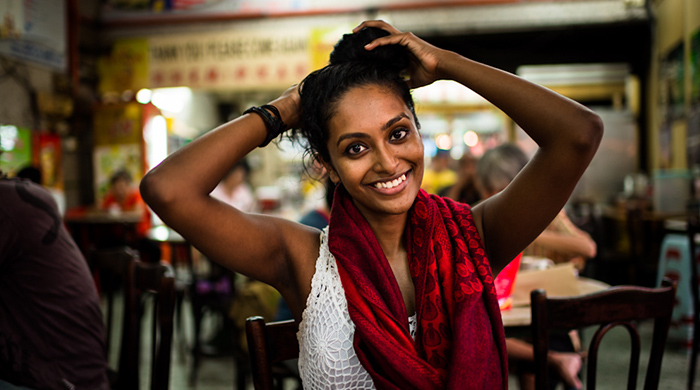 Brunch—or brunch food—is as popular a meal these days as the necessary lunch or dinner; to the point where all day breakfast or brunch is becoming a norm in most cafes. While that equates to you being able to easily satisfy your cravings anytime and anywhere, it could also potentially mean you'd soon run out of variety or get bored of your usual order. That's the beauty pop-up dining clubs get that a brick-and-mortar restaurant can't. Coming up from Singapore is one such club: Brunch Bandits.
They're coming to help give Malaysians a Taste of Tiffin—a weekend affair where the brand Tiffin, which will be a multi-layered platform for varied dining experiences and activities, will be launched—by whipping up a hearty brunch session. Run by Culinary Anthropologist Nithiya, the club celebrates an unparalleled love for food through the practice of sustainable cooking and curated consumption. She and her team take inspiration from both Eastern and Western flavours to create a perfect matrimony of ingredients, and it's as flawless of an experience as it sounds because seats are usually sold out every session!
Before she has to hit the kitchen this weekend, we decided to nitpick her brain on the concept of pop-up dining experiences, Brunch Bandits, her penchant and passion for food, as well as a sneak peek of what to expect from her brunch session at Taste of Tiffin.
Your profile states that you are a Culinary Anthropologist—define what that title is?
The culture of food. I love how food is both a product and shaper of histories and cultures all over the world. It really came together while I was majoring in anthropology and history in London, while also being a curious international student having to feed myself for the first time. So much of what I missed from home, what I shared with the friends I made and the influences of the massive variety of cultures in London, was inextricably entwined with tastes and smells of food. I got super into the burgeoning organic food scene, artisanal farmers markets, worked on a couple of farms during breaks, travelled all over the place, and discovered a deep joy and talent in bringing people together over nomadic flavours. So that's what I do. Draw inspiration in the inherent stories of places, the stories and memories of the journeys that produce that plate of food before you.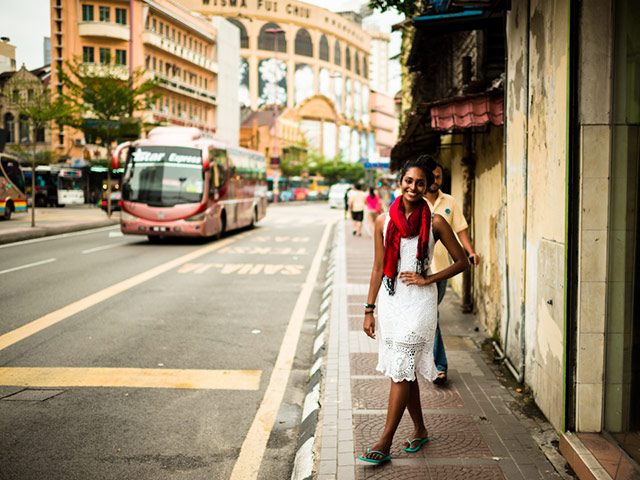 Describe a typical day at work.
There are hardly many typical days. We are a small startup, and I have just in the past year decided to leave my day job doing marketing consultation for international art fairs to focus on what has been a passion project for the past decade. I do some yoga in the morning, whip up a quick breakfast which responding to emails, and following up with suppliers, farmers and venue partners. I am really into baked avocado eggs with harissa at the moment. Most of my time is spent doing research and conceptualising, and sourcing for ingredients. We always try to use fresh local produce and work with small-scale vendors and farmers, which is hard in Singapore! Beyond our monthly brunch sessions in Singapore, we also have exciting plans in the pipeline fusing art and food together.
What is your earliest memory of food?
On a deep personal level, I do believe I was drawn to the power of food to sharing stories and nourish souls through my grandmother. Sitting as a 5 year old picking leaves while she made these amazing lentil soups with hummingbird tree leaves, amongst other delicious curries and Chinese and Malay dishes from her adopted country. She memorised recipes that she carried with her as 16-year-old girl coming from a tiny village in India to Singapore and when eating them, I would be connected to a place I had yet to see.
How did you come to dedicating your life to food?
Growing up in Singapore, I think we all dedicate our lives to food!
I think more than food itself, it was the connection you get to the culture that I find fascinating. How a bowl of Laksa came about, through the crossways of cultures connecting and mixing or what food in S.E.A tasted like before chillies arrived from South America.
Although the roots were always there, it was my time in London that really brought it into realisation that I wanted to work with food, but that it had to be more than consumption. It had to tell stories and interact with our lives and environment. And that's what I am dedicated to manifesting.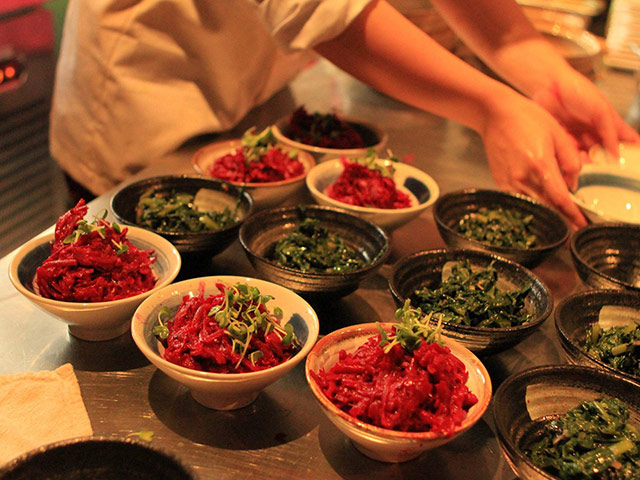 What made you decide to start a pop-up dining experience instead of a cafe or restaurant?
It allows for much more flexibility. We are able to play with concepts, come up with new menus and source for ingredients that might not be produced on a large enough scale for a regular menu at a restaurant or cafe. And I enjoy the dinner party atmosphere with communal plates, where guests connect with strangers and with friends.
There are challenges of course. We don't get that ease of familiarity and repetition that you get with a regular menu in a permanent kitchen. As we rarely repeat our concepts and pop up in unusual places which may not even have a kitchen, we ride many variables to execute each session. We don't get the numerous attempts restaurants get to perfect a dish, so there are definitely some very stressful moments when you make a dish in changing conditions. We are always learning and working to fine tune our way around these challenges. But we sell out each session so we must be doing something right!
What is the main difference between the food cultures in Singapore and Malaysia?
It is still possible and relatively easy to get really good, traditional food in Malaysia, which is a rarity in Singapore.
What will Brunch Bandits be offering at Taste of Tiffin?
We will be serving up an Ethiopian brunch menu inspired by the origins of the coffee beans that Pulp by Papa Palheta will be using for its coffee pairing. Ethiopian food sounds incredibly exotic but has quite a few similarities to South Indian food, with a different spice profile.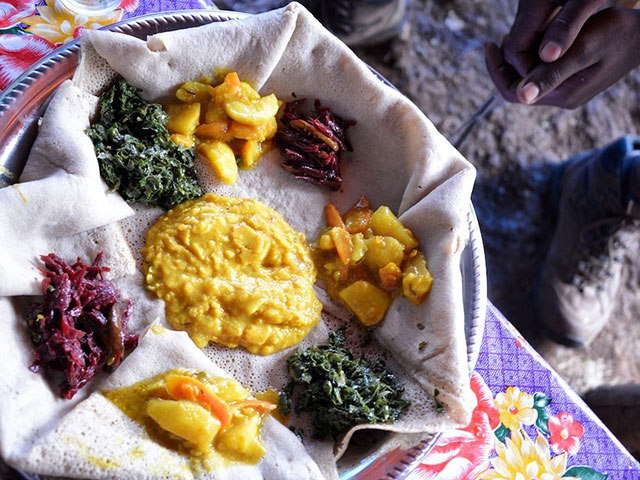 Sounds delicious already! Care to share some tidbits of what we can expect from the menu?
We will be kicking off with some spiced butter popcorn and honey bread. An Injera platter, which is a fermented flat bread accompanied by Doro Wat (Ethiopia's national dish) and Beyanetu (an assortment of vegetables). A sweet finish of avocado chocolate coffee (using Ethiopian coffee) cake to round off the meal.
What draws you to this particular cuisine?
I like a variety of flavours in a meal, small plates style, so tapas, zi char, and injera platters. I did an internship in South Africa during uni and had the pleasure of travelling within the region. Ethiopian food has great complex flavours and also give you a balanced meal at the end of it. Win Win.
Best brunch you've ever tasted?
Amazing street brunches. Doubles in Trinidad, Acaraje Camarones in Brazil, Parsi Brunch at Dishoom London, Estela NYC and anything that Nuno Mendes cooks anytime.
Can you share a recipe for a healthy lunch we can pack to the office?
Baked Avocado Eggs
1 Avocado
2 Eggs
Harissa paste, Tomato Pasta Sauce or even Sambal Belachan
Some parmesan or cheddar to grate over
Slice Avocado in half. Take out seed. Place on a baking sheet. Preheat oven to 200C. Spread a teaspoon of sauce in the hollow. Break an egg into the half. Sea Salt and Black pepper to garnish. Grate some parmesan over it. Place in oven for 10 mins. Voila! Have with a light cucumber or green salad. Lunch!
Taste of Tiffin: Brunch Session is limited to only 40 diners per session so be sure to grab your tickets before they're all sold out. You can purchase your tickets via their website.
Related stories:
Brinner is the new brunch: 3 places to get brinner
Get out of bed for this: 5 cafes with the best breakfast
| | |
| --- | --- |
| SHARE THE STORY | |
| Explore More | |