Despite being touted as a conservative country, Malaysia's minority and indigenous communities have long been producing home-brewed alcoholic beverages. There's your toddy (palm wine), tuak (Sarawakian rice wine), and samsu (a cheap, hard liquor that's still legal albeit potentially disastrous for your liver), which have existed since before our British colonial era.
Aside from these staple brews, the local liquor scene has evolved over the years to encompass Malaysian-made whisky, gin, and wine—some of which have bagged awards and rose to international acclaim. In the spirit of supporting local (pun intended), here are six Malaysian liquor brands to consider adding to your alcohol cabinet.
Timah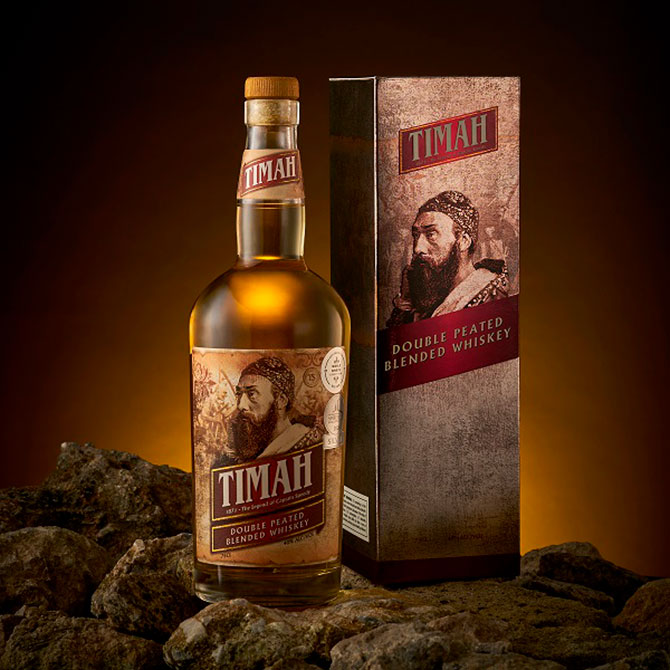 Timah is a double peated whisky that's crafted from a blend of two aged peated malts and a neutral spirit of Malaysian origin. It's made with the same age-old techniques and processes as most whiskies, but with a trace of the tropics that tell of its proudly Malaysian roots. It is the first Malaysian whisky to be globally recognised, earning the Best Malaysian Whisky award at the International Whisky Competition 2021, among other notable accolades. Expect a light, fruity whiskey on the nose, which graduates into a smoky palate with a hint of a floral bouquet, before settling into a sweet, light oak finish.
For more information, visit the website.
Eiling Lim Gin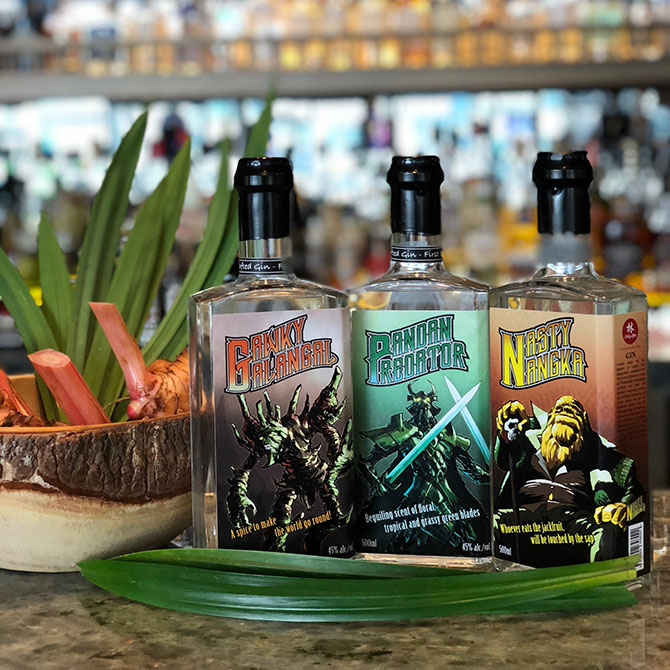 As Malaysia's first independent bottler, Eiling Lim is a proud pioneer and purveyor of spirits under her eponymous label since 2014. Although she started out bottling whisky, it's her unique brand of small-batch gins that have attracted the local spotlight because of their Southeast Asian ingredients (complete with quirky monikers and label designs). Introducing Gawky Galangal, Nasty Nangka, and Pandan Predator, three distinctive gins that are Malaysian in flavour and character, albeit distilled in Belgium (where Lim is currently based). She has also crafted two vermouths, Wen and Shun, both aged in oak casks to offer a smooth and complex aperitif that can be served on its own or on the rocks.
For more information, visit this website.
Tuak Artisan & Bad Cat Borneo
View this post on Instagram
Wondering where you can get your hands on Bornean-made tuak in West Malaysia? Look no further than Tuak Artisan, which collaborates with independent tuak brewers in Sarawak such as Bad Cat Borneo and Tuak by Simon B to offer a range of locally crafted wine flavours including premium rice, nenas (pineapple), apple, roselle, mulberry, and more.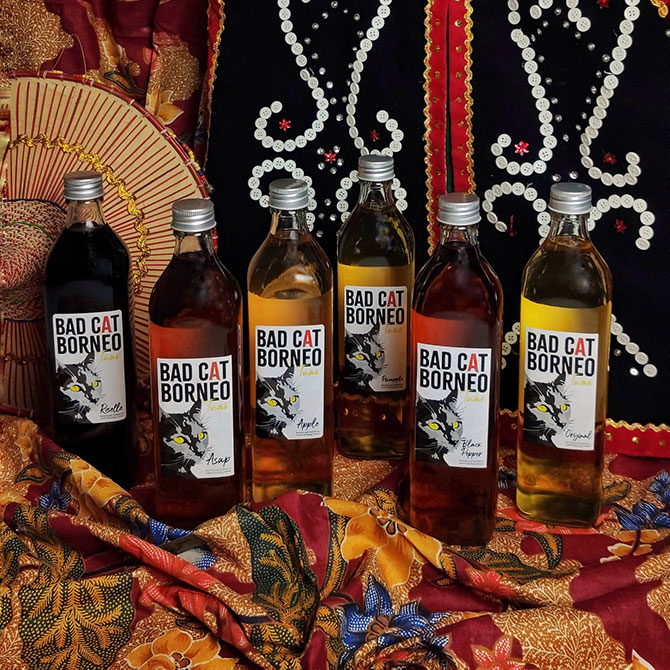 Alternatively, Bad Cat Borneo is also available from selected distributors in Kuching, Serian, and Penang. For the adventurous, try the Asap flavour that's made with slow-roasted rice to present complex, smoky layers without compromising the essence of rice.
To make a purchase (in peninsular Malaysia), drop @tuakartisan a DM on Instagram.
Modern Madness
View this post on Instagram
If you're more of a beer drinker, give Modern Madness' self-brewed beers a try. Be warned: don't expect your usual Belgian or German craft beers. The menu is as Malaysian as it gets, and let's just say it takes a bit of "madness" and no lack of curiousity to sip the range of signature and seasonal tipples. Think beers infused with assam boi, lemongrass, durian, chilli, or dim sum (yes, as in the Cantonese dumplings), to name a few bizarre options. You can find them at several locations in the Klang Valley, including RexKL and Ales & Lagers in Publika, or opt for online delivery.
For more information, visit their Facebook or Instagram page.
Haus of Lihing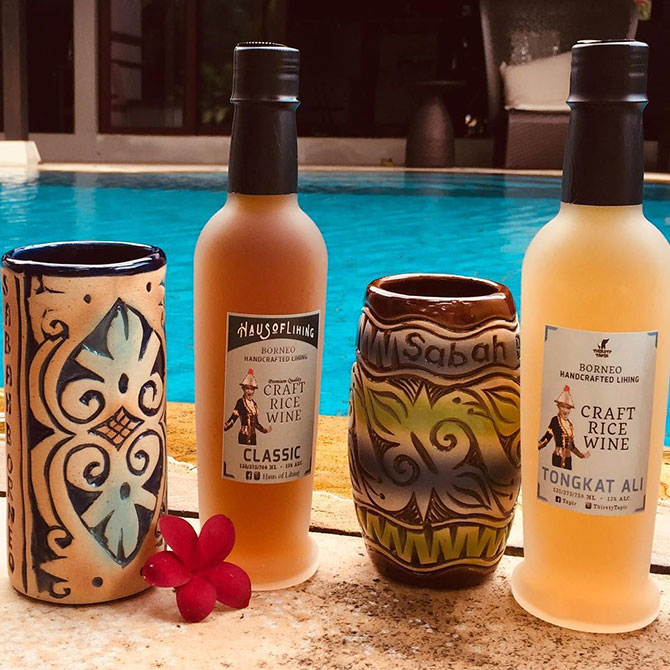 For the uninitiated, tapai is a Sabahan rice wine that's not unlike tuak. It is sometimes called lihing, although lihing is more accurately described as a type of tapai, which specifically uses glutinous rice in the brewing process. The result is more refined and translucent, with a amber hue that turns darker with age. At Haus of Lihing, you'll find pure lihing with no added sugar and water, available in its unadulterated classic flavour, or infused with ginger, cinnamon, ginseng, komburongoh, tongkat ali, or kacip Fatimah. The brand also offers a premium range called Vagas (which means rice in the Kadazan language)—a full bodied special blend of matured rice wine with hints of plum, pepper notes, and Riesling.
For more information, visit their Facebook or Instagram page. 
​​Durian Whisky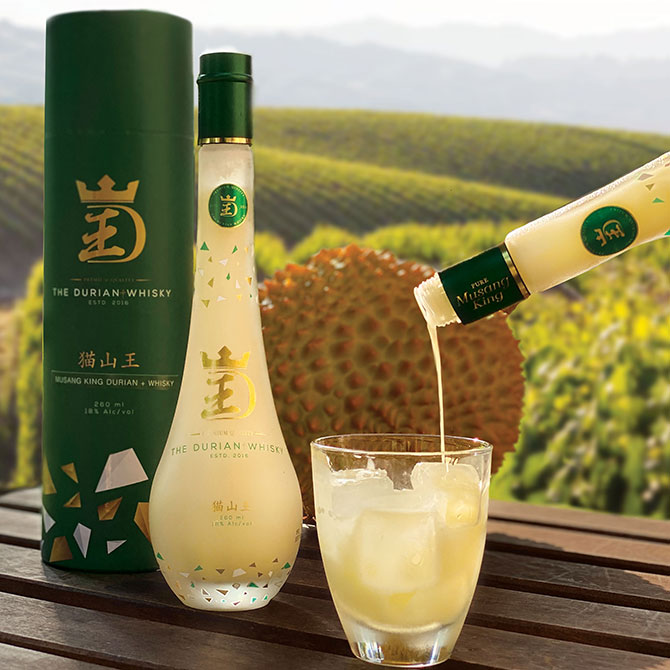 Here's a controversial one, for various reasons. For one, durian is one of the most divisive fruits and even those who love its flesh may not necessarily enjoy it in other forms. Then there's the part where this so-called "durian whisky" isn't exactly a whisky, but more of a liqueur, given that it contains added sugar and ethanol. With that said, if you enjoy premium musang king in any shape or form, especially with a boozy kick (though less than a typical whisky at 18 per cent ABV), this Durian Whisky could be for you. It's made by a Malaysian company called Tropical Wine Sdn Bhd, which lists the item as "Dorian Inside" on its online store.
To make a purchase, visit the website.
[READ MORE: 10 Cocktail and drink deliveries for your stay-at-home evenings]
For more local brands and stories, head over here.
| | |
| --- | --- |
| SHARE THE STORY | |
| Explore More | |