1. Afternoon Tea with Tiffany at Four Seasons Hotel Kuala Lumpur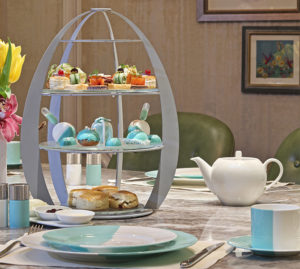 From now until 16 June 2019, indulge in an afternoon of visual glamour and exquisite flavours at The Lounge in Four Seasons Hotel Kuala Lumpur. Tiffany & Co. has collaborated with the hotel to craft a fabulous dining experience that combines both culinary prowess and whimsical glamour. The legendary Tiffany Blue is reflected in this elegant tea set to highlight the brand's legacy of top-notch sophistication and remarkable standards of craftmanship. Formulated by Executive Chef Junious Dickerson, expect the menu to pay homage to tea traditions that are beloved all over the world. Don't miss out on the oppurtunity to revel in gorgeous desserts such as Royal Spice Cake, Blueberry Mascarpone Créme, as well as the New York Rueben with Peppered Pastrami. This is bound to be a perfect and iconic experience. After all—it's the Tiffany way.
Highlights: The Warm Scones with Devonshire Clotted Créme, Strawberry Jam, and Lescure Butter, Chocolate Praline with Mandarin Orange Gel, and Foie Gras Mousse in Bouche with Blue Pea Flower Jewels are must-tries.
Price: RM158 nett per person
Availability: 15 April – 16 June 2019
Contact: 03 2382 8650
2. Summer Afternoon Tea at Banyan Tree Kuala Lumpur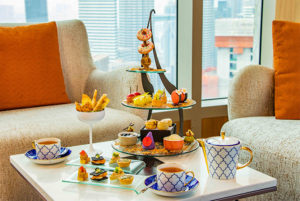 Get elevated this summer and reach for the top. Altitude at Banyan Tree Kuala Lumpur has a sizzling afternoon tea menu to complement the warmer days of the year. As soon as you step foot onto the site, you'll be teleported away from the hustle and bustle of the city. With the peace and serenity you will be getting, munch on local and Western dishes without a care in the world. It's going to be a flavourful adventure! Be prepared to feast on Char Siew Chicken Crisp, Garden Herb Tuile, Vanilla Mosseux, Mixed Fruit Tart, and, of course, classic scones.
Highlights: The Lobster Grissini and Balsamic Strawberry Macaron are major winners.
Price: RM98 nett per person
Availability: 1 April 2019 onwards
Contact: [email protected] | 03 2113 1823
3. Golden Afternoon Tea at Mandarin Oriental Kuala Lumpur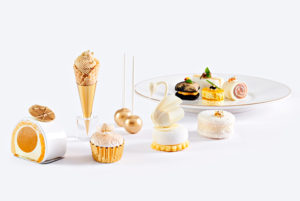 Head to Lounge in the Park to taste Chef Anthony Hoyle's latest afternoon tea set at Mandarin Oriental Kuala Lumpur. Aptly named Golden Afternoon Tea, the colour gold is reflected energetically through the food. You will get pastries—think coconut and pineapple macaron, and mango jelly swiss roll—finger sandwiches such as smoked salmon with créme roll, and even better, a free flow of hot beverages, too.
Highlights: The ivory chocolate swan, blue swimmer crab meat and saffron salad canape, and pumpkin moutabel on charcoal brioche are intensely delicious. Just heavenly.
Price: RM148 per person, RM198 per person with a glass of champagne
Availability: 1 April – 30 June 2019
Contact: [email protected] | 03 2380 8888
4. Secret Garden Afternoon Tea at InterContinental Kuala Lumpur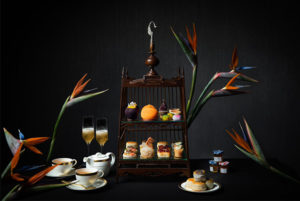 Prepare for trouble and make it double. For an experience that's unique and interesting, look to OneSixFive Lounge at InterContinental as they have curated an exceptional afternoon menu consisting of two afternoon tea sets to choose from—traditional or Asian. Both afternoon tea sets come with a selection of freshly-baked raisins, citrus fig, and plain scone. What sets the traditional and Asian apart, however, is just exquisite.
For the traditional afternoon tea set, expect to feel like European royalty as you feast on treats served in a white jewellery box. As you open the drawers one by one, get ready to be surprised by mouth-watering and aesthetically-pleasing treats, ranging from Pistachio Apricot Dome to Duck Foie Gras with Berry Jelly to Crab Mille-Feuille with Melon and Micro Greens.
As for the Asian afternoon tea set, 1920's Shanghai becomes the backdrop of your experience. Among the treats—beautifully presented in a traditional bird cage—are Snow Crab Pie-Tee with Salmon Caviar, and Chocolate Tea Pot with Chrysanthemum Tea Cream and Mango Compote. The temptation is real!
Highlights: The Taro Swan with Roasted Duck Truffle Filling and Japanese Omochi stand out with their distinctive flavours, but in all fairness, every single treat is amazing.
Price:
Traditional Afternoon Tea Set: RM148
Asian Afternoon Tea Set: RM178
Additional RM85 for a glass of champagne or RM33 for signature mocktail
Availability: 1 April 2019 onwards
Contact: [email protected] | 03 2782 6168
5. Italian Afternoon Tea at The Westin Kuala Lumpur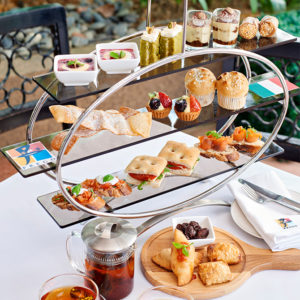 Prego carries so many different meanings in Italian. In the context of The Westin's Prego, you are welcome. Round up family and friends as you experience afternoon tea the way the Italians do. The menu is curated by Marco De Cecco, the new Italian Chef. If you have never been to Italy—or if you are in love with Call Me By Your Name—this is fantastico oppurtunity to step into an Italian setting with treats from Northern and Southern Italy. You like it salty—this is for you. You like it sweet—this is for you, too. It's bound to be festività (feast day) as you revel in treats such as Italian Calzone, Rosemary Foccacia Sandwich, Crostata di frutta, and Traditional Italian Tiramisù. Choose your favourite tea to go with the indulgent treats. Can you envision the scrumptioness already? Deliziosa!
Highlights: Do not skip on the Crostoli dusted with cinnamon sugar; Panettone Sponge; and Sicilian Cannoli with Stuffed Ricotta.
Price: RM98 nett for two
Availability: 4 March 2019 onwards
Contact: 03 2731 8333
| | |
| --- | --- |
| SHARE THE STORY | |
| Explore More | |