France, Australia and Spain. These countries are among the most popular for producing wines that are commercially successful. However, winemaking isn't exclusive to just a handful. Instead, the world of winemaking holds many possibilities. Ao Yun is proof of this.
China is known to be one of the largest market for wine but as a wine producer? Not so much. Ao Yun may be a new name to most but it was LVMH's vision since 2007. With that vision of producing a world-class red wine in China, they appointed Australian enologist Tony Jordan (the same man who established Chandon in Australia) in 2008 to search for the best terroir in China to achieve this dream. And that took a long time. Some places were too wet, had winters that were too cold or summers that were too warm.
Eventually, they found the perfect location in the remote northwest corner of the Yunnan province. Spread across four villages in the foothills of the Himalayan Mountains, near the legendary city of Shangri-La and close to the Tibetan border, was an astounding area where Jesuit missionaries had planted vines in the 19th century. Hence, the name Ao Yun which means "roaming above the clouds".
It's clear that to make an exceptional wine, you need exceptional conditions. Ao Yun's terroir is vastly different from most. For starters, the climate. At high altitudes ranging from 2,200 to 2,600 metres, the air is cooler but it also receives strong sunlight. And yet, because of the looming mountain in its vicinity, the sun doesn't hang around for long. The soil too is different, having a mix of mountain soil, stones and river deposit.
In comes Maxence Dulou, a Bordeaux native who's used to working at the vineyards in Chile, South Africa and France's Burgundy. As the Estate Director and Winemaker of Ao Yun, he and his team arrived in 2013 and was first tasked with understanding the terroir and finding ways to adapt to it. Then, there was the challenge with logistics and culture.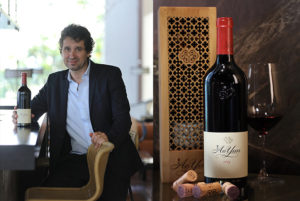 Ao yun maxence dulou
The villages (where the vineyards were) were far from both the town and airport and the path was difficult. Hence, attaining dry goods, equipment and even repairmen (should any machinery break down) was tricky or would take too long. Then, there was the issue with frequent power cuts so Dulou had to install a back-up generator. As most of the villagers/farmers speak Tibetan Chinese, there was a language barrier as well.
But, everything is worth it and what really makes Ao Yun unique is the people, as Dulou vehemently shares, "What makes Ao Yun unique isn't just the mountain climate and soil, but the people. You can have all the right factors but if you don't have the right people you can't make good wine."
"They live in this virtuous circle so they know the plants very well and they can be very accurate in the way we ask them to work."
The vineyards produce 80 per cent Cabernet Sauvignon and 20 per cent Cabernet Franc. But since the grapes are planted across four villages of varying altitudes, climates and soils, the final blend produces a very unique expression. For example, the latest Ao Yun 2015 vintage is made with four main Ao Yun terroir types—Adong (31%), Shuori (41%), Sinong (13%) and Xidang (14%) to form the final concoction of 79 per cent Cabernet Sauvignon and 21 per cent Cabernet Franc.
The result: A harmonious yet complex and elegant wine. The Ao Yun 2015 is voluptuous and spicy, soft with dense tannins with a long salty mineral finish. On the nose, it has hints of fresh crushed strawberries, plum and candied cherry, along with Mysore sandalwood, Dhofar incense and cold chimenea.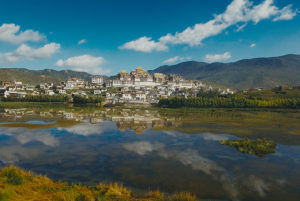 ao yun wine 2015
The question remains though. Why China?
"Everyone has the impression that anything made in China isn't made with quality. We intend to break this stereotype. China is almost as big as Europe – you just need to find the right place and adapt to its terroir to reap all the rewards it has to share. That's why we want to share our story," said Dulou.
To date, Ao Yun has released three vintages: 2013, 2014 and 2015. By most wine standards, they're relatively young but Dulou explained they've created the wines to be enjoyable both when it's young and after ageing it for a long time. "Our wines have long ageing potential but I would recommend ageing it for around 30 years to get a good balance, colour and concentration of tannin."
READ MORE: A beginner's guide to appreciating wine
But if you want to drink it now, Dulou recommends shaking it a little in the decanter and let it sit for about 10 minutes before taking the first sip. And when it comes to wine pairing, he said, "Be a little original. The wine is singular so it can afford to be a bit more exotic when it come to food pairing."
"However, it does very well with fish, be it cooked or raw. It's interesting to experiment," he added.
Well, Ao Yun itself has proven to be a successful experiment and its future is as bright as its wines.
Ao Yun 2015 is available directly through Moet Hennessy Diageo Malaysia Sdn Bhd. Email [email protected] or call 03 2053 8688. For more info, visit the website.
| | |
| --- | --- |
| SHARE THE STORY | |
| Explore More | |