I remember the concomitant sensation of trepidation and euphoria that enveloped KL when the first pork restaurants began to open around town more than a decade ago. Of course, Chinese restaurants had been doing pork since time immemorial, but these were pork-centric eateries, with pork as the centrepiece, and with food that had as its provenance such diverse territories as Italy and France. Most exhilarating of all was the tacit knowledge that these early eateries would be game changers and would pave the way for others to follow, and follow they did.
It's a testament to our government that despite the national religion these restaurants were allowed to operate so freely and prodigiously, and it heralded a new era in dining, where chefs had room to experiment with culinary genres and produce cuisine that was as daring as it was delicious. One of the earliest players to enter the fray was Sanbanto (32, Jalan SS2/63, Petaling Jaya, +603-7876 1728). With a pork farm—whose key USP was hormone-free premium pork where the meat had been cold-chain treated to eradicate the porcine stench that besets other less privileged pork specimens—it made sense for them to have a brick and mortar business to showcase their products, ergo a retail counter was complemented by a restaurant in which pork was unabashedly the star of the show. Though the food lacked finesse and had a pronounced problem with over-seasoning, punters cast their vote and the answer was a resounding 'ay'. The rest, as they are wont to say, was history.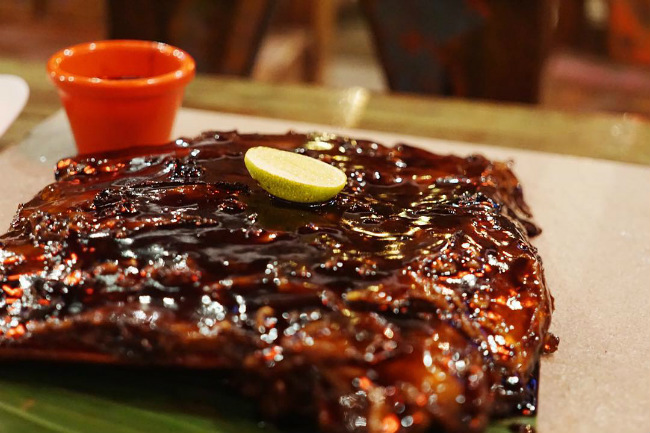 Naughty Nuri's
But has pork-mania, improbable though it may appear, finally begun to subside? Have we reached the end of a protracted cycle for this beloved meat? Ostensibly, pork restaurants are still going gangbusters, with Bali's Naughty Nuri's (2, GF, Jalan 20/70A, Desa Sri Hartamas) looking set to open yet more outlets and boldly taking up the challenge of resuscitating the rib fever that had for so long entranced diners. With char-grilled meat-that-falls-off-the-bone-ribs as its calling card and a plethora of naughty cocktails, Nuri's appeals to a younger audience that had missed the boat the first time round, when eateries like Checkers (19, Lorong Setiabistari 2, Damansara Heights) titillated diners with naughty graffiti that proclaimed "praise the lard" and hearty dishes like their garlic and barbecue sauce-smothered Lord of the Ribs had diners enthralled.
Speak to the proprietors of freshly rebranded Bliss (erswhile Riblee's, a rib institution that quietly went about its business for more than a decade) Gastrobar (41-1, Wisma CKL, Jalan 23/70A, Desa Sri Hartamas, +603-6201 0180) and you'll get an entirely different picture. Their menu, though revamped, continues to be dominated by pork, and they're confident that their nasi lemak babi berempah featuring pork slices coated with spices and then fried to produce a supremely satisfying morsel will be just one of many dishes that will persuade diners to remain faithful to their porcine persuasions.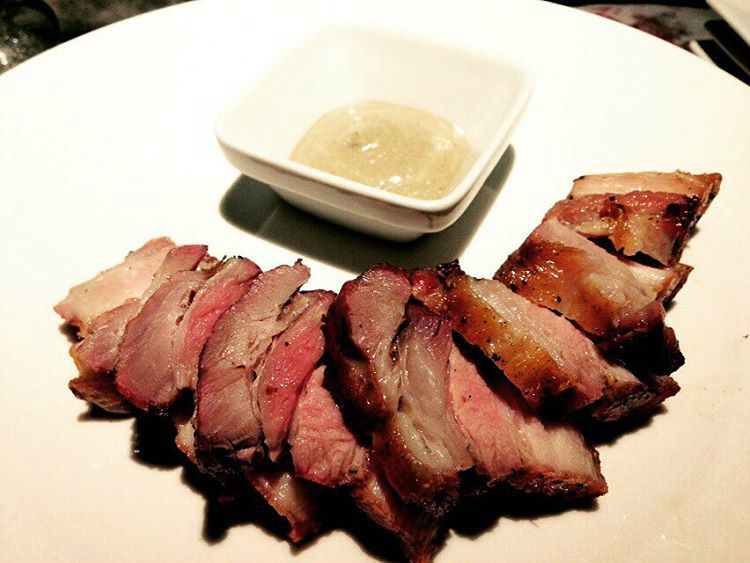 Stoked
But it's Stoked (Jalan Kasah, Medan Damansara, +603-2096 1645), ultimately, that will set the benchmark for others to follow in this next epoch of porcine dining. Also a rib-centric restaurant in previous incarnations (variously The Rib Shop, and Ribs by Vintry, though both were owned by the same proprietor who now helms Stoked), Stoked no longer focuses exclusively on pork ribs as its raison d'etre. Rather, it has been reborn with a sense of purpose, and the food that's delicately charcoal-smoked in the impressively hefty Bertha oven is a masterclass in gastronomic excellence. Showcasing such stunners as their beautifully restrained but thoroughly compelling rosemary Iberico ribs and orgiastically fatty but wonderfully refined Duroc pork belly, Stoked is owner Yin How's succinct coming-of-age statement as a restaurateur, where food, service and menu have been comprehensively finessed, and collectively set a benchmark that other restaurateurs can only hope to aspire towards. With Stoked leading the charge, it's inconceivable that pork will go gently into the good night quite just yet.
Follow Fay on Twitter and Instagram at @misskhoo.
Related stories:
On the prowl: New restaurants to try out now
This place serves the biggest Big Breakfast ever
| | |
| --- | --- |
| SHARE THE STORY | |
| Explore More | |