Helmed by Chefs James Won and Nurdin Topham, the 'Hennessy X.O Odyssey' marks a new chapter in Hennessy's annual 'Appreciation Grows' culinary affair
Centred on the iconic cognac, 'Hennessy X.O Odyssey' is a gastronomic experience, a series of dinners curated by Chefs James Won and Nurdin Topham to showcase the Hennessy X.O's seven tasting notes of complex flavours. The two chefs have been brought together to curate an enticing dinner menu, with each course complemented by a unique cognac profile.
Paris-trained Chef James Won, the man behind Enfin by James Won, has familiar ties with Hennessy X.O, being its brand ambassador and the first restaurant in the world to feature a Hennessy Salon; Chef Nurdin Topham is no lightweight himself—he is the founder of the one Michelin-starred NUR in Hong Kong, and has worked extensively with Raymond Blanc and at Rene Redzepi's Nordic Food Lab. While the James Won's strength lies in injecting an element of surprise in technical dishes, Topham focuses on field-to-table food, placing utmost emphasis delivering the finest and freshest of ingredients to the dining table.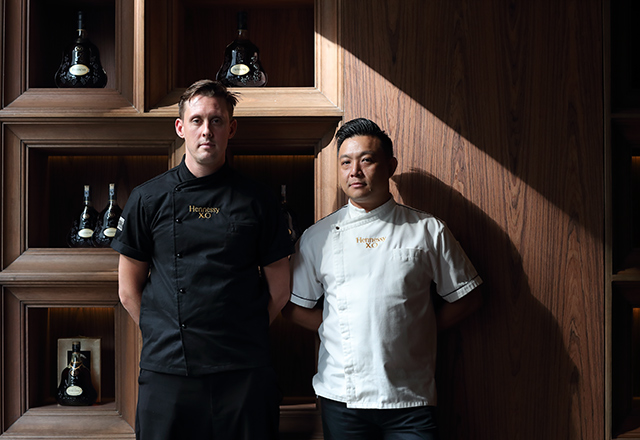 How do you then fit these two visionary chefs with their own distinctive culinary styles in one epicurean adventure? "The idea is not to compromise or end up fitting two separate styles on a plate," says Chef Won. "But to understand each other's philosophy and be open to their point of view. It isn't about finding a common ground—that's a cliché—but to naturally come together and agree that yes, that is what we both want on this plate of food."
Both chefs spent a week in Sabah together, with East Malaysian state acting as a rich source of diverse ingredients and inspiration for the 'Hennessy X.O Odyssey' menu. "Sabah's climate and fertile environment makes it the perfect destination to harvest some of the land and seas' finest, freshest and purest offerings—an adventurous task as the ingredients selected must perfectly complement Hennessy X.O's seven highly unique tasting notes," says Chef Topham.
Last month, we had a preview of what's to come at the 'Hennessy X.O Odyssey' launch as the chefs demonstrated what they were capable of at a lunch presentation. Their version of modern 'dim sum' was served that day, with tantilising dishes such as a lamb char siew bun, whose smokiness was complemented beautifully by Hennessy X.O served on pu-er ice rocks, and abalone wrapped in handmade pasta—light and refreshing, with a dash of water added to the cognac this time as the accompanying flavour profile.
The final menu hasn't been unveiled, but if the preview lunch was anything to go by, the 'Hennessy X.O Odyssey' will be an innovative and exciting epicurean experience to remember.
The 'Hennessy X.O Odyssey' at Enfin by James Won will be available by invite only from 31 October to 5 November, and will be available for public booking from 7 to 30 November 2016.