The Yuletide season comes just once a year, so make the most out of it by savouring these fine delicacies for a festive boost
Whittard Christmas Afternoon Tea @ Lounge at the Park, Mandarin Oriental Kuala Lumpur
If you're looking for a memorable afternoon tea on Christmas day, then this should be your go-to spot in the city. To welcome the first day of Christmas, guests will be able to enjoy a curated Christmas afternoon tea menu prepared by Chef Antony Hoyle and team as well as a live performance by a 3-piece band from 12.30pm to 4pm. Also, you might just get to meet Santa himself as he will be making a special appearance at the hotel's dining outlet at 1.50pm! And since it's Christmas, the hotel will be inviting carolers to serenade guests to hymns of the season from 1pm to 1.20pm, and 2pm to 2.20pm. This is definitely not your typical afternoon tea setting!
When: 25 December 2019
Time: 1pm – 6pm @ Le Bel étage, Level 1 | 2.30pm – 6 pm @ Lounge on the Park
Price: RM148, with free flow of hot beverages | RM198, with a glass of champagne and free flow of hot beverages
Side note: If you can't wait to try out the menu on Christmas day itself, you can also drop by from 22 until 31 December 2019, at 2.30pm – 6pm. Prices remain the same.
The Drawing Room Festive Afternoon Tea @ The St. Regis Kuala Lumpur
Not only is it a feast for the eyes, but it's also a treat for those with a sweet tooth. The St. Regis' culinary team will be serving up some of the most adorable and too-pretty-to-eat Christmas treats to celebrate the holiday season. Highlights include a bauble, a snowman, a present, a reindeer mont blanc, and more. Of course, no afternoon tea is complete without a serving of fresh, warm scones with clotted cream and a pairing of house made jam. While there, pay a visit to Santa's Kitchen, the hotel's classic Christmas decorated shop located at the lobby where they offer quality traditional baked goods such as The St. Regis Kuala Lumpur's Signature Christmas Stollen, Christmas log cakes, Christmas puddings, an assortment of homemade cookies packed in elegant jars, and more. You can easily sort out your gifting needs there—or get a cheeky purchase for yourself!
When: 1 December – 31 December 2019
Time: Weekdays, 3pm – 6pm | Weekends, 2pm – 6.30pm
Price: RM158.00+ per person | RM248.00+ per person with a glass of Delamotte
Side note: Children aged 5–12 dine at a 50% discount for every full paying adult, one child under 5 dines for free.
A Festive Afternoon High Tea @ The Librari, The RuMa Hotel and Residences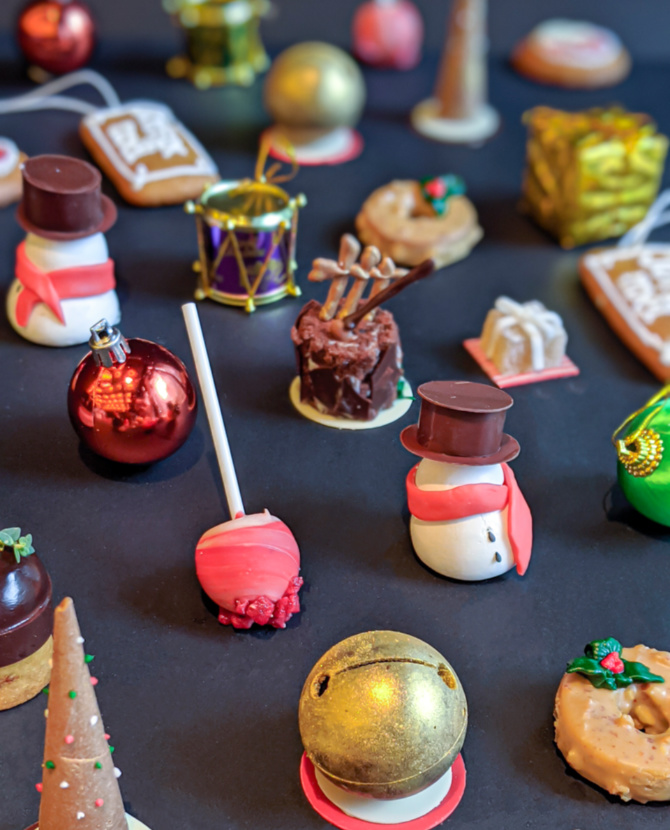 The RuMa is offering a limited-edition afternoon tea menu for guests to indulge themselves in food heaven this holiday season. The Festive Afternoon High Tea Set offers a plethora of savoury and sweet foods including Smoked Turkey with cranberry and rye; Smoked Salmon with dill, lemon and poppyseed bagel; Sweet Potato and Camembert tartlet; Christollen canelé and Cinnamon Apple éclair. In addition, their high tea set comes complete with freshly baked plain and fruit scones served with homemade preserves and clotted cream. No doubt, it is going to be a satisfying afternoon treat for those in search of a balanced sweet and savoury mix.
When: 1 December 2019 – 5 January 2020
Time: 3pm – 5.30pm
Price: RM250 nett per set (2 persons) with two glasses of Pol Roger champagne | RM488 nett per set (2 persons) with an entire bottle
Christmas Day Afternoon Tea @ The Lounge, Four Seasons Kuala Lumpur
Christmas can be the most wonderful time of the year, but it can also be the busiest month. Before your day gets hectic on Christmas day, have a relaxing afternoon tea at The Lounge. Featuring Chef Junious Dickerson's refreshing take on common teatime treats, his menu features a range of distinct offerings such as Beetroot Cured Salmon, Chestnut Turkey Salad, Foie Gras Mousse, Eggnog Crème Brûlée, Yule Logs, and Fine de Claire Oysters. If you're a traditionalist who prefers a classic afternoon tea, fear not—the set also includes freshly baked scones with clotted crème and jam, a perfect pairing with The Lounge's signature tea too.
When: 25 December 2019
Time: 2.30pm – 5.30pm
Price: RM198 nett
Christmas Afternoon Tea @ The Majestic Hotel Kuala Lumpur
If you're looking for something to do this Christmas Eve, The Majestic Hotel is hosting a festive afternoon tea for guests to experience sweet and savoury bite-sized nibbles such as Christmas-crafted sweet treats, scones with jam and clotted cream, sandwiches, and homemade savouries with an Asian twist. Guests can freely choose their ideal setting they'd like to be in while savouring the meal—the hotel has three fancy dining spots, namely The Tea Lounge, The Drawing Room, and, of course, the hotel's famous Orchid Conservatory. Prices vary depending on room types. Swipe through the gallery above and have a look!
When: 24 December 2019
Time: 3pm – 6pm
Price: The Tea Lounge, RM70 nett | The Drawing Room, RM90 nett | The Orchid Conservatory, RM120 nett
Christmas Afternoon Tea @ Shangri-La Hotel, Kuala Lumpur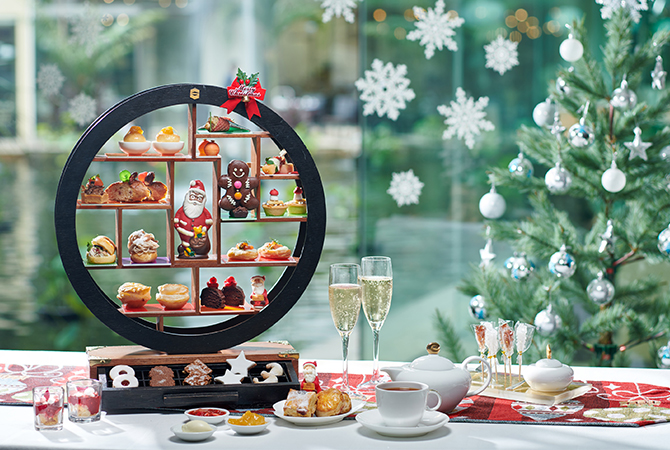 Why not celebrate the festive season at the hotel's Lobby Lounge? With Shangri-La KL's Koi pond and urban greenery in the background, enjoy a wide variety of afternoon tea delights such as scones, tarts, burgers, and cakes. In addition to these delicious offerings, you also have the option of pairing your session with a glass of Prosecco sparkling wine.
When: 15 November - 30 December 2019
Time: 3pm – 6pm
Price: RM85 nett per person, RM150 nett per person with one glass of Prosecco sparkling wine
For more holiday content, visit our Buro Christmas Village.