Lifestyle
Ungku Norliza Syazwan, CEO of Boost Life, on why we need more women in fintech
#BreakTheBias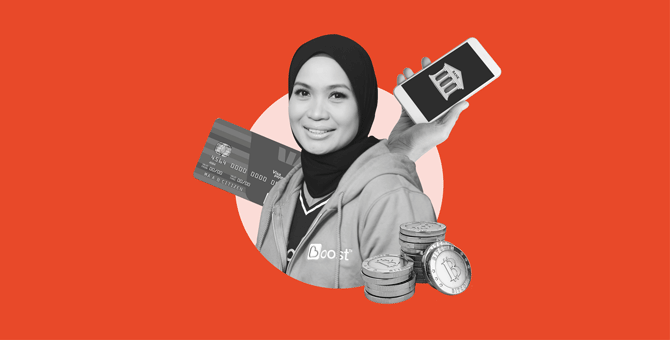 Ungku Norliza Syazwan Ungku Halmie, the CEO of Boost Life, unpacks her experience as a female leader in the fintech company, as well as the myths and challenges that come with the role.
Imagine a board meeting of a finance firm. How many members are female? Imagine a CEO of a fintech company. Is it a male or female? Imagine someone staying at home to take care of their family. Is it male or female? Think about your answers and how gender roles may be subconsciously ingrained in our minds.
Even in this day and age, there are prevalent gender biases in the workplace, especially when it comes to fields like finance and technology. They are often perceived as a man's world, with female employees being a rare sight—much less in leadership positions. But is this really the case? Or are women filling more seats at the table?
We speak to Ungku Norliza Syazwan Ungku Halmie, the CEO of Boost Life, to learn more about her experience as a female leader in the fintech company, as well as the myths and challenges that come with the role.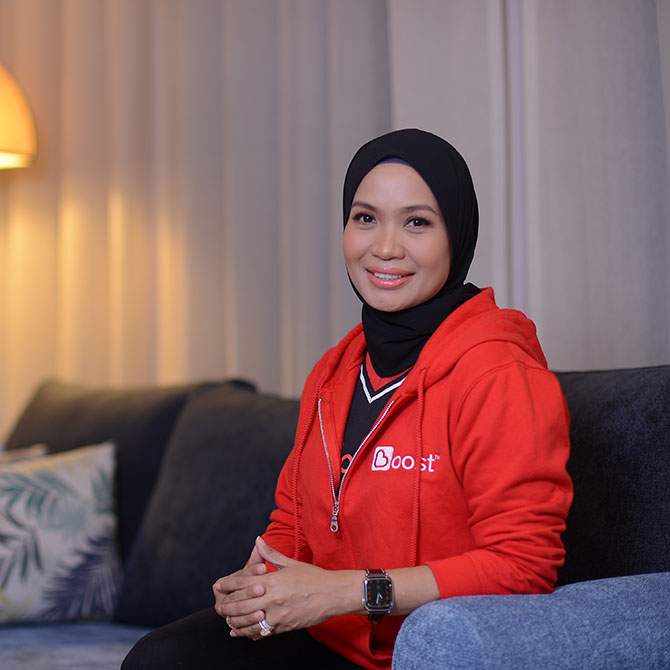 Tell us a bit about yourself and how you landed your current role as the CEO of a fintech company.
I started my career in finance, and my tenure in a start-up in the early days allowed me the opportunity to widen my horizons and learn quickly. It was when Axiata decided to create a digital arm for the organisation to face the new incoming wave of technology that I volunteered to be one of the co-founding members of the Digital Business entity.
Over the years, I have been fortunate enough to pursue incredible opportunities in this fast-paced and high-demand industry that requires innovative thinking. Leading the product team at Boost at one point has also extended my horizons, allowing me to foster better communication between myself and the technology, product, and marketing teams. All of these functions need to be working like an engine, closely interrelated.
Today, I am grateful to be in a position to fully utilise my analytical expertise and experience managing teams to lead Boost towards being an innovative and forward-thinking fintech organisation.
View this post on Instagram
What attracted you to such a role?
The pace at which technology evolves has always fascinated me so when this job opportunity presented itself, I knew I could fit the role. I also had that creative streak which is important when helming one of Malaysia's leading lifestyle eWallets. This role undoubtedly offers me the best of both worlds—to be analytical and creative while challenging me to learn and grow every day.
As a person with a finance background, what really motivates me is seeing the number of users and merchants utilising Boost increasing month by month. Numbers don't lie and seeing positive growth encourages us as a team to do more and continuously look at how we can use technology to uplift the lifestyle of the rakyat and our MSMEs who are the backbone of our country.
It is a common perception that fintech is a male-dominated industry. In your experience, is this true?
Yes, fintech is often seen as a 'hard' industry that is typically dominated by men. Even according to MDEC, women only make up approximately 35 per cent of the workforce in the technological industry.
In my opinion, fintech has a reputation for being a 'boy's club' because women started entering the workforce much later compared to men, and only now are we seeing a slight uptick in female to male ratios in tertiary education institutions. However, I'm confident that in a few years the scales will tip and we will see more female representation in traditionally male-dominated fields.
At Boost, we take pride in supporting the many capable women who are building a career path in this industry so that they can thrive in their roles. We recorded a 41 per cent female to male ratio in Boost last year, which strongly reflects our diversity philosophy.
View this post on Instagram
Why is female representation in fintech important to you?
There is a need to debunk the misconception that businesses like fintech are solely dominated by men. While this perception is progressively being challenged, more discussions are certainly needed so that we as a society become more aware of our varying strengths. More female role models should be profiled so that young women everywhere can be inspired and understand that women in technology are the norm, not the exception.
We should look at more opportunities that talk about women in tech that will help to transform perceptions, particularly as we progress toward gender-blind hiring processes that focus on a person's abilities and merit. This is something that we at Boost hold true to how we value talent. We look at capabilities and talent, not gender. I am also proud to say that aside from the tech team, we have achieved a 50:50 women to male ratio for senior leadership roles within my leadership team.
What are some challenges you have faced as a female leader in fintech? How did you overcome them?
Some of the roadblocks I have personally encountered include self-doubt, believing that I am unable to pursue this career because it is a man's domain, or battling guilt thinking I must remain at home to care for my family instead of pursuing a career.
I am extremely fortunate that I have a strong support system, as well as my own set of mentors and role models who constantly cheer me on. I can't emphasise enough how important it is to have a group of individuals that have your back and will provide you with honest, objective critique as well as motivation to push yourself further.
View this post on Instagram
What's a common myth you have heard about women in tech/finance/fintech?
There is a long-held belief that women are less technical or analytical than men but we so easily forget that analytical women were instrumental in space exploration. Unfortunately, women sometimes still buy into the narrative, but thankfully we are now seeing more women gravitating towards male-dominated fields and thriving in these roles as they bring valuable soft skills to the table.
In fintech, it is critical to have a good balance of both hard and soft skills. Women have an added edge when it comes to soft skills such as empathy, multi-tasking, problem-solving, and working collaboratively with others. Bringing in these soft skills help to balance out the equation and even any tension that may arise in a discussion. It is all about balance, in everything we do.
Regardless of gender, what are some important skills and qualities to have as a leader in fintech?
Empathy, teamwork, and a growth and learning mindset are three essential traits for all leaders. To lead with empathy not only allows you to relate to your teammates and peers but it also helps you understand the obstacles they encounter, which is crucial in creating a positive work environment where colleagues feel valued and understood.
Collaboration is important in a fast-paced industry like fintech where creating an inclusive space encourages team members to participate in problem-solving and put forth diversified opinions to foster innovative ideas.
A growth and learning mindset is also imperative since you can learn from your teammates just as much as they can learn from you. More importantly, because the tech space is such a fast-paced industry, learning happens almost on a daily basis so you need this mindset to keep up with the trends.
Do you have any advice for other women who are keen to build a career in this industry?
My ultimate piece of advice for women in the tech industry is to have faith in yourself. We've been conditioned to think of this industry as a man's realm for far too long, but if you are interested in it, just go for it. Never stop learning new things. Invest in yourself and continue to learn. You will be able to learn faster when you are passionate about a subject.
---
"Lastly, I would like to encourage women to speak up. Women are frequently spoken over and interrupted, or we remain silent because we believe our thoughts will be dismissed or invalid. What we must keep in mind is that we have earned a seat at the table and our opinions are important. So, don't be afraid to speak up and don't apologise for it."
---
| | |
| --- | --- |
| SHARE THE STORY | |
| Explore More | |