Cai Mei Khoo, Editor in Chief: Prada, Look 44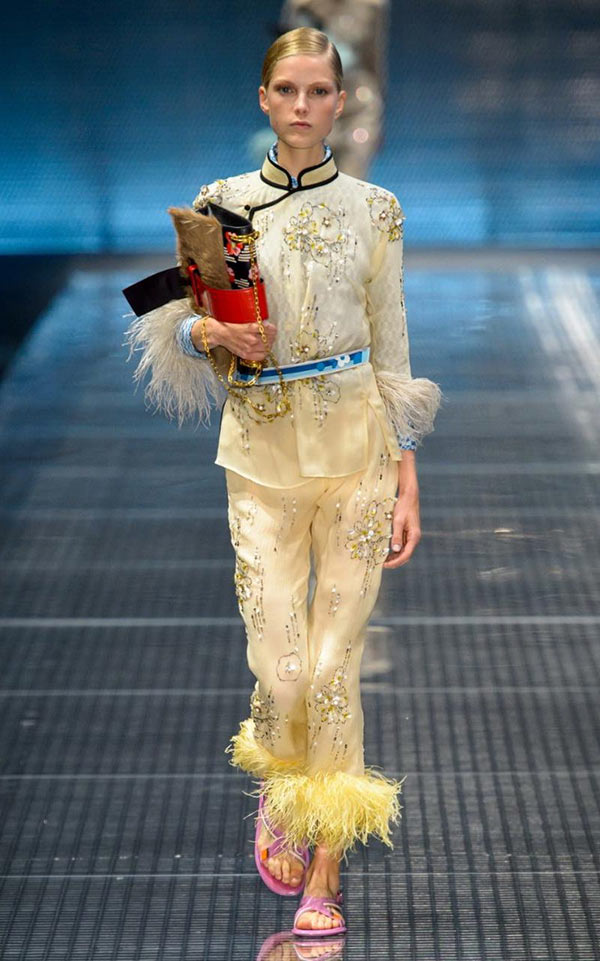 While I was taken by the preppy work-appropriate outfits, what really took my breath away were the ostrich feather-trimmed pieces, specifically those with the mandarin collar. My eveningwear style tends to veer towards comfort over overt sexiness so these pyjama-looking pieces are totally up my alley, with embroidery and feather trims to elevate the look so I won't look like I totally woke up like this.
Gwen Ong, Deputy Editor: Salvatore Ferragamo, Look 4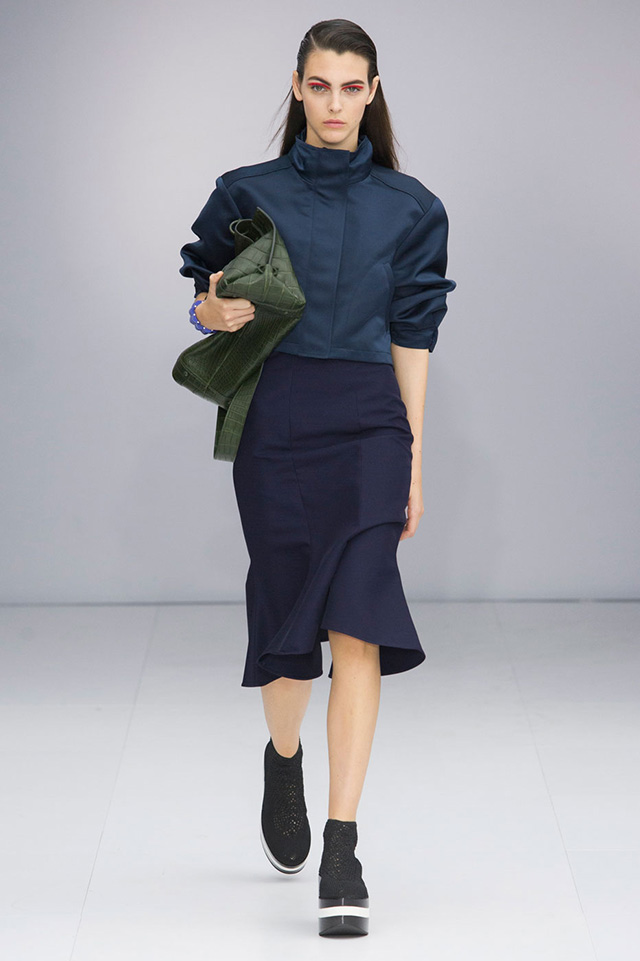 Voluminous on top and svelte at the bottom – that's one silhouette that was evident from Salvatore Ferragamo's presentation for Spring 2017. From balloon sleeves and high-waisted skirts to crisp vest, pin tuck pants and floral dresses, it's the perfect juxtaposition of fluid femininity and athleisure wear. My personal favourite is this all navy ensemble made of a cropped anorak paired with a fluted hem skirt. It looks comfy enough that I could live in it through rain or shine. Props also to head of women's RTW design, Fulvio Rigoni for the knitted sock shoes in homage to Ferragamo's 1938 cork wedge designed for Judy Garland— could this be the new sneaker trend?
Jason Lim, Fashion Editor: Bottega Veneta, Look 22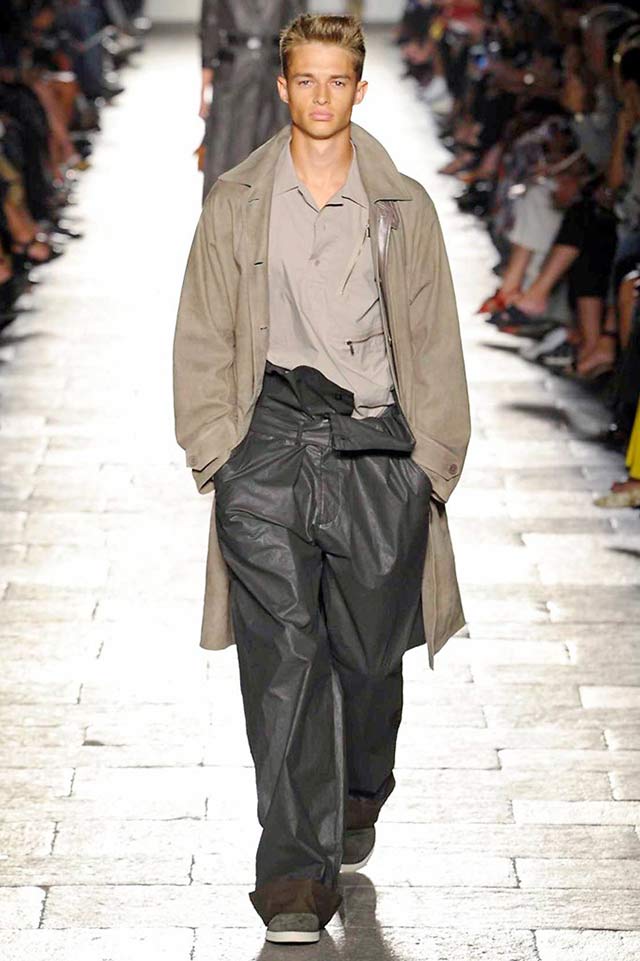 Impeccably made clothes to throw on and forget about. A quiet aesthetic that creative director Tomas Maier described as "nothing". In a world of everything-all-at-once, shameless impropriety and reality TV families who leave nothing to the imagination, nothingness seems a wonderful retreat to be ensconced in. Bottega Veneta is always one of the shows I look forward to the most and its presence was sorely missed in the men's line-up in June. In celebration of the brand's 50th anniversary, Maier decided instead to combine his men's showing with the women's this September. The understated, intelligent identity Maier has built is founded upon a luxury that never strays into the back-alley territory of aimless fashion victims. The approachability of Bottega Veneta is undoubtedly hindered by its hefty price tags, but what wonderful seclusion it provides. Does the buyer turn to something 'of-the-moment' that will be photographed and recognised, or to the quiet extravagance of a brand whose mantra is "When your own initials are enough". Maier's vision is singular and impactful with emphasis on the power of luxurious simplicity; a wonderful ode to a quote by James Dean I am particularly fond of: "Only the gentle are ever really strong."
Jasmine Leong, Senior Fashion Writer: Fendi, Look 40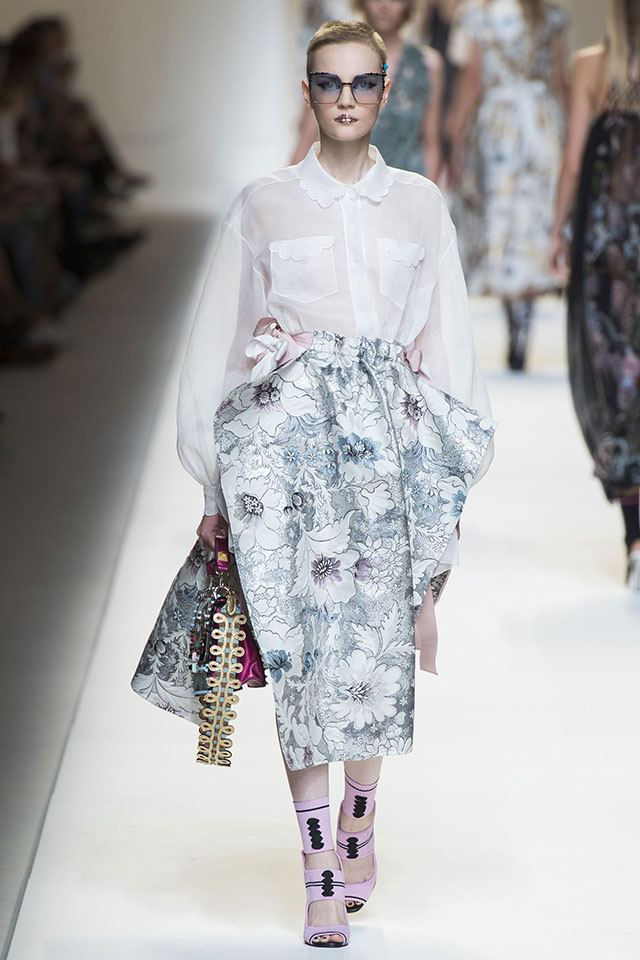 With so many white shirts getting a makeover on the runway this season, Karl Lagerfeld and Silvia Venturini's take on the wardrobe classic at the Fendi SS17 show is my favourite. While the sleeves are billowing, the sheer piece accentuates the figure, making sure you don't drown in the oversized silhouette. Let's not forget the scalloped edging that finishes the collar and pockets, giving girlie interest to an otherwise plain button-up. Adding on to the charm is the apron tea-length floral skirt fastened at the sides with a ribbon and pastel pink high heels to match—ultra femme but with an edge. Were I in a traditional work environment, I would still rock this ensemble–HR-friendly or not.
Loh Wei Yeen, Fashion & Beauty Writer: Versace, Look 32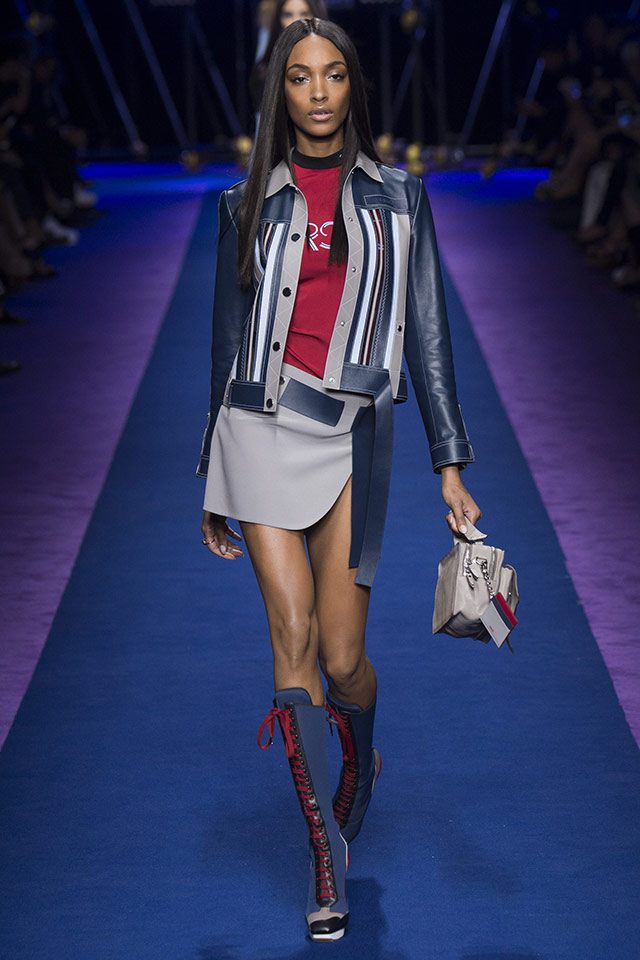 This spring, Donatella Versace jumped on the athleisure bandwagon and despite how much this theme has been revisited as of late, Versace took a luxurious spin to the typical silhouettes with jewel toned nylons and sporty blouson jackets. While I would wear those chic windbreakers and ultra cool Tevas flatforms in a heartbeat, this particular all-leather look has nailed the high fashion meets sporty cool aesthetic in an understated way. Navy, red, and grey coupled with almost knee-high lace-up shoes for a bold statement will guarantee my A-game for the next outing in my calendar.
Rachel Au, Lifestyle Writer: Gucci, Look 24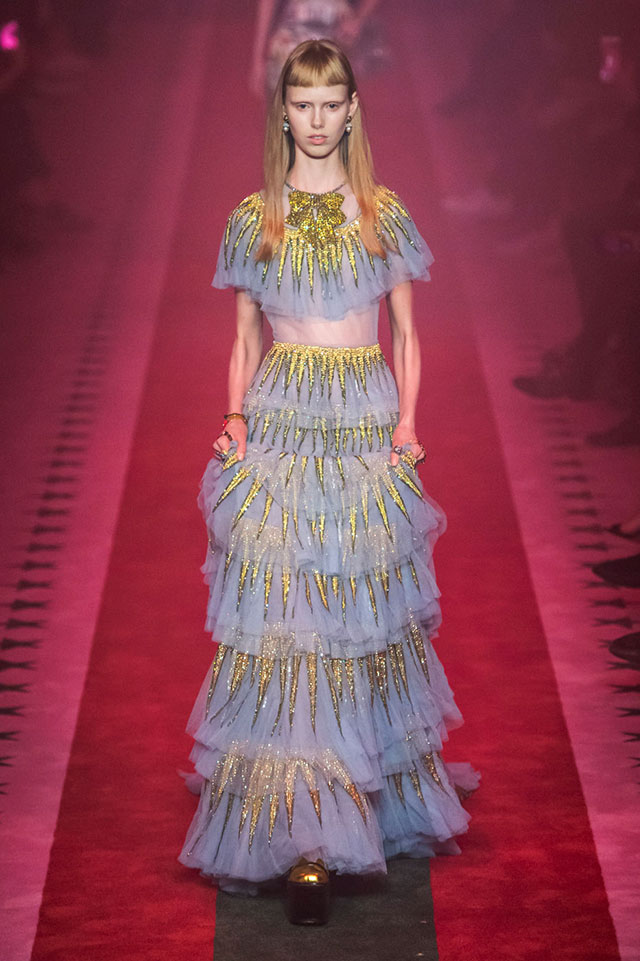 Funny story: I chose Gucci for the previous Milan Fashion Week too. Could Alessandro Michele and I have a connection? But then again, it's probably not just the collection but his unique vision in design. His SS17 collection is almost no different from the AW16 in the sense that it's still quirky, eclectic, delivers a show of gorgeous fabrics that showcases a parade of details. Not a complaint, but just an observation. It's great couture material as I saw piece after piece during the show (the livestream, of course) but for the everyday wardrobe, there is definitely a fair few key items for everyone. I couldn't quite decide between the safer (more tame) designs and the showstopper pieces, but hey, it's #WednesdayWishlist and that means, going all the way and this ruffled tiered gown looks like a dream come true. (Also, those flatforms!)
Tan Su Fen, Writer: Max Mara, Look 13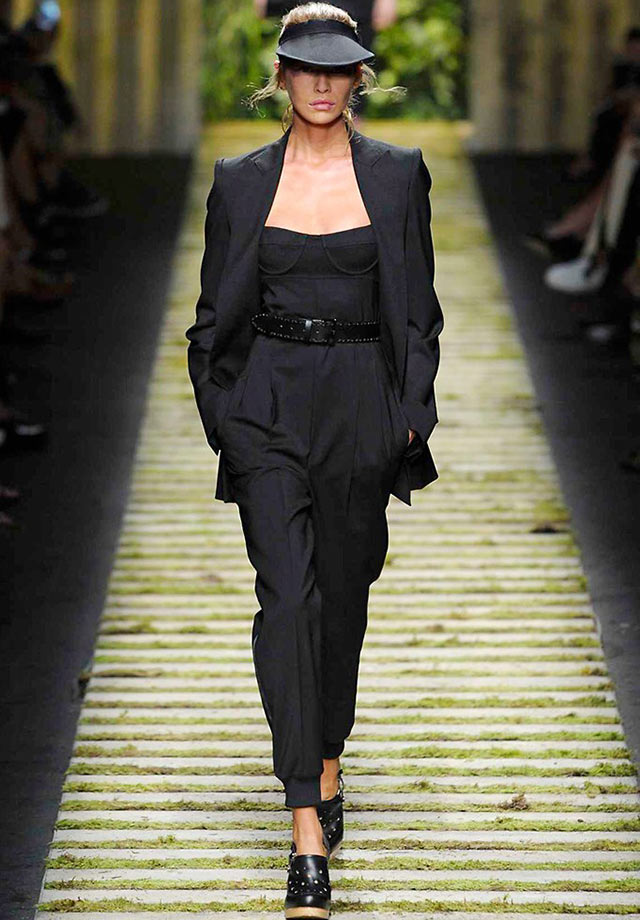 There were plenty of punchy colours and prints as inspired by Lina Bo Bardi in the Max Mara lineup this season, but I found myself gravitating towards the more earthy, subdued hues in the collection (no surprises there). While the Brazilian modernist architect and her works served as the main inspiration, the sportswear notions were hard to miss—the bomber jackets and hooded windbreakers are obvious observations, but I like how the ribbed cuffs on this bustier jumpsuit provide a nice little juxtaposing touch in workwear, and the loose-fitting blazer tops it off with a likewise sense of ease.
Alyssa Lee, Editorial Assistant: Marni, Look 1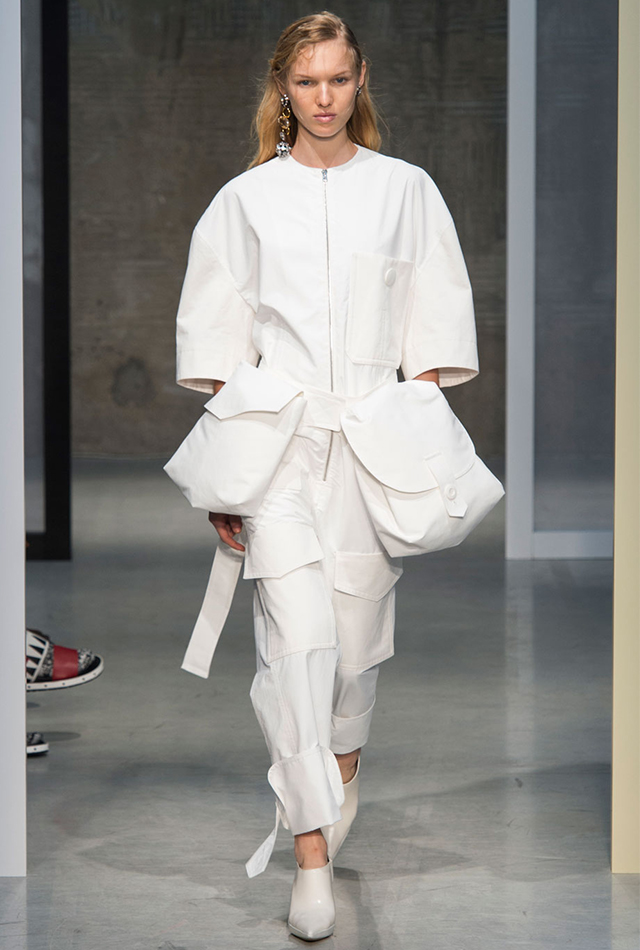 Very rarely does a designer toe the line between exaggeration and restraint in a way that is completely inculpable. There is just no denying that Consuelo Castiglioni at Marni has bags of talent – glorious oversized fanny packs of talent. The entire collection at Marni deserved adulation as a singular entity of brilliance but Wednesday Wishlist rules dictate picking just one look. So, it was look one that I picked. The titillating teaser before the rest of the show unraveled in congruous harmony; it was a hint of everything to come but a masterpiece in its own right. Structured yet subtly curved lines drew a refreshing silhouette. Dropped shoulders and rigid voluminous sleeves end at just the right point on the forearm to not overwhelm while a flash of ankles peek out perfectly between the considered cuffed-hems (look at the rounded corners and how they echo the dimensions of the utility-driven flap pockets) and low cut boots. The merest trill of silver in the exposed zipper and statement earring punctuates the whiteout, signaling a metallic glint of completion. I can't end this without mentioning those game-changing pockets again – so humongous yet so balanced. Plus the styling, tousled hair and trailing straps to soften the whole look up and tease the romance in following looks? Help, I need to stop this rave. Wednesday Wishlist rules also dictate that I cannot write an essay. I love you, Marni!
Related stories:
Milan Fashion Week SS17: Day 6 Street Style
| | |
| --- | --- |
| SHARE THE STORY | |
| Explore More | |