Gwen Ong, Deputy Editor: Look 1, Mulberry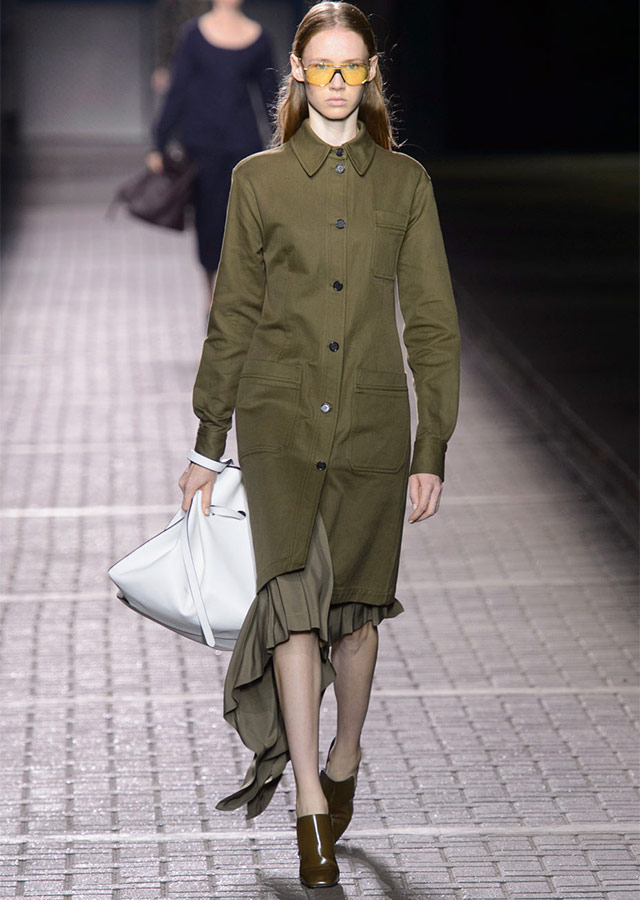 Creative director and visionary Johnny Coca has gone with utility sets, striped silk and fluid silhouettes this season. For a reason, I'm drawn to the military-like uniform – the army green coat paired with a flowy skirt/dress underneath and low cut mules has got to be a chic and cool ensemble to be strutting around in. The understated design stands out for its simplicity and classic vibes.
Jasmine Leong, Senior Fashion Writer: Look 5, Osman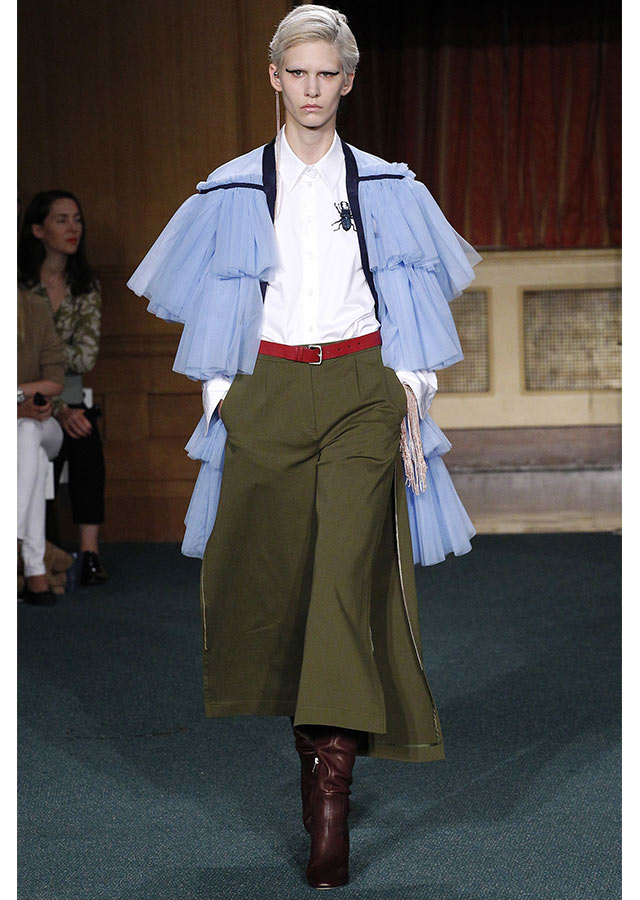 If you don't already know by now, I have a penchant for boyish forms and this look by Osman ticks all the boxes: from the button-up shirt with a beetle appliqué and olive green culottes down to the Chelsea boots. The ensemble is juxtaposed with a tulle vest, adding an unexpected element and giving it a dash of feminine flair. it is also noteworthy to mention that the designer casted some of his friends and clients to walk for the show. Real women and silhouettes meant for everyday? Just take my money already.
Loh Wei Yeen, Fashion & Beauty Writer: Look 32, Anya Hindmarch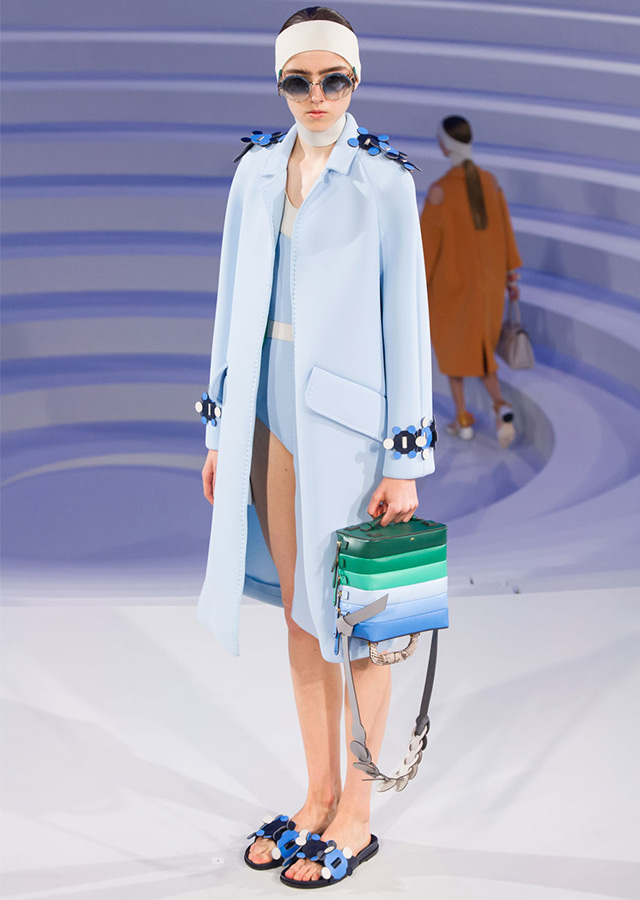 Anya Hindmarch definitely knows how to set tongues wagging by way of 1) a massive, futuristic vortex-like show set up, and 2) giving us summer neoprene for a spring/summer collection. I didn't quite mind the charming pastel blue shade of the neoprene coat, to be honest, plus those leather discs heat-pressed on the shoulders, cuffs and matching slides made it a fetching look altogether. But what I really love is that stacked ombré bag with handles on both ends (so that it can be carried both ways up)—it isn't easy to find a new bag silhouette that doesn't resemble every other bucket/tote bag out there, but this particular shape is tugging on my heartstrings for all the right reasons.
Rachel Au, Lifestyle Writer: Look 66, Burberry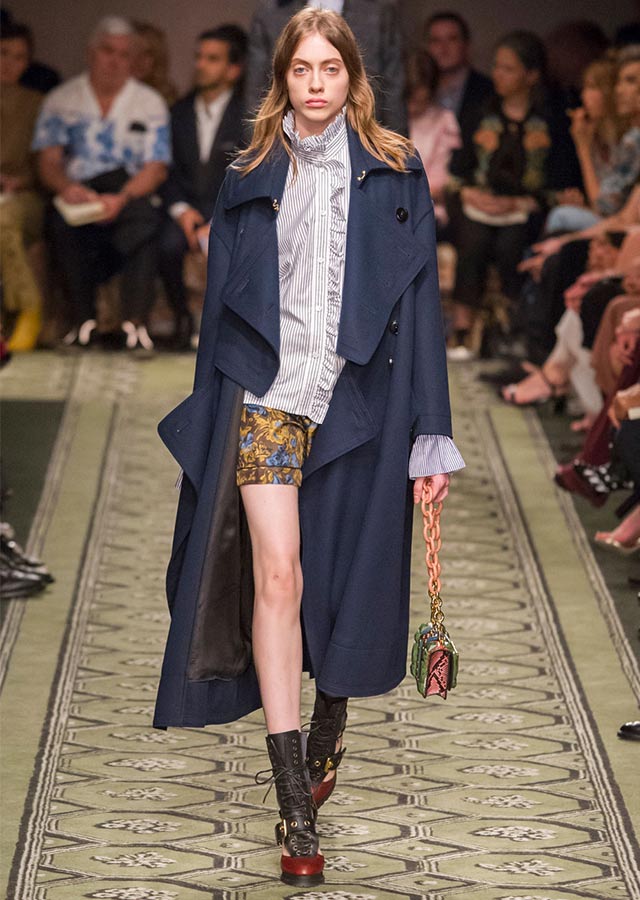 It's the debut of Burberry's runway-to-retail collection, showcasing a combination of both women's and men's and many of the pieces were something that easily made it to my wishlist. Poetic yet quaint with splatters of androgyny across the collection, I love it. Look 66 is a combination of all my favourite details in this collection with a loose trench, a shirt with a ruffled collared and pinstripes, and paisley printed shorts. It's perfect together, and great to be paired with anything from my current wardrobe. I'm all about finding something that can be re-worn into several other versions, but mostly, collared pieces and that Burberry trench.
Tan Su Fen, Writer: Look 6, Roksanda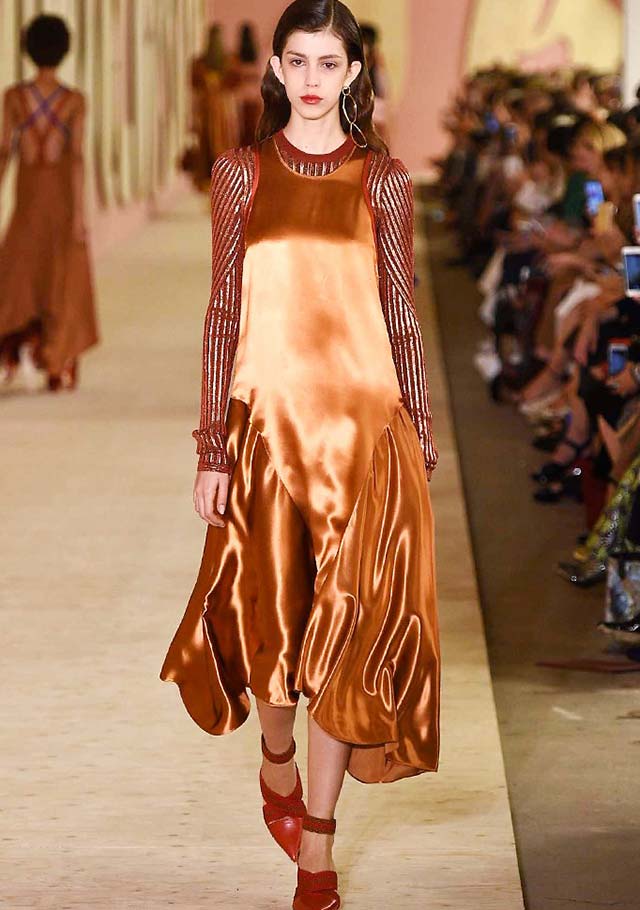 By the looks of the SS17 runways, the billowing dresses for springtime has taken a liking for more modest silhouettes; not the most practical if you'd consider our recent weather, but oh-so-pretty to look at. I loved the earthy hues at Roksanda's latest showing, and this look in particular had me smitten. Layering is done impeccably here as the lush molten gold slip is worn over a ribbed metallic top for added sophistication. The pointed toe flats completed a look that spoke of comfort and casual elegance—a language that I definitely wouldn't mind.
Alyssa Lee, Editorial Assistant: Look 28, Christopher Kane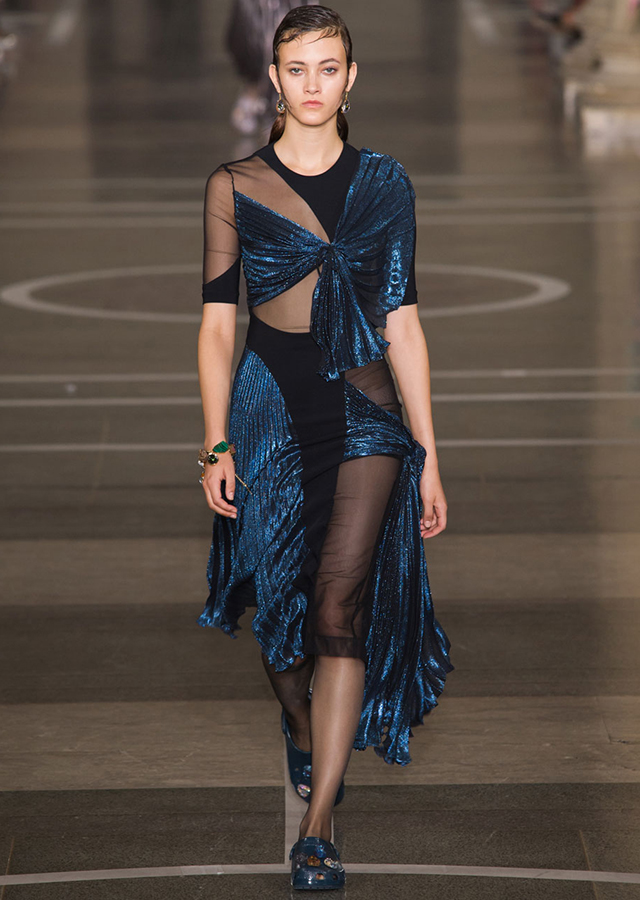 I'm afraid. I'm afraid of the impending resurgence of Crocs. I'm afraid of how much I admire Christopher Kane as a designer that I may just be aboard that terrifying wave of resurgence. 'Make do-and-mend' was the name of the game at the show, which saw the designer pull bits and pieces from his own archives—pleats, leopard prints, and metal rings, with the latter piecing together panels of fabric to form a full garment. As for the pleated wonder above that could very well be five separate (but undoubtedly, stunning) dresses merged into a single number, I'd like to offer up an explanation: there were not enough looks on this runway to accommodate the full expression of Kane's genius, so, he 'made do' and condensed his ideas into one. As I fawn over the brilliant construction of this dress and stressfully contemplate my acceptance of the bejeweled Crocs, I will be repeating to myself, "My love for Kane shall not wane".
Related stories:
London Fashion Week SS17: Highlights of Day 4
| | |
| --- | --- |
| SHARE THE STORY | |
| Explore More | |