Gwen Ong, Deputy Editor: Gucci crackled leather bomber jacket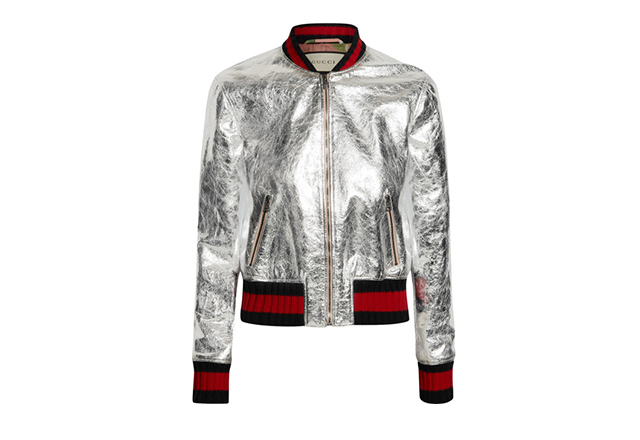 I've always wanted a leather jacket to call my own but in my dreams, it's a sleek black piece (think: biker). Just then Gucci comes into the frame and re-shift my focus to this silver beauty. With the stripe contrast to the crackled metallic, I almost feel like a kindred spirit to Ryan Gosling's The Driver. I'll be driving away into the night with this one. Yes, me, my bomber jacket and Ryan.
Jasmine Leong, Senior Fashion Writer: IRO Anja Rubik Kouta suede-trimmed leather coat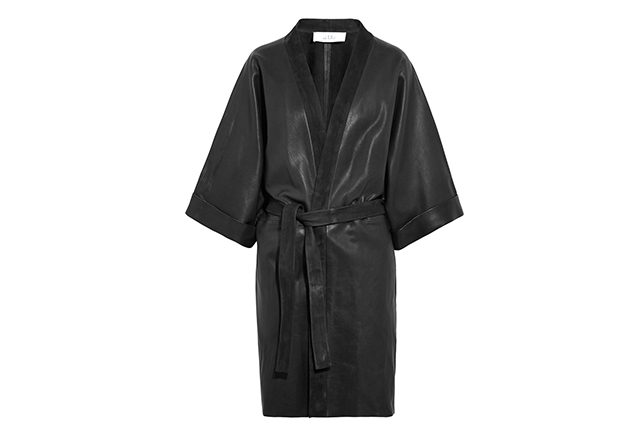 It is not everyday where I would spot leather outerwear in the form of a wrap-style coat. With its accompanying belt to cinch in and define your waist, this robe-like piece is figure-flattering, which is always a plus in my books. Also, the fact that it is designed in partnership with Polish supermodel, Anja Rubik takes me one step closer to (my dreams of) achieving the supermodel off-duty look. The idea of wearing leather in Malaysian weather sounds about as delightful as donning shorts in the snow, but with a hot piece (no pun intended) like this, I would do what it takes to make it work.
Loh Wei Yeen, Fashion & Beauty Writer: Prada Spring/Summer 2017 Look 42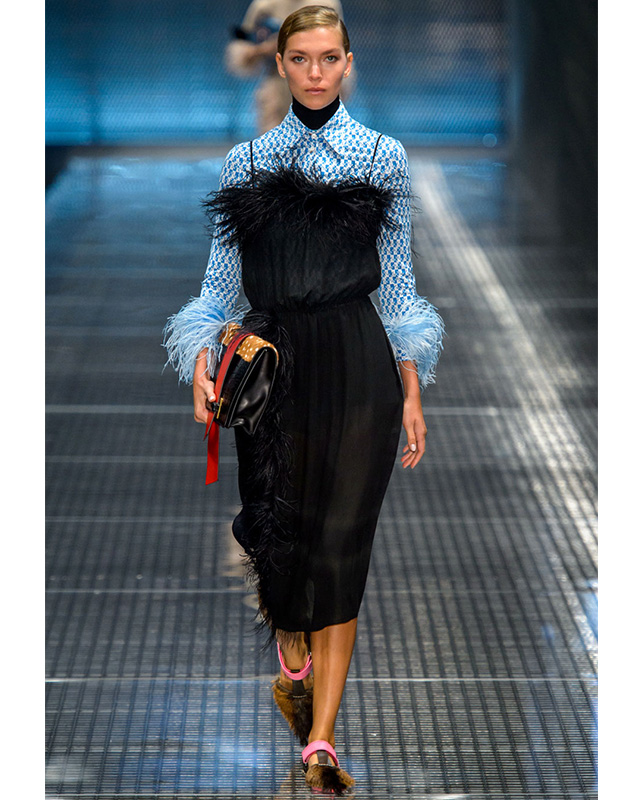 While leather seems to be an obvious choice this Wednesday, Miuccia Prada's ostrich and marabou-decked outing for Prada this SS17 is one collection that came to mind when I thought of feathers. It takes a certain skill to ensure that a feather-trimmed ensemble doesn't borderline excessive frou-frou (or something that belongs in a stage performer's closet), but this polished look is likely how I'd wear feathers if I ever had to—peppered ever so slightly on the cuffs and trailing down a skirt without overwhelming the look entirely.
Rachel Au, Lifestyle Writer: Valentino crystal-embellished leather maxi skirt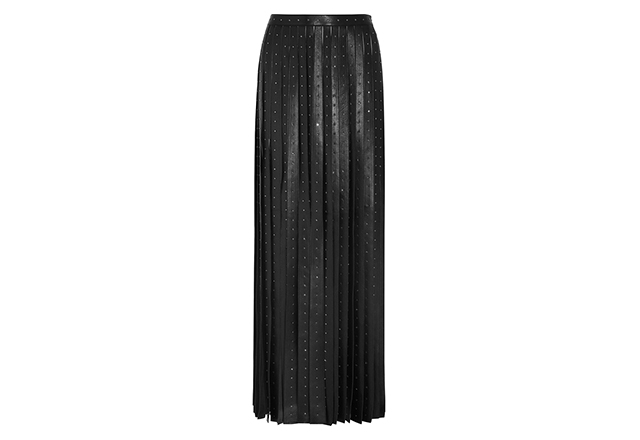 I'm pretty much a sweater weather girl but when it comes to a more fancy occasion, leather weather works too (when it's really the appropriate temperature). Leather is easy to pull off and easy to collect over time – leather bags, leather jackets, leather shoes. This Valentino skirt, however, is one of a kind. Cut from strips of supple leather with each intricately studded with sparkling crystals, it'll easily be my go-to for any formal dinners and events.
Tan Su Fen, Writer: Loewe Anton leather shoulder bag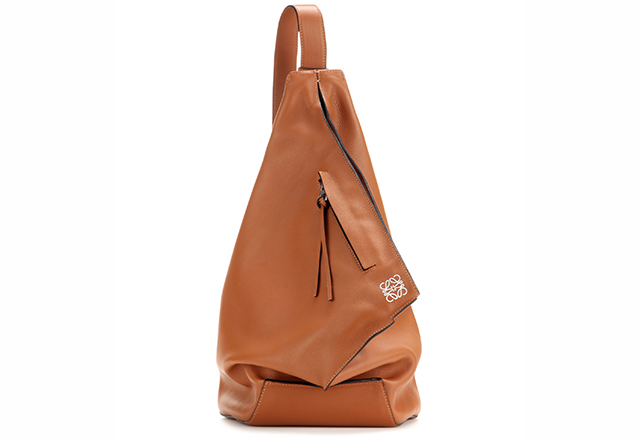 When you are in the market for a backpack, and this one from Loewe pops up—you can hardly say no to it. Crafted from leather in a beautiful tan shade (one of my go-to colours at the moment), the roomy construction is perfect for lugging all my necessities in, and then some. With the holiday season coming up, I think it'll be the ideal travel companion—here is to hoping I can get it off my wishlist and into my wardrobe in time for some city exploring.
Alyssa Lee, Editorial Assistant: Christopher Kane feather embellished neoprene sneakers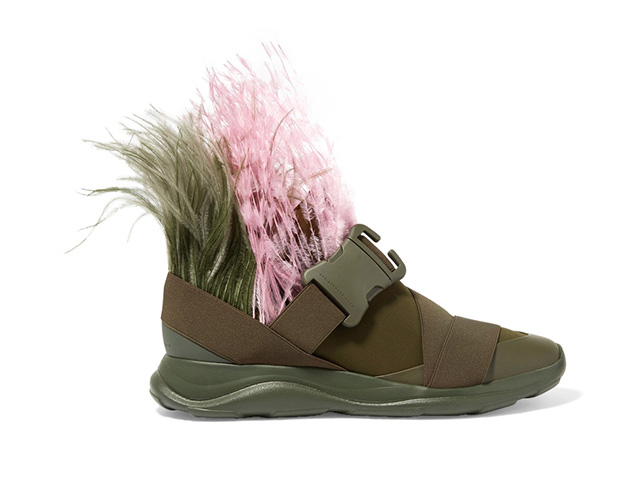 Knowing the guaranteed extensive selection of lust-worthy leather goods, I trekked into the less travelled road of plumage. Lo and behold, within a single scroll, my eyes landed on a creation by my one and only, Christopher Kane. He embraces feathery goodness with the kind of bravado only Kane is capable of. Before we touch on the embellishment, the actual sneaker is actually quite on trend, with a minimalist monochromatic aesthetic executed in the very now neoprene. The criss-crossed straps and plastic buckles would have made for a covetable shoe and sealed the deal for any other designer. But surely not Christopher Kane. At the crown of the shoe sprouts an astonishingly healthy tuft of skinny green and pink feathers, standing as tall as their weak spines can manage. It is this type of subversive twist to the norm that Kane doles out so expertly time after time. However, when you think of it, the shoes above bear strangely jarring resemblance to troll dolls. Could that be a clue of Kane's diabolical masterplan to 'troll' his admirers? Think about it: bejewelled crocs and potted-plant sneaks? Sadly, with my blind love for his stuff and those shoes on my feet, one could say that I've been trolled.
Related stories:
#WednesdayWishlist: Pieces that have us tickled pink
#WednesdayWishlist: What we love from Paris Fashion Week SS17
| | |
| --- | --- |
| SHARE THE STORY | |
| Explore More | |