Fashion
Tory Burch celebrates Mother's Day with a short film featuring actress Yara Shahidi and her mother
Mama knows best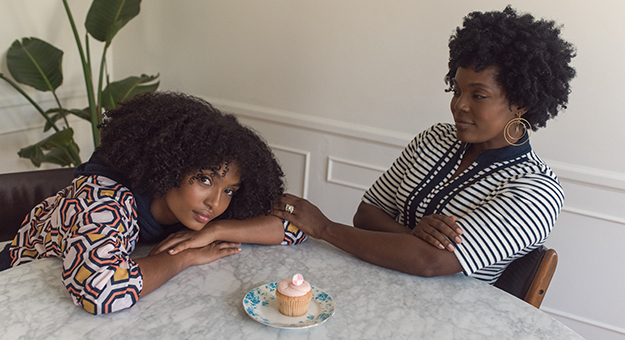 Mother's Day is coming up this Sunday, and in conjunction with the special occasion, Tory Burch has partnered up with a celebrity mother-daughter duo—Yara and Keri Shahidi—for a video that celebrates their loving relationship, echoing the bond between the American fashion designer and her mother, Reva Robinson. Best known for her work in the popular sitcom Black-ish, this is not the first time the 18-year-old actress has worked with the brand, as she recently headlined Tory Burch's inaugural Entrepreneurship and Empowerment Summit and shared her views on activism, biases and embracing female ambition. Directed by It-girl Margaret Zhang, the film follows Yara and Keri as they interact in different settings, as they talk about Yara's life plan and Keri's thoughts on motherhood—all dressed in outfits from the Tory Burch Sports collections.
Watch the short video, and read on to find out what Yara and Keri Shahidi have to say about each other below:
1. Name a quality you really admire in each other.
Yara: Her confidence, laser focus, and investment in the people around
her; She has always told me "we rise together" and implemented that by being a resource of support whenever needed.
Keri: I admire Yara's purpose-driven life. She is compassionate and hard-wired to be of service to her global community.
2. What's the most important lesson you both learned from your mothers?
Yara: To understand that my voice and presence is important in all spaces 
that I occupy.
Keri: My mother taught me the importance of being supportive and knowing when to ask for support.
3. Do you have a Mother's Day tradition?
Yara: While our plans change every year, our tradition is to celebrate 
together as a family! No matter how busy we all are, it is important to be together and have a beautiful day honouring how amazing mama is and the fact that she puts 110% into everything (her family, her work and her community).
Keri: We spend a relaxing day together—usually a tasty breakfast at home with all of my fave dishes and then a stroll through a museum! I never know what my family is going to add to the festivities, but last year they came downstairs, one by one, with my photo on custom-made T-shirts that they wore all day!
4. What was your favourite moment on set?
Yara: Can I say all of it? We had a fantastic day dancing, laughing, snacking, being ourselves, and engaged in authentic conversation.
Keri: Favorite moment was feeling so comfortable, inside and out, while having a beautiful conversation about one of my favourite books with one of my favourite humans (Yara)!
| | |
| --- | --- |
| SHARE THE STORY | |
| Explore More | |